Abstract
This paper examines immigrant retention using a novel approach based on data contained in New Brunswick's Medicare Registry database. To date, researchers studying immigrant retention in Canada have had only a few options with regard to suitable data, and each data source is characterized by limitations intrinsic to the nature of the data collection. These in turn raise caveats about the conclusions that can be drawn from analysis of those datasets. By demonstrating the utility and feasibility of another data source that to our knowledge has not previously been used for such a purpose, we are able to add new results to the existing literature, thereby improving our understanding of the extent of and characteristics underpinning immigrant retention in the host region as well as assess the robustness of published results based on data from other sources. The main objective of the paper is to improve the current understanding of secondary migration patterns of New Brunswick residents with the objective of increasing retention rates among vulnerable populations such as immigrants and refugees.
Access options
Buy single article
Instant access to the full article PDF.
USD 39.95
Price includes VAT (USA)
Tax calculation will be finalised during checkout.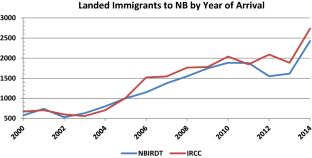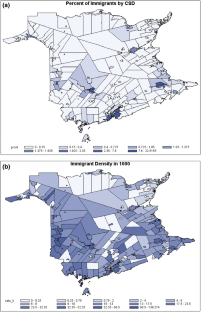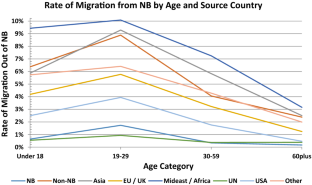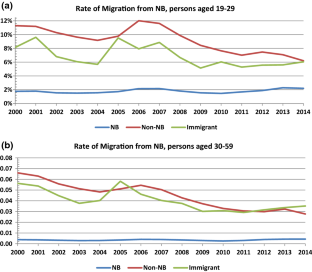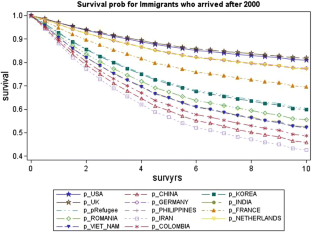 Notes
1.

2.

For example, the Federal Government recently initiated an Atlantic Growth Strategy with a focus on skilled workforce/immigration (ACOA 2017).

3.

Unlike the Census of Canada which records everyone present in a particular location as of the Census date, the Medicare Registry only captures individuals who have actually settled in NB for at least some period of time, as indicated by their registration in the Medicare System.

4.

See Bodvarrson et al. (2015) for a comprehensive review of migration theory.

5.

This project received ethics approval from the UNB Research Ethics Board (REB# 2015-156).

6.

Although sample size restrictions preclude the disclosure of some categories of immigrants later in the paper, we present results for the most common specific immigrant source countries.

7.

We are awaiting an updated file from the Department of Health that contains this information.

8.

Identifying location of residence is done through linkage of the landing records with information on tax filers, specifically province of residence for tax purposes.

9.

In conversation with officials from the Population Growth Division of the Province of New Brunswick, the anomaly in 2012 is due to a large number of provincial nominees who declined to move to New Brunswick. Thus these individuals would appear in the landing records for NB but would not be registered for Medicare.

10.

Since we are not decomposing the sample by region of last residence outside of Canada, we are able to present statistics up to 2014.

11.

These estimates of five-year retention rates are higher than those reported elsewhere using tax filer data (e.g. Haan and Prokopenko 2016), likely because they are computed based on individuals who actually moved to New Brunswick, so that those whose intended destination was NB but who did not move to NB would not be counted.

12.

Other methods could include a selected age-sex sample of non-migrants matched by immigrants by year of arrival in NB.
References
ACOA. (2017). Reporting to Atlantic Canadians on the Atlantic growth strategy. Atlantic Canada Opportunities Agency. http://www.acoa-apeca.gc.ca/ags-sca/assets/AGS-report_EN_web.pdf.

Akbari, A. H., & Sun, C. (2006). Immigrant attraction and retention: What can work and what is being done in Atlantic Canada. Our Diverse Cities, 2, 129–133.

APEC. (2017). Immigration on the rise in Atlantic Canada. Atlantic Provinces Economic Council Publication File. https://www.apec-econ.ca/publications/view/?do-load=1&publication.id=328&site.page.id=2000.

Aydemir, A., & Robinson, C. (2008). Global labour markets, return, and onward migration. Canadian Journal of Economics/Revue Canadienne d'Économique, 41(4), 1285–1311.

Bodvarrson, O., Simpson, N., & Sparber, C. (2015). Migration theory. In B. Chiswick & P. Miller (Eds.), Handbook on the economics of international migration (Vol. 1A, Ch1, pp. 3–51). Amsterdam: North-Holland Elsevier.

Emery, H., McDonald, J. T., & Balcom, A. (2017). Temporary residents in New Brunswick and their transition to permanent residency. NB-IRDT working paper, University of New Brunswick. http://www.unb.ca/fredericton/arts/nbirdt/_resources/pdfs/report-temporary_residents.pdf.

Goodwin-White, J. (2017). The shaping of selection: Secondary migration, scale, and immigrant geographies. https://www.researchgate.net/publication/321062217.

Haan, M., & Prokopenko, E. (2016). Overview of secondary migration of immigrants to Canada. Pathways to prosperity working paper, Western University. http://p2pcanada.ca/files/2016/02/Overview-of-Secondary-Migration-of-Immigrants-to-Canada.pdf.

Immigration, Refugees and Citizenship Canada. (2017). Canada—Admissions of permanent residents by intended province/territory of destination and country of citizenship, 2000—March 2016 (IRCC_PRadmiss_0008_E) [Data file]. http://open.canada.ca/data/en/dataset/ad975a26-df23-456a-8ada-756191a23695.

Krahn, H., Derwing, T. M., & Abu-Laban, B. (2003). The retention of newcomers in second and third tier cities in Canada. Edmonton, AB: Prairie Centre of Excellence for Research on Immigration and Integration.

Silvestre, J., & Reher, D. S. (2014). The internal migration of immigrants: Differences between one-time and multiple movers in Spain. Population, Space and Place, 20, 50–65. https://doi.org/10.1002/psp.1755.
Acknowledgements
Funding from the Social Sciences and Humanities Research Council—Immigration, Refugees, Citizenship Canada Targeted Research Program on Syrian Arrival, Resettlement and Integration and from the SSHRC-funded Pathways to Prosperity Partnership (PI Victoria Esses) is gratefully acknowledged. This work was supported by the Department of Postsecondary Education, Training and Labour and the Department of Health of the Province of New Brunswick under a contract with the New Brunswick Institute for Research, Data, and Training at the University of New Brunswick. The results and conclusions are those of the authors and no official endorsement by the Government of New Brunswick was intended or should be inferred. Brent Cruickshank was supported by a graduate award funded by The Maritime SPOR SUPPORT Unit. MSSU recognizes Dalhousie University, Health Data Nova Scotia, the University of New Brunswick, the New Brunswick Institute for Research, Data and Training, the University of Prince Edward Island, the New Brunswick Department of Health, the Nova Scotia Department of Health and Wellness, Health PEI, and the New Brunswick and the Nova Scotia Health Research Foundations for their important roles in this research.
About this article
Cite this article
McDonald, J.T., Cruickshank, B. & Liu, Z. Immigrant retention in NB: an analysis using administrative Medicare Registry data. J Pop Research 35, 325–341 (2018). https://doi.org/10.1007/s12546-018-9217-8
Keywords
Immigration

Retention

Administrative data