Abstract
Sociocultural values promoting Western body-type ideals have proliferated over the past 20 years. An important question is whether the same obesity wage penalties seen in the United States, such as wage reductions for obese individuals, are emerging in China as ideals of beauty change to reflect Western ones. We hypothesize that Westernisation will exacerbate the impact of body size on wages for years to come, particularly for urban non-manual workers whose workplaces call for extensive interpersonal relations with employers, colleagues, and customers. This study examines the economic outcomes for individuals aged 18–55, focusing on 6600 female and 8488 male participants in the longitudinal 1991–2011 China Health and Nutrition Survey. Linear fixed-effects regression models estimate the net effect of body mass index (BMI) on wages, as well as the marginal effect of BMI on wages, by survey year. All analyses control for demographic backgrounds and household fixed effects, and are stratified by gender. The results show that normal-weight women with non-manual jobs in 2011 made 2.79–2.95 times more than they had in 1991, while overweight women made 2.66–2.76 times more, and obese women made only 2.57–2.63 times more. The results also indicate that women with non-manual jobs have been subject to wage disparities since 2000. Specifically, the wage disparity for heavier women living in urban areas with non-manual jobs increased significantly after 2000, while current male obesity rates may have been propelled by social acceptance of larger body sizes among men, particularly for manual workers living in rural areas.
Access options
Buy single article
Instant access to the full article PDF.
US$ 39.95
Tax calculation will be finalised during checkout.
Subscribe to journal
Immediate online access to all issues from 2019. Subscription will auto renew annually.
US$ 79
Tax calculation will be finalised during checkout.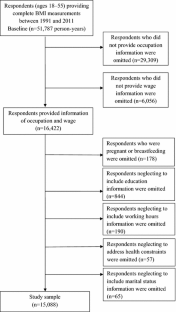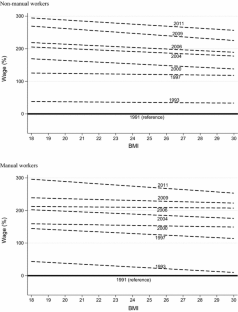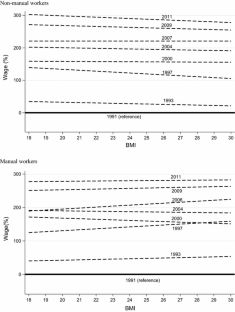 References
Allison, P. D. (2009). Fixed effects regression models. Los Angeles, California: SAGE.

Antonovics, K., & Town, R. (2004). Are all the good men married? Uncovering the sources of the marital wage premium. American Economic Review, 94(2), 317–321.

Astrup, A., Dyerberg, J., Selleck, M., & Stender, S. (2008). Nutrition transition and its relationship to the development of obesity and related chronic diseases. Obesity Reviews, 9(s1), 48–52.

Averett, S., & Korenman, S. (1996). The economic reality of the beauty myth. Journal of Human Resources, 31(2), 304–330.

Baltagi, B. H. (2008). Econometric analysis of panel data. New York, NY: Wiley.

Baum, C. L., & Ford, W. F. (2004). The wage effects of obesity: A longitudinal study. Health Economics, 13(9), 885–899.

Bell, A. C., Ge, K., & Popkin, B. M. (2002). The road to obesity or the path to prevention: Motorized transportation and obesity in China. Obesity Research, 10(4), 277–283.

Carr, D., & Friedman, M. A. (2005). Is obesity stigmatizing? Body weight, perceived discrimination, and psychological well-being in the United States. Journal of Health and Social Behavior, 46(3), 244–259.

Cassidy, C. M. (1991). The good body: When big is better. Medical Anthropology, 13(3), 181–213.

Cawley, J. (2004). The impact of obesity on wages. Journal of Human Resources, 39(2), 451–474.

Chen, H., Gao, X., & Jackson, T. (2007). Predictive models for understanding body dissatisfaction among young males and females in China. Behaviour Research and Therapy, 45(6), 1345–1356.

Chen, H., & Jackson, T. (2008). Prevalence and sociodemographic correlates of eating disorder endorsements among adolescents and young adults from China. European Eating Disorders Review, 16(5), 375–385.

Conley, D., & Glauber, R. (2007). Gender, body mass, and socioeconomic status: New evidence from the PSID. Advances in Health Economics and Health Services Research, 17, 253–275.

Cutler, D., Glaeser, E., & Shapiro, J. (2003). Why have Americans become more obese? Journal of Economic Perspectives, 17(3), 93–118.

Davis, C., & Katzman, M. (1997). Charting new territory: Body esteem, weight satisfaction, depression, and self-esteem among Chinese males and females in Hong Kong. Sex Roles, 36(7–8), 449–459.

Du, S., Lu, B., Zhai, F., & Popkin, B. M. (2002). A new stage of the nutrition transition in China. Public Health Nutrition, 5(1A), 169–174.

Gates, D. M., Succop, P., Brehm, B. J., Gillespie, G. L., & Sommers, B. D. (2008). Obesity and presenteeism: The impact of body mass index on workplace productivity. Journal of Occupational and Environmental Medicine, 50(1), 39–45.

Ge, K., Weisell, R., Guo, X., Cheng, L., Ma, H., Zhai, F., et al. (1994). The body mass index of Chinese adults in the 1980s. European Journal of Clinical Nutrition, 48(3), S148–S154.

Glass, C. M., Haas, S. A., & Reither, E. N. (2010). The skinny on success: Body mass, gender and occupational standing across the life course. Social Forces, 88(4), 1777–1806.

Gortmaker, S. L., Must, A., Perrin, J. M., Sobol, A. M., & Dietz, W. H. (1993). Social and economic consequences of overweight in adolescence and young adulthood. New England Journal of Medicine, 329(14), 1008–1012.

Gottschang, S. Z. (2001). The consuming mother: Infant feeding and feminine body in urban China. In N. N. Chen, C. D. Clark, S. Z. Gottschang, & L. Jeffery (Eds.), China urban: Ethnographies of contemporary culture (pp. 88–103). Durham: Duke University Press.

Han, M. (2003). Body image dissatisfaction and eating disturbance among Korean college female students: Relationships to media exposure, upward comparison, and perceived reality. Communication Studies, 54(1), 65–78.

Han, E., Norton, E. C., & Stearns, S. C. (2009). Weight and wages: fat versus lean paychecks. Health Economics, 18(5), 535–548.

Hassan, M. K., Joshi, A. V., Madhavan, S. S., & Amonkar, M. M. (2003). Obesity and health-related quality of life: a cross-sectional analysis of the US population. International Journal of Obesity, 27(10), 1227–1232.

Huang, C. C., Yabiku, S. T., & Kronenfeld, J. J. (2015). The effects of household technology on body mass index among Chinese adults. Population Research and Policy Review, 34(6), 877–899.

Huon, G. F., Mingyi, Q., Oliver, K., & Xiao, G. (2002). A large-scale survey of eating disorder symptomatology among female adolescents in the People's Republic of China. International Journal of Eating Disorders, 32(2), 192–205.

James, P. T., Leach, R., Kalamara, E., & Shayeghi, M. (2001). The worldwide obesity epidemic. Obesity Research, 9(S4), 228S–233S.

Jia, H., & Lubetkin, E. I. (2005). The impact of obesity on health-related quality-of-life in the general adult US population. Journal of Public Health, 27(2), 156–164.

Johar, M., & Katayama, H. (2012). Quantile regression analysis of body mass and wages. Health Economics, 21(5), 597–611.

Jung, J., & Forbes, G. B. (2007). Body dissatisfaction and disordered eating among college women in China, South Korea, and the United States: Contrasting predictions from sociocultural and feminist theories. Psychology of Women Quarterly, 31(4), 381–393.

Kline, B., & Tobias, J. L. (2008). The wages of BMI: Bayesian analysis of a skewed treatment–response model with nonparametric endogeneity. Journal of Applied Econometrics, 23(6), 767–793.

Lee, S. (1999). Fat, fatigue and the feminine: The changing cultural experience of women in Hong Kong. Culture, Medicine and Psychiatry, 23(1), 51–73.

Lee, S., & Lee, A. M. (2000). Disordered eating in three communities of China: A comparative study of female high school students in Hong Kong, Shenzhen, and rural Hunan. International Journal of Eating Disorders, 27(3), 317–327.

Leung, F., Lam, S., & Sze, S. (2001). Cultural expectations of thinness in Chinese women. Eating Disorders, 9(4), 339–350.

Luo, Y., Parish, W. L., & Laumann, E. O. (2005). A population-based study of body image concerns among urban Chinese adults. Body Image, 2(4), 333–345.

Luo, X., & Wang, C. (2003). Xinshengdai nongcun liudong renkou de waichu dongyin yu xingdong xuanze [causes and choices of migration for the new generation of rural urban migrants]. Zhejiang Social Sciences, 1, 109–113.

Ma, G. S., Li, Y. P., Wu, Y. F., Zhai, F. Y., Cui, Z. H., Hu, X. Q., et al. (2005). The prevalence of body overweight and obesity and its changes among Chinese people during 1992 to 2002. Chinese Journal of Preventive Medicine, 39(5), 311–315.

Must, A., Spadano, J., Coakley, E. H., Field, A. E., Colditz, G., & Dietz, W. H. (1999). The disease burden associated with overweight and obesity. The Journal of the American Medical Association, 282(16), 1523–1529.

Neovius, K., Johansson, K., Kark, M., & Neovius, M. (2009). Obesity status and sick leave: A systematic review. Obesity Reviews, 10(1), 17–27.

Ng, S. W., Norton, E. C., & Popkin, B. M. (2009). Why have physical activity levels declined among Chinese adults? Findings from the 1991–2006 China health and nutrition surveys. Social Science and Medicine, 68(7), 1305–1314.

Patterson, S. (2011). Obesity in China: Waistlines are expanding twice as fast as GDP 2011. Retrieved from University of South California, US-China Today website: http://www.uschina.usc.edu/w_usci/showarticle.aspx?articleID=16595&AspxAutoDetectCookieSupport=1.

Pope, H., Phillips, K. A., & Olivardia, R. (2000). The adonis complex: The secret crisis of male body obsession. New York: Simon and Schuster.

Popkin, B. M., Du, S., Zhai, F., & Zhang, B. (2010). Cohort profile: The China Health and Nutrition Survey—monitoring and understanding socio-economic and health change in China, 1989–2011. International Journal of Epidemiology, 39(6), 1435–1440.

Renehan, A. G., Tyson, M., Egger, M., Heller, R. F., & Zwahlen, M. (2008). Body-mass index and incidence of cancer: A systematic review and meta-analysis of prospective observational studies. The Lancet, 371(9612), 569–578.

Schafer, M. H., & Ferraro, K. F. (2011). The stigma of obesity does perceived weight discrimination affect identity and physical health? Social Psychology Quarterly, 74(1), 76–97.

Schmier, J. K., Jones, M. L., & Halpern, M. T. (2006). Cost of obesity in the workplace. Scandinavian Journal of Work, Environment & Health, 32(1), 5–11.

Schultz, A. B., & Edington, D. W. (2007). Employee health and presenteeism: A systematic review. Journal of Occupational Rehabilitation, 17(3), 547–579.

Shai, I., Jiang, R., Manson, J. E., Stampfer, M. J., Willett, W. C., Colditz, G. A., et al. (2006). Ethnicity, obesity, and risk of type 2 diabetes in women a 20-year follow-up study. Diabetes Care, 29(7), 1585–1590.

Tong, J., Miao, S., Wang, J., Yang, F., Lai, H., Zhang, C., et al. (2014). A two-stage epidemiologic study on prevalence of eating disorders in female university students in Wuhan, China. Social Psychiatry and Psychiatric Epidemiology, 49(3), 499–505.

Van Duijvenbode, D. C., Hoozemans, M. J. M., Van Poppel, M. N. M., & Proper, K. I. (2009). The relationship between overweight and obesity, and sick leave: A systematic review. International Journal of Obesity, 33(8), 807–816.

Wang, X. (2008). An investigation into intergenerational differences between two generations of migrant workers. Social Sciences in China, 29(3), 136–156.

Wang, H., Du, S., Zhai, F., & Popkin, B. M. (2006). Trends in the distribution of body mass index among Chinese adults, aged 20–45 years (1989–2000). International Journal of Obesity, 31(2), 272–278.

Wen, C. P., Cheng, D. T. Y., Tsai, S. P., Chan, H. T., Hsu, H. L., Hsu, C. C., et al. (2009). "Are Asians at greater mortality risks for being overweight than Caucasians? Redefining obesity for Asians. Public Health Nutrition, 12(4), 497.

Wooldridge, J. M. (2010). Econometric analysis of cross section and panel data. Cambridge, MA: MIT.

Wu, J., & Delong, M. (2006). Chinese perceptions of western-branded denim jeans: A Shanghai case study. Journal of Fashion Marketing and Management: An International Journal, 10(2), 238–250.

Xu, X., Mellor, D., Kiehne, M., Ricciardelli, L. A., McCabe, M. P., & Xu, Y. (2010). Body dissatisfaction, engagement in body change behaviors and sociocultural influences on body image among Chinese adolescents. Body Image, 7(2), 156–164.

Yang, C. F. J., Gray, P., & Pope, H. G. (2005). Male body image in Taiwan versus the West: Yanggang Zhiqi meets the adonis complex. American Journal of Psychiatry, 162(2), 263–269.

Zhou, B. (2002). Cooperative Meta-Analysis Group of China Obesity task force: Predictive values of body mass index and waist circumference to risk factors of related diseases in Chinese adult population. Zhonghua Liu Xing Bing Xue Za Zhi, 23(1), 5–10.
Appendix
Appendix
See Table 5.
About this article
Cite this article
Huang, CC., Yabiku, S.T., Ayers, S.L. et al. The obesity pay gap: gender, body size, and wage inequalities—a longitudinal study of Chinese adults, 1991–2011. J Pop Research 33, 221–242 (2016). https://doi.org/10.1007/s12546-016-9170-3
Keywords
Body mass index

Wage penalty

Obesity

Longitudinal study

China health and nutrition survey (CHNS)