Abstract
A new zatracheid temnospondyl adds to the fossil-rich T0 assemblage of the Chemnitz Fossil Lagerstätte (Chemnitz Basin, Sakmarian–Artinskian transition). The skeleton was found in basal air-fall tuffs of the Zeisigwald Tuff (Leukersdorf Formation) and consists of the almost complete skull roof in dorsal view, parts of the occiput, fore and hind limbs, numerous presacral vertebrae and ribs, parts of the pelvic girdle and ventral scales. The new taxon Chemnitzion richteri gen. nov. et sp. nov. is proposed due to the following autapomorphic characters: (1) postorbital skull very short, about five times shorter than the preorbital skull; (2) elongate and robust hindlimbs, with femur length reaching almost half of the skull length. A phylogenetic analysis finds the new taxon at the base of a monophyletic Zatracheidae, forming a trichotomy with Acanthostomatops vorax and the more derived zatracheids [Zatrachys serratus + (Dasyceps bucklandi + D. microphthalmus)]. The animal was part of a diverse trophic web of plants, animals and microorganisms. Various vertebrates, arthropods and gastropods constituted a vital community that lived in a dense, seasonally influenced forest habitat dominated by tree-sized ferns, calamitaleans, medullosans and cordaitaleans. The temnospondyl's death and taphonomic background is closely related to the ash-cloud deposition following a phreatoplinian eruption. The following massive pyroclastic flow finally entombed the moist forest and intensively heated all enclosed organic remnants.
Access options
Buy single article
Instant access to the full article PDF.
USD 39.95
Price excludes VAT (USA)
Tax calculation will be finalised during checkout.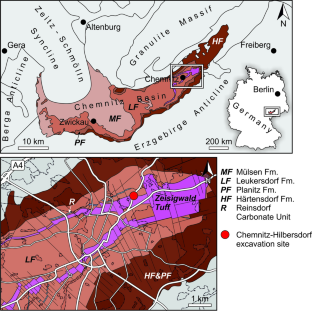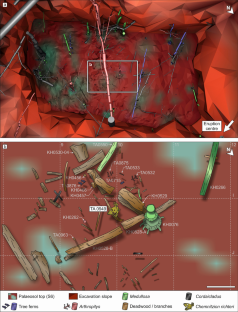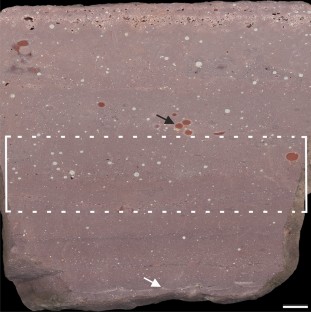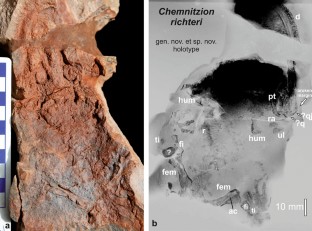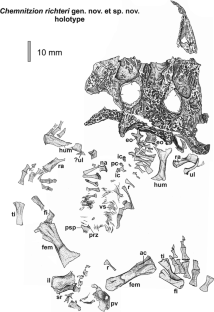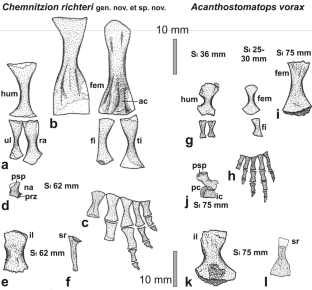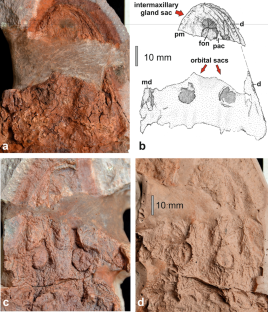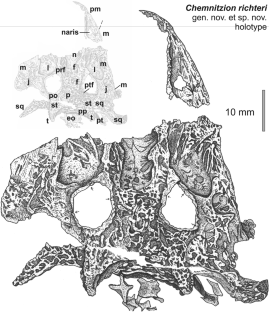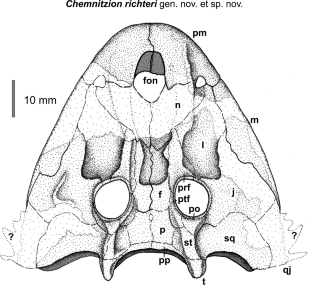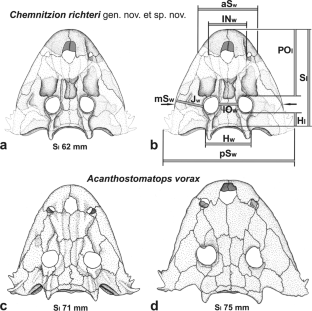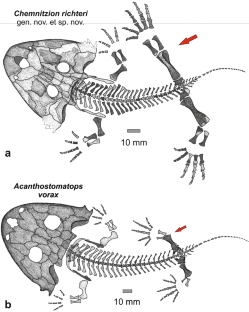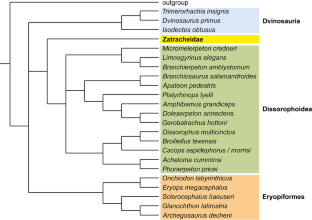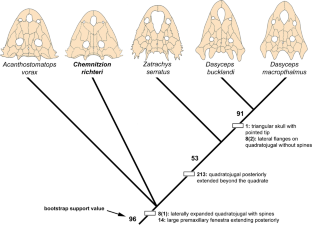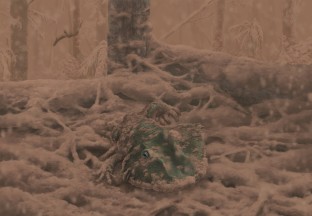 References
Barthel, M. 1976. Die Rotliegendflora Sachsens. Abhandlungen Des Staatlichen Museums Für Mineralogie Und Geologie Dresden 24: 1–190.

Boy, J.A. 1989. Über einige Vertreter der Eryopoidea (Amphibia: Temnospondyli) aus dem europäischen Rotliegend (?höchstes Karbon-Perm) 2. Acanthostomatops. Paläontologische Zeitschrift 63: 133–151.

Broom, R. 1913. Studies on the Permian temnospondylous stegocephalians of North America. Bulletin of the American Museum of Natural History 32: 563–696.

Broutin, J., J. Doubinger, G. Farjanel, P. Freytet, H. Kerp, J. Langiaux, M.-L. Lebreton, S. Sebban, and S. Satta. 1990. Le renouvellement des flores au passage Carbonifère Permien: approches stratigraphique, biologique, sédimentologique. Comptes Rendus De L'académie Des Sciences (ser. Ll) 311: 1563–1569.

Case, E.C. 1911. Revision of the Amphibia and Pisces of the Permian of North America. Carnegie Institution of Washington Publication 146: 1–179.

Cohen, K.M., S.C. Finney, P.L. Gibbard & J.-X. Fan 2013. The ICS International Chronostratigraphic Chart. Episodes 36: 199–204.

Cope, E.D. 1882. The rhachitomous Stegocephalia. American Naturalist 16: 334–335.

Cope, E.D. 1896. The reptilian order Cotylosauria. Proceedings of the American Philosophical Society 34: 436–457.

Credner, H. 1883. Die Stegocephalen aus dem Rothliegenden des Plauen'schen Grundes bei Dresden. Vierter Theil. Zeitschrift der Deutschen Geologischen Gesellschaft 35: 275–300.

Di Michele, W.A., and H.J. Falcon-Lang. 2011. Pennsylvanian 'Fossil Forests' in Growth Position (T0 assemblages): Origin, Taphonomic bias and Palaeoecological Insights. Journal of the Geological Society 168: 585–605. https://doi.org/10.1144/0016-76492010-103.

Di Michele, W. A., N. J. Tabor, D. S. Chaney, and W. J. Nelson. 2006. From wetlands to wet spots: Environmental tracking and the fate of Carboniferous elements in Early Permian tropical floras. In Wetlands through time, Geological Society of America Special Papers vol. 399, eds. S. F. Greb, and W. A. Di Michele, 223–248).

Döring, H., F. Fischer, and R. Rößler. 1999. Sporostratigraphische Korrelation des Rotliegend im Erzgebirge-Becken mit dem Permprofil des Donezk-Beckens. Veröffentlichungen des Museums für Naturkunde Chemnitz 22: 29–56.

Dunlop, J.A., and R. Rößler. 2013. The youngest trigonotarbid Permotarbus schuberti n. gen., n. sp. from the Permian of Chemnitz in Germany. Fossil Record 16: 229–243.

Dunlop, J.A., D.A. Legg, P.A. Selden, V. Fet, J.W. Schneider, and R. Rößler. 2016. Permian scorpions from the Petrified Forest of Chemnitz Germany. BMC Evolutionary Biology 16: 72. https://doi.org/10.1186/s12862-016-0634-z.

Feng, Z., R. Rößler, V. Annacker, and J.-Y. Yang. 2014. Micro-CT Investigation of a Seed Fern (probable medullosan) Fertile Pinna from the Early Permian Petrified Forest in Chemnitz, Germany. Gondwana Research 26: 1208–1215. https://doi.org/10.1016/j.gr.2013.08.005.

Fischer, F. 1991. Das Rotliegende des ostthüringisch-westsächsischen Raumes (Vorerzgebirgs-Senke, Nordwestsächsischer Vulkanitkomplex, Geraer Becken). Ph.D. thesis, TU Bergakademie Freiberg, unpublished, pp. 1–158.

Geinitz, H.B., and J.V. Deichmüller. 1882. Die Saurier der unteren Dyas von Sachsen. Palaeontographica 29: 1–46.

Kerp, H., R. Noll, and D. Uhl. 2007. Vegetationsbilder aus dem saarpfälzischen Permokarbon. In: Kohlesümpfe, Seen und Halbwüsten. Dokumente einer rund 300 Millionen Jahre Lebewelt zwischen Saarbrücken und Mainz, vol. 10. eds. Schindler, T., and U. H. J. Heidtke, 76–109. Pollichia, Sonderveröffentlichung.

Kretzschmar, R., V. Annacker, S. Eulenberger, B. Tunger, and R. Rößler. 2008. Erste wissenschaftliche Grabung im Versteinerten Wald von Chemnitz—ein Zwischenbericht. Freiberger Forschungsheft C528: 25–55.

Kroner, U., and R.L. Romer. 2013. Two plates—many subduction zones: the Variscan orogeny reconsidered. Gondwana Research 24: 298–329.

Langston, W. 1953. Permian amphibians from New Mexico. University of California Publications in Geological Sciences 29: 349–416.

Löcse, F., U. Linnemann, G. Schneider, M. Merbitz, and R. Rößler. 2019. First U-Pb LA-ICP-MS zircon ages and zircon morphology investigations assessed from a volcano-sedimentary complex of the mid-European Variscids (Pennsylvanian, Flöha Basin, SE Germany). International Journal of Earth Sciences 108 (2): 713–733.

Löcse, F., J. Rötzler, B. Härtel, U. Linnemann, G. Schneider, and R. Rößler. 2020. Geologie, Geochemie und LA-ICP-MS U-Pb Alter jungpaläozoischer Eruptionszentren am NW-Rand des Erzgebirges (Sachsen)—der Obermühlbach-Vulkan. Zeitschrift der Deutschen Gesellschaft für Geowissenschaften (Journal of Applied Regional Geology) 171 (4): 443–480.

Luthardt, L., R. Rößler, and J.W. Schneider. 2016. Palaeoclimatic and site-specific conditions in the early permian fossil forest of chemnitz—sedimentological, geochemical and palaeobotanical evidence. Palaeogeography, Palaeoclimatology, Palaeoecology 441: 627–652.

Luthardt, L., R. Rößler, and J.W. Schneider. 2017. Tree-ring analysis elucidating palaeo-environmental effects captured in an in situ fossil forest—the last 80 years within an early Permian ecosystem. Palaeogeography, Palaeoclimatology, Palaeoecology 487: 278–295.

Luthardt, L., M. Hofmann, U. Linnemann, A. Gerdes, L. Marko, and R. Rößler. 2018. A new U-Pb zircon age and a volcanogenic model for the early Permian Chemnitz Fossil Forest. International Journal of Earth Sciences 107 (7): 2465–2489.

Luthardt, L., J. Galtier, B. Meyer-Berthaud, V. Mencl, and R. Rößler. 2021. Medullosan seed ferns of seasonally-dry habitats: old and new perspectives on enigmatic elements of Late Pennsylvanian–early Permian intramontane basinal vegetation. Review of Palaeobotany and Palynology 288: 104400.

Maddison, W.P., and D.R. Maddison. 1992. MacClade: analysis of phylogeny and character evolution. Sunderland: Sinauer.

Marjanović, D., and M. Laurin. 2019. Phylogeny of Paleozoic limbed vertebrates reassessed through revision and expansion of the largest published relevant data matrix. PeerJ 6: e5565.

Milner, A.R. 1993. The Paleozoic relatives of lissamphibians. Herpetological Monographs 7: 8–27.

Milner, A.R., and R.R. Schoch. 2006. Stegops, a problematic spiky-headed temnospondyl. Journal of Vertebrate Paleontology 27 (3): 101A.

Milner, A.R., J. Klembara, and O. Dostál. 2007. A zatrachydid temnospondyl from the lower Permian of the Boskovice Furrow in Moravia (Czech Republic). Journal of Vertebrate Paleontology 27: 711–715.

Montañez, I.P., N.J. Tabor, D. Niemeier, W.A. DiMichele, T.D. Frank, C.R. Fielding, J.L. Isbell, L.P. Birgenheier, and M.C. Rygel. 2007. CO2-forced climate and vegetation instability during Late Paleozoic deglaciation. Science 315 (5808): 87–91.

Olson, E.C. 1965. Zatrachys serratus Cope (Amphibia: Labyrinthodontia) from McClain County. Oklahoma Geology Notes 25: 91–97.

Paton, R.L. 1975. A lower Permian temnospondylous amphibian from the English Midlands. Palaeontology 18: 831–845.

Riedel, L., and G. Urban. 1989. Neues zur Fundgeschichte der Kieselhölzer von Karl-Marx-Stadt. Veröffentlichungen des Museums für Naturkunde Karl-Marx-Stadt 13: 3–5.

Romer, A.S. 1947. Review of the Labyrinthodontia. Bulletin of the Museum of Comparative Zoology Harvard College 99: 1–368.

Romer, A.S. 1966. Vertebrate paleontology, 3rd ed. Chicago: University of Chicago Press.

Roscher, M., and J. W. Schneider. 2006. Early Pennsylvanian to late Permian climatic development of central Europe in a regional and global context. In Non-Marine Permian Biostratigraphy and Biochronology. Geological Society of London, Special Publications, vol. 265. eds. S. G. Lucas, G. Cassinis, and J. W. Schneider, 95–136.

Rößler, R. 2000. The late Palaeozoic tree fern Psaronius—an ecosystem unto itself. Review of Palaeobotany and Palynology 108: 55–74.

Rößler, R. 2021. The most entirely known Permian terrestrial ecosystem on Earth—kept by explosive volcanism. Palaeontographica Abt B 303 (1–3): 1–75.

Rößler, R., R. Kretzschmar, V. Annacker, and S. Mehlhorn. 2009. Auf Schatzsuche in Chemnitz—Wissenschaftliche Grabungen '09. Veröffentlichungen des Museums für Naturkunde Chemnitz 32: 25–46.

Rößler, R., Z. Feng, and R. Noll. 2012a. The largest calamite and its growth architecture—Arthropitys bistriata from the Permian Petrified forest of Chemnitz. Review of Palaeobotany and Palynology 185: 64–78.

Rößler, R., T. Zierold, Z. Feng, R. Kretzschmar, M. Merbitz, V. Annacker, and J.W. Schneider. 2012b. A snapshot of an early permian ecosystem preserved by explosive volcanism: new results from the petrified forest of Chemnitz, Germany. Palaios 27: 814–834.

Rößler, R., M. Merbitz, V. Annacker, L. Luthardt, R. Noll, R. Neregato, and R. Rohn. 2014. The root systems of Permian arborescent sphenopsids: evidence from the Northern and Southern hemispheres. Palaeontographica Abt B 291 (4–6): 65–107.

Rößler, R. 2006. Two remarkable Permian petrified forests: correlation, comparison and significance. In Non-Marine Permian Biostratigraphy and Biochronology. Geological Society of London, Special Publications, vol. 265. eds. S. G. Lucas, G. Cassinis, and J. W. Schneider, 39–63.

Schneider, J.W., R. Rößler, and B.G. Gaitzsch. 1995. Timelines of late Variscan volcanism—a holostratigraphic synthesis. Zentralblatt für Geologie und Paläontologie (Teil i) 1994 (5/6): 477–490.

Schneider, J.W., F. Körner, M. Roscher, and U. Kroner. 2006. Permian climate development in the Northern Peri-Tethys Area—the Lodève basin, French Massif Central, Compared in a European and Global Context. Palaeogeography, Palaeoclimatology, Palaeoecology 240: 161–183.

Schneider, J.W., S.G. Lucas, R. Werneburg, and R. Rößler. 2010. Euramerican late Pennsylvanian/early Permian arthropleurid/tetrapod associations—implications for the habitat and paleobiology of the largest terrestrial arthropod. New Mexico Museum of Natural History and Science Bulletin 49: 49–70.

Schneider, J.W., S.G. Lucas, F. Scholze, S. Voigt, L. Marchetti, H. Klein, S. Opluštil, R. Werneburg, V.K. Golubev, J.E. Barrick, T. Nemyrovska, A. Ronchi, M.O. Day, V.V. Silantiev, R. Rößler, H. Saber, U. Linnemann, V. Zharinova, and S.-Z. Shen. 2020. Late Paleozoic–early Mesozoic continental biostratigraphy—links to the Standard Global Chronostratigraphic Scale. Palaeoworld 29: 186–238. https://doi.org/10.1016/j.palwor.2019.09.001.

Schneider, J. W., R. Rößler, and F. Fischer. 2012. Rotliegend des Chemnitz-Beckens (syn. Erzgebirge-Becken). In Stratigraphie von Deutschland X. Rotliegend. Teil I: Innervariscische Becken, ed. Deutsche Stratigraphische Kommission. Schriftenreihe der Deutschen Gesellschaft für Geowissenschaften (vol. 61, pp. 530–588)

Schoch, R.R. 1997. Cranial anatomy of the Permian temnospondyl amphibian Zatrachys serratus Cope 1878, and the phylogenetic position of the Zatracheidae. Neues Jahrbuch für Geologie und Paläontologie, Abhandlungen 206: 223–248.

Schoch, R.R. 2013. The evolution of major temnospondyl clades: an inclusive phylogenetic analysis. Journal of Systematic Palaeontology 11 (6): 673–705.

Schoch, R.R., and A.R. Milner. 2014. Handbook of paleoherpetology. Part 3A2. Temnospondyli I. Munich: Verlag Friedrich Pfeil.

Spindler, F., R. Werneburg, J.W. Schneider, L. Luthardt, V. Annacker, and R. Rößler. 2018. First arboreal 'pelycosaurs' (Synapsida: Varanopidae) from the early Permian Chemnitz Fossil Lagerstätte, SE Germany, with a review of varanopid phylogeny. PalZ. Paläontologische Zeitschrift 92 (2): 315–364.

Steen, M.C. 1937. On Acanthostoma vorax Credner. Proceedings of the Zoological Society London B107: 491–500.

Sterzel, J.T. 1918. Die organischen Reste des Kulms und des Rotliegenden der Gegend von Chemnitz. Abhandlungen der Königlich Sächsischen Gesellschaft der Wissenschaften (Mathematisch-Physikalische Klasse) 35 (5): 205–315.

Swofford, D. 1991. PAUP: phylogenetic analysis using parsimony, version 3.1. Champaign: Illinois Natural History Survey.

Tabor, N.J., and C.J. Poulsen. 2008. Palaeoclimate across the late Pennsylvanian–early Permian tropical palaeolatitudes: a review of climate indicators, their distribution, and relation to palaeophysiographic climate factors. Palaeogeography, Palaeoclimatology, Palaeoecology 268: 293–310.

Tichomirowa, M., A. Gerdes, M. Lapp, D. Leonhardt, and M. Whitehouse. 2019. The chemical evolution from older (323–318 Ma) towards younger highly evolved tin granites (315–314 Ma)—sources and metal enrichment in Variscan granites of the Western Erzgebirge (Central European Variscides, Germany). Minerals 2019 (9): 769. https://doi.org/10.3390/min9120769.

Urban, M., and D.S. Berman. 2007. First occurrence of the Late Paleozoic amphibian Zatrachys serratus (Temnospondyli, Zatrachydidae) in the eastern United States. Annals of the Carnegie Museum 76: 157–164.

von Huene, F. 1910. Neubeschreibung des permischen Stegocephalen Dasyceps bucklandi (Lloyd) aus Kenilworth. Geologisch-Paläontologische Abhandlungen 8: 325–338.

von Zittel, K.A. 1888. Handbuch der Paläontologie. 1. Abtheilung: Paläozoologie. Third volume Vertebrata (Pisces, Amphibia, Reptilia, Aves), 1–598. Berlin: Oldenbourg.

Witzmann, F., and R.R. Schoch. 2006. Skeletal development of the temnospondyl Acanthostomatops vorax from the Lower Permian Döhlen Basin of Saxony. Transactions of the Royal Society of Edinburgh, Earth Sciences 96: 365–385.

Witzmann, F., R. Schoch, and A.R. Milner. 2007. The origin of the Dissorophoidea—an alternative perspective. Journal of Vertebrate Paleontology 27 (3): 167A.

Yates, A.M., and A.A. Warren. 2000. The phylogeny of the 'higher' temnospondyls (Vertebrata: Choanata) and its implications for the monophyly and origins of the Stereospondyli. Zoological Journal of the Linnean Society 128 (1): 77–121.
Acknowledgements
We gratefully acknowledge the support by the Chemnitz excavation team, including Ralph Kretzschmar, Volker Annacker and Mathias Merbitz, for professional fieldwork, saving of the finds, recording crucial information and many fruitful discussions, and Thorid Zierold encouraged the project management. We express special thanks to Georg Sommer, Schleusingen, for skeleton preparation and Frederik Spindler, Denkendorf, for the fine artwork of Fig. 15. We thank Irina Ruf, former University of Bonn, for her help to provide X-ray scans of the holotype. We are further indebted to Maibrit Scheibel, Annika Buitink and Thomas Israel. David Marjanović, Luisa Merten and Luisa Pusch are thanked for help with the phylogenetic analysis, Frank Löcse checked statistics to calculate tuff compaction, Steffen Trümper kindly assisted with figure preparation, and Burkhard Müller facilitated the naming of the find. This research was supported by the Deutsche Forschungsgemeinschaft (DFG grants RO 1273-3/1 to R.R. and SCHN 408/20 to J.W.S.). The manuscript benefited greatly from the constructive reviews provided by Bryan Gee and Jade Atkins. This publication contributes to the tasks of the "Nonmarine–Marine Correlation Working Group" of the Subcommissions on Carboniferous Stratigraphy (SCCS), Permian Stratigraphy (SPS), and Triassic Stratigraphy (STS).
Additional information
Handling Editor: Nadia Fröbisch.
Supplementary Information
Below is the link to the electronic supplementary material.
About this article
Cite this article
Werneburg, R., Witzmann, F., Schneider, J.W. et al. A new basal zatracheid temnospondyl from the early Permian Chemnitz Fossil Lagerstätte, central-east Germany. PalZ (2022). https://doi.org/10.1007/s12542-022-00624-8
Received:

Accepted:

Published:

DOI: https://doi.org/10.1007/s12542-022-00624-8
Keywords
Terrestriality

Chemnitzion richteri gen. nov. et sp. nov.

Zatracheidae

Skull roof sculpture

Powerful hind limb

Cisuralian

Volcanic taphonomy