Abstract
The recognition of taphonomic alterations is an important step previously to any paleopathological analysis, as some taphonomic features can simulate pathological change on bones. This is a difficult task, but there are some diagnostic criteria that can be used to differentiate them. Here we demonstrate how these features can be macroscopically distinguished using skeletal remains of Quaternary mammals as a model and pointing out how some specific pathological bone changes and diseases can be misinterpreted as taphonomic features (e.g. abrasion marks, corrosion marks, incrustation, post-mortem breakages, and punctures). Although this study has been specifically conducted with Quaternary mammals, the criteria used herein can be employed to any other fossil mammal of equivalent body mass and bone size.
Access options
Buy single article
Instant access to the full article PDF.
US$ 39.95
Tax calculation will be finalised during checkout.
Subscribe to journal
Immediate online access to all issues from 2019. Subscription will auto renew annually.
US$ 79
Tax calculation will be finalised during checkout.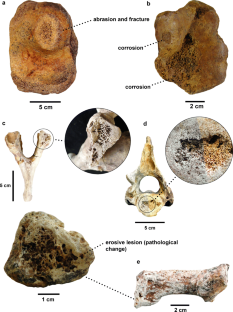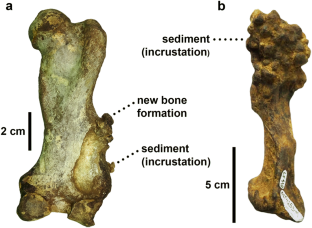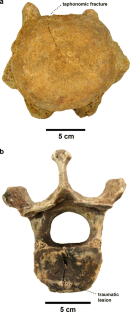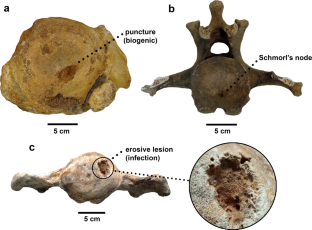 References
Araújo-Júnior, H.I., K.O. Porpino, C.L. Ximenes, and L.P. Bergqvist. 2013. Unveiling the taphonomy of elusive natural tank deposits: A study case in the Pleistocene of northeastern Brazil. Palaeogeography, Palaeoclimatology, Palaeoecology 378: 52–74.

Aufderheide, A.C., and C. Rodríguez-Martín. 1998. The Cambridge encyclopedia of human paleopathology. Cambridge: Cambridge University Press.

Barbosa, F.H.S., K.O. Porpino, L.P. Bergqvist, and B.M. Rothschild. 2017. Elucidating bone diseases in Brazilian Pleistocene sloths (Xenarthra, Pilosa, Folivora): First Cases reported for the Nothrotheriidae and Megalonychidae families. Ameghiniana 54: 331–340.

Barbosa, F.H.S., K.O. Porpino, H.I. Araújo-Júnior, L.P. Bergqvist, and B.M. Rothschild. 2019. Articular and vertebral lesions in the Pleistocene sloths (Xenarthra, Folivora) from the Brazilian Intertropical Region. Historical Biology 31(5): 544–558.

Behrensmeyer, A.K. 1988. Taphonomy and Hunting. In The Evolution of Human Hunting, eds. M.H. Nitecki, and D.V. Nitecki, 423–450. Chicago, Ill.: Field Museum of Natural History.

Behrensmeyer, A.K. 1991. Terrestrial vertebrate accumulations. In Taphonomy: releasing the data locked in the fossil record, eds. P.A. Allison and D.E.G. Briggs, 291–335. New York: Plenum Press.

Behrensmeyer, A.K., and J.H. Miller. 2012. Building links between ecology and paleontology using taphonomic studies of recent vertebrate communities. In Paleontology in ecology and conservation, ed. J. Louys, 69–91. Berlin: Springer.

Behrensmeyer, A.K., and S.M. Kidwell. 1985. Taphonomy's contributions to Paleobiology. Paleobiology 11: 105–119.

Behrensmeyer, A.K., S.M. Kidwell, and R.A. Gastaldo. 2000. Taphonomy and paleobiology. In Deep Time and Paleobiology's Perspective. Supplement to Paleobiology, eds. D.H. Erwin, and S.L. Wing, 103–147. Chicago, Ill.: The Paleontological Society.

Bywaters, E. 1960. The early radiologic signs of rheumatoid arthritis. Bulletin on the Rheumatic Diseases 11: 231–234.

Cartelle, C. 1999. Pleistocene mammals of the Cerrado and Caatinga of Brazil. In Mammals of the neotropics: the central tropics, eds. J.B. Eisenberg, and K.H. Redford, 27–46. Chicago, Ill.: University of Chicago Press.

Eberth, D.A., R.R. Rogers, and A.R. Fiorillo. 2007. A practical approach to the study of bonebeds. In Bonebeds: Genesis, Analysis and Paleobiological Significance, eds. R.R. Rogers, D.A. Eberth, and A.R. Fiorillo, 265–332. Chicago, Ill.: The University of Chicago Press.

Fernández-Jalvo, Y., and P. Andrews. 2016. Atlas of taphonomic identifications: 1001+ images of fossil and recent mammal bone modification. Heidelberg: Springer.

Haynes, G. 1983. A guide for differentiating mammalian carnivore taxa responsible for gnaw damage to herbivore limb bones. Paleobiology 9: 164–172.

Hershkovitz, I., B.M. Rothschild, O. Dutour, and C. Greenwald. 1998. Clues to recognition of fungal origin of lytic skeletal lesions. American Journal of Physical Anthropology 106: 47–60.

Holz, M., and M.G. Simões. 2002. Elementos Fundamentais de Tafonomia. Porto Alegre: Editora da Universidade/UFRGS.

Lyman, R.L. 1994. Vertebrate Taphonomy. Cambridge: Cambridge University Press.

Margerl, F., M. Aebi, S.D. Gertzbein, J. Harms, and S. Nazarian. 1994. A comprehensive classification of thoracic and lumbar injuries. European Spine Journal 3: 184–201.

Martel, W. 1968. Radiologic signs of rheumatoid arthritis with particular reference to the hand, wrist, and foot. Medical Clinics of North America 52: 655–665.

McEwen, C., D. Di Tata, and J. Lingg. 1971. Ankylosing spondylitis and spondylitis accompanying ulcerative colitis, regional enteritis, psoriasis and Reiter's disease. a comparative study. Arthritis & Rheumatology 14: 291–318.

Medeiros, M.A.A. 2010. Fossildiagênese. In Paleontologia, ed. I.S. Carvalho, 65–78. Rio de Janeiro: Interciência.

Ortner, D.J. 2003. Methods used in the analyses of skeletal lesions. In Identification of pathological conditions in human skeletal remains, ed. D.J. Ortner, 45–64. San Diego: Academic Press.

Peng, B., W. Wu, S. Hou, W. Shang, X. Wang, and Y. Yang. 2003. The pathogenesis of Schmorl's nodes. The Journal of Bone & Joint Surgery 85-B: 879–882.

Pfirmann, C.W.A., and D. Resnick. 2001. Schmorl nodes of the thoracic and lumbar spine: Radiographic-pathologic study of prevalence, characterization, and correlation with degenerative changes of 1650 spinal levels in 100 cadavers. Radiology 219: 368–374.

Resnick, D. 2002. Diagnosis of bone and joint disorders. Philadelphia: Saunders.

Rothschild, B.M. 1982. Rheumatology: a primary care approach. New York: Yorke Medical Press.

Rothschild, B.M., and L.D. Martin. 2006. Skeletal impact of disease. New Mexico Museum of Natural History and Science, Bulletin 33: 1–226.

Ruffer, S.A.M. 1914. Studies in Palæleopathology in Egypt. Journal of Pathology and Bacteriology 18: 149–162.

Schmorl, G., and H. Junghanns. 1971. The human spine in health and disease. New York: Grune and Stratton.

Schultz, M. 2001. Paleohistopathology of Bone: A New Approach to the Study of Ancient Diseases. Yearbook of Physical Anthropology 44: 106–147.

Smith, A.M., and C.S. Nelson. 2003. Effects of early sea-floor processes on the taphonomy of temperate shelf skeletal carbonate deposits. Earth-Science Reviews 63: 1–31.

Shipman, P. 1981. Life history of a fossil: an introduction to taphonomy and paleoecology. Cambridge: Harvard University Press.

Steinbock, R.T. 1976. Palaeopathological diagnosis and interpretation. Springfield: Thomas.

Waldron, T. 2009. Palaeopathology. New York: Cambridge University Press.

Wells, C. 1967. Pseudopathology. In Diseases in Antiquity, eds. D. Brothwell, and A.T. Sandison, 5–19. Springfield, Ill.: Thomas.

Wu, J.S., and M.G. Hochman. 2012. Bone tumors: a practical guide to imaging. Heidelberg: Springer Science & Business Media.
Acknowledgements
This work was funded by Conselho Nacional de Desenvolvimento Científico e Tecnológico (CNPq; Grants: 150968/2017-5). HIAJr thanks to the financial support provided by FAPERJ (process # E-26/203.176/2017). We thank Museu Câmara Cascudo of the Universidade Federal do Rio Grande do Norte (MCC/UFRN), Museu de Ciências da Terra of the Serviço Geológico do Brasil (MCTer/CPRM) and Museu de Ciências Natural of the Pontifícia Universidade Católica of Minas Gerais (MCL/PUC-MG) that gently give us access to the material studied in this work. We also greatly appreciate the comments provide by the L.P. Bergqvist, the anonymous reviewer and editor-in-chief, Mike Reich (Munich) that improved the manuscript significantly.
Additional information
Handling Editor: Irina Ruf.
About this article
Cite this article
de Souza Barbosa, F.H., da Silva, L.H.M. & de Araújo-Júnior, H.I. Differentiating taphonomic and paleopathological features in Vertebrate Paleontology: a study case with Quaternary mammals. PalZ 94, 595–601 (2020). https://doi.org/10.1007/s12542-019-00495-6
Received:

Accepted:

Published:

Issue Date:
Keywords
Paleopathology

Taphonomy

Ante-mortem

Post-mortem

Fossil mammals

Pseudopaleopathology