Abstract
New finds of Late Palaeozoic arachnids, based on three well-preserved carapaces from the Carboniferous of Russia and Ukraine and one complete, albeit poorly preserved, specimen from the Permian of Kazakhstan, are described. The spider genus Arthrolycosa is reported from the Late Carboniferous (Late Pennsylvanian: Kasimovian–Gzhelian) of Chunya in the Tunguska Basin of Siberia; it is the first find of a spider outside the Carboniferous tropics. Another fossil assigned to the same genus comes from the Late Carboniferous (Early Pennsylvanian: Bashkirian) of Kamensk–Shakhtinsky in the Donets Basin of Russia; it is probably the oldest fossil spider known. A thelyphonid (whip scorpion) carapace is described from the Late Carboniferous (Late Pennsylvanian: Kasimovian) of the adjacent Lugansk Province of the Donets Basin of Ukraine.
Kurzfassung
Neue Funde fossiler Spinnentiere werden basierend auf drei gut erhaltenen Carapaxen aus dem Karbon Russlands und der Ukraine und einer schlecht erhaltenen, kompletten Spinne aus dem Perm Kazakhstans beschrieben. Die Spinnengattung Arthrolycosa wird im Oberkarbon (Kasimovium-Gzhelium, spätes Pennsylvanium) von Chunya im Tunguska-Becken Sibiriens nachgewiesen. Ein weiteres Fossil, das derselben Gattung zugewiesen wird, stammt aus dem Oberkarbon (frühes Pennsylvanium: Bashkirium) von Kamensk–Shakhtinsky im Donez-Becken von Russland. Es handelt sich wahrscheinlich um die älteste bekannte Spinne. Der Carapax eines Geißelskorpions wird aus dem Oberkarbon (Kasimovium, spätes Pennsylvanium) von dem benachbarten Gebiet Lugansk des Donez-Beckens der Ukraine beschrieben.
This is a preview of subscription content, log in to check access.
Access options
Buy single article
Instant access to the full article PDF.
US$ 39.95
Price includes VAT for USA
Subscribe to journal
Immediate online access to all issues from 2019. Subscription will auto renew annually.
US$ 99
This is the net price. Taxes to be calculated in checkout.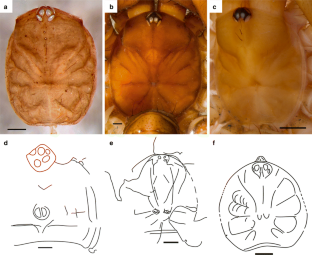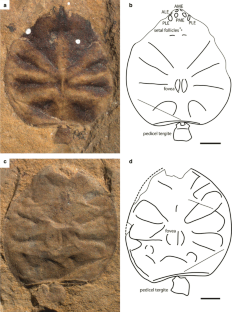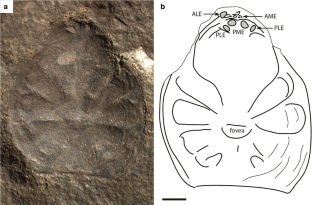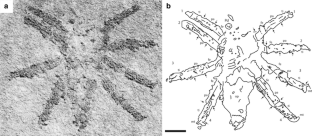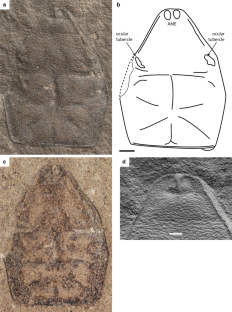 References
Betekhtina, O.A., S.G. Gorelova, S.K. Batyaeva, L.L. Dryagina, and P.A. Tokareva. 1988. Palaeontological characteristic of the regional horizons or the Kuznetsk Basin. Trudy Instituta Geologii i Geophiziki 707: 9–12. [in Russian].

Buckland, W. 1837. The Bridgewater treatises on the power, wisdom and goodness of God as manifested in the creation. Treatise IV. Geology and mineralogy with reference to natural theology. Second edition. London: William Pickering.

Clerck C. 1757. Araneae suecici, descriptionibus et figuris oeneis illustrati, ad genera subalterna redacti speciebus ultra LX determinati. L. Salvii, Stockholm.

Corda AJC. 1835. Ueber den in der Steinkohlenformation bei Cholme gefundenen fossilen Scorpion. Verhandlungen der Gesellschaft des vaterländischen Museums in Böhmen, Prag: 35–43.

Davydov VI, Crowley JL, Schmitz MD, Poletaev VI. 2010. High-precision U-Pb zircon age calibration of the global Carboniferous time scale and Milankovitch band cyclicity in the Donets Basin, eastern Ukraine. Geochemistry, Geophysics, Geosystems 11, Q0AA04. doi:10.1029/2009GC002736.

Davydov VI, Korn D, Schmitz MD. 2012. Carboniferous. 603–651. In The Geologic Time Scale 2012, (eds.) Gradstein FM, Ogg JG, Schmitz MD, Ogg GM. Elsevier, Boston.

Dunlop, J.A., and C.A. Horrocks. 1996. A new Upper Carboniferous whip scorpion (Arachnida: Uropygi) with a revision of the British Carboniferous Uropygi. Zoologischer Anzeiger 234: 293–306.

Eskov K. 1999. First records of trigonotarbids (Arachnida, Trigonotarbida) from the Carboniferous of the cool-temperate Angarian Realm. 23. In 18th European Colloquium of Arachnology. Programme, Abstracts, Addresses and Notes. Stara Lesna, 12–17th July 1999.

Eskov, KYu., and P.A. Selden. 2005. First record of spiders from the Permian period (Araneae: Mesothelae). Bulletin of the British Arachnological Society 13: 111–116.

Fet, V., D.E. Shcherbakov, and M.E. Soleglad. 2011. The first record of Upper Permian and Lower Triassic scorpions from Russia (Chelicerata: Scorpiones). Euscorpius 121: 1–16.

Frič A. 1904. Palaeozoische Arachniden. A. Frič, Prague.

Harger, O. 1874. Notice of a new spider from the Coal Measures of Illinois. American Journal of Science 7: 219–223.

Haupt, J. 1983. Vergleichende Morphologie der Genitalorgane und Phylogenie der liphistiomorphen Webspinnen (Araneae: Mesothelae). I. Revision der bisher bekannten Arten. Zeitschrift für Zoologische Systematik und Evolutionsforschung 21: 275–293.

Haupt, J. 2003. The Mesothelae—a monograph of an exceptional group of spiders (Araneae: Mesothelae). Zoologica 154: 1–102.

Ivakhnenko, M.F. 1987. Permian parareptiles of USSR. Trudy paleontologicheskogo Instituta AN SSSR 223: 1–160. [in Russian].

Jocqué, R., and A.S. Dippenaar-Schoeman. 2007. Spider families of the world, 2nd ed. Tervuren: Musée Royal de l'Afrique Centrale. 336 pp.

Kishida, K. 1920. Occurrence of a liphistiid spider in Japan. Zoological Magazine Tokyo 32: 360–363. [In Japanese].

Kuznetsov, V.V., and M.F. Ivakhnenko. 1981. Discosauriscids from the Upper Palaeozoic of South Kazakhstan. Paleontologicheskij zhurnal 3: 102–110. [In Russian].

Kušta J. 1884. Thelyphonus bohemicus n. sp., ein fossiler Geisselscorpion aus der Steinkohlenformation von Rakonitz. Sitzungsberichte der Königlich Böhmischen Gesellschaft der Wissenschaften, Mathematisch-Naturwissenschaftliche Klasse: 186–191.

Kušta J. 1888. O nových arachnidech z karbonu Rakovnického. Véstnik (Zprávy o Zasedání) Královské Cěské Spolěcnosti Nauk: 194–208. [In Czech and German].

Latreille PA. 1804. Histoire naturelle, générale et particulière, des Crustacés et des Insectes, Vol. 7. 144–305. F. Dufart, Paris.

Laurentiaux-Vieira, F., and D. Laurentiaux. 1963. Sur quelques restes nouveaux d'Arachnides du terrain houiller. Annales de la Société géologique du Nord 83: 23–29.

Meek, F.B., and A.H. Worthen. 1865. Notice of some new types of organic remains from the Coal Measures of Illinois. Proceedings of the Academy of Natural Sciences of Philadelphia 17: 41–45.

Millot, J. 1949. Ordre des Uropyges (Uropygi Thorell). In Traité de Zoologie. Tome VI, ed. P.-P. Grasse, 533–562. Paris: Masson et Cie.

Ono, H. 1988. Liphistiid spiders (Araneae, Mesothelae) of south Thailand. Bulletin of the National Science Museum, Tokyo (A) 14: 145–150.

Penney, D., and P.A. Selden. 2006. Assembling the tree of life—phylogeny of spiders: a review of the strictly fossil spider families. Acta zoologica bulgarica 1: 25–39.

Petrunkevitch, A.I. 1913. A monograph of the terrestrial Palaeozoic Arachnida of North America. Transactions of the Connecticut Academy of Arts and Sciences 18: 1–137.

Petrunkevitch AI. 1923. On families of spiders. Annals of the New York Academy of Sciences 29: 145–180, pls 1–2.

Petrunkevitch, A.I. 1949. A study of Palaeozoic Arachnida. Transactions of the Connecticut Academy of Arts and Sciences 37: 69–315.

Petrunkevitch AI. 1956. Arachnida. P42–P162. In Treatise on invertebrate paleontology. Part P. Arthropoda 2 ed. Moore RC, Boulder CO, Lawrence KS, Geological Society of America and University of Kansas Press.

Platnick, N.I. 2013. The world spider catalog, version 13.5. New York, American Museum of Natural History. http://research.amnh.org/entomology/spiders/catalog/index.html.

Platnick, N.I., and W.C. Sedgwick. 1984. A revision of the spider genus Liphistius (Araneae, Mesothelae). American Museum Novitates 2781: 1–31.

Pocock, R.I. 1892. Liphistius and its bearing upon the classification of spiders. Annals and Magazine of Natural History, Series 6(10): 306–314.

Pocock, R.I. 1911. A monograph of the terrestrial Carboniferous Arachnida of Great Britain. Monographs of the Palaeontographical Society 64: 1–84.

Pointon, M.A., D.M. Chew, M. Ovtcharova, G.D. Sevastopulo, and Q.G. Crowley. 2012. New high-precision U-Pb dates from western European Carboniferous tuffs; implications for time scale calibration, the periodicity of Late Carboniferous cycles and stratigraphical correlation. Journal of the Geological Society 169: 713–721.

Raven, R.J. 1985. The spider infraorder Mygalomorphae (Araneae): cladistics and systematics. Bulletin of the American Museum of Natural History 182: 1–180.

Raymond A, Scotese CR. 2009. Late Paleozoic paleoclimates. 498–504. In Encyclopedia of Paleoclimatology and Ancient Environments ed. V. Gornitz, Springer.

Roemer F. 1866. Protolycosa antbracophila, eine fossil Spinne aus dem Steinkohlen-Gebirge Oberschlesiens. Neues Jahrbuch für Mineralogie, Geologie und Palaeontologie: 136–143, pl. 3.

Rohdendorf, B.B., E.E. Becker-Migdisova, O.M. Martynova, and A.G. Sharov. 1961. Paleozoic insects of Kuznetsk Basin. Transactions of Paleontological Institute of the USSR Academy of Sciences 85: 1–705. [in Russian].

Schmitz, M.D., and V.I. Davydov. 2012. Quantitative radiometric and biostratigraphic calibration of the Pennsylvanian–Early Permian (Cisuralian) time scale, and pan-Euramerican chronostratigraphic correlation. Geological Society of America Bulletin 124: 549–577.

Schwendinger, P.J. 1990. On the spider genus Liphistius (Araneae: Mesothelae) in Thailand and Burma. Zoologica Scripta 19: 331–351.

Schwendinger, P.J. 2009. Liphistius thaleri, a new mesothelid spider species from southern Thailand (Araneae: Liphistiidae). Contributions to Natural History 12: 1253–1268.

Scudder, S.H. 1884. A contribution to our knowledge of Paleozoic Arachnida. Proceedings of the American Academy of Arts and Sciences 20: 13–22.

Seitmuratova EYu. 2011. The Late Paleozoic of Zhongar-Balkhash Fold Belt, Kazakhstan: Stratigraphy, Magmatism, History of Continental Margin Formation. Evero, Almaty. [in Russian].

Selden, P.A. 1996a. First fossil mesothele spider, from the Carboniferous of France. Revue Suisse de Zoologie volume hors série 2: 585–596.

Selden, P.A. 1996b. Fossil mesothele spiders. Nature 379: 498–499.

Selden, P.A., W.A. Shear, and P.M. Bonamo. 1991. A spider and other arachnids from the Devonian of New York, and reinterpretations of Devonian Araneae. Palaeontology 34: 241–281.

Selden, P.A., W.A. Shear, and M.D. Sutton. 2008. Fossil evidence for the origin of spider spinnerets, and a proposed arachnid order. Proceedings of the National Academy of Sciences of the United States of America 105: 20781–20785.

Shcherbakov, D.E. 2008. On Permian and Triassic insect faunas in relation to biogeography and the Permian–Triassic crisis. Paleontological Journal 42: 15–31.

Sharov, A.G., and N.D. Sinitshenkova. 1977. New Palaeodictyoptera from the USSR. Paleontological Journal 11: 44–59.

Tetlie, O.E., and J.A. Dunlop. 2008. Geralinura carbonaria (Arachnida; Uropygi) from Mazon Creek, Illinois, USA, and the origin of subchelate pedipalps in whip scorpions. Journal of Paleontology 82: 299–312.

Thorell T. 1869. On European Spiders. Nova Acta Regiae Societatis Scientiarum Upsaliensis 7: 1–108, pls 1–24.
Acknowledgments
We thank Yulia V. Mosseichik (Geological Institute, Moscow), Dmitry V. Shaposhnikov (Kamensk–Shakhtinsky), and Alexander K. Shchegolev (Institute of Geological Sciences, Kiev) for providing information on fossil localities; Nikolay I. Udovichenko (University of Lugansk) for assistance in field work; and Roman A. Rakitov (PIN) for taking SEM micrographs. PAS is grateful to Peter J. Schwendinger (Natural History Museum, Geneva) and Hirotsugu Ono (National Museum of Nature and Science, Japan) for supplying specimens of modern mesotheles for comparative morphology. The visit by PAS to Berlin was funded by the Alexander von Humboldt Foundation. The work was supported by RFBR grants 10-04-01713 and 13-04-01839 to DES and KYE.
About this article
Cite this article
Selden, P.A., Shcherbakov, D.E., Dunlop, J.A. et al. Arachnids from the Carboniferous of Russia and Ukraine, and the Permian of Kazakhstan. Paläontol Z 88, 297–307 (2014). https://doi.org/10.1007/s12542-013-0198-9
Received:

Accepted:

Published:

Issue Date:
Keywords
Arachnida

Araneae

Carboniferous

Permian

Thelyphonida

Uropygi
Schlüßelwörter
Arachnida

Araneae

Karbon

Perm

Thelyphonida

Uropygi