Abstract
Megachirella wachtleri Renesto et Posenato, 2003, a well preserved partial reptile skeleton from the Middle Triassic of the Dolomites (N. Italy), was originally considered a lepidosauromorph, but no phylogenetic analysis was carried out. Consequently, the taxon was overlooked in later phylogenetic analyses of the Diapsida. Here, the holotype and only known specimen of M. wachtleri is redescribed, allowing an investigation of its phylogenetic relationships. Phylogenetic analyses confirm that Megachirella is a lepidosauromorph close to the crown group lepidosaurs (Squamata + Rhynchocephalia). Megachirella enhances our knowledge of the series of morphological modifications that led to the origin of the Lepidosauria, the most diverse clade of extant reptiles.
Kurzfassung
Megachirella wachtleri Renesto et Posenato, 2003, ein gut erhaltenes Teilskelett aus der mittleren Trias der Dolomiten (Nord-Italien) wurde ursprünglich den Lepidosauromorphen zugeordnet, auch wenn keine phylogentische Analyse durchgeführt wurde. In späteren phylogenetischen Studien wurde M. wachtleri daher völlig außer Acht gelassen. Eine Neubearbeitung des Holotypus und einzigen Exemplars von M. wachtleri ermöglicht es, die phylogenetische Position der Art neu zu analysieren. Die phylogenetische Studie bestätigt, dass die Art zu den Lepidosauromorpha gehört und nah an der Krongruppe der Lepidosauren (Squamata + Rhynchocephalia) steht. Megachirella erweitert unsere Kenntnisse über den Ablauf der morphologischen Veränderungen, die zum Ursprung der Lepidosaurier geführt hat, der variabelsten Gruppe rezenter Reptilien.
This is a preview of subscription content, log in to check access.
Access options
Buy single article
Instant access to the full article PDF.
US$ 39.95
Price includes VAT for USA
Subscribe to journal
Immediate online access to all issues from 2019. Subscription will auto renew annually.
US$ 99
This is the net price. Taxes to be calculated in checkout.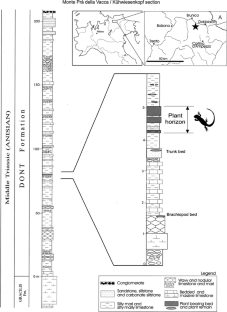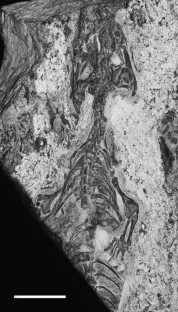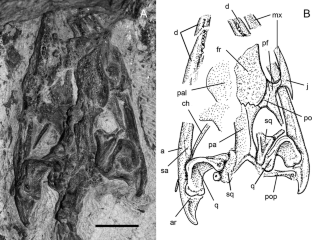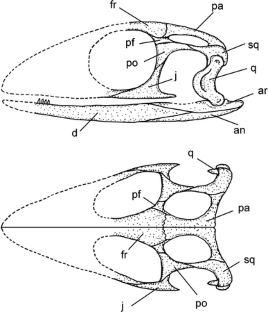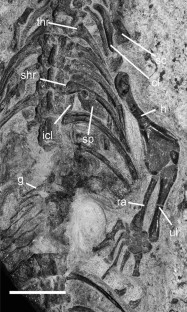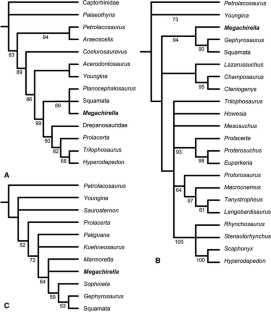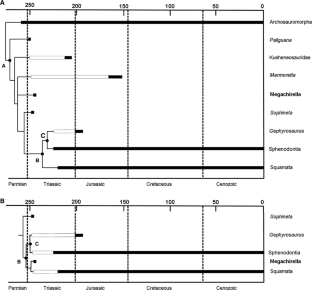 References
Bechstädt, T., and R. Brandner. 1970. Das Anis zwischen St. Vigil um dem Höhlensteintal (Pragser und Olanger Dolomiten, Südtirol), 9–103. Innsbruck: Festband Geolische Institut, 300-Jahr-Feier Univ.

Bittner, A. 1890. Brachiopoden der alpinen trias. Abhandlungen der Kaiserlich-Königlichen Geologischen Reichsanstalt 14: 325. (Wien).

Broglio Loriga, C., A. Fugagnoli, M. Gaetani, J. van Konijnenburg-van Cittert, E. Kustatscher, N. Mantovani, R. Posenato, S. Renesto, A. Tintori, and M. Wachtler. 2002a. Il giacimento a piante di Kühwiesenkopf/Monte Prà della Vacca (Anisico, Dolomiti di Braies): una proposta di salvaguardia. In Giornate di Paleontologia, ed. A. Tintori, 13. Riassunti: Verona-Bolca-Priabona. (6–8 June 2002).

Broglio Loriga, C., A. Fugagnoli, J. van Konijnenburg-van Cittert, E. Kustatscher, R. Posenato, and M. Wachtler. 2002b. The Anisian macroflora from the Northern Dolomites (Monte Prà della Vacca/Kühwiesenkopf, Braies/Prags): a first report. Rivista Italiana di Paleontologia e Stratigrafia 108: 381–390.

Cartmill, M. 1985. Climbing. In Functional vertebrate morphology, ed. M. Hildebrand, D. Bramble, K.F. Liem, and D.B. Wake, 73–78. Cambridge: Harvard University Press.

Delfrati, L., M. Balini, and D. Masetti. 2000. Formazione di Dont. In Carta geologica d'Italia, 1:50.000, Catalogo delle formazioni, fascicolo I, Unità validate, vol. 7 (ser. 3), ed. L. Delfrati, et al., 89–99. Italy: Quaderni del Sevizio Geologico d'Italia.

De Zanche, V., A. Franzin, P. Gianolla, P. Mietto, and C. Siorpaes. 1992. The Piz da Peres section (Valdora/Olang, Pusteria Valley, Italy): a reappraisal of the Anisian stratigraphy in the Dolomites. Eclogae Geologicae Helvetiae 85: 127–143.

De Zanche, V., P. Gianolla, P. Mietto, C. Siorpaes, and P.R. Vail. 1993. Triassic sequence stratigraphy in the Dolomites (Italy). Memorie di Scienze Geologiche 45: 1–27.

Dilkes, D.W. 1998. The Early Triassic rhynchosaur Mesosuchus browni and the interrelationships of basal archosauromorph reptiles. Philosophical Transaction of the Royal Society B 353: 501–541.

Evans, S.E., and M. Borsuk-Białynicka. 2009. A small lepidosauromorph reptile from the early Triassic of Poland. Acta Palaeontologica Polonica 65: 179–202.

Evans, S.E., and M.E.H. Jones. 2010. The origin, early history and diversification of lepidosauromorph reptiles. In New aspects of mesozoic biodiversity, vol. 27, ed. S. Bandyopadhyay, 27–44. Berlin: Springer-Verlag.

Farris, J.S., V.A. Albert, A.M. Källersjö, D. Lipscomb, and A.G. Kluge. 1996. Parsimony jackknifing outperforms neighbor-joining. Cladistics 12: 99–124.

Felsenstein, J. 1985. Confidence limits on phylogenies: an approach using the bootstrap. Evolution 39: 783–791.

Fois, E., and Gaetani, M. 1984. The recovery of reef-building communities and the role of cnidarians in carbonate sequences of the Middle Triassic (Anisian) in the Italian Dolomites. Paleontographica Americana 54: 191–200.

Gauthier, J. 1984. A cladistic analysis of the higher categories of the Diapsida (Ph.D. thesis, University of California). University Microfilms International 85-12825: 564.

Gauthier, J., R. Estes, and K. de Queiroz. 1988. A phylogenetic analysis of the Lepidosauromorpha. In Phylogenetic relationships of the lizard families, ed. R. Estes, and G. Pregill. Stanford: Stanford University Press.

Gradstein, F.M., J.G. Ogg, M. Schmitz, and G. Ogg (eds.). 2012. The geologic time scale 2012, 2nd ed. Amsterdam: Elsevier.

Laurin, M. 1991. The osteology of a Lower Permian eosuchian from Texas and a review of diapsid phylogeny. Zoological Journal of the Linnean Society 101: 59–95.

Loretz, H. 1875. Einige Petrefacten der alpinen Trias aus den Südalpen. Zeitschrift der Deutschen Gesellschaft für Geowissenschaften 27: 784–841.

Maddison, W.P., and D.R. Maddison. 2011. Mesquite: a modular system for evolutionary analysis, version 2.75. http://mesquiteproject.org.

Mojsisovics, E. 1879. Die Dolomit-Riffe von Südtirol und Venetien. In Beiträge zur Bildungsgeschichte der Alpen, 551. Wien: A. Hölder Verlag.

Mojsisovics, E. 1882. Die Cefalopoden der mediterranen Triasprovinz. Abhandlungen der Kaiserlich-Königlichen Geologischen Reichsanstalt 10: 1–320.

Müller, J. 2004. The relationships among diapsid reptiles and the influence of taxon selection. In Recent advances in the origin and early radiation of vertebrates, ed. G. Arratia, M.V.H. Wilson, and R. Cloutier, 379–408. München: Dr Friedrich Pfeil.

Osborn, H.F. 1903. The reptilian subclasses Diapsida and Synapsida and the early history of the Diaptosauria. Memoirs of the American Museum of Natural History 1: 8.

Pisa, G., E. Farabegoli, and E. Ott. 1978. Stratigrafia e paleogeografia dei terreni anisici della Conca di Agordo e dell'Alta Val di Zoldo (Dolomiti Sudorientali). Memorie della Società Geologica Italiana 18: 63–92.

Quicke, D.L.J., J. Taylor, and A. Purvis. 2001. Changing the landscape: a new strategy for estimating large phylogenies. Systematic Biology 50: 60–66.

Reisz, R.R., M. Laurin, and D. Marjanović. 2010. Apisaurus witteri from the Lower Permian of Texas: yet another small varanopid synapsid, not a diapsid. Journal of Vertebrate Paleontology 30: 1628–1631.

Renesto, S., and R. Posenato. 2003. A new lepidosauromorph reptile from the Middle Triassic of the Dolomites. Rivista Italiana di Paleontologia e Stratigrafia 109: 463–474.

Renesto, S., J.A. Spielmann, S.G. Lucas, and G. Tarditi Spagnoli. 2010. The taxonomy and paleobiology of the Late Triassic (Carnian–Norian: Adamanian–Apachean) drepanosaurs (Diapsida: Archosauromorpha: Drepanosauromorpha). New Mexico Museum of Natural History and Science Bulletin 46: 1–81.

Ruta, M., M.I. Coates, and D.L.J. Quicke. 2003. Early tetrapod relationships revisited. Biological Reviews 78: 251–345.

Senowbari-Daryan, B., R. Zühlke, T. Bechstädt, and E. Flügel. 1993. Anisian (Middle Triassic) buildups of the Northern Dolomites (Italy): the recovery of reef communities after the Perm/Triassic crisis. Facies 28: 181–256.

Swofford, D.L. 2003. PAUP*: phylogenetic analysis using parsimony (* and other methods), version 4.0b10. Sunderland: Sinauer Associates.

Tintori, A., Posenato, R., Kustatscher, E., and M. Wachtler. 2001. New Triassic fish faunas from paralic environments in the Alps. In 3rd international meeting on mesozoic fishes, Serpiano, Swizerland, 26–31 August 2001 (abstract book).
Acknowledgments
Our sincere thanks to E. Kustatscher (Museo di Scienze Naturali dell'Alto Adige/Naturmuseum Südtirol, Italy) for access to the specimen and for translation into German of the summary (together with K. Bauer, same Institution), and to S.E. Evans (University College of London, UK) for access to unpublished data and permission to reproduce it. We also thank M.J. Benton (University of Bristol, UK) for useful comments on an earlier version of the manuscript and linguistic revision. M. Caldwell (University of Alberta, Canada) and M. Laurin (Muséum National d'Histoire Naturelle, Paris, France) are thanked for their constructive reviews, and the Editor O.W.M. Rauhut (Bayerische Staatssammlung für Paläontologie und Geologie, Munich) for useful comments and corrections. This study was supported by the Promotion of Educational Policies, University and Research Department of the Autonomous Province of Bolzano-South Tyrol as part of the project "The Permian–Triassic ecological crisis in the Dolomites: extinction and recovery dynamics in Terrestrial Ecosystems".
Appendices
Appendix 1
Character coding for Megachirella wachtleri within the different matrices:
In Laurin (1991): 11?11 11?11 11??0 0??11 1?111 ??11? 111?? ??100 00??? ?000? 0000? ?0000 01?11 111??
In Dilkes (1998), after Renesto et al. (2010): 0001? ????? ????? 0???0 00010 1?011 ?1022 12??? ????? ????? 1?1?0 ?000? ???0? ????0 ??020 00000 10100 1???? ?11?? ??00? ????? ?000? ????? ????? ????? ????? 0??0? 0???0 ??0?
In Müller (2004), after Evans and Borsuk-Bialynicka (2009): ????? ???10 0?0?1 0221? ?1??? 11?1? ????1 ??3?1 01?10 0?0?? 1110? ???00 00020 0???? ????? ????? 10??? ???0? 2???? ????? 0001? ???0? ????? ??00? 000?? ????? 1???? ????? ????0 10??? ????0 11??? ????? ????? ???0? 100?? ????
In Evans and Borsuk-Białynicka (2009): ??0?? 10010 1??11 ?1??? ????? 100?0 ?100? 01110 10??1 101?? 10100 ????? ????? ????? ????? 0?
Appendix 2
List of characters and their character states used by Evans and Borsuk-Bialynicka (2009), which was not originally published and is reported here with permission from the author (courtesy Evans).
1.

Lacrimal large with extensive exposure on cheek, 0; small, confined to orbital rim, 1; absent, 2.

2.

Greatest width of nasals exceeds greatest width of both nares, 0; is less then the latter, 1.

3.

Frontoparietal suture more or less W shaped, subequal to or narrower then the nasofrontal suture in width, 0; suture more or less straight broader then naso-frontal suture, 1.

4.

Parietal foramen within parietal, 0; on frontoparietal border or within frontal, 1; absent, 2.

5.

Postparietals present, 0; absent, 1.

6.

Tabulars present, 0; absent, 1.

7.

Postorbital overlain by postfrontal, 0; postfrontal overlain by postorbital, 1.

8.

Squamosal extends anteriorly halfway or less over lower temporal fenestra and is widely separated from jugal by postorbital, 0; extends more than halfway over lower temporal fenestra and comes close to or contacts jugal below postorbital, 1.

9.

Anterior process of quadratojugal present, 0; absent, 1.

10.

Posterior process of jugal extends about halfway back or less below lower temporal fenestra, 0; extends more than halfway back below lower temporal fenestra, 1.

11.

Quadratojugal always present as a separate element at some point in ontogeny, 0; never present as a separate element, 1.

12.

Supratemporal present, 0; fused or lost, 1.

13.

Supratemporal lies superficially, 0; lies deep association with ventral face of postparietal process, 1.

14.

Ventral process of squamosal present, 0; absent, 1.

15.

Adductor chamber small, quadrate does not extend well below level of occipital condyle, 0; enlarged adductor fossa and quadrate extends well below adductor fossa, 1.

16.

Nares paired, 0; nares confluent, 1.

17.

Quadrate narrow in posterior view, 0; wide in posterior view forming lateral conch, 1.

18.

Quadrate foramen present, 0; absent, 1.

19.

Vomerine teeth numerous, 0; few or absent, 1.

20.

Teeth or transverse flange of pterygoid present, 0; absent, 1.

21.

Abducens canal absent or incomplete, 0; present and complete, 1.

22.

Parasphenoid teeth present, 0; absent 1.

23.

Paroccipital process does not extend laterally to contact quadrate, 0; process contacts quadrate, 1.

24.

Paroccipital process not expanded distally, 0; expanded distally, 1.

25.

Stapes thick and perforated for passage of stapedial artery in adults, 0; stapes thinner and imperforate in adults, 1; stapes columelliform and usually imperforate in adults, 2.

26.

Quadrate straight in lateral view, 0; bowed, 1.

27.

Postorbital contacts parietal, 0; separated from parietal, 1.

28.

Posterior process of postorbital does not reach to posterior end of upper temporal fenestra, 0; process extends beyond posterior margin of upper temporal fenestra, 1.

29.

Choanal fossa on palatine absent, 0; present, 1.

30.

Snout comparatively shorter and broader, 0; longer and narrower, 1.

31.

Premaxillae paired in full grown adults, 0; fused prior to hatching, 1.

32.

Parietals paired in full grown adults, 0; fused prior to hatching, 1.

33.

Exoccipitals sutured to opisthotic above and below metotic fissure, 0; fused only above metotic fissure with metotic fissure extended ventrally into basioccipital, 1; metotic fissure subdivided to create a dorsal vagus foramen and a ventral opening for the glossopharyngeal nerve and perilymphatic sac, 2.

34.

Frontals paired, 0; fused, 1.

35.

Splenial present, 0; absent, 1.

36.

Angular extends posteriorly to articular condyle, 0; does not, 1.

37.

Angular extends more than one-third up lateral face of mandible, 0; less than one-third, 1.

38.

Retroarticular process relatively small or absent, 0; large, 1.

39.

Outer one-third of articular condyle formed by surangular, 0; formed entirely by articular, surangular forming only outer rim, 1.

40.

Teeth set in shallow sockets or depressions, 0; superficially attached to medial side of jaw with labial wall higher than lingual one, but only slightly, 1; labial wall significantly higher than lingual wall (pleurodont), 2.

41.

Neural arches fuse to their respective centra in postembryonic development, 0; in embryo, 1.

42.

Zygosphenes and zygantra, absent, 0; present, 1.

43.

Caudal autotomy absent, 0; present, 1.

44.

Trunk vertebrae without accessory articulations between neural spines, 0; accessory articulations present, 1.

45.

Intercentra present in trunk, 0; absent, 1.

46.

Vertebrae amphicoelous notocordal, 0; amphicoelous solid, 1; procoelous, 2.

47.

Transverse processes not elongated, 0; short transverse processes, 1; long transverse processes, 2.

48.

One or more cervical ribs bear two distinct heads, 0; all ribs single headed, 1; one or more ribs with three heads, 2.

49.

No trunk vertebrae without free ribs, 0; one or more postsacrals without free ribs (lumbar), 1.

50.

Sacral and caudal ribs fuse to their respective centra in postembryonic development, 0; fuse in embryo, 1.

51.

Rib-bearing portion of sternum a single rod, 0; this region of sternum enlarged and formed from two plates; they remain paired until nearly maximum size, 1; paired sternal plates fuse in embryo, 2.

52.

Anterior margin of scapulocoracoid without fenestrae, 0; fenestrate, 1.

53.

Interclavicle robust, 0; gracile, 1.

54.

Entepicondylar foramen of humerus, present, 0; absent, 1.

55.

Prominent posteromedial process of distal epiphyses of radius absent, 0; present, 1.

56.

Fourth metacarpal longer than third, 0; third and fourth metacarpal subequal, 1; fourth metacarpal shorter than third, 2.

57.

Ilium includes 80–85 % of acetabulum, 0; 60–65 % acetabulum, 1.

58.

Pubic flange on ilium absent, 0; present, 1.

59.

Iliac blade long, 0; short, 1.

60.

Anteromedial portion of pubis not out-turned dorsally, 0; out-turned dorsally, 1.

61.

Dorsal edge of ilium essentially horizontal, 0; more steeply inclined, 1.

62.

Pelvis a solid plate, 0; small thyroid fenestra with broad pubic symphysis, 1; large fenestra with small pubic symphysis, 2.

63.

Ischial tubera short, 0; long, 1.

64.

In fully grown individuals, pelvic elements separate, 0; fused, 1.

65.

Fibula and femur articulate end to end, distal femoral condyles symmetrical, 0; fibula sits in a recess on lateral margin of distal end of femur, distal femoral condyles markedly asymmetrical, 1.

66.

Articular surface of fibula for astragalocalcaneum restricted to a small portion of the distal end, 0; covers most of distal end of fibula, 1.

67.

Astragalus and calcaneum separate throughout ontogeny, 0; fused prior to fusion of scapulocoracoid, 1.

68.

Lateral centrale of pes discrete throughout ontogeny, 0; fused to astragalus in embryo, 1.

69.

Distal tarsal 1 present, 0; absent 1.

70.

Distal tarsal 2 present, 0; absent 1.

71.

Distal tarsal 5 present at some point in postembryonic ontogeny, 0; absent or fused in embryo, 1.

72.

Metatarsal 5 straight, 0; inflected, somewhat hooked but without enlarged plantar tubercles, 1; hooked, inflected angulated proximally and with enlarged medial and lateral plantar tubercles, 2.

73.

Ridge on distal extremity of tibia for astragalar articulation, 0; no ridge present, 1.

74.

No tongue and groove articulation between distal tarsal 4 and astragalocalcaneum, 0; process on distal tarsal 4 extends under astragalocalcaneum to form partial tongue and groove articulation, 1; full tongue and groove articulation, 2.

75.

Premaxilla without posterolateral process excluding maxilla form narial rim, 0; with posterolateral process, 1.

76.

Cervical vertebrae not elongated, 0; elongated, 1.

77.

Astragalus and calcaneums without specialised joint between them, 0; with specialised joint, 1.
About this article
Cite this article
Renesto, S., Bernardi, M. Redescription and phylogenetic relationships of Megachirella wachtleri Renesto et Posenato, 2003 (Reptilia, Diapsida). Paläontol Z 88, 197–210 (2014). https://doi.org/10.1007/s12542-013-0194-0
Received:

Accepted:

Published:

Issue Date:
Keywords
Megachirella wachtleri

Triassic

Diapsida

Lepidosauromorpha

Phylogeny
Schlüsserwörter
Megachirella wachtleri

Triassic

Diapsida

Lepidosauromorpha

Phylogenie