Abstract
The higher rank systematics of coleoid cephalopods are primarily based on the total number of arms. Completely preserved arm crows are, therefore, the most important character complex by which fossil representatives can be assigned to higher taxa. Whereas belemnoids—similar to modern Decabrachia—are well-known to have ten hooklet-bearing arms, recent studies have shown that Middle-Late Jurassic and Late Cretaceous gladius-bearing coleoids belong to the Vamyropoda, owing to having only eight hooklet-free arms. The arm number of Early Jurassic gladius-bearing coleoids was unclear for a long time. This paper, however, reports the first unequivocally complete arm crown from the Early Jurassic (Toarcian). It consists of eight strongly phosphatised arms of equal shape. Affinity with decabrachiate coleoids is therefore unlikely. The mantle sack of the specimen, which was identified as Loligosepia aalensis (Schübler in Zieten, 1832), has, furthermore, an unusual arrangement of numerous angular pieces. The irregular scattering of the mantle fragments was most probably caused by a scavenger. Finally, hooklets in the food residues in the posterior mantle indicate that Loligosepia preyed upon belemnites.
Kurzfassung
Die höherrangigen systematischen Einheiten der coleoiden Cephalopoden basieren primär auf der Anzahl der Arme. Komplett erhaltene Armkronen sind daher der wichtigste Merkmalskomplex, durch den fossile Vertreter klassifiziert werden können. Während Belemnoideen—ähnlich wie moderne Decabrachia—durch zehn Häkchen tragende Arme charakterisiert sind, haben neue Studien zeigen können, dass mittel- und spätjurassische sowie spätkreidezeitliche gladiustragende Coleoiden aufgrund von nur acht Häkchen losen Armen zu den Vampyropoda gehören. Die Anzahl der Arme von frühjurassischen gladiustragenden Coleoiden war lange unklar, der vorliegende Beitrag stellt allerdings erstmals eine eindeutig vollständig erhaltene Armkrone aus dem frühen Jura (Toarcium) vor. Sie besteht aus acht stark phosphatisierten und gleichförmigen Armen. Die Zuordnung zu den Decabrachia ist demnach unwahrscheinlich. Darüber hinaus zeigt der Mantelsack des beschriebenen Stückes, das als Loligosepia aalensis (Schübler in Zieten, 1832) bestimmt wurde, eine ungewöhnliche Anordnung von unzähligen eckigen Stücken. Diese irregulär verstreuten Mantelschnipsel wurden sehr wahrscheinlich von einem Aasfresser verursacht. Schlussendlich deuten Häkchen in den Nahrungsresten im hinteren Mantelbereich darauf hin, dass Loligosepia Belemniten jagte.
Access options
Buy single article
Instant access to the full article PDF.
USD 39.95
Price excludes VAT (USA)
Tax calculation will be finalised during checkout.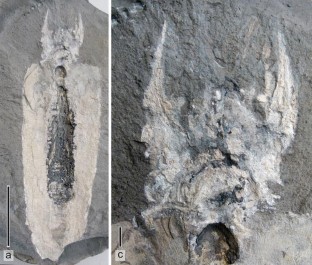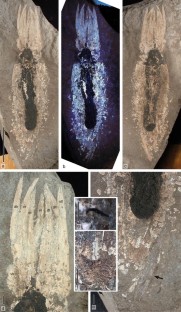 References
Bandel, K., and H. Leich. 1986. Jurassic Vampyromorpha (dibranchiate cephalopods). Neues Jahrbuch für Geologie und Paläontologie Monatshefte 1986: 129–148.

Fraas, E. 1889. Loliginites (Geoteuthis) zitteli Eb. Fraas - Ein vollständig erhaltener Dibranchiate aus den Laibsteinen des Lias epsilon. Jahreshefte des Vereins für Vaterländische Naturkunde in Württemberg 45: 217–232.

Fuchs, D. 2006. Fossil erhaltungsfähige Merkmalskomplexe der Coleoidea (Cephalopoda) und ihre phylogenetische Bedeutung. Berliner Paläobiologische Abhandlungen 8: 1–115.

Fuchs, D. in press. First evidence of Mastigophora (Cephalopoda: Coleoidea) from the Lower Callovian of La Voulte-sur-Rhône (France). Göttingen Contributions to Geosciences.

Fuchs, D., T. Engeser, and H. Keupp. 2007a. Gladius shape variation in coleoid cephalopod Trachyteuthis from the Upper Jurassic Nusplingen and Solnhofen Plattenkalks. Acta Palaeontologica Polonica 52: 575–589.

Fuchs, D., and H. Keupp. 2011. Multiple reasons why so-called "fossil teuthids" are early vampyropods. In: abstracts volume of the 4th International Symposium "Coleoid Cephalopods Through Time". Stuttgart: 14.

Fuchs, D., A. Klinghammer, and H. Keupp. 2007b. Taxonomy, morphology and phylogeny of plesioteuthidid coleoids from the Upper Jurassic (Tithonian) Plattenkalks of Solnhofen. Neues Jahrbuch für Geologie und Paläontologie Abhandlungen 245: 239–252.

Fuchs, D., and N.L. Larson. 2011a. Diversity, morphology, and phylogeny of coleoid cephalopods from the Upper Cretaceous Plattenkalks of Lebanon—Part I: Prototeuthidina. Journal of Paleontology 85: 234–249.

Fuchs, D., and N.L. Larson. 2011b. Diversity, morphology and phylogeny of coleoid cephalopods from the upper cretaceous plattenkalks of Lebanon—Part II: Teudopseina. Journal of Paleontology 85: 815–834.

Fuchs, D., and R. Weis. 2008. Taxonomy, morphology and phylogeny of Lower Jurassic loligosepiid coleoids (Cephalopoda). Neues Jahrbuch für Geologie und Paläontologie Abhandlungen 249: 93–112.

Jeletzky, J.A. 1966. Comparative morphology, phylogeny and classification of fossil Coleoidea: Paleontological Contributions, University of Kansas, V. Mollusca 7: 1–166.

Keupp, H., T. Engeser, D. Fuchs, and W. Haeckel. 2011. Fossile Spermatophoren von Trachyteuthis hastiformis (Cephalopoda, Coleoidea) aus dem Oberkimmeridgium von Painten/Bayern. Archaeopteryx 28: 23–30.

Klinghardt, F. 1942. Vergleichende Untersuchungen über Tintenfische und belemnitähnliche Weichtiere. Sitzungsberichte der Gesellschaft naturforschender Freunde Berlin 1942: 5–17.

Naef, A. 1922. Die fossilen Tintenfische. Jena: Gustav Fischer-Verlag.

Reiff, W. 1937. Ein zweiter Loliginites (Geoteuthis) zitteli Eb Fraas. Paläontologische Zeitschrift 19: 72–78.

Riegraf, W., G. Werner, and F. Lörcher. 1984. Der Posidonienschiefer—Biostratigraphie, Fauna und Fazies des südwestdeutschen Untertoarciums (Lias ε). Stuttgart: Ferdinand Enke Verlag.

Röhl, H.-J., and A. Schmid-Röhl. 2005. Lower Toarcian (Upper Liassic) black shales of the Central European epicontinental basin: a sequence stratigraphic case study from the SW German Posidonia Shale. SEPM special publication 82: 165–189.

Schweigert, G., A. Garassino, R.L. Hall, R.B. Hauff, and H. Karasawa. 2003. The lobster genus Uncina Quenstedt, 1851 (Crustacea: Decapoda: Astacidea: Uncinidae) from the Lower Jurassic. Stuttgarter Beiträge zur Naturkunde, Serie B 332: 1–43.

Seldon, P.A., and J. Nudds. 2004. Evolution of Fossil Ecosystems. London: Manson Publishing.

Urlichs, M., R. Wild, and B. Ziegler. 1994. Der Posidonienschiefer des unteren Juras und seine Fossilien. Stuttgarter Beiträge zur Naturkunde, Serie C 36: 1–95.
Acknowledgments
We are particularly grateful to Lothar Schulte (Hannover), the finder and donator of this remarkable fossil. We also thank Lothar Schöllmann (curator of the LWL-Museum für Naturkunde, Münster), who kindly supported our investigations.
About this article
Cite this article
Fuchs, D., Keupp, H. & Schweigert, G. First record of a complete arm crown of the Early Jurassic coleoid Loligosepia (Cephalopoda). Paläontol Z 87, 431–435 (2013). https://doi.org/10.1007/s12542-013-0182-4
Received:

Accepted:

Published:

Issue Date:

DOI: https://doi.org/10.1007/s12542-013-0182-4
Keywords
Schlüsselwörter