Abstract
Two squamate vertebrae were discovered in the site of "Lo Hueco" (Cuenca, Spain; Late Campanian-Early Maastrichtian), which has yielded a rich and diversified fossil fauna. Their anatomical and microanatomical features are described. They reveal that these vertebrae probably belong to a new genus of Pythonomorpha. This taxon corresponds to the second non-marine pythonomorph lizard hitherto described. Anatomical, microanatomical and sedimentological data suggest a terrestrial or amphibious mode of life. This discovery raises questions about the evolutionary history of pythonomorph lizards in non-marine deposits.
Kurzfassung
In der an Fossilien reichen Fundstelle Lo Hueco (Cuenca, Spanien; oberes Campanium- unteres Maastrichtium) sind zwei Wirbel von Squamata enthalten. Die anatomischen und mikroanatomischen Merkmale der beiden Wirbel werden im Detail beschrieben. Sie zeigen, dass diese Wirbel wahrscheinlich zu einer neuen Gattung von Pythonomorpha gehören und repräsentieren somit erst das zweite soweit bekannte Taxon einer nicht-marinen pythonomorphen Eidechse. Anatomische, mikroanatomische und sedimentologische Daten suggerieren eine terrestrische oder amphibische Lebensweise der Pythonomorpha aus Lo Hueco. Diese Entdeckung wirft Fragen über die evolutionäre Geschichte der pythonomorphen Eidechsen in nicht-marinen Ablagerungen auf.
Access options
Buy single article
Instant access to the full article PDF.
USD 39.95
Price includes VAT (USA)
Tax calculation will be finalised during checkout.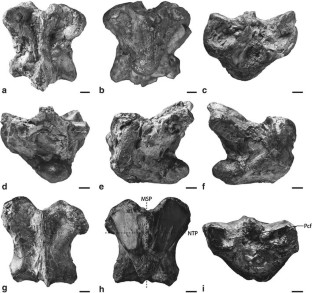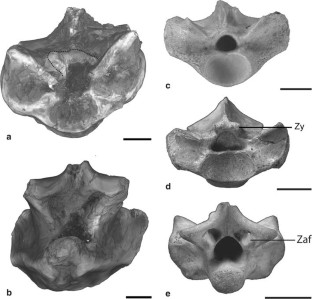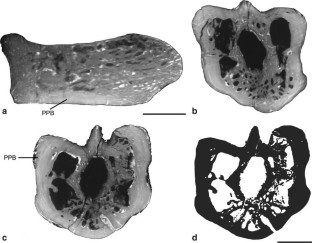 References
Albert, E.M., D.S. Mauro, M. Garcia-Paris, L. Rüber, and R. Zardoya. 2009. Effect of taxon sampling on recovering the phylogeny of squamate reptiles based on complete mitochondrial genome and nuclear gene sequence data. Gene 441: 12–21.

Bardet, N., X. Pereda Suberbiola and N.-E. Jalil. 2003. A new mosasauroid (Squamata) from the Late Cretaceous (Turonian) of Morocco. Comptes Rendus Palevol 2: 607-616.

Bardet, N., A. Houssaye, X. Pereda Suberbiola, and J.C. Rage. 2008. The Cenomanian-Turonian (Late Cretaceous) radiation of marine squamates (Reptilia): the role of the Mediterranean Tethys. Bulletin de la Société Géologique de France 179(6): 605–622.

Barroso-Barcenilla, F., O. Cambra-Moo, F. Escaso, F. Ortega, A. Pascual, A. Pérez-García, J. Rodríguez-Lázaro, J.L. Sanz, M. Segura, and A. Torices. 2009. New and exceptional discovery in the Upper Cretaceous of the Iberian Peninsula: the palaeontological site of "Lo Hueco," Cuenca, Spain. Cretaceous Research 30(5): 1268–1278.

Bell Jr, G.L., and M.J. Polcyn. 2005. Dallasaurus turneri, a new primitive mosasauroid from the Middle Turonian of Texas and comments on the phylogeny of Mosasauridae (Squamata). Netherlands Journal of Geosciences 84(3): 177–194.

Brischoux, F., Bonnet, X., Cook, T.R., Shine, R. 2007. Snakes at sea: Diving performance of free-ranging sea kraits. Proceedings of the 11th annual meeting on Health, Science and Technology, Université de Tours, pp. 5–20.

Caldwell, M.W. 1999. Squamate phylogeny and the relationships of snakes and mosasauroids. Zoological Journal of the Linnean Society 125: 115–147.

Caldwell, M.W. 2006. Snake phylogeny, origins, and evolution: The role, impact, and importance of fossils (1869–2006). In Major transitions in vertebrate evolution, vol. 7, ed. J.S. Anderson, and H.-D. Sues, 253–302. Bloomington: Indiana University Press.

Caldwell, M.W., and A. Palci. 2007. A new basal mosasauroid from the Cenomanian (U. Cretaceous) of Slovenia with a review of mosasauroid phylogeny and evolution. Journal of Vertebrate Paleontology 27(4): 863–880.

Cambra-Moo, O., F. Barroso-Barcenilla, A. Berreteaga, B. Carenas, F. Coruña, L. Domingo, M.S. Domingo, A. Elvira, F. Escaso, F. Ortega, P. Pérez-García, D. Peyrot, J.L. Sanz, M. Segura, A. Sopelana, and A. Torices. 2012. Preliminary taphonomic approach to "Lo Hueco" palaeontological site (Upper Cretaceous, Cuenca, Spain). Geobios 45(2): 157–166.

Conrad, J.L. 2008. Phylogeny and systematics of Squamata (Reptilia) based on morphology. Bulletin of the American Museum of Natural History 310: 1–182.

Cope, E.D. 1869. On the peptilian orders, Pythonomorpha and Streptosauria. Proceedins of the Boston Society of Natural History 12: 250–269.

de Buffrénil, V., N. Bardet, X. Pereda Suberbiola, and B. Bouya. 2008. Specialization of bone structure in Pachyvaranus crassispondylus Arambourg, 1952, an aquatic squamate from the Late Cretaceous of the southern Tethyan margin. Lethaia 41: 59–69.

Debraga, M., and R.L. Carroll. 1993. The origin of mosasaurs as a model of macroevolutionary patterns and processes. Evolutionary Biology 27: 245–322.

Estes, R., K. de Queiroz, and J.A. Gauthier. 1988. Phylogenetic relationships within Squamata. In Phylogenetic relationships of the lizard families, ed. R. Estes, and G. Pregill, 119–281. Stanford, California: Stanford University Press.

Evans, S.E., and L.J. Barbadillo. 1999. A shortlimbed lizard from the Lower Cretaceous of Spain. Special Papers in Palaeontology 60: 73–85.

Evans, S.E., Y. Wang, and C. Li. 2005. The early Cretaceous lizard genus Yabeinosaurus from China: Resolving an enigma. Journal of Systematic Palaeontology 4: 319–335.

Evans, S.E., M. Manabe, M. Noro, S. Isaji, and M. Yamaguchi. 2006. A long-bodied lizard from the Lower Cretaceous of Japan. Palaeontology 49(6): 1143–1165.

Fry, B.G., N. Vidal, J.A. Norman, F.J. Vonks, S. Kuruppu, K. Fung, S.B. Hedges, M.K. Richardson, V. Ignjatovic, R. Summerhayes, and E. Kochva. 2006. Early evolution of the venom system in lizards and snakes. Nature 439: 584–588.

Gauthier, J.A., M. Kearney, J.A. Maisano, O. Rieppel, and A.D.B. Behkke. 2012. Assembling the squamate tree of life: Perspectives from the phenotype and the fossil record. Bulletin of the Peabody Museum of Natural History 53(1): 3–308.

Hallermann, J. 1998. The ethmoidal region of Dibamus taylori (Squamata: Dibamidae), with a phylogenetic hypothesis on dibamid relationships within Squamata. Zoological Journal of the Linnean Society 122: 385–426.

Houssaye, A. 2009. "Pachyostosis" in aquatic amniotes: A review. Integrative Zoology 4: 325–340.

Houssaye, A. 2010. A new aquatic pythonomorph (Reptilia, Squamata) from the Turonian (Late Cretaceous) of France. Comptes Rendus Palevol 9: 39–45.

Houssaye, A. 2013. Paleoecological and morphofunctional interpretation of bone mass increase: an example in Late Cretaceous shallow marine squamates. Biological Reviews 88: 117–139.

Houssaye, A., and N. Bardet. 2012. Ribs and vertebrae microanatomical characteristics in hydropelvic mosasauroids. Lethaia 45(2): 200–209.

Houssaye, A., N. Bardet, J.C. Rage, X. Pereda Suberbiola, M. Amaghzaz, and M. Amalik. 2011. A review of Pachyvaranus crassispondylus Arambourg, 1952, a pachyostotic marine squamate from the latest cretaceous phosphates of the margin of the Southern Tethys. Geological Magazine 148(2): 237–249.

Houssaye, A., V. de Buffrenil, J.C. Rage, and N. Bardet. 2008. An analysis of vertebral 'pachyostosis' in Carentonosaurus mineaui (Mosasauroidea, Squamata) from the Cenomanian (early Late Cretaceous) of France, with comments on its phylogenetic and functional significance. Journal of Vertebrate Paleontology 28(3): 685–691.

Houssaye, A., A. Mazurier, A. Herrel, V. Volpato, P. Tafforeau, R. Boistel, and V. de Buffrénil. 2010. Vertebral microanatomy in squamates: structure, growth and ecological correlates. Journal of Anatomy 217(6): 715–727.

Laurent, Y., M. Bilotte, and J. Le Loeuff. 2002. Late Maastrichtian continental vertebrates from southwestern France: Correlation with marine fauna. Palaeogeography, Palaeoclimatology, Palaeoecology 187(1–2): 121–135.

Lee, M.S.Y. 1997. The phylogeny of varanoid lizards and the affinities of snakes. Philosophical Transactions of the Royal Society 352: 53–91.

Lee, M.S.Y. 2005. Squamate phylogeny, taxon sampling, and data congruence. Organisms, Diversity and Evolution 5: 25–45.

Lee, M.S.Y. 2009. Hidden support from unpromising data sets strongly unites snakes with anguimorph 'lizards'. Journal of Evolutionary Biology 22: 1308–1316.

Lee, M.S.Y., and M.W. Caldwell. 2000. Adriosaurus and the affinities of mosasaurs, dolichosaurs, and snakes. Journal of Paleontology 74: 915–937.

Narváez, I., F. Ortega. 2010. Análisis preliminar de los restos de Iguanidae indet. del Cretácico Superior de Lo Hueco (Fuentes, Cuenca). In VIII Encuentro de Jóvenes Investigadores en Paleontología, volumen de actas, ed. M. Moreno-Azanza, I. Díaz-Martínez, J.M. Gasca, M. Melero-Rubio, R. Rabal-Garcés, and V. Sauqué, Cidaris, 30, 205–209.

Ortega, F., J.L. Sanz, F. Barroso-Barcenilla, O. Cambra-Moo, F. Escaso, M. García-Oliva, and F. Marcos Fernández. 2008. El yacimiento de macrovertebrados fósiles del Cretácico Superior de "Lo Hueco" (Fuentes, Cuenca). In Palaeontologica Nova. Publicaciones del Seminario de Paleontología de Zaragoza, ed. J. Esteve, and G. Meléndez, 8: 331−344.

Ortega, F., F. Escaso, A. Pérez García, A. Torices and J.L. Sanz. 2009. The vertebrate diversity of the Upper Campanian-Lower Maastrichtian "Lo Hueco" fossil-site (Cuenca, Spain). Journal of Vertebrate Paleontology 29 (supp. to 3): 159A–160A.

Palci, A., and M.W. Caldwell. 2010. Redescription of Acteosaurus tommasinii von Meyer, 1860, and a discussion of evolutionary trends within the clade Ophidiomorpha. Journal of Vertebrate Paleontology 30: 94–108.

Pauwels, S.G.O., V. Wallach, P. David. 2008. Global diversity of snakes (Serpentes: Reptilia) in freshwater. Hydrobiologia 595: 599–605.

Pérez Garcia, A., F. Ortega, and X. Murelaga. 2012. A new genus of Bothremydidae (Chelonii, Pleurodira) in the Cretaceous of Southwestern Europe. Geobios 45(2): 219–229.

Rage, J.-C., and D. Néraudeau. 2004. A new pachyostotic squamate reptile from the Cenomanian of France. Palaeontology 47(5): 1195–1210.

Torices, A., E. Díaz-Berenguer, I. Narváez, F. Ortega, S. Pérez, H. Serrano. 2010. Preliminary analysis of the microvertebrate fossils of "Lo Hueco" (Upper Cretaceous, Cuenca, Spain). 8th Annual Meeting of the European Association of Vertebrate Palaeontologists, June 7th–12th.

Townsend, T.M., A. Larson, E. Louis, and J.R. Macey. 2004. Molecular phylogenetics of Squamata: the position of snakes, amphisbaenians, and dibamids, and the root of the squamate tree. Systematic Biology 53: 735–757.

Vidal, N., and S.B. Hedges. 2009. The molecular evolutionary tree of lizards, snakes, and amphisbaenians. Comptes Rendus Biology 332: 129–139.

Wiens, J.J., C.A. Kuczynski, T.M. Townsend, T.W. Reeder, D.G. Mulcahy, and J.W. Sites Jr. 2010. Combining phylogenomics and fossils in higher-level squamate reptile phylogeny: Molecular data change the placement of fossil taxa. Systematic Biology 59: 674–688.

Wu, X.-C., D.B. Brinkman, and A.P. Russell. 1996. Sineoamphisbaena hexatabularis: an amphisbaenian (Diapsida: Squamata) from the Upper Cretaceous redbeds at Bayan Mandahu (Inner Mongolia, People's Republic of China), and comments on the phylogenetic relationships of the Amphisbaenia. Canadian Journal of Earth Sciences 33: 541–577.
Acknowledgments
We thank G. Oleschinski (Bonn Universität, Bonn, Deutschland) for the photographs, J. Müller (Museum für Naturkunde, Berlin, Germany) and J. Conrad (American Museum of Natural History, New York, USA) for fruitful comments that improved the quality of the manuscript , and O. Rauhut (Bavarian State Collections of Palaeontology and Geology, Munich, Germany) for editorial work. A.H. acknowledges financial support from the A. v. Humboldt Foundation. I.N. and F.O acknowledge financial support for their research at "Lo Hueco" from the project "Geología y Paleontología del yacimiento de "Lo Hueco" (Cretácico Superior. Fuentes, Cuenca)" (CGL2009-10766) of the Spanish Ministerio de Ciencia e Innovación.
About this article
Cite this article
Houssaye, A., Bardet, N., Narváez, I. et al. Squamate finding in "Lo Hueco" (Late Campanian-Early Maastrichtian, Cuenca Province, Spain): the second non-marine pythonomorph lizard. Paläontol Z 87, 415–422 (2013). https://doi.org/10.1007/s12542-013-0164-6
Received:

Accepted:

Published:

Issue Date:
Keywords
Pythonomorpha

Squamata

Vertebrae

New genus and species

Non-marine
Schlüsselwörter
Pythonomorpha

Squamata

Wirbel

Neue Gattung und Spezies

Nicht-marin