Abstract
Astraponotus Ameghino, 1901, the only valid Mustersan (late Eocene) astrapothere, typifies the Ameghino's "Capas Astraponotenses". This taxon is traditionally interpreted as structurally ancestral to all the Oligocene–Miocene astrapotheriids. However, it was imperfectly known: only isolated teeth and very partial mandibles have hitherto been described. In this contribution we provide the first description of the skull, mandible, and complete dentition of Astraponotus based on new materials from the Gran Hondonada and other Mustersan localities in central Patagonia, Argentina. The features observed in the dentition of Astraponotus are intermediate between the Casamayoran (middle Eocene) and the Oligocene–Miocene astrapotheres in the degree of hypsodonty, reduction of the dental formula, and development of accessory occlusal elements. Concordantly, the skull retains some plesiomorphies, also observed in Trigonostylops, whereas the auditory region and the basicranium are much closer to those of Parastrapotherium, Astrapotherium, and Granastrapotherium. On the other hand, the skull of Astraponotus differs from all known astrapotheres by the disproportioned height and narrowness of the braincase, the extreme reduction of the nasals and the premaxillaries, the absence of anteorbital rim, and the reduction of the frontal region. Some of these features represent cranial specializations exactly opposite to that of Astrapotherium. These characters look astonishingly derived for an Eocene astrapothere, suggesting that extreme cranial specializations occurred independently during the evolution of the order, and that Astraponotus represents a distinctive lineage from that of Astrapotherium and other Miocene forms.
Kurzfassung
Astraponotus Ameghino, 1901, der einzige valide Astrapothere aus dem Mustersan (spätes Eozän), diagnostiziert die "Capas Astraponotenses" von Ameghino. Dieses Taxon wurde traditionell als strukturell ursprünglich im Vergleich zu allen Oligozänen-Miozänen Astrapotheriiden angesehen. Allerdings war es nur unzulänglich bekannt: nur isolierte Zähne und teilweise erhaltene Dentalia wurden bisher beschrieben. Hier beschreiben wir zum ersten Mal den Schädel, Unterkiefer und die gesamte Bezahnung von Astraponotus auf der Basis von neuen Materialien aus der Gran Hondonada und anderen Mustersanen Lokalitäten im zentralen Patagonien. Die in der Bezahnung beobachteten Merkmale von Astraponotus sind intermediär zwischen Astrapotheren des Casamayor (mittleres Eozän) und des Oligozän-Miozän in Hinsicht auf Hypsodontie, Reduktion der Zahnformel und der Entwicklung zusätzlicher Okklusionsstrukturen. Zusätzlich behält der Schädel einige Plesiomorphien bei, wie sie auch bei Trigonostylops vorkommen, während die Gehör-Region und die Schädelbasis bereits jenen von Parastrapotherium, Astrapotherium und Granastrapotherium deutlich ähnlicher sind. Auf der anderen Seite unterscheidet sich der Schädel von Astraponotus von jenen aller anderen Astrapotheren durch den ungewöhnlich hohen und schmalen Hirnschädel, die extreme Reduktion der Nasalia und Prämaxillaria, das Fehlen eines anteorbitalen Randes und die Reduktion der Frontal-Region. Diese Merkmale erscheinen erstaunlich fortschrittlich für einen eozänen Astrapotheren und deuten darauf hin, dass extreme Spezialisierungen des Schädels unabhängig in der Evolution der Ordnung entstanden sind und dass Astraponotus eine eigene Entwicklungslinie, getrennt von jener von Astrapotherium und anderer Miozäner Formen, darstellt.
This is a preview of subscription content, log in to check access.
Access options
Buy single article
Instant access to the full article PDF.
US$ 39.95
Price includes VAT for USA
Subscribe to journal
Immediate online access to all issues from 2019. Subscription will auto renew annually.
US$ 99
This is the net price. Taxes to be calculated in checkout.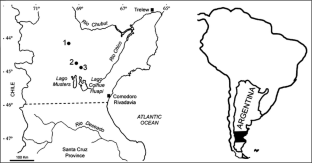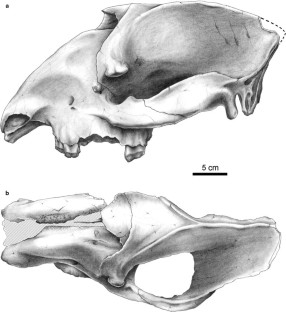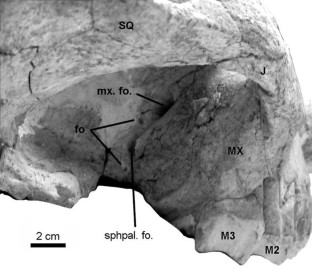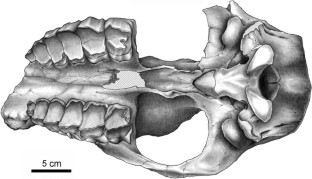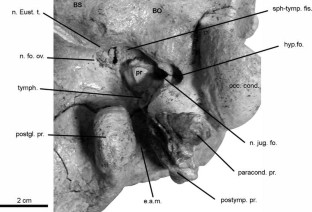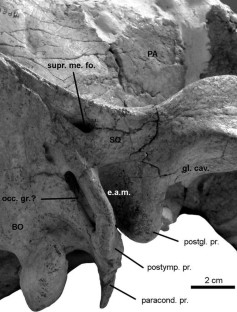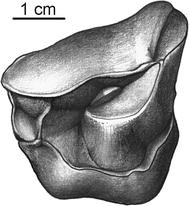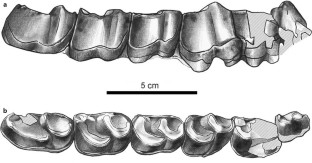 References
Ameghino, F. 1887. Enumeración sistemática de las especies de mamíferos fósiles coleccionados por Carlos Ameghino en los terrenos eocenos de Patagonia austral y depositados en el Museo de La Plata. Boletín del Museo de La Plata 1: 1–26.

Ameghino, F. 1894. Énumération synoptique des espèces de mammifères fossiles des formations éocènes de Patagonie. Boletín de la Academia Nacional de Ciencias en Córdoba 13: 259–455.

Ameghino, F. 1901. Notices préliminaires sur des ongulés nouveaux des terrains Crétacés de Patagonie. Boletín de la Academia de Ciencias en Córdoba 16: 349–426.

Ameghino, F. 1904. Recherches de morphologie phylogénétique sur les molaires supérieures des ongulés. Anales del Museo Nacional de Buenos Aires 3(3): 1–541.

Ameghino, F. 1906. Les Formations sédimentaires du Crétacé supérieur et du Tertiaire de Patagonie. Anales del Museo Nacional de Buenos Aires 8(3): 1–358.

Billet, G. 2010. New observations on the skull of Pyrotherium (Pyrotheria, Mammalia) and new phylogenetic hypotheses on South American ungulates. Journal of Mammalian Evolution 17(1): 21–59.

Bordas, A.F. 1945. Geología estratigráfica de algunas zonas de Patagonia. Anales del Museo de la Patagonia 1: 139–184.

Carabajal, E., R. Pascual, R. Pinedo, J. Salfity, and M.G. Vucetich. 1977. Un nuevo mamífero de la Formación Lumbrera (Grupo Salta) de la comarca de Carahuasi (Salta, Argentina). Edad y correlaciones. Publicaciones del Museo Municipal de Ciencias Naturales de Mar del Plata "Galileo Scaglia" 2(7): 148–163.

Cifelli, R.L. 1993. The phylogeny of the native South American ungulates. In Mammal Phylogeny, ed. F.S. Szalay, M.J. Novacek, and M.C. McKenna, 195–216. New York: Springer.

Cladera, G., E. Ruigómez, E. Ortiz Jaureguizar, M. Bond, and G. Lopez. 2004. Tafonomía de la Gran Hondonada (Formación Sarmiento, Edad—Mamífero Mustersense, Eoceno Medio) Chubut, Argentina. Ameghiniana 41(3): 315–330.

de Paula Couto, C. 1952. Fossil mammals from the beginning of the Cenozoic in Brazil. Bulletin of the American Museum of Natural History 99(6): 359–394.

de Paula Couto, C. 1963. Um Trigonostylopidae do Paleoceno de Brazil. Anais Academia Brasileira de Ciências 35(3): 339–351.

Frailey, C.D. 1987. The Miocene vertebrates of Quebrada Honda, Bolivia. Part I. Astrapotheria. Occasional Papers of the Museum of Natural History, the University of Kansas 122: 1–15.

Gabbert, S.L. 2004. The basicranial and posterior cranial anatomy of the families of the Toxodontia, Chapter 14. Bulletin of the American Museum of Natural History 285: 177–190.

Gaudry, A. 1904. Fossiles de Patagonie. Dentition de quelques mammifères. Mémoires de la Société Géologique de France. Paléontologie 12: 5–43.

Johnson, S.C., and R.H. Madden. 1997. Uruguaytheriine Astrapotheres of Tropical South America. In Vertebrate Paleontology in the Neotropics. The Miocene fauna of La Venta, Colombia, ed. R.F. Kay, R.H. Madden, R.L. Cifelli, and J.J. Flynn, 355–381. Washington, DC: Smithsonian Institution Press.

Kramarz, A.G. 2009. Adiciones al conocimiento de Astrapothericulus (Mammalia, Astrapotheria): anatomía cráneo-dentaria, diversidad y distribución. Revista Brasileira de Paleontología 12(1): 55–66.

Kramarz, A.G., and M. Bond. 2008. Revision of Parastrapotherium (Mammalia, Astrapotheria) and other Deseadan astrapotheres of Patagonia. Ameghiniana 45(3): 537–551.

Kramarz, A.G., and M. Bond. 2009. A new Oligocene astrapothere (Mammalia, Meridiungulata) from Patagonia and a new appraisal of astrapothere phylogeny. Journal of Systematic Palaeontology 7(1): 117–128.

Lydekker, R. 1894. Contribution to the knowledge of the fossil vertebrates of Argentina. 3. A study of extinct Argentine ungulates. Anales del Museo de La Plata. Paleontología Argentina 2: 1–91. pls. 1–32.

Odreman Rivas, E.O. 1978. Sobre la presencia de Polydolopidae (Mammalia, Marsupialia) en capas de edad Mustersense (Eoceno Medio) de Patagonia. Obra del Centenario del Museo de La Plata 5: 29–38.

Patterson, B. 1932. The auditory region of the Toxodontia. Field Museum of Natural History, Geological Series 6:1-27.

Roth, S. 1903. Noticias preliminares sobre nuevos mamíferos fósiles del Cretáceo superior y Terciario inferior de la Patagonia. Revista del Museo de La Plata 11: 135–158.

Schlosser, M. 1923. Mammalia. In Grundzuege der Palaeontologie. II. Abteilung: Vertebrata, 4th ed, ed. K.A. von Zittel, 402–689. Munich: Oldenburg press.

Scott, W.B. 1913. A history of land mammals in the Western Hemisphere, xiv + 1–693. New York: Macmillan co.

Scott, W.B. 1928. Astrapotheria. In Reports of the Princeton University Expeditions to Patagonia, 1896–1899, Volume IV, Paleontology. Mammalia of the Santa Cruz beds. Part IV, ed. W.B. Scott, 301–351. Stuttgart: E. Schweizerbart'sche Verlagshandlung (E. Nägele).

Scott, W.B. 1937. The Astrapotheria. Proceedings of the American Philosophical Society 77(3): 309–393, pls. 1–9.

Simpson, G.G. 1933. Structure and affinities of Trigonostylops. American Museum Novitates 608: 1–28.

Simpson, G.G. 1957. A new Casamayoran astrapothere. Revista del Museo de Ciencias Naturales y tradicionales de Mar del Plata 1(3): 149–173.

Simpson, G.G. 1967a. The Ameghino's localities for early Cenozoic mammals in Patagonia. Bulletin of the Museum of Comparative Zoology 136(4): 63–76.

Simpson, G.G. 1967b. The beginning of the age of mammals in South America. Part 2. Bulletin of the American Museum of Natural History 137: 1–259. pls. 1–46.

Sisson, S. 1965. Anatomía de los Animales Domésticos (4º edición). Barcelona: Salvat.

Soria, M.F. 1984. Eoastrapostylopidae: diagnosis e implicaciones en la sistemática y evolución de los Astrapotheria preoligocénicos. Actas 2º Congreso Argentino de Paleontología y Bioestratigrafía, 175–182.

Soria, M.F. 1987. Estudio sobre los Astrapotheria (Mammalia) del Paleoceno y Eoceno. Parte I: Descripción de Eoastrapostylops riolorense Soria y Powell, 1982. Ameghiniana 24(1–2): 43–51.

Soria, M.F., and M. Bond. 1984. Adiciones al conocimiento de Trigonostylops Ameghino, 1897 (Mammalia, Astrapotheria, Trigonostylopidae). Ameghiniana 21(1): 43–51.

Soria, M.F., and J.E. Powell. 1981. Un primitivo Astrapotheria (Mammalia) y la Edad de la Formación Río Loro, provincia de Tucumán, República Argentina. Ameghiniana 18(3–4): 155–168.

Wible, J.R. 1987. The eutherian stapedial artery: character analysis and implications for superordinal relationships. Zoological Journal of the Linnean Society 91: 107–135.

Wible, J.R., and T.J. Gaudin. 2004. On the cranial osteology of the yellow armadillo Euphractus sexcinctus (Dasypodidae, Xenarthra, Placentalia). Annals of Carnegie Museum 73: 117–196.
Acknowledgments
We thank E. Ruigomez, for allowing us to study the materials under his care, and the technical staff of the MPEF for kindly preparing the material included in this study. We are grateful to J. Flynn (AMNH), P. Makovicky (FMNH), and M. Reguero (MLP) for access to materials under their care, for comparisons. We would also like to thanks two anonymous reviewers for their very helpful comments and corrections, Tania Brenes (MHNSR) for her help with the English version, and Michele Arnal (MACN) for her aid with the Zusammenfassung. Drawings were made by the artists M. Sansibieri and J. González. This work was partially financed by a grant from the Consejo Nacional de Investigaciones Científicas y Técnicas (Res. Nro.1227/05) to Alejandro Kramarz.
Electronic supplementary material
Below is the link to the electronic supplementary material.
About this article
Cite this article
Kramarz, A.G., Bond, M. & Forasiepi, A.M. New remains of Astraponotus (Mammalia, Astrapotheria) and considerations on Astrapothere cranial evolution. Paläontol Z 85, 185–200 (2011). https://doi.org/10.1007/s12542-010-0087-4
Received:

Accepted:

Published:

Issue Date:
Keywords
Astraponotus
Astrapotherium
Trigonostylops

Eocene

Patagonia
Schlüsselwörter
Astraponotus
Astrapotherium
Trigonostylops

Eozän

Patagonien