Abstract
The well-preserved silicified fragment of a utricular envelope assigned to Sycidium aff. clathratum Peck, discovered in the earliest Famennian "incisus bed" of the Bohlen section near Saalfeld in Thuringia (Central Germany), is the first evidence of charophytes present in the West European Late Devonian. The occurrence of 16 longitudinal ridges is shared with the basal Mississippian S. clathratum. The specimen shows delicate structures of the external layer including ovoid elements at its basal end which are interpreted as casts of rudimentary bract cells and/or bracteoles, rarely observed in the fossil record of charophytes. S. aff. clathratum is among the rare Sycidiaceae that survived the terminal Frasnian Kellwasser Event. This single specimen was probably attached to a piece of wood and thereby transported into fully marine basinal environments that characterize the Famennian of the Bohlen section.
Kurzfassung
Das gut erhaltene verkieselte Fragment eines Utriculums von Sycidium aff. clathratum Peck aus der "incisus" Bank des ältesten Famenniums des Bohlenprofils von Saalfeld (Thüringen, Mitteldeutschland) belegt das erste Vorkommen von Charophyten im westeuropäischen Oberdevon. Die Ausbildung von 16 Längsrippen ist mit S. clathratum aus dem basalen Mississippium gemein. Das Stück weist auf der Aussenschicht Feinstrukturen mit ovoïden Elementen an seinem basalen Ende Feinstrukturen mit ovoïden Elementen auf, die als Eindrücke von rudimentären Bracteenzellen und/oder Bracteolen zu interpretieren sind, und welche selten in fossilen Charophyten beobachtet werden. S. aff. clathratum gehört zu den wenigen Sycidiaceen, die das Kellwasser-Ereignis des ausgehenden Frasniums überlebten. Das einzelne Stück war wahrscheinlich an einem Holzrest angeheftet und deshalb in die das Famennium des Bohlenprofils charakterisierende vollmarine Beckenfazies transportiert worden.
This is a preview of subscription content, log in to check access.
Access options
Buy single article
Instant access to the full article PDF.
US$ 39.95
Price includes VAT for USA
Subscribe to journal
Immediate online access to all issues from 2019. Subscription will auto renew annually.
US$ 99
This is the net price. Taxes to be calculated in checkout.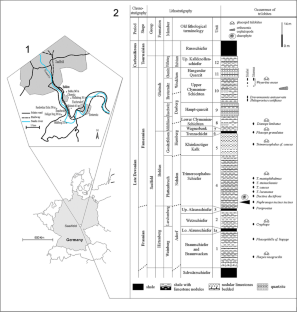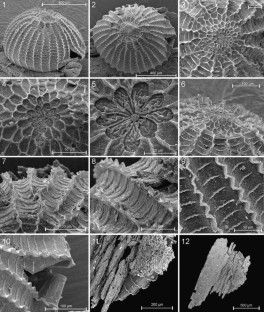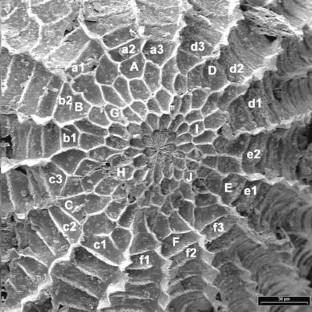 References
Bartzsch, K., H. Blumenstengel, and D. Weyer. 1999. Stratigraphy des Oberdevons im Thüringischen Schiefergebirge Teil I: Schwarzburg-Antiklinorium. Beiträge zur Geologie von Thüringen (N.F.) 6: 159–189.

Crônier, C. 2007. Larval morphology and ontogeny of an Upper Devonian Phacopid: Nephranops from Thuringia, Germany. Journal of Paleontology 81: 684–700.

Edgell, H.S. 2003. Upper Devonian Charophyta of Western Australia. Micropaleontology 49: 359–374.

Feist, M., R. Feist, R. Mawson, and J.A. Talent. 2000. First record of fossil charophytes in Australia: the Sycidiales from the Late Devonian Mytton Formation. Records of the Western Australian Museum 58: 249–253.

Feist, M., and N. Grambast-Fessard. 2005. Systematic descriptions. In Treatise on invertebrate paleontology, part B Protocista 1, vol. 1, ed. R.L. Kaesler, 92–145. Lawrence: The Geological Society of America.

Feist, M., J. Liu, and P. Tafforeau. 2005. New insights into Paleozoic charophyte morphology and phylogeny. American Journal of Botany 92: 1152–1160.

Karpinsky, A.P. 1906. Die Trochilisken, Mémoires du Comité Géologique, n. ser. Livraison 27: 87–167.

Mädler, K. 1952. Charophyten aus dem nordwestdeutschen Kimmeridge. Geologisches Jahrbuch 67: 1–46.

Margulis, L., J.O. Corlis, M. Melkonian, and D.J. Chapman. 1990. Handbook of Protoctista, 914. Boston: Jones & Bartlett.

Migula, W. 1897 (1890–1897). Die Characeen Deutschlands, Oesterreichs und der Schweiz; unter Berücksichtigung aller Arten Europas. In Kryptogamenflora von Deutschland, Oesterreich und der Schweiz, 2, Aufl. 5, ed. L. Rabenhorst. Leipzig: Eduard Kummer

Peck, R.E. 1934. The North American trochiliscids, Paleozoic Charophyta. Journal of Paleontology 8: 83–119.

Peck, R.E., and G.A. Morales. 1966. The Devonian and Lower Mississippian charophytes of North America. Micropaleontology 12: 303–324.

Pfeiffer, H. 1954. Der Bohlen bei Saalfeld/Thür. Beiheft zur Zeitschrift, Geologie 11: 1–105.

Racheboeuf, P., P. Ta Hoa, H. Nguyen Huu, M. Feist, and P. Janvier. 2006. Brachiopods, crustaceans, vertebrates, and charophytes from the Devonian Ly Hoa, Nam Can and Dong Tho formations of Central Vietnam. Geodiversitas 28: 5–36.

Roemer, F.A. 1866. Beiträge zur geologischen Kenntis der nordwestlichen Harzgebirges. Fünfte Abteilungen. Palaeontographica 13: 201–235.

Samoilova, R.B. 1955. Über Trochilisken aus Ozersk-Chovanskschichten, China. Doklady Akademiya Nauk SSSR 103: 909–912.

Samoilova, R.B., and V.D. Prinada. 1966. On the studies of trochiliscids. Trudy Geologicheskogo Instituta, Akademiya Nauk SSSR 143: 201–212.

Sandberger, G. 1849. Eine neue Polype-Gattung Sycidium aus der Eifel. Neues Jahrbuch für Mineralogie, Geognosie, Geologie und Petrefakten-Kunde 20: 671–672.

Wang, Z. 1976. Middle Devonian Sycidium and Chovanella from southwest China (in Chinese with English summary). Acta Palaeontologica Sinica 15: 175–186.

Weyer, D., and K. Bartzsch. 1978. Exkursion A. Das Oberdevon des Bohlen bei Saalfeld (Thüringisches Schiefergebirge), p. 20–21. In Kurzreferate und Exkursionsführer "Das Devon im Südteil der DDR," Tagung, Fachbereich Geologie, ed. H. Pfeiffer, 20–21. Berlin: Gesellschaft für Geologische Wissenschaften der DDR
Acknowledgments
We thank Konrad Bartzsch and Dieter Weyer for their information about the presence of silicified microfossils and their help sampling the incisus bed, and Raimund Feist for useful comments on the manuscript. We thank P. Recourt for the scanning electron micrographs. This is a contribution of UMR 8014 and UMR 5554 of the French Centre National de la Recherche Scientifique.
About this article
Cite this article
Feist, M., Crônier, C. First Sycidium (Charophyta) from the Upper Devonian of Thuringia (Germany). Paläontol Z 85, 163–168 (2011). https://doi.org/10.1007/s12542-010-0085-6
Received:

Accepted:

Published:

Issue Date:
Keywords
Charophyta

Sycidium

Utricular structures

Famennian

Thuringia
Schlüsselwörter
Charophyta

Sycidium

Utriculumstrukturen

Famennium

Thüringen