Abstract
This paper investigates how people perceive the same material differently according to sex and nationality and what types of materials they prefer. We surveyed the sense of and preference for materials through questionnaires. The survey used five specimens made of zirconia, alumina, aluminum alloy, titanium alloy, and polycarbonate, and was conducted in four cities: Seoul and Ansan (Korea), Atlanta (USA), and Arusha (Tanzania). The survey consisted of three tests (a tactile test, a visual with tactile test, and an acoustic test). Except for the visual with the tactile test, the tests were conducted without any visual information. Using a statistical method, it was found that people feel the same materials differently depending on their sex and nationality. Furthermore, evaluation items which are correlated with material preferences such as roughness, coldness, familiarity, stiffness and color brightness levels were found, with these results showing that the evaluation items related to the preferences differ depending on the person's sex and nationality.
Access options
Buy single article
Instant access to the full article PDF.
USD 39.95
Price excludes VAT (USA)
Tax calculation will be finalised during checkout.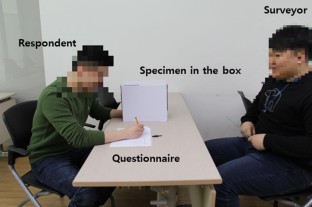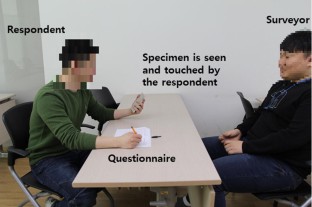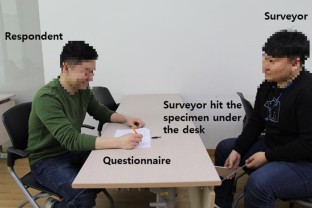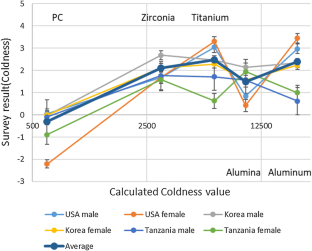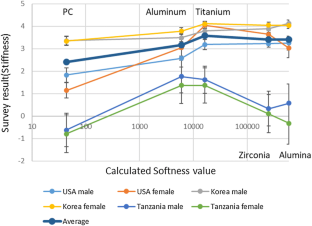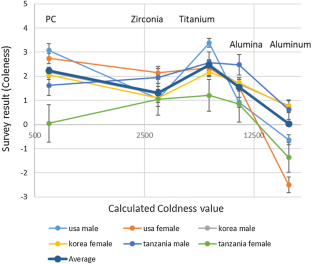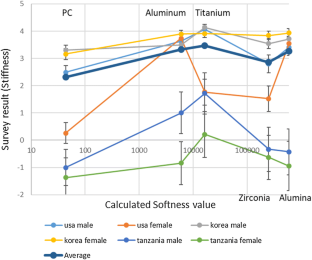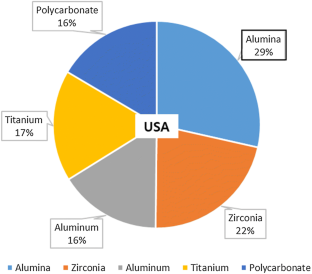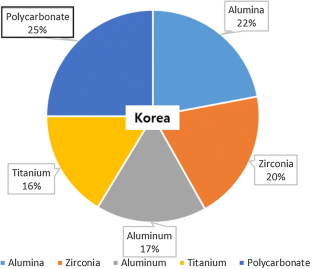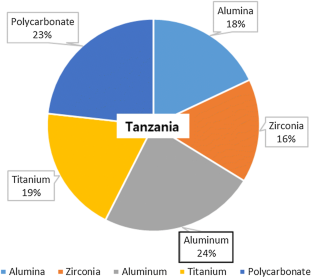 References
Oudshoorn, N., Rommes, E., & Stienstra, M. (2004). Configuring the user as everybody: Gender and design cultures in information and communication technologies. Science, Technology and Human Values, 29(1), 30–63.

Wastiels, L., & Wouters, I. (2012). Architects' considerations while selecting materials. Materials and Design, 34, 584–593.

Miller, V. M., Rice, M., Schiebinger, L., Jenkins, M. R., Werbinski, J., Núñez, A., et al. (2013). Embedding concepts of sex and gender health differences into medical curricula. ed: Mary Ann Liebert, Inc. 140 Huguenot Street, 3rd Floor New Rochelle, NY 10801 USA.

Goldreich, D., & Kanics, I. M. (2003). Tactile acuity is enhanced in blindness. Journal of Neuroscience, 23(8), 3439–3445.

Van Boven, R. W., Hamilton, R. H., Kauffman, T., Keenan, J. P., & Pascual-Leone, A. (2000). Tactile spatial resolution in blind Braille readers. Neurology, 54(12), 2230–2236.

Goldreich, D., & Kanics, I. M. (2006). Performance of blind and sighted humans on a tactile grating detection task. Perception and Psychophysics, 68(8), 1363–1371.

Peters, R. M., Hackeman, E., & Goldreich, D. (2009). Diminutive digits discern delicate details: Fingertip size and the sex difference in tactile spatial acuity. Journal of Neuroscience, 29(50), 15756–15761.

Ashby, M. F., & Johnson, K. (2013). Materials and design: The art and science of material selection in product design. London: Butterworth-Heinemann.

Stevens, S. (1975). Psychophysics: Introduction to its perceptual, neural and social prospects. New York: Wiley.

Di Luca, M., Knörlein, B., Ernst, M. O., & Harders, M. (2011). Effects of visual–haptic asynchronies and loading–unloading movements on compliance perception. Brain Research Bulletin, 85(5), 245–259.

Wongsriruksa, S., Howes, P., Conreen, M., & Miodownik, M. (2012). The use of physical property data to predict the touch perception of materials. Materials and Design, 42, 238–244.

Lee, Y., & Hwang, K. (2002). Skin thickness of Korean adults. Surgical and Radiologic Anatomy, 24(3–4), 183–189.
Acknowledgements
This research was sponsored by Support Program for Women in Science, Engineering and Technology (No. 2016H1C3A1903202) and International S&T Cooperation Program (NRF-2017K1A3A9A04013801) and the Basic Research Lab Program (2018R1A4A1059976) through the National Research Foundation of Korea (NRF) funded by the Ministry of Science and ICT. Authors thank to Prof. Londa Schiebinger, Prof. Sun Wha Ok, and Mr. Ibrahim Jefferson for their valuable suggestions and comment as well as to Institute of Engineering Research at Seoul National University.
About this article
Cite this article
Kim, DR., Jang, KH., Chu, WS. et al. Preference for Case Materials in Smart Devices: A Comparative Study in Korea, USA, and Tanzania. Int. J. Precis. Eng. Manuf. 20, 749–767 (2019). https://doi.org/10.1007/s12541-019-00022-2
Received:

Revised:

Accepted:

Published:

Issue Date:

DOI: https://doi.org/10.1007/s12541-019-00022-2
Keywords
Material preference

Sense difference

Sex

Gender