Abstract
AA6082/B4C and AA6082/SiC were prepared via stir casting accompanied by an inert-gas to prevent oxidation. The samples for both the composites were produced with varying wt% of 0, 5, 10, 15 and 20 of B4C and SiC for their respective composites. This work gives emphasis on the comparative measurements of hardness, tensile strength, percentage elongation, Impact strength, density and porosity of the AA6082/B4C and AA6082/SiC composites. The microstructural was studied using X-ray diffractometer and SEM. The micro hardness in AA6082/B4C composites increases to 15.8% and the increase in AA6082/SiC composites is 11.9% only when compared with the base alloy whereas the increase in ultimate tensile strength for B4C and SiC reinforced composites was reported to be 31% and 19.1% respectively. At 20 wt% of B4C, hardness and tensile strength of AA6082/B4C composite tends to decrease due to the development of clusters and increased porosity. The transformation in the nature of material from ductile to brittle decreases the impact strength and the resistance in the flow ability presented by the hard ceramic particles lowers down the percentage elongation. Density reduces from 2.67 g/cm3 in base alloy to 2.48 g/cm3 in AA6082/B4C and 2.56 g/cm3 in AA6082/SiC composites respectively. The formation of voids in AA6082/SiC composites makes it less porous then AA6082/B4C composites and this was because of the more agglomeration in SiC composites due to their high density.
Graphic Abstract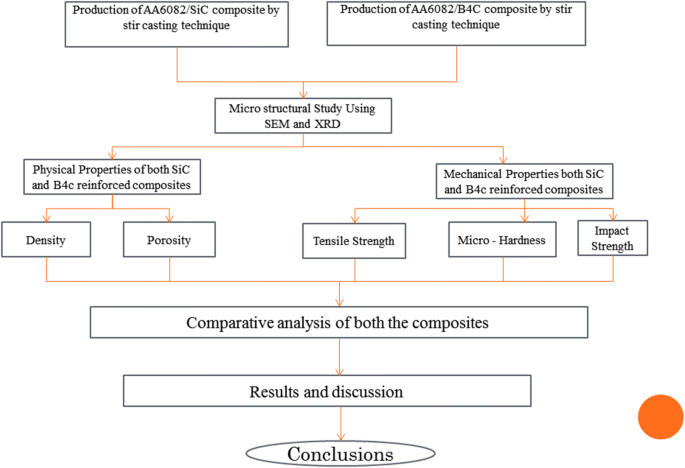 This is a preview of subscription content,
to check access.
Access this article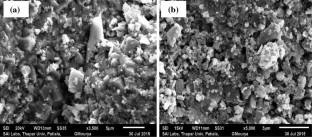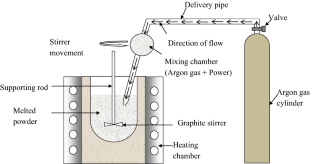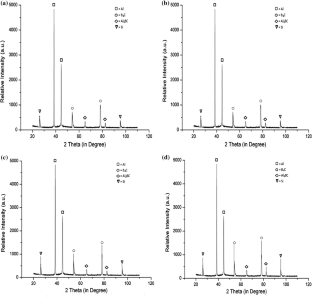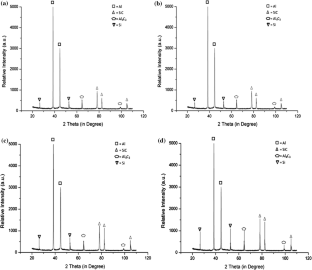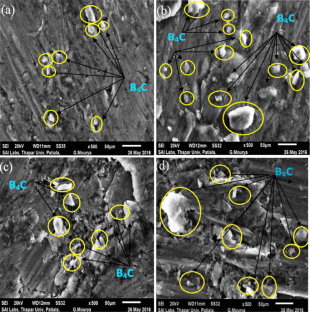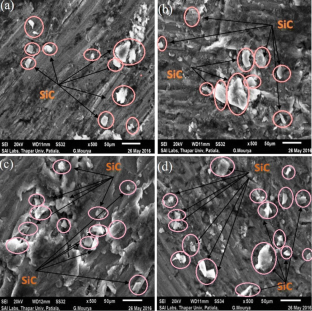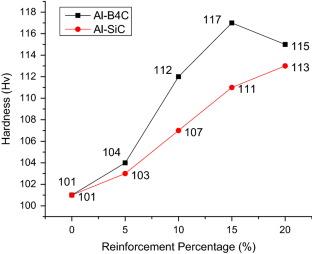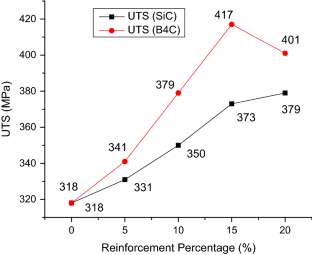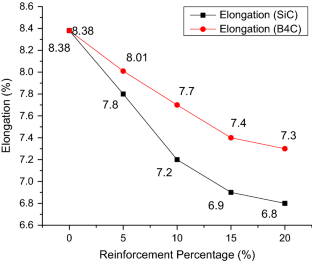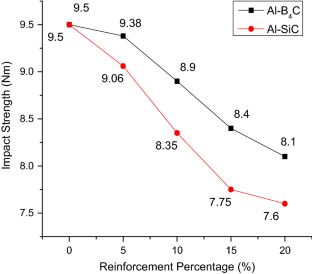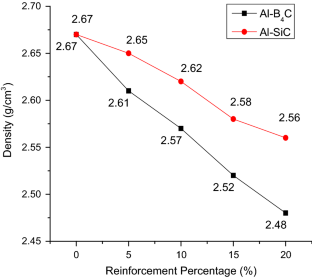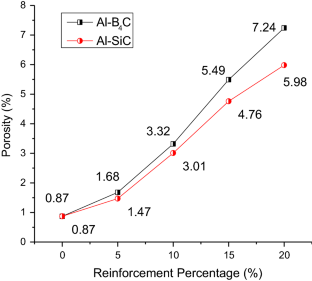 Similar content being viewed by others
References
W. Mocko, J.A. Rodriguez-Martinez, Z.L. Kowalewski, Compressive viscoplastic response of 6082-T6 and 7075-T6 aluminium alloys under wide range of strain rate at room temperature: experiments and modeling. Strain 48, 498–509 (2012)

J.M. Lee, C.G. Lee, S.B. Kang, A. Kamio, A new technology for the production of aluminum matrix composites by the plasma synthesis method. Met. Mater. 6(4), 389–394 (2000)

V. Vijayaraghavana, S. Castagne, Measurement of surface characteristics of Ti6Al4V aerospace engineering components in mass finishing process. Measurement 115, 279–287 (2018)

G. Singh, S. Lap-Ip Chan, N. Sharma, Parametric study on the dry sliding wear behaviour of AA6082–T6/TiB2 in situ composites using response surface methodology. J. Braz. Soc. Mech. Sci. Eng. 40, 310 (2018)

R. Haghayeghi, E. Ezzatneshan, H. Bahai, RETRACTED ARTICLE: grain refinement of AA5754 aluminum alloy by ultrasonic cavitation: experimental study and numerical simulation. Met. Mater. Int. 21(1), 109–117 (2015)

G. Singh, S. Goyal, Microstructure and mechanical behavior of AA6082-T6/SiC/B4C-based aluminum hybrid. Compos. Part. Sci. Technol. 36, 154–161 (2018)

J.K. Chen, I.S. Huang, Thermal properties of aluminum–graphite composites by powder metallurgy. Compos. Part B 44, 698–703 (2013)

A.R. Kennedy, The microstructure and mechanical properties of Al–Si–B4C metal matrix composites. J. Mater. Sci. 37, 317–323 (2002)

K. Ravikumar, K. Kiran, V.S. Sreebalaji, Characterization of mechanical properties of aluminium/tungsten carbide composites. Measurement 102, 142–149 (2017)

U.B. Gopal Krishna, K.V. Sreenivas Rao, B. Vasudeva, Effect of percentage reinforcement of B4C on the tensile property of aluminium matrix composites. Int. J. Mech. Eng. Robot. Res. 1, 290–295 (2012)

D. Ghanbari, M.K. Asgarani, K. Amini, F. Gharavi, Influence of heat treatment on mechanical properties and microstructure of the Al2024/SiC composite produced by multi-pass friction stir processing. Measurement 104, 151–158 (2017)

V.S. Aigbodion, S.B. Hassan, Effects of silicon carbide reinforcement on microstructure and properties of cast Al–Si–Fe/SiC particulate composites. Mater. Sci. Eng. A 447, 355–360 (2007)

MdH Rahman, H.M. Mamun Al Rashed, Characterization of silicon carbide reinforced aluminum matrix composites. Procedia Eng. 90, 103–109 (2014)

N.G. Siddesh Kumar, G.S. Shiva Shankar, S. Basavarajappa, R. Suresh, Some studies on mechanical and machining characteristics of Al2219/nB4C/MoS2 nano-hybrid metal matrix composites. Measurement 107, 1–11 (2017)

Z. Tan, Z. Chen, G. Fan, G. Ji, J. Zhang, R. Xu, A. Shan, Z. Li, D. Zhang, Effect of particle size on the thermal and mechanical properties of aluminum composites reinforced with SiC and diamond. Mater. Des. 90, 845–851 (2016)

Y. Afkham, R.A. Khosroshahi, S. Rahimpour, C. Aavani, D. Brabazon, R.T. Mousavian, Enhanced mechanical properties of in situ aluminium matrix composites reinforced by alumina nanoparticles. Arch. Civ. Mech. Eng. 18, 215–226 (2018)

M.C. Senel, M. Gurbuz, E. Koc, Fabrication and characterization of synergistic Al–SiC–GNPs hybrid composites. Compos. B 154, 1–9 (2018)

G. Singh, S. Goyal, Dry sliding wear behaviour of AA6082-T6/SiC/B4C hybrid metal matrix composites using response surface methodology. Proc. IMechE Part L J. Mater. Des. Appl. 232(11), 952–964 (2018)

H. Singh, M. Irfan Ul Haq, A. Raina, Dry sliding friction and wear behaviour of AA6082-TiB2 in situ composites. Silicon (2019). https://doi.org/10.1007/s12633-019-00237-y

J. Hashim, L. Looney, M.S.J. Hashmi, The enhancement of wettability of SiC particles in cast aluminium matrix composites. J. Mater. Process. Technol. 119, 329–335 (2001)

L. Poovazhagan, K. Kalaichelvan, A. Rajadurai, V. Senthilvelan, Characterization of hybrid silicon carbide and boron carbide nanoparticles-reinforced aluminum alloy composites. Procedia Eng. 64, 681–689 (2013)

Y. Sahin, Preparation and some properties of SiC particle reinforced aluminium alloy composites. Mater. Des. 24, 671–679 (2003)

J.K.M. Kwok, S.C. Lim, High speed tribological properties of some Al/SiC composites: I. Frictional and wear rate characteristics. Compos. Sci. Technol. 59, 55–63 (1999)

T. Raviteja, N. Radhika, R. Raghu, Fabrication and mechanical properties of stir cast Al–Si12Cu/B4C composites. Int. J. Res. Eng. Technol. 3, 343–346 (2014)

S. Gopalakannan, T. Senthilvelan, Synthesis and characterisation of Al 7075 reinforced with SiC and B4C nano particles fabricated by ultrasonic cavitations method. J. Sci. Ind. Res. 74, 281–285 (2015)

A. Mazahery, M.O. Shabani, Mechanical properties of squeeze-cast A356 composites reinforced with B4C particulates. J. Mater. Eng. Perform. 21(2), 247–252 (2012)

J.A. Jansen, Ductile-to-brittle transition of plastic materials. Adv. Mater. Process. 164(2), 39–42 (2006)

K. Shirvanimoghaddam, H. Khayyam, H. Abdizadeh, M.K. Akbari, A.H. Pakseresht, E. Ghasali, M. Naebe, Boron carbide reinforced aluminium matrix composite: physical, mechanical characterization and mathematical modelling. Mater. Sci. Eng. A 658, 135–149 (2016)
Additional information
Publisher's Note
Springer Nature remains neutral with regard to jurisdictional claims in published maps and institutional affiliations.
About this article
Cite this article
Singh, G., Sharma, N., Goyal, S. et al. Comparative Measurements of Physical and Mechanical Properties of AA6082 Based Composites Reinforced with B4C and SiC Particulates Produced via Stir Casting. Met. Mater. Int. 27, 4333–4345 (2021). https://doi.org/10.1007/s12540-020-00666-0
Received:

Accepted:

Published:

Issue Date:

DOI: https://doi.org/10.1007/s12540-020-00666-0
Keywords