Abstract
The human body immune system, metabolism and homeostasis are affected by microbes. Dysbiosis occurs when the homeostatic equilibrium is disrupted due to an alteration in the normal microbiota of the intestine. Dysbiosis can cause cancer, and also affect a patient's ability to respond to treatment. Metataxonomics seeks to identify the bacteria present in a biological sample, based on the sequencing of the 16S rRNA genetic marker. Precision medicine attempts to find relationships between the microbiota and the risk of acquiring cancer, and design new therapies targeting bacteria. Flexible and portable bioinformatic pipelines are necessary to be able to bring metataxonomics to the clinical field, which allow groups of biological samples to be classified according to their diversity in the microbiota. With this aim we implemented Metatax, a new pipeline to analyze biological samples based on 16S rRNA gene sequencing. The results obtained with our pipeline should complement those obtained by sequencing a patient's DNA and RNA, in addition to clinical data, to improve knowledge of the possible reasons for a disease or a worse response to treatment.
Access options
Buy single article
Instant access to the full article PDF.
US$ 39.95
Tax calculation will be finalised during checkout.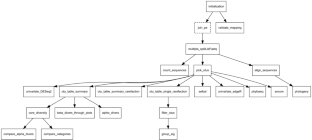 Acknowledgments
This work was supported by the Plataforma de Bioinformática from the Instituto de Salud Carlos III (PT17/0009/0011) and by the Consellería de Educación, Universidades e Formación Profesional (Xunta de Galicia) within the scope of the strategic funding ED431C2018/55-GRC Competitive Reference Group. The SING group wants to thank the Centro de Investigación, Transferencia e Innovación (CITI) from the University of Vigo for hosting its IT infrastructure. H. López-Fernández is supported by a post-doctoral fellowship from Xunta de Galicia (ED481B 2016/068-0). A. Nogueira-Rodríguez is supported by a pre-doctoral fellowship from Xunta de Galicia (ED481A-2019/299).
Ethics declarations
Conflict of interest
The authors declare that they have no conflict of interest.
Electronic supplementary material
Below is the link to the electronic supplementary material.
About this article
Cite this article
Graña-Castro, O., López-Fernández, H., Nogueira-Rodríguez, A. et al. Metatax: Metataxonomics with a Compi-Based Pipeline for Precision Medicine. Interdiscip Sci Comput Life Sci 12, 252–257 (2020). https://doi.org/10.1007/s12539-020-00368-6
Received:

Revised:

Accepted:

Published:

Issue Date:
Keywords
NGS

Compi

Framework

Precision medicine

Bioinformatics pipeline

16S rRNA gene

Metataxonomics

OTU

Cancer research