Abstract
Background
Type 2 diabetes Mellitus is a chronic disease, and one of its complications may result in amputation. The goal of this study was to evaluate the impact of psychosocial variables, over time, on quality of life (QoL) of caregivers of patients (N = 110) who had undergone a recent amputation.
Method
A longitudinal design was employed: (T1) 1 month after the patient's surgery; (T2) 7 months after; and (T3) 10 months after. Burden Assessment Scale, Family Assessment Device, Revised Impact of Events Scale, Family Disruption from Illness Scale, and Short Form Health Survey were used. A path analysis model was tested.
Results
Burden, perception of family functioning, and traumatic symptoms at T1 showed a positive impact on the perception of family functioning, at T2. Traumatic symptoms, at T1, predicted traumatic symptoms at T2 being also a mediator between those symptoms (T1) and physical QoL (T3). Physical and traumatic symptoms, at T1 predicted physical symptoms, at T2 affecting both mental and physical QoL (T3), being also a mediator in these relationships. Burden (T1) also had a direct effect on mental QoL (T3) and at T2 had an impact on physical QoL (T3) mediating also the relationship between burden/physical symptoms at T1 and physical QoL, at T3.
Conclusion
Intervention should focus on physical and traumatic symptoms as well as burden since they were both mediators regarding mental and physical QoL.
Access options
Buy single article
Instant access to the full article PDF.
US$ 39.95
Tax calculation will be finalised during checkout.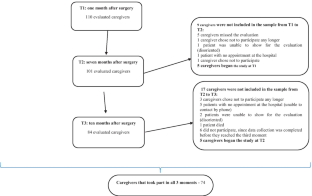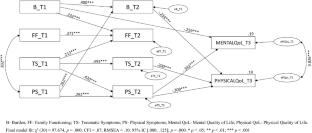 References
1.

Ventura F, Borghi C. Diabetes in the third millennium: prognosis improves, but juvenile forms are more frequent. Eur Heart J Suppl. 2019;21(Suppl B):B17.

2.

World Health Organization (WHO). Global report on Diabetes. 2016. Retrieved from: http://www.who.int/Diabetes/global-report/en/.

3.

National Diabetes Observatory. Annual report of the National Diabetes Observatory – Portugal. 2020. https://www.cdc.gov/diabetes/data/statistics-report/index.html.

4.

Vale, S, Martins, A, Cruz, D, Freitas, G, Programa nacional para a diabetes desafios e estratégias 2019, DGS. Retrieved from: https://www.dgs.pt/documentos-e-publicacoes/relatorio-programa-nacional-para-a-diabetes-desafios-e-estrategias-2019.aspx.

5.

Chaplin S. National audit shows diabetic foot care suffers from variation between services in ulcer outcomes. Pract Diabetes. 2018;35(1):16–8.

6.

Sekhar MS, Unnikrishnan MK, Vijayanarayana K, Rodrigues GS. Impact of patient-education on health-related QoL of diabetic foot ulcer patients: a randomized study. Clin Epidemiology Glob Health. 2019;7(3):382–8.

7.

Napolitano C, Zmuda A, Rottier FJ, et al. Amputations and rehabilitation. In: Giurini J, Guzman R, editors., et al., Veves A. The Diabetic Foot. Contemporary Diabetes. Cham: Humana; 2018. p. 415–36.

8.

Pedras S, Carvalho R, Pereira MG. QoL in portuguese patients with diabetic foot ulcer before and after an amputation surgery. Int J Behav Med. 2016;23:714–21.

9.

Byun E, Evans LK. Concept analysis of burden in caregivers of stroke survivors during the early poststroke period. Clin Nurs Res. 2015;24(5):468–86.

10.

Costa MS, Machado JC, Pereira MG. Burden changes in caregivers of patients with type 2 diabetes: a longitudinal study. J Adv Nurs. 2018;74(10):2322–30.

11.

Graz H, D'Souza VK, Alderson DE, Graz M. Diabetes-related amputations create considerable public health burden in the UK. Diabetes Res Clin Pract. 2018;135:158–65.

12.

Costa S, Leite Â, Pinheiro M, Pedras S, Pereira MG. Burden and QoL in caregivers of patients with amputated diabetic foot. PsyCh journal. 2020;9(5):707–15.

13.

Alves Costa MS, Pereira MG. Predictors and moderators of QoL in caregivers of amputee patients by type 2 diabetes. Scand J Caring Sci. 2018;32(2):933–42.

14.

Pedras S, Carvalho R, Pereira MG. A predictive model of anxiety and depression symptoms after a lower limb amputation. Disabil Health J. 2018;11(1):79–85.

15.

Clements L, Frazier SK, Moser DK, Lennie TA, Chung ML. The mediator effects of depressive symptoms on the relationship between family functioning and QoL in caregivers of patients with heart failure. Heart Lung. 2020;49(6):737–44.

16.

Azoulay E, Pochard F, Kentish-Barnes N, et al. Risk of post-traumatic stress symptoms in family members of intensive care unit patients. Am J Respir Crit Care Med. 2005;171(9):987–94.

17.

Brier MJ, Williams RM, Turner AP, et al. Quality of relationships with caregivers, depression, and life satisfaction after dysvascular lower extremity amputation. Arch Phys Med Rehabil. 2018;99(3):452–8.

18.

Alfheim HB, Hofsø K, Småstuen MC, Toien K, Rosseland LA, Rustoen T. Post-traumatic stress symptoms in family caregivers of intensive care unit patients: a longitudinal study. Intensive Crit Care Nurs. 2019;50:5–10.

19.

Dunbar SB, Khavjou OA, Bakas T, et al. Projected costs of informal caregiving for cardiovascular disease: 2015 to 2035: a policy statement from the American Heart Association. Circulation. 2018;137(19):e558–77.

20.

Cesário VAC, Leal MCC, Marques APDO, Claudino KA. Estresse e qualidade de vida do cuidador familiar de idoso portador da doença de Alzheimer. Saúde em Debate. 2017;41:171–82.

21.

Mason AE, Adler JM, Puterman E, et al. Stress resilience: narrative identity may buffer the longitudinal effects of chronic caregiving stress on mental health and telomere shortening. Brain Behav Immun. 2019;77:101–9.

22.

Li J, Gu L, Guo Y. An educational intervention on foot self-care behaviour among diabetic retinopathy patients with visual disability and their primary caregivers. J Clin Nurs. 2019;28(13–14):2506–16.

23.

Xie H, Cheng C, Tao Y, et al. QoL in Chinese family caregivers for elderly people with chronic diseases. Health Qual Life Outcomes. 2016;14(1):99.

24.

Anaforoğlu İ, Ramazanoğulları İ, Algün E, Kutanis R. Depression, anxiety and QoL of family caregivers of patients with type 2 diabetes. Med Princ Pract. 2012;21(4):360–5.

25.

Parekh NK, Shah S, McMaster K, et al. Effects of caregiver burden on QoL and coping strategies utilized by caregivers of adult patients with inflammatory bowel disease. Ann Gastroenterol. 2017;30(1):89.

26.

Livneh H. Psychosocial adaptation to chronic illness and disability: a conceptual framework. Rehabil Couns Bull. 2001;44(3):151–60.

27.

Malhotra S, Steinberg J. Evolution of the diabetes caregiver: tying together limb salvage and patient education. Diabetes Manag (Lond). 2014;4(3):293.

28.

Reinhard SC, Gubman GD, Horwitz AV, Minsky S. Burden assessment scale for families of the seriously mentally ill. Eval Program Plann. 1994;17(3):261–9.

29.

Cotrim H, Azeredo Z, Pereira M. Impact of colorectal cancer on patients and caregivers/ family: Implications for caring (PhD). University of Porto. 2007. Retrieved from: http://hdl.handle.net/10216/7231 [Accessed on 05 January 2021].

30.

Epstein NB, Baldwin LM, Bishop DS. The McMaster family assessment device. J Marital Fam Ther. 1983;9(2):171–80.

31.

Ryan CE, Epstein NB, Keitner GI. Evaluating and treating families: the McMaster approach. New York: Taylor & Francis; 2005.

32.

Weiss DS, Marmar CR. The Impact of Event Scale-Revised. In: Wilson JP, Keane TM, editors. Assessing Psychological Trauma and PTSD: A Practitioner's Handbook. New York: Guilford Press; 1997. p. 399–411.

33.

Teixeira RJ, Pereira MG. Family functioning and exhaustion in a parental cancer situation. Proceedings of the 7th National Symposium on Research in Psychology. 2010;1271–1285. https://www.researchgate.net/profile/Ricardo_Teixeira7/publication/236986282_fFuncionamento_e_exaustao_familiar_em_situacao_de_cancro_parental/links/00b7d533010e98358d000000.pdf.

34.

Ide B, Gragert M. Reliability and validity of a revised family disruption from illness scale in a rural sample. Online J Rural Nurs Health Care. 2017;2(2):83–95.

35.

Malheiro M, Pereira MG. Psychosocial variables in Fibromyalgia: a double study, (Master's Dissertation) Health Psychology. University of Minho. 2009.

36.

Ware JE, Snow KK, Kosinski M, Gandek B. SF-36 health survey: manual and interpretation guide. Health Assessment Lab; 2000.

37.

Ferreira PL. Development of the Portuguese version of MOS SF-36. Part I. Cultural and linguistic adaptation. Acta Med Port. 2000;13(1–2):55–66.

38.

Kumnig M, Jowsey-Gregoire SG. Psychological and psychosocial aspects of limb transplantation. In: Sher Y, Maldonado JR, editors. Psychosocial Care of End-Stage Organ Disease and Transplant Patients. Cham: Springer; 2019. p. 365–76.

39.

Horiguchi AS. Alzheimer's: stress and QoL of informal caregivers. (Master's Dissertation) Campinas: Pontifical Catholic University of Campinas; 2010. Retrieved from: http://tede.bibliotecadigital.puc-campinas.edu.br:8080/jspui/handle/tede/252.

40.

Gilliss CL, Pan W, Davis LL. Family involvement in adult chronic disease care: reviewing the systematic reviews. J Fam Nurs. 2019;25(1):3–27.

41.

Marzola TS, Molina NPFM, de Assunção LM, dos Santos Tavares DM, Rodrigues LR. A importância do funcionamento das famílias no cuidado ao idoso: fatores associados. Revista Família, Ciclos de Vida e Saúde no Contexto Social. 2020;8(1):78–86.

42.

Suquilvide-Miranda J, Rodríguez-Orozco AR, García-Pérez ME, Escudero-Hernández L, Gómez-Alonso C, Cortés-Rojo C. Funcionamiento familiar y uso de terapias complementarias en pacientes con psoriasis. Atención Primaria. 2020;52(6):435.

43.

Sunny S, Pradeep S, Sunny AA, et al. Patient counseling, risk factors and comorbidity assessment in diabetic foot ulcer. J Pharm Res. 2019;23(2):298–303.

44.

American Psychiatric Association. Diagnostic and statistical manual of mental disorders (DSM-5®). Washington: American Psychiatric Publishing; 2013.

45.

Richardson AE, Morton RP, Broadbent EA. Illness perceptions and coping predict post-traumatic stress in caregivers of patients with head and neck cancer. Support Care Cancer. 2016;24(10):4443–50.

46.

D'Andrea W, Sharma R, Zelechoski AD, Spinazzola J. Physical health problems after single trauma exposure: when stress takes root in the body. J Am Psychiatr Nurses Assoc. 2011;17(6):378–92.

47.

Livneh H, Wilson LM. Coping strategies as predictors and mediators of disability-related variables and psychosocial adaptation: an exploratory investigation. Rehabil Couns Bull. 2003;46(4):194–208.

48.

Alltag S, Conrad I, Riedel-Heller SG. Caregiver burden among older informal caregivers of patients with dementia and its influence on QoL: a systematic literature review. Z Gerontol Geriatr. 2019;52(5):477–86.

49.

Bevans M, Sternberg EM. Caregiving burden, stress, and health effects among family caregivers of adult cancer patients. JAMA. 2012;307(4):398–403.

50.

Appleyard K, Osofsky JD. Parenting after trauma: supporting parents and caregivers in the treatment of children impacted by violence. Infant Ment Health J. 2003;24(2):111–25.

51.

Gürhan N, Beşer NG, Polat Ü, Koç M. Suicide risk and depression in individuals with chronic illness. Community Ment Health J. 2019;55(5):840–8.

52.

Riffin C, Van Ness PH, Wolff JL, Fried T. Multifactorial examination of caregiver burden in a national sample of family and unpaid caregivers. J Am Geriatr Soc. 2019;67(2):277–83.

53.

Mello Filho J. Disease and family. São Paulo, BR:Casa do Psicólogo. 2004.

54.

Chiu M, Pauley T, Wesson V, Pushpakumar D, Sadavoy J. Evaluation of a problem-solving (PS) techniques-based intervention for informal carers of patients with dementia receiving in-home care. Int Psychogeriatr. 2015;27:937–48.

55.

Danucalov M, Kozasa E, Afonso R, Galduroz J, Leite J. Yoga and compassion meditation program improve QoL and self-compassion in family caregivers of Alzheimer's disease patients: A randomized controlled trial. Geriatr Gerontol Int. 2017;17(1):85–91.
Acknowledgements
The authors would like to thank the health professionals from the Multidisciplinary Consultations of the Diabetic Foot at the Santa Luzia Hospital Center in Viana do Castelo, from the Multidisciplinary Consultations of the Diabetic Foot at the Tâmega and Sousa Hospital Center, from the Multidisciplinary Consultations of the Diabetic Foot at the Hospital Center of Vila Nova de Gaia/Espinho, from the Multidisciplinary Consultations of the Diabetic Foot at the Hospital Center of Porto, from the Service of Vascular Surgery of the Hospital of São João, and from the Service of Vascular Surgery at the Hospital of Braga.
Funding
This work was carried out during a scholarship supported by Full Doctoral Program Foreign Funded by CAPES—Brazil.
Ethics declarations
Ethics Approval
All procedures performed in studies involving human participants were in accordance with the ethical standards of the institutional and/or national research committee and with the 1964 Helsinki declaration and its later amendments or comparable ethical standards.
Informed Consent
Informed consent was obtained from all individual participants included in the study.
Conflict of Interest
The authors declare no competing interests.
Additional information
Publisher's Note
Springer Nature remains neutral with regard to jurisdictional claims in published maps and institutional affiliations.
About this article
Cite this article
Costa, M.S.A., Vilhena, E., Leite, Â. et al. Quality of Life in Caregivers of Type 2 Diabetes Patients After Patient's Surgery: a Path Analysis. Int.J. Behav. Med. (2021). https://doi.org/10.1007/s12529-021-10028-8
Keywords
Burden

Physical symptoms

Traumatic symptoms

Family functioning

Quality of life