Abstract
Background
The strategies patients use to cope with chronic pain are key determinants of pain-related treatment outcomes and are often targeted in psychosocial interventions for chronic pain. However, improvements in coping often fade after intervention completion. Here, we test whether previously reported improvements in coping following two novel mind–body and activity interventions are maintained 3 months after completion.
Methods
Eighty-two patients with heterogeneous chronic pain were randomized to two identical mind–body and activity interventions, one with the addition of a Fitbit device (GetActive-Fitbit) and one without it (GetActive; n = 41 each). Participants completed measures of pain-catastrophizing, kinesiophobia, mindfulness, adaptive coping, and pain-resilience at baseline, post-intervention, and at 3-month follow-up.
Results
At follow-up, participants in both groups exhibited sustained improvements in all five coping measures compared to baseline (significant in both groups for all measures except for p = .05 in kinesiophobia in GetActive and p = .07 in pain resilience in GetActive-Fitbit).
Conclusions
Overall, GetActive and GetcActive-Fitbit are promising interventions to sustainably improve coping with chronic pain.
Trial Registration
This trial is registered under ClinicalTrials.gov identifier NCT03412916.
Access options
Buy single article
Instant access to the full article PDF.
US$ 39.95
Tax calculation will be finalised during checkout.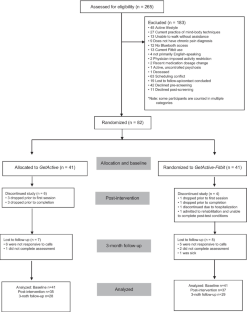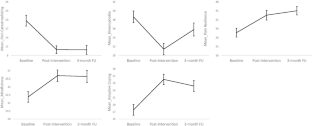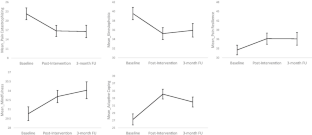 References
1.

Gaskin DJ, Richard P. The economic costs of pain in the United States. J Pain. 2012;13:715–24.

2.

Edwards RR, Dworkin RH, Sullivan MD, Turk DC, Wasan AD. The role of psychosocial processes in the development and maintenance of chronic pain. J Pain. 2016;17:T70-92.

3.

Quartana PJ, Campbell CM, Edwards RR. Pain catastrophizing a critical review. Expert Rev Neurother. 2009. p. 745–58.

4.

Picavet HSJ, Vlaeyen JWS, Schouten JSAG. Pain catastrophizing and kinesiophobia: predictors of chronic low back pain. Am J Epidemiol. 2002;156:1028–34.

5.

McCracken LM, Zhao-O'Brien J. General psychological acceptance and chronic pain: there is more to accept than the pain itself. Eur J Pain. 2010;14:170–5.

6.

Tegner H, Frederiksen P, Esbensen BA, Juhl C. Neurophysiological pain education for patients with chronic low back pain. Clin J Pain. 2018. p. 778–86.

7.

Vugts MAP, Joosen MCW, van der Geer JE, Zedlitz AMEE, Vrijhoef HJM. The effectiveness of various computer-based interventions for patients with chronic pain or functional somatic syndromes: a systematic review and meta-analysis. PLoS One. 2018.

8.

Anheyer D, Haller H, Barth J, Lauche R, Dobos G. Cramer H. Mindfulness-based stress reduction for treating low back pain: A systematic review and meta-analysis. Ann. Intern. Med; 2017. p. 799–807.

9.

Williams AC d. C, Eccleston C, Morley S. Psychological therapies for the management of chronic pain (excluding headache) in adults. Cochrane Database Syst Rev. 2012.

10.

Czajkowski SM, Powell LH, Adler N, Naar-King S, Reynolds KD, Hunter CM, et al. From ideas to efficacy: the ORBIT model for developing behavioral treatments for chronic diseases. Heal Psychol. 2015;34:971–82.

11.

National Center for Complementary and Integrative Health. Framework for Developing and Testing Mind and Body Interventions [Internet]. 2017 [cited 27 Jun 2019]. Available from: https://nccih.nih.gov/grants/mindbody/framework.

12.

Greenberg J, Popok PJ, Lin A, Kulich RJ, James P, Macklin EA, et al. A mind-body physical activity program for chronic pain with or without a digital monitoring device: proof-of-concept feasibility randomized controlled trial. JMIR Form Res. 2020;4:e18703.

13.

Greenberg J, Lin A, Zale EL, Kulich RJ, James P, Millstein RA, et al. Development and early feasibility testing of a mind-body physical activity program for patients with heterogeneous chronic pain; the getactive study. J Pain Res. 2019;12:3279–97.

14.

Greenberg J, Singh T, Popok PJ, Kulich RJ, Vranceanu A-M. Sustainability of improvements in physical and emotional function following a mind–body physical activity program for chronic pain. J Altern Complement Med.

15.

Sullivan MJL, Bishop SR, Pivik J. The Pain Catastrophizing Scale: development and validation. Psychol Assess. 1995;7:524–32.

16.

Monticone M, Ambrosini E, Rocca B, Foti C, Ferrante S. Responsiveness and minimal clinically important changes for the Tampa Scale of Kinesiophobia after lumbar fusion during cognitive behavioral rehabilitation. Eur J Phys Rehabil Med [Internet]. 2017;53:351–8. Available from: http://www.ncbi.nlm.nih.gov/pubmed/27827516.

17.

Slepian PM, Ankawi B, Himawan LK, France CR. Development and initial validation of the pain resilience scale. J Pain. 2016;17:462–72.

18.

Carver CS. MOCS (Measure of Current Status) [Internet]. 2006 [cited 19 Jun 2019]. Available from: http://www.psy.miami.edu/faculty/ccarver/sclMOCS.html.

19.

Feldman G, Hayes A, Kumar S, Greeson J, Laurenceau JP. Mindfulness and emotion regulation: the development and initial validation of the Cognitive and Affective Mindfulness Scale-Revised (CAMS-R). J Psychopathol Behav Assess. 2007;29:177–90.

20.

Liang K-Y, Zeger SL. Longitudinal data analysis of continuous and discrete responses for pre-post designs. Sankhya Indian J Stat. 2000;62:134–48.

21.

Nieminen P, Lehtiniemi H, Vähäkangas K, Huusko A, Rautio A. Standardised regression coefficient as an effect size index in summarising findings in epidemiological studies. Epidemiol Biostat Public Heal. 2013;10.

22.

Leon AC, Davis LL, Kraemer HC. The role and interpretation of pilot studies in clinical research. J Psychiatr Res. 2011;45:626–9.

23.

Kistin C, Silverstein M. Pilot studies: a critical but potentially misused component of interventional research. JAMA J Am Med Assoc. 2015. p. 1561–2.

24.

Eisenberg DM, Buring JE, Hrbek AL, Davis RB, Connelly MT, Cherkin DC, et al. A model of integrative care for low-back pain. J Altern Complement Med [Internet]. 2012;18:354–62. Available from: http://online.liebertpub.com/doi/abs/10.1089/acm.2011.0408.
Funding
This study was funded by two grants from the National Center for Complementary and Integrative Health: 1R34AT009356-01A1 awarded to the senior author, and 1K23AT010653-01A1 awarded to the first author.
Ethics declarations
Ethical Approval
All procedures performed in studies involving human participants were in accordance with the ethical standards of the institutional and/or national research committee and with the 1964 Helsinki declaration and its later amendments or comparable ethical standards. The study was approved by the Institutional Review Board at the MGH.
Informed Consent
Informed consent was obtained from all individual participants included in the study.
Research Involving Human and Animal Participants
This article does not contain any studies with animals performed by any of the authors.
Conflict of Interest
The authors declare that they have no conflicts of interest.
Additional information
Publisher's Note
Springer Nature remains neutral with regard to jurisdictional claims in published maps and institutional affiliations.
About this article
Cite this article
Greenberg, J., Singh, T., Popok, P.J. et al. Sustainability of Improvements in Adaptive Coping Following Mind–Body and Activity Training for Chronic Pain. Int.J. Behav. Med. (2021). https://doi.org/10.1007/s12529-021-09971-3
Keywords
Chronic pain

Mindfulness

Coping

Resilience

Pain catastrophizing