Abstract
Purpose
The interrelated associations of social relationship factors, depression, and outcomes of surgical patients are yet unexplored. The purpose of this study was to investigate whether depression mediates effects of general social support, loneliness, and living alone on hospital length of stay (LOS) of 2487 patients from diverse surgical fields.
Method
Social relationship factors and depression were assessed prior to surgery. The PROCESS macro for SPSS was used to conduct three simple mediation models that tested the indirect effects of social relationship factors on LOS mediated through depression. The models were adjusted for age, gender, preoperative physical health, surgical field, severity of medical comorbidity, and extent of surgical procedure.
Results
Social support and loneliness had significant indirect effects on LOS that were statistically mediated by preoperative depression. Lower social support and the feeling of loneliness were considerably related to higher depression which predicted longer LOS. While social support and loneliness had no direct effects on LOS, there was a small significant direct association of living alone with shorter LOS.
Conclusion
Data suggest that social support and loneliness are indirectly related with surgical outcomes by an association with depression which in turn is related to worse outcomes.
Trial Registration
NCT01357694
Access options
Buy single article
Instant access to the full article PDF.
USD 39.95
Price excludes VAT (USA)
Tax calculation will be finalised during checkout.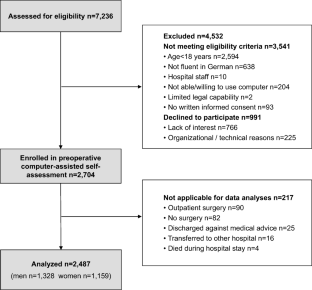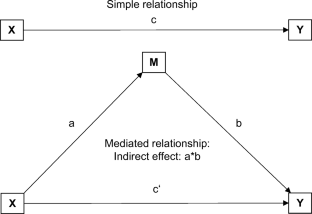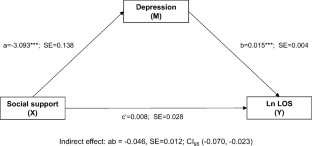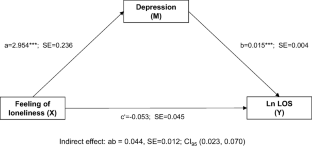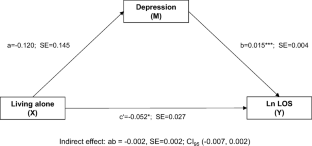 References
Cohen S. Social relationships and health. Am Psychol. 2004;59:676–84.

Eisenberger N. An empirical review of the neural underpinnings of receiving and giving social support: implications for health. Psychosom Med. 2013;75:545–56.

Holt-Lunstad J, Smith T, Layton J. Social relationships and mortality risk: a meta-analytic review. PLoS Med. 2010;7:e1000316. https://doi.org/10.1371/journal.pmed.

Holt-Lunstad J, Smith T, Baker M, Harris T, Stephenson D. Loneliness and social isolation as risk factors for mortality: a meta-analytic review. Perspect Psychol Sci. 2015;10(2):227–37.

Holt-Lunstad J, Smith T. Loneliness and social isolation as risk factors for CVD: implications for evidence-based patient care and scientific inquiry. Heart. 2016;102(13):987–9.

Marroquín B. Interpersonal emotion regulation as a mechanism of social support in depression. Clin Psychol Rev. 2011;31:1276–90.

Santini Z, Koyanagi A, Tyrovolas S, Mason C, Haro J. The association between social relationships and depression: a systematic review. J Affect Disord. 2015;175:53–65.

Stickley A, Koyanagi A. Loneliness, common mental disorders and suicidal behavior: findings from a general population survey. J Affect Disord. 2016;197:81–7.

Thoits P. Mechanisms linking social ties and support to physical and mental health. J Health Soc Behav. 2011;52(2):145–61.

Uchino B. Social support and health: a review of physiological processes potentially underlying links to disease outcomes. J Behav Med. 2006;29(4):377–87.

Uchino B, Bowen K, McKenzie C, Birmingham W. Psychological pathways linking social support to health outcomes: a visit with the "ghosts" of research past, present, and future. Soc Sci Med. 2012;74:949–57.

Valtorta N, Kanaan M, Gilbody S, Ronzi S, Hanratty B. Loneliness and social isolation as risk factors for coronary heart disease and stroke: systematic review and meta-analysis of longitudinal observational studies. Heart. 2016;102(13):1009–16.

Pinquart M, Duberstein P. Associations of social networks with cancer mortality: a meta-analysis. Crit Rev Oncol Hematol. 2010;75:122–37.

Livhits M, Mercado C, Yermilov I, Parikh J, Dutson E, Mehran A, et al. Is social support associated with greater weight loss after bariatric surgery? A systematic review. Obes Rev. 2011;12:142–8.

Luttik M, Jaarsma T, Moser D, Sanderman R, van Veldhuisen D. The importance and impact of social support on outcomes in patients with heart failure: an overview of the literature. J Cardiovasc Nurs. 2005;20(3):162–9.

Gariépy G, Honkaniemi H, Quesnel-Vallée A. Social support and protection from depression: systematic review of current findings in Western countries. Br J Psychiatry. 2016;209:284–93.

Evans D, Charney D, Lewis L, Golden R, Gorman J, Krishnan K, et al. Mood disorders in the medically ill: scientific review and recommendations. Biol Psychiatry. 2005;58:175–89.

Sotelo J, Nemeroff C. Depression as a systemic disease. Pers Med Psychiatry. 2017;1-2:11–25.

Rosenberger PH, Jokl P, Ickovics J. Psychosocial factors and surgical outcomes: an evidence-based literature review. J Am Acad Orthop Surg. 2006;14(7):397–405.

Linnen H, Krampe H, Neumann T, Weiss-Gerlach E, Heinz A, Wernecke K-D, et al. Depression and essential health-risk factors in surgical patients in the preoperative anesthesiological assessment clinic. Eur J Anaesthesiol. 2011;28(10):733–41.

Kerper LF, Spies CD, Buspavanich P, Balzer F, Salz A-L, Tafelski S, et al. Preoperative depression and hospital length of stay in surgical patients. Minerva Anestesiol. 2014;80(9):984–91.

Orri M, Boleslawski E, Regimbeau J, Barry C, Hassler C, Gregoire E, et al. Influence of depression on recovery after major noncardiac surgery. Ann Surg. 2015;262(5):882–90.

Kim S, Duncan P, Groban L, Segal H, Abbott R, Williamson J. Patient-reported outcome measures (PROM) as a preoperative assessment tool. J Anesth Perioper Med. 2017;4(6):274–81.

Graven L, Grant J. The impact of social support on depressive symptoms in individuals with heart failure: update and review. J Cardiovasc Nurs. 2013;28(5):429–43.

Laderman M, Mate K. Behavioral health integration in acute medical settings: an opportunity to improve outcomes and reduce costs. Jt Comm J Qual Patient Saf. 2016;42(7):331–6.

Contrada RJ, Boulifard DA, Hekler EB, Idler EL, Spruill TM, Labouvi EW, et al. Psychosocial factors in heart surgery: presurgical vulnerability and postsurgical recovery. Health Psychol. 2008;27(3):309–19.

Contrada RJ, Goyal TM, Cather C, Rafalson L, Idler EL, Krause TJ. Psychosocial factors in outcomes of heart surgery: the impact of religious involvement and depressive symptoms. Health Psychol. 2004;23:227–38.

Kulik J, Mahler H. Social support and recovery from surgery. Health Psychol. 1989;8(2):221–38.

Sorensen EA, Wang F. Social support, depression, functional status, and gender differences in older adults undergoing first-time coronary artery bypass graft surgery. Heart Lung. 2009;38:306–17.

Krohne H, Slangen K. Influence of social support on adaptation to surgery. Health Psychol. 2005;24(1):101–5.

Cacioppo S, Grippo AJ, London S, Goossens L, Cacioppo JT. Loneliness: clinical import and interventions. Perspect Psychol Sci. 2015;10(2):238–49.

Cacioppo JT, Cacioppo S. Social relationships and health: the toxic effects of perceived social isolation. Soc Personal Psychol Compass. 2014;8(2):58–72.

Perissinotto C, Covinsky K. Living alone, socially isolated or lonely - what are we measuring? J Gen Intern Med. 2014;29(11):1429–31.

Cacioppo JT, Cacioppo S, Capitanio JP, Cole SW. The neuroendocrinology of social isolation. Annu Rev Psychol. 2015;66:733–67.

Heinrich L, Gullone E. The clinical significance of loneliness: a literature review. Clin Psychol Rev. 2006;26:695–718.

Kerper LF, Spies CD, Salz A-L, Weiß-Gerlach E, Balzer F, Neumann T, et al. Effects of an innovative psychotherapy program for surgical patients - bridging intervention in anesthesiology: a randomized controlled trial. Anesthesiology. 2015;123(1):148–59.

Krampe H, Salz A-L, Kerper L, Krannich A, Schnell T, Wernecke K-D, et al. Readiness to change and psychotherapy outcomes of an innovative psychotherapy program for surgical patients: results from a randomized controlled trial. BMC Psychiatry. 2017;17(417):417. https://doi.org/10.1186/s12888-017-1579-5.

Zigmond A, Snaith R. The hospital anxiety and depression scale. Acta Psychiatr Scand. 1983;67:361–70.

Herrmann C, Buss U, Snaith R. HADS-D Hospital Anxiety and Depression Scale: Deutsche Version. Bern: Verlag Hans Huber; 1995.

Smarr KL, Keefer AL. Measures of depression and depressive symptoms: Beck Depression Inventory-II (BDI-II), Center for Epidemiologic Studies Depression Scale (CES-D), Geriatric Depression Scale (GDS), Hospital Anxiety and Depression Scale (HADS), and Patient Health Questionnaire-9 (PHQ-9). Arthritis Care Res. 2011;63(S11):S454–S66.

Brennan C, Worrall-Davies A, McMillan D, Gilbody S, House A. The hospital anxiety and depression scale: a diagnostic meta-analysis of case-finding ability. J Psychosom Res. 2010;69:371–8.

Schulz U, Schwarzer R. Soziale Unterstützung bei der Krankheitsbewältigung: die Berliner social support Skalen (BSSS) [social support in coping with illness: the berlin social support scales]. Diagnostica. 2003;49(2):73–82.

American Society of Anesthesiologists. New classification of physical status. Anesthesiology. 1963;24:111.

Wolters U, Wolf T, Stuetzer H, Schröder T. ASA classification and perioperative variables as predictors of postoperative outcome. Br J Anaesth. 1996;77:217–22.

Lange LF, Spies CD, Weiß-Gerlach E, Neumann T, Salz A-L, Tafelski S, et al. Bridging intervention in anaesthesiology: first results on treatment need, demand and utilization of an innovative psychotherapy program for surgical patients. Clin Health Promot. 2011;1(2):41–9.

Kerper LF, Spies CD, Lößner M, Salz A-L, Tafelski S, Balzer F, et al. Persistence of psychological distress in surgical patients with interest in psychotherapy: results of a 6-month follow-up. PLoS One. 2012;7:e51167.

Charlson ME, Pompei P, Ales K, MacKenzie CR. A new method of classifying prognostic comorbidity in longitudinal studies: development and validation. J Chronic Dis. 1987;40(5):373–83.

Quan H, Sundararajan V, Halfon P, Fong A, Burnand B, Luthi J-C, et al. Coding algorithms for defining comorbidities in ICD-9-CM and ICD-10 administrative data. Med Care. 2005;43(11):1130–9.

Copeland GP, Jones D, Walters M. POSSUM: a scoring system for surgical audit. Br J Surg. 1991;78:356–60.

Noordzij PG, Poldermans D, Schouten O, Bax JJ, Schreiner FAG, Boersma E. Postoperative mortality in the Netherlands: a population-based analysis of surgery-specific risk in adults. Anesthesiology. 2010;112:1105–15.

German Institute of Medical Documentation and Information. German procedure classification OPS. http://www.dimdi.de/static/de/klassi/ops/index.htm; 2010.

Hayes AF. Introduction to mediation, moderation, and conditional process analysis: a regression-based approach. New York: Guilford Press; 2013.

Hayes AF, Rockwood NJ. Regression-based statistical mediation and moderation analysis in clinical research: observations, recommendations, and implementation. Behav Res Ther. 2017;98:39–57.

Tabachnick BG, Fidell LS. Using multivariate statistics. 4th ed. Boston: Allyn & Bacon; 2001.

Hayes AF. Supplementary PROCESS documentation http://afhayes.com/public/docaddendum.pdf; 2016.

Beresnevaite M, Rimantas B, Taylor G, Jureniene K, Kinduris S, Barauskiene V. Depression predicts perioperative outcomes following coronary artery bypass graft surgery. Scand Cardiovasc J. 2010;44:289–94.

Oxlad M, Stubberfield J, Stuklis R, Edwards J, Wade T. Psychological risk factors for increased post-operative length of hospital stay following coronary artery bypass graft surgery. J Behav Med. 2006;29(2):179–90.

Törer N, Nursal TZ, Caliskan K, Ezer A, Colakoglu T, Moray G, et al. The effect of the psychological status of breast cancer patients on the short-term clinical outcome after mastectomy. Acta Chir Belg. 2010;110:467–70.

Kitagawa R, Yasui-Furukoi N, Tsushima T, Kaneko S, Fukuda I. Depression increases the length of hospitalization for patients undergoing thoracic surgery: a preliminary study. Psychosomatics. 2011;52:428–32.

Ghoneim M, O'Hara M. Depression and postoperative complications: an overview. BMC Surg. 2016;16:5.

Fokkema T, De Jong Gierveld J, Dykstra PA. Cross-national differences in older adult loneliness. Aust J Psychol. 2012;146(1–2):201–28.
Acknowledgements
The authors wish to thank the teams of the preoperative anesthesiological assessment clinics and of BRIA (Bridging Intervention in Anesthesiology), Department of Anesthesiology and Operative Intensive Care Medicine (CCM, CVK), Charité - Universitätsmedizin Berlin, for the excellent help with patient care, data collection, and analysis.
Funding
This study was supported by the DFG (German Research Foundation, Bonn, Germany; Grant KR 3836/3-1). The funders had no role in study design, data collection and analysis, decision to publish, or preparation of the manuscript.
Ethics declarations
Conflicts of Interest
The authors declare that they have no conflict of interest.
Ethical Approval
All procedures performed in studies involving human participants were in accordance with the ethical standards of the institutional and/or national research committee and with the 1964 Helsinki declaration and its later amendments or comparable ethical standards.
Informed Consent
Informed consent was obtained from all individual participants included in the study.
About this article
Cite this article
Krampe, H., Barth-Zoubairi, A., Schnell, T. et al. Social Relationship Factors, Preoperative Depression, and Hospital Length of Stay in Surgical Patients. Int.J. Behav. Med. 25, 658–668 (2018). https://doi.org/10.1007/s12529-018-9738-8
Published:

Issue Date:

DOI: https://doi.org/10.1007/s12529-018-9738-8
Keywords
Depression

Length of hospital stay

Mediation analysis

Preoperative

Social support

Surgical