Abstract
Purpose
The aims of the present analysis were to investigate the short- and long-term efficacy and treatment moderators of biofeedback as a psychological treatment option for chronic back pain.
Method
A literature search using PubMed, PsycINFO, and the Cochrane Library identified 21 eligible studies including 23 treatment conditions and 1062 patients.
Results
Meta-analytic integration resulted in a significant small-to-medium effect size for pain intensity reduction (Hedges' g = 0.60; 95 % confidence interval (CI) 0.44, 0.76) that proved to be stable with a significant small-to-large effect size (Hedges' g = 0.62; 95 % CI 0.40, 0.84) over an average follow-up phase of 8 months. Biofeedback also proved to be effective in reducing depression (Hedges' g = 0.40; 95 % CI 0.27, 0.52), disability (Hedges' g = 0.49; 95 % CI 0.34, 0.74), reduction of muscle tension (EMG; Hedges' g = 0.44; 95 % CI 0.22, 0.65), and improving cognitive coping (Hedges' g = 0.41; 95 % CI 0.26, 0.57). These effects remained comparatively stable at follow-up and for controlled studies only. Moderator analyses revealed longer biofeedback treatments to be more effective for reducing disability and a greater proportion of biofeedback in the treatment to be more effective for reducing depression. Publication bias analyses demonstrated the consistency of these effects.
Conclusion
It is concluded that biofeedback treatment can lead to improvements on various pain-related outcomes in the short and long terms, both as a standalone and as an adjunctive intervention.
Access options
Buy single article
Instant access to the full article PDF.
US$ 39.95
Tax calculation will be finalised during checkout.
Subscribe to journal
Immediate online access to all issues from 2019. Subscription will auto renew annually.
US$ 79
Tax calculation will be finalised during checkout.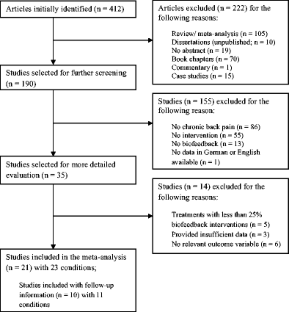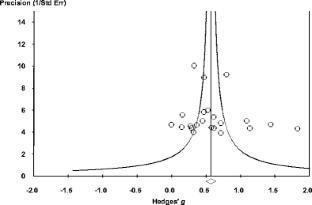 Notes
1.

The full version of the validity scale is available upon request from one of the authors (JAG).

2.
References
*References marked with an asterisk indicate studies included in the meta-analysis
1.

Breivik H, Collett B, Ventafridda V, Cohen R, Gallacher D. Survey of chronic pain in Europe: prevalence, impact on daily life, and treatment. Eur J Pain. 2006;10(4):287–333. doi:10.1016/j.ejpain.2005.06.009.

2.

Bouhassira D, Lantéri-Minet M, Attal N, Laurent B, Touboul C. Prevalence of chronic pain with neuropathic characteristics in the general population. Pain. 2008;136(3):380–7. doi:10.1016/j.pain.2007.08.013.

3.

Johannes CB, Le TK, Zhou X, Johnston J a, Dworkin RH. The prevalence of chronic pain in United States adults: results of an Internet-based survey. J Pain. 2010;11(11):1230–9. doi:10.1016/j.jpain.2010.07.002.

4.

Andersson GB. Epidemiological features of chronic low-back pain. Lancet. 1999;354(9178):581–5. doi:10.1016/S0140-6736(99)01312-4.

5.

Hestbaek L, Leboeuf-Yde C, Kyvik KO, Manniche C. The course of low back pain from adolescence to adulthood: eight-year follow-up of 9600 twins. Spine (Phila Pa 1976). 2006;31(4):468–72. doi:10.1097/01.brs.0000199958.04073.d9.

6.

Wolff R, Clar C, Lerch C, Kleijnen J. Epidemiology of chronic non-malignant pain in Germany. Schmerz. 2011;25(1):26–44. doi:10.1007/s00482-010-1011-2.

7.

Maniadakis N, Gray A. The economic burden of back pain in the UK. Pain. 2000;84(1):95–103. doi:10.1016/S0304-3959(99)00187-6.

8.

Pfingsten M, Schöps P, Wille T, Terp L, Hildebrandt J. Classification of chronic pain. Quantification and grading with the Mainz pain staging system. Schmerz. 2000;14(1):10–7. doi:10.1007/s004820000060.

9.

Scholich SL, Hallner D, Wittenberg RH, Hasenbring MI, Rusu AC. The relationship between pain, disability, quality of life and cognitive-behavioural factors in chronic back pain. Disabil Rehabil. 2012;34(23):1993–2000. doi:10.3109/09638288.2012.667187.

10.

Williams A, Eccleston C, Morley S. Psychological therapies for the management of chronic pain (excluding headache) in adults (review). Cochrane Database Syst Rev. 2012;11:CD007407. doi:10.1002/14651858.CD007407.pub3.

11.

Henschke N, Ostelo R, van Tulder M, et al. Behavioural treatment for chronic low-back pain (review). Cochrane Database Syst Rev. 2010;7:CD002014. doi:10.1002/14651858.CD002014.pub3.

12.

Schwartz NM, Schwartz MS. Definitions of biofeedback and applied psychophysiology. In: Schwartz MS, Andrasik F, editors. Biofeedback: a practicioner's guide, vol. 3. New York: Guilford Press; 2003. p. 27–42.

13.

Burns JW. Arousal of negative emotions and symptom-specific reactivity in chronic low back pain patients. Emotion. 2006;6(2):309–19. doi:10.1037/1528-3542.6.2.309.

14.

*Glombiewski JA, Hartwich-Tersek J, Rief W. Two psychological interventions are effective in severely disabled, chronic back pain patients: a randomised controlled trial. Int J Behav Med. 2010;17(2):97–107. doi:10.1007/s12529-009-9070-4.

15.

Jacobs JV, Henry SM, Jones SL, Hitt JR, Bunn JY. A history of low back pain associates with altered electromyographic activation patterns in response to perturbations of standing balance. J Neurophysiol. 2011;106(5):2506–14. doi:10.1152/jn.00296.2011.

16.

Nestoriuc Y, Martin A. Efficacy of biofeedback for migraine: a meta-analysis. Pain. 2007;128(1–2):111–27. doi:10.1016/j.pain.2006.09.007.

17.

Nestoriuc Y, Rief W, Martin A. Meta-analysis of biofeedback for tension-type headache: efficacy, specificity, and treatment moderators. J Consult Clin Psychol. 2008;76(3):379–96. doi:10.1037/0022-006X.76.3.379.

18.

Glombiewski JA, Bernardy K, Häuser W. Efficacy of EMG- and EEG-biofeedback in fibromyalgia syndrome: a meta-analysis and a systematic review of randomized controlled trials. Evid Based Complement Alternat Med. 2013;2013. doi:10.1155/2013/962741.

19.

Hassett AL, Radvanski DC, Vaschillo EG, et al. A pilot study of the efficacy of heart rate variability (HRV) biofeedback in patients with fibromyalgia. Appl Psychophysiol Biofeedback. 2007;32(1):1–10. doi:10.1007/s10484-006-9028-0.

20.

Hoffman BM, Papas RK, Chatkoff DK, Kerns RD. Meta-analysis of psychological interventions for chronic low back pain. Health Psychol. 2007;26(1):1–9. doi:10.1037/0278-6133.26.1.1.

21.

*Flor H, Birbaumer N. Comparison of the efficacy of electromyographic biofeedback, cognitive-behavioral therapy, and conservative medical interventions in the treatment of chronic musculoskeletal pain. J Consult Clin Psychol. 1993;61(4):653–8. http://psycnet.apa.org/journals/ccp/61/4/653/.

22.

*Magnusson ML, Chow DH, Diamandopoulos Z, Pope MH. Motor control learning in chronic low back pain. Spine (Phila Pa 1976). 2008;33(16):E532–8. doi:10.1097/BRS.0b013e31817dfd9a.

23.

*Nouwen A. EMG biofeedback used to reduce standing levels of paraspinal muscle tension in chronic low back pain. Pain 1983;17(4):353–60. doi:10.1016/0304-3959(83)90166-5.

24.

*Stuckey SJ, Jacobs A, Goldfarb J. EMG biofeedback training, relaxation training, and placebo for the relief of chronic back pain. Percept Mot Skills 1986;63(3):1023–36. doi:10.2466/pms.1986.63.3.1023.

25.

Liberati A, Altman DG, Tetzlaff J, et al. Annals of internal medicine academia and clinic the PRISMA statement for reporting systematic reviews and meta-analyses of studies that evaluate health care interventions. Ann Intern Med. 2009;151(4):W65–94. doi:10.1371/journal.pmed.1000100.

26.

Turk DC, Dworkin RH, Allen RR, et al. Core outcome domains for chronic pain clinical trials: IMMPACT recommendations. Pain. 2003;106(3):337–45. doi:10.1016/j.pain.2003.08.001.

27.

Dworkin RH, Turk DC, Farrar JT, et al. Core outcome measures for chronic pain clinical trials: IMMPACT recommendations. Pain. 2005;113:9–19.

28.

Turk DC, Dworkin RH, McDermott MP, et al. Analyzing multiple endpoints in clinical trials of pain treatments: IMMPACT recommendations. Pain. 2008;139(3):485–93. doi:10.1016/j.pain.2008.06.025.

29.

Wilson M. Integrating the concept of pain interference into pain management. Pain Manag Nurs. 2014;15(2):499–505. doi:10.1016/j.pmn.2011.06.004.

30.

Glass GV. Primary, secondary, and meta-analysis of research. Educ Res. 1976;5(10):3–8. doi:10.3102/0013189X005010003.

31.

Jadad AR, Moore RA, Carroll D, et al. Assessing the quality of reports of randomized clinical trials: is blinding necessary? Control Clin Trials. 1996;17(1):1–12. doi:10.1016/0197-2456(95)00134-4.

32.

Borenstein M, Hedges L V., Higgins JPT, Rothstein HR. Comprehensive meta-analysis version. 2006.

33.

Hedges LV, Olkin I. Nonparametric estimators of effect size in meta-analysis. Psychol Bull. 1984;96(3):573–80. doi:10.1037/0033-2909.96.3.573.

34.

Cohen J. Statistical power analysis for the behavioral sciences, 2nd edn. Vol 2nd. 1988. doi:10.1234/12345678.

35.

Rosenthal R. Meta-analytic procedures for social research (rev. Ed.). 1991.

36.

Hedges LV, Vevea JL. Fixed- and random-effects models in meta-analysis. Psychol Methods. 1998;3(4):486–504. doi:10.1037/1082-989X.3.4.486.

37.

Moses LE, Mosteller F, Buehler JH. Comparing results of large clinical trials to those of meta-analyses. Stat Med. 2002;21(6):793–800.

38.

*Donaldson S, Romney D, Donaldson M, Skubick D. Randomized study of the application of single motor unit biofeedback training to chronic low back pain. J Occup Rehabil. 1994;4(1):23–37. doi:10.1007/BF02109994.

39.

Morley S, Williams A, Eccleston C. Examining the evidence about psychological treatments for chronic pain: time for a paradigm shift? Pain. 2013;154(10):1929–31. doi:10.1016/j.pain.2013.05.049.

40.

Morley S, Eccleston C, Williams A. Systematic review and meta-analysis of randomized controlled trials of cognitive behaviour therapy and behaviour therapy for chronic pain in adults, excluding headache. Pain. 1999;80(1–2):1–13. doi:10.1016/S0304-3959(98)00255-3.

41.

Hofmann SG, Smits JAJ. Pitfalls of meta-analyses. J Nerv Ment Dis. 2008;196:716–717.

42.

*Kapitza KP, Passie T, Bernateck M, Karst M. First non-contingent respiratory biofeedback placebo versus contingent biofeedback in patients with chronic low back pain: a randomized, controlled, double-blind trial. Appl Psychophysiol Biofeedback 2010;35(3):207–17. doi:10.1007/s10484-010-9130-1.

43.

Martell BA, O'Connor PG, Kerns RD, et al. Systematic review: opioid treatment for chronic back pain: prevalence, efficacy, and association with addiction. Ann Intern Med. 2007;146(2):116–27. doi:10.7326/0003-4819-146-2-200701160-00006.

44.

Guyatt G, Oxman AD, Akl EA, et al. GRADE guidelines: 1. Introduction - GRADE evidence profiles and summary of findings tables. J Clin Epidemiol. 2011;64(4):383–94. doi:10.1016/j.jclinepi.2010.04.026.

45.

*Adams J, Pearson SJ, Olson N. Innovative cross-modal technique of pain intensity assessment with lower back pain patients given biofeedback training. Am J Clin Biofeedback 1982;5(1):25–30.

46.

*Asfour SS, Khalil TM, Waly SM, Goldberg ML, Rosomoff RS, Rosomoff HL. Biofeedback in back muscle strengthening. Spine (Phila Pa 1976). 1990;15(6):510–13.

47.

*Hallman DM, Olsson EMG, von Schéele B, Melin L, Lyskov E. Effects of heart rate variability biofeedback in subjects with stress-related chronic neck pain: a pilot study. Appl Psychophysiol Biofeedback 2011;36(2):71–80. doi:10.1007/s10484-011-9147-0.

48.

*Huis in't Veld, RMH, Kosterink SM, Barbe T, Lindegård A, Marecek T, Vollenbroek-Hutten MMR. Relation between patient satisfaction, compliance and the clinical benefit of a teletreatment application for chronic pain. J Telemed Telecare. 2010;16(6):322–8. doi:10.1258/jtt.2010.006006.

49.

*Keefe FJ, Block AR, Williams RB, Surwit RS. Behavioral treatment of chronic low back pain: clinical outcome and individual differences in pain relief. Pain 1981;11(2):221–31.

50.

*Kröner-Herwig B, Beck A. An exploratory study of biofeedback for chronic low back pain. Br J Ther Rehabil. 2000;7:134–42.

51.

*McLaughlin L, Goldsmith CH, Coleman K. Breathing evaluation and retraining as an adjunct to manual therapy. Man Ther. 2011;16(1):51–52. doi:10.1016/j.math.2010.08.006.

52.

*Neblett R, Mayer TG, Brede E, Gatchel RJ. Correcting abnormal flexion-relaxation in chronic lumbar pain: responsiveness to a new biofeedback training protocol. Clin J Pain. 2010;26(5):403–9.

53.

*Newton-John TR, Spence SH, Schotte D, Wing C, Mary S, Street P. Cognitive-behavioural therapy versus EMG biofeedback in the treatment of chronic low back pain. Behav Res Ther. 1995;33(6):691–7. doi:10.1016/0005-7967(95)00008-L.

54.

*Nouwen A, Solinger JW. The effectiveness of EMG biofeedback training in low back pain. Biofeedback Self Regul. 1979;4(2):103–11.

55.

*Santaella da Fonseca Lopes de Sousa K, Garcia Orfale A, Mara Meireles S, Roberto Leite J, Natour J. Assessment of a biofeedback program to treat chronic low back pain. J Musculoskelet Pain 2009;17(4):369–77. doi:10.3109/10582450903284828.

56.

*Spence SH, Sharpe L, Newton-John T, Champion D. Effect of EMG biofeedback compared to applied relaxation training with chronic, upper extremity cumulative trauma disorders. Pain 1995;63(2):199–206. doi:10.1016/0304-3959(95)00047-V.

57.

*Strong J, Cramond T, Maas F. The effectiveness of relaxation techniques with patients who have chronic low back pain. Occup Ther J Res. 1989;9(3):184–92.

58.

*Vlaeyen JW, Haazen IW, Schuerman JA, Kole-Snijders AM, van Eek H. Behavioural rehabilitation of chronic low back pain: comparison of an operant treatment, an operant-cognitive treatment and an operant-respondent treatment. Br J Clin Psychol. 1995;34(Pt 1):95–118.

59.

Thieme K, Rose U, Pinkpank T, Spies C, Turk DC, Flor H. Psychophysiological responses in patients with fibromyalgia syndrome. J Psychosom Res. 2006;61(5):671–9. doi:10.1016/j.jpsychores.2006.07.004.

60.

Malone MD, Strube MJ. Meta-analysis of non-medical treatments for chronic pain. Pain. 1988;34(3):231–44. doi:10.1016/0304-3959(88)90118-2.
Ethics declarations
Funding
The study was supported by a doctoral thesis scholarship from the University of Marburg.
Conflict of Interest
The authors declare that they have no conflict of interest.
Ethical Approval
For this type of study, formal consent is not required.
About this article
Cite this article
Sielski, R., Rief, W. & Glombiewski, J.A. Efficacy of Biofeedback in Chronic back Pain: a Meta-Analysis. Int.J. Behav. Med. 24, 25–41 (2017). https://doi.org/10.1007/s12529-016-9572-9
Keywords
Chronic back pain

Biofeedback

Psychological treatment

Meta-analysis