Abstract
Purpose
This study examined the developmental trajectories of self-esteem and body mass index (BMI) from adolescence to mid-adulthood and the way the association between self-esteem and BMI changed during a 26-year follow-up.
Methods
Participants of a Finnish cohort study in 1983 at 16 years (N = 2194) were followed up at ages 22 (N = 1656), 32 (N = 1471), and 42 (N = 1334) using postal questionnaires. Measures at each time point covered self-esteem and self-reported weight and height. Analyses were done using latent growth curve models (LGM) and difference scores.
Results
In LGM analyses among females both the initial levels (r = −0.13) and slopes (r = -0.26) of the self-esteem and BMI trajectories correlated negatively. Among males, there were no significant correlations between self-esteem and BMI growth factors. The association between increasing BMI and decreasing self-esteem among females was strongest between ages 22 and 32 (r = −0.16), while among males, increases in BMI and self-esteem correlated positively (r = 0.11) during that period. Among females, cross-sectional correlations between self-esteem and BMI showed an increasing trend (p < 0.001) from age 16 (r = −0.07) to age 42 (r = −0.17), whereas among males negative correlation (r = −0.08) emerged only in mid-adulthood at age 42.
Conclusion
Among females, higher and increasing BMI is associated with lower and more slowly increasing self-esteem. This association is not restricted to adolescent years but persists and gets stronger in mid-adulthood. Among males, associations are weaker but indicate more age-related differences. The results highlight the need for interventions that tackle weight-related stigma and discrimination, especially among women with higher body weight and size.
Access options
Buy single article
Instant access to the full article PDF.
US$ 39.95
Tax calculation will be finalised during checkout.
Subscribe to journal
Immediate online access to all issues from 2019. Subscription will auto renew annually.
US$ 79
Tax calculation will be finalised during checkout.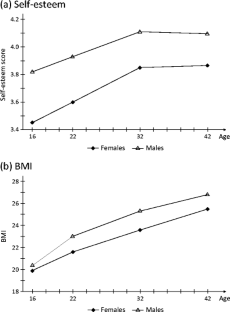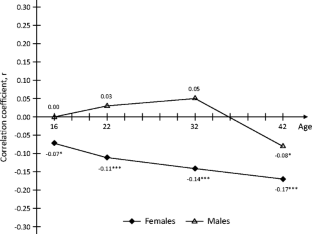 References
1.

Mann M, Hosman CM, Schaalma HP, de Vries NK. Self-esteem in a broad-spectrum approach for mental health promotion. Health Educ Res. 2004;19(4):357–72.

2.

Orth U, Robins RW, Widaman KF. Life-span development of self-esteem and its effects on important life outcomes. J Pers Soc Psychol. 2012;102(6):1271–88.

3.

Trzesniewski KH, Donnellan MB, Moffitt TE, Robins RW, Poulton R, Caspi A. Low self-esteem during adolescence predicts poor health, criminal behavior, and limited economic prospects during adulthood. Dev Psychol. 2006;42(2):381–90.

4.

Buote VM, Wilson AE, Strahan EJ, Gazzola SB, Papps F. Setting the bar: divergent sociocultural norms for women's and men's ideal appearance in real-world contexts. Body Image. 2011;8(4):322–34.

5.

Spitzer BL, Henderson KA, Zivian MT. Gender differences in population versus media body sizes: a comparison over four decades. Sex Roles. 1999;40(7–8):545–65.

6.

Stubbs J, Whybrow S, Teixeira P, Blundell J, Lawton C, Westenhoefer J, et al. Problems in identifying predictors and correlates of weight loss and maintenance: implications for weight control therapies based on behaviour change. Obes Res. 2011;12(9):688–708.

7.

Miller CT, Downey KT. A meta-analysis of heavyweight and self-esteem. Pers Soc Psychol Rev. 1999;3(1):68–84.

8.

Sikorski C, Luppa M, Luck T, Riedel-Heller SG. Weight stigma "Gets Under the Skin"-evidence for an adapted psychological mediation framework—a systematic review. Obesity. 2015;23(2):266–76.

9.

Finucane MM, Stevens GA, Cowan MJ, Danaei G, Lin JK, Paciorek CJ, et al. National, regional, and global trends in body-mass index since 1980: systematic analysis of health examination surveys and epidemiological studies with 960 country-years and 9 · 1 million participants. Lancet. 2011;377(9765):557–67.

10.

Puhl RM, Heuer CA. The stigma of obesity: a review and update. Obesity. 2009;17(5):941–64.

11.

Wallace HM, Tice DM. Reflected appraisal through a 21st-century looking glass. In: Leary MR, Tangney JP, editors. Handbook of self and identity. 2nd ed. New York, NY, USA: The Guilford Press; 2012. p. 124–40.

12.

Crandall CS, Schiffhauer KL. Anti-fat prejudice: beliefs, values, and American culture. Obes Res. 1998;6(6):458–60.

13.

Ternouth A, Collier D, Maughan B. Childhood emotional problems and self-perceptions predict weight gain in a longitudinal regression model. BMC Med. 2009. doi:10.1186/1741-7015-7-46.

14.

Ricciardelli LA, McCabe MP. Children's body image concerns and eating disturbance: a review of the literature. Clin Psychol Rev. 2001;21(3):325–44.

15.

McCabe MP, Ricciardelli LA. Body image dissatisfaction among males across the lifespan: a review of past literature. J Psychosom Res. 2004;56(6):675–85.

16.

Aro H. Parental discord, divorce and adolescent development. Eur Arch Psychiatry Neurol Sci. 1988;237(2):106–11.

17.

Rosenberg M. Society and the adolescent self-image. Princeton, NJ, USA: Princeton University Press; 1965.

18.

Muthén Linda K, Muthén BO. Mplus user's guide. Muthén and Muthén: Los Angeles, CA, USA; 2007.

19.

Bollen KA, Curran PJ. Latent curve models: a structural equation perspective. Hoboken, NJ, USA: John Wiley & Sons; 2006.

20.

Kiviruusu O, Huurre T, Aro H, Marttunen M, Haukkala A. Self-esteem growth trajectory from adolescence to mid-adulthood and its predictors in adolescence. Adv Life Course Res. 2015;23:29–43.

21.

Widaman III KF. Missing data: what to do with or without them. Monogr Soc Res Child Dev. 2006;71(3):42–64.

22.

Allison PD. Missing data techniques for structural equation modeling. J Abnorm Psychol. 2003;112(4):545–57.

23.

Hu L, Bentler PM. Cutoff criteria for fit indexes in covariance structure analysis: conventional criteria versus new alternatives. Struct Equ Model. 1999;6(1):1–55.

24.

Mustillo SA, Hendrix KL, Schafer MH. Trajectories of body mass and self-concept in black and white girls: the lingering effects of stigma. J Health Soc Behav. 2012;53(1):2–16.

25.

Mellor D, Fuller-Tyszkiewicz M, McCabe MP, Ricciardelli LA. Body image and self-esteem across age and gender: a short-term longitudinal study. Sex Roles. 2010;63(9–10):672–81.

26.

Webster J, Tiggemann M. The relationship between women's body satisfaction and self-image across the life span: the role of cognitive control. J Genet Psychol. 2003;164(2):241–52.

27.

Tiggemann M, Stevens C. Weight concern across the life-span: relationship to self-esteem and feminist identity. Int J Eat Disord. 1999;26(1):103–6.

28.

Runfola CD, Von Holle A, Trace SE, Brownley KA, Hofmeier SM, Gagne DA, et al. Body dissatisfaction in women across the lifespan: results of the UNC-SELF and Gender and Body Image (GABI) studies. Eur Eat Disord Rev. 2013;21(1):52–9.

29.

Algars M, Santtila P, Varjonen M, Witting K, Johansson A, Jern P, et al. The adult body: how age, gender, and body mass index are related to body image. J Aging Health. 2009;21(8):1112–32.

30.

Swinburn BA, Sacks G, Hall KD, McPherson K, Finegood DT, Moodie ML, et al. The global obesity pandemic: shaped by global drivers and local environments. Lancet. 2011;378(9793):804–14.

31.

Brownell KD, Kersh R, Ludwig DS, Post RC, Puhl RM, Schwartz MB, et al. Personal responsibility and obesity: a constructive approach to a controversial issue. Health Aff. 2010;29(3):379–87.

32.

Abell SC, Richards MH. The relationship between body shape satisfaction and self-esteem: an investigation of gender and class differences. J Youth Adolesc. 1996;25(5):691–703.

33.

Lynch SM, Zellner DA. Figure preferences in two generations of men: the use of figure drawings illustrating differences in muscle mass. Sex Roles. 1999;40(9–10):833–43.

34.

McCreary DR, Sadava SW. Gender differences in relationships among perceived attractiveness, life satisfaction, and health in adults as a function of body mass index and perceived weight. Psychol Men Masculinity. 2001;2(2):108–16.

35.

Jackson AS, Stanforth PR, Gagnon J, Rankinen T, Leon AS, Rao DC, et al. The effect of sex, age and race on estimating percentage body fat from body mass index: The Heritage Family Study. Int J Obes Relat Metab Disord. 2002;26(6):789–96.

36.

Rozin P, Fallon A. Body image, attitudes to weight, and misperceptions of figure preferences of the opposite sex: a comparison of men and women in two generations. J Abnorm Psychol. 1988;97(3):342–5.

37.

Lahti-Koski M, Harald K, Saarni SE, Peltonen M, Mannisto S. Changes in body mass index and measures of abdominal obesity in Finnish adults between 1992 and 2007, the National FINRISK Study. Clin Obes. 2012;2(1–2):57–63.

38.

McAdams MA, Van Dam RM, Hu FB. Comparison of self-reported and measured BMI as correlates of disease markers in US adults. Obesity. 2007;15(1):188–96.

39.

Cole TJ, Bellizzi MC, Flegal KM, Dietz WH. Establishing a standard definition for child overweight and obesity worldwide: international survey. BMJ. 2000;320(7244):1240–3.
Acknowledgments
The study was supported by the Emil Aaltonen Foundation, the Signe and Ane Gyllenberg's Foundation, and the Finnish Doctoral Program for Social Sciences.
Ethics declarations
The study protocol has been approved by the Ethics Committee of the National Institute for Health and Welfare, Finland. Participants were informed of the purposes of the study and that participation was voluntary, and they indicated their consent by answering the survey questionnaire.
Conflict of Interest
The authors declare that they have no competing interests.
About this article
Cite this article
Kiviruusu, O., Konttinen, H., Huurre, T. et al. Self-esteem and Body Mass Index from Adolescence to Mid-adulthood. A 26-year Follow-up. Int.J. Behav. Med. 23, 355–363 (2016). https://doi.org/10.1007/s12529-015-9529-4
Keywords
Self-esteem

Body mass index

Weight status

Developmental trajectory

Prospective cohort study