Abstract
Purpose
To evaluate whether dispositional mindfulness (defined as the ability to attend nonjudgmentally to one's own physical and mental processes) is associated with obesity and central adiposity.
Methods
Study participants (n = 394) were from the New England Family Study, a prospective birth cohort, with median age 47 years. Dispositional mindfulness was assessed using the Mindful Attention Awareness Scale (MAAS). Central adiposity was assessed using dual-energy X-ray absorptiometry (DXA) scans with primary outcomes android fat mass and android/gynoid ratio. Obesity was defined as body mass index ≥30 kg/m2.
Results
Multivariable-adjusted regression analyses demonstrated that participants with low vs. high MAAS scores were more likely to be obese (prevalence ratio for obesity = 1.34 (95 % confidence limit (CL): 1.02, 1.77)), adjusted for age, gender, race/ethnicity, birth weight, childhood socioeconomic status, and childhood intelligence. Furthermore, participants with low vs. high MAAS level had a 448 (95 % CL 39, 857) g higher android fat mass and a 0.056 (95 % CL 0.003, 0.110) greater android/gynoid fat mass ratio. Prospective analyses demonstrated that participants who were not obese in childhood and became obese in adulthood (n = 154) had −0.21 (95 % CL −0.41, −0.01; p = 0.04) lower MAAS scores than participants who were not obese in childhood or adulthood (n = 203).
Conclusions
Dispositional mindfulness may be inversely associated with obesity and adiposity. Replication studies are needed to adequately establish whether low dispositional mindfulness is a risk factor for obesity and adiposity.
Access options
Buy single article
Instant access to the full article PDF.
USD 39.95
Price excludes VAT (USA)
Tax calculation will be finalised during checkout.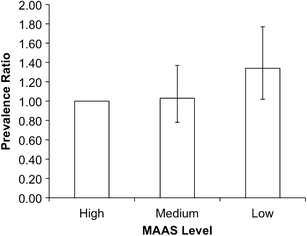 References
Wormser D, Kaptoge S, Emerging Risk Factors C, et al. Separate and combined associations of body-mass index and abdominal adiposity with cardiovascular disease: collaborative analysis of 58 prospective studies. Lancet. 2011;377(9771):1085–95. doi:10.1016/S0140-6736(11)60105-0.

Ibrahim MM. Subcutaneous and visceral adipose tissue: structural and functional differences. Obes Rev. 2010;11(1):11–8. doi:10.1111/j.1467-789X.2009.00623.x.

Cornier MA, Despres JP, Davis N, et al. Assessing adiposity: a scientific statement from the American Heart Association. Circulation. 2011;124(18):1996–2019. doi:10.1161/CIR.0b013e318233bc6a.

Ogden CL, Carroll MD, Kit BK, Flegal KM. Prevalence of childhood and adult obesity in the United States, 2011–2012. JAMA. 2014;311(8):806–14. doi:10.1001/jama.2014.732.

Kelly T, Yang W, Chen CS, Reynolds K, He J. Global burden of obesity in 2005 and projections to 2030. Int J Obes (Lond). 2008;32(9):1431–7. doi:10.1038/ijo.2008.102.

Morris MJ, Na ES, Johnson AK. Salt craving: the psychobiology of pathogenic sodium intake. Physiol Behav. 2008;94(5):709–21. doi:10.1016/j.physbeh.2008.04.008.

Lieberman LS. Dietary, evolutionary, and modernizing influences on the prevalence of type 2 diabetes. Ann Rev Nutr. 2003;23:345–77. doi:10.1146/annurev.nutr.23.011702.073212.

Epstein RM. Mindful practice. JAMA. 1999;282(9):833–9.

Sedlmeier P, Eberth J, Schwarz M, et al. The psychological effects of meditation: a meta-analysis. Psychol Bull. 2012;138(6):1139–71. doi:10.1037/a0028168.

Brewer JA, Mallik S, Babuscio TA, et al. Mindfulness training for smoking cessation: results from a randomized controlled trial. Drug Alc Depend. 2011;119(1–2):72–80. doi:10.1016/j.drugalcdep.2011.05.027.

Loucks EB, Britton WB, Howe CJ, Eaton CB, Buka SL. Positive associations of dispositional mindfulness with cardiovascular health: The New England Family Study. Int J Behav Med. 2014:DOI 10.1007/s12529-014-9448-9.

Brand M, Young KS, Laier C. Prefrontal control and internet addiction: a theoretical model and review of neuropsychological and neuroimaging findings. Front Hum Neurosci. 2014;8:375. doi:10.3389/fnhum.2014.00375.

O'Reilly GA, Cook L, Spruijt-Metz D, Black DS. Mindfulness-based interventions for obesity-related eating behaviours: a literature review. Obes Rev. 2014;15(6):453–61. doi:10.1111/obr.12156.

Lillis J, Hayes SC, Bunting K, Masuda A. Teaching acceptance and mindfulness to improve the lives of the obese: a preliminary test of a theoretical model. Ann Behav Med. 2009;37(1):58–69. doi:10.1007/s12160-009-9083-x.

Tapper K, Shaw C, Ilsley J, Hill AJ, Bond FW, Moore L. Exploratory randomised controlled trial of a mindfulness-based weight loss intervention for women. Appetite. 2009;52(2):396–404. doi:10.1016/j.appet.2008.11.012.

Mantzios M, Giannou K. Group vs. Exploring Avoidance, Impulsivity, and Weight Management in Two Separate Mindfulness Meditation Settings. Appl Psychol. Health Well-Being: Single Mindfulness Meditation; 2014. doi:10.1111/aphw.12023.

Daubenmier J, Kristeller J, Hecht FM, et al. Mindfulness intervention for stress eating to reduce cortisol and abdominal fat among overweight and obese women: an exploratory randomized controlled study. J Obes. 2011;2011:651936. doi:10.1155/2011/651936.

Hebert JR, Ebbeling CB, Olendzki BC, et al. Change in women's diet and body mass following intensive intervention for early-stage breast cancer. J Am Diet Assoc. 2001;101(4):421–31. doi:10.1016/S0002-8223(01)00109-2.

Olson KL, Emery CF. Mindfulness and weight loss: a systematic review. Psychosom Med. 2015;77(1):59–67. doi:10.1097/PSY.0000000000000127.

Brown KW, Ryan RM. The benefits of being present: mindfulness and its role in psychological well-being. J Pers Soc Psychol. 2003;84(4):822–48. doi:10.1037/0022-3514.84.4.822.

Waszczuk MA, Zavos HM, Antonova E, Haworth CM, Plomin R, Eley TC. A multivariate twin study of trait mindfulness, depressive symptoms, and anxiety sensitivity. Depress Anxiety. 2015. doi:10.1002/da.22326.

Niswander K, Gordon M. The women and their pregnancies: the collaborative perinatal study of the National Institute of Neurological Diseases and Stroke. National Institutes of Health: Washington D.C; 1972.

Rubin DB. Inference and missing data. Biometrika. 1976;63(3):581–90. doi:10.1093/Biomet/63.3.581.

Rubin DB. Multiple imputation for nonresponse in surveys. Hoboken, NJ: Wiley; 2004.

Falkner F. Office measurement of physical growth. Pediatr Clin NA. 1961;8:13–8.

Ogden CL, Flegal KM. Changes in terminology for childhood overweight and obesity. National Health Stat Rep. 2010;25:1–5.

Kuczmarski RJ, Ogden CL, Guo SS, et al. CDC Growth Charts for the United States: methods and development. Vital and health statistics. Ser 11, Data National Health Surv. 2000;2002(246):1–190.

Wechsler D. Wechsler intelligence scale for children; manual. New York: Psychological Corp; 1949.

Myrianthopoulos NC, French KS. An application of the U.S. Bureau of the Census socioeconomic index to a large, diversified patient population. Soc Sci Med. 1968;2(3):283–99.

Andresen EM, Malmgren JA, Carter WB, Patrick DL. Screening for depression in well older adults: evaluation of a short form of the CES-D (Center for Epidemiologic Studies Depression Scale). Am J Prev Med. 1994;10(2):77–84.

Pearlin LI, Schooler C. The structure of coping. J Health Soc Behav. 1978;19(1):2–21.

Willett WC. Nutritional epidemiology. 2nd ed. New York: Oxford University Press; 1998.

Craig CL, Marshall AL, Sjostrom M, et al. International physical activity questionnaire: 12-country reliability and validity. Med Sci Sports Exerc. 2003;35(8):1381–95. doi:10.1249/01.MSS.0000078924.61453.FB.

Lee PH, Macfarlane DJ, Lam TH, Stewart SM. Validity of the International Physical Activity Questionnaire Short Form (IPAQ-SF): a systematic review. Int J Behav Nutr Phys Act. 2011;8:115. doi:10.1186/1479-5868-8-115.

Cohen S, Kamarck T, Mermelstein R. A global measure of perceived stress. J Health Soc Behav. 1983;24(4):385–96.

Spiegelman D, Hertzmark E. Easy SAS calculations for risk or prevalence ratios and differences. Am J Epidemiol. 2005;162(3):199–200.

Loucks EB, Buka SL, Rogers ML, et al. Education and coronary heart disease risk associations may be affected by early-life common prior causes: a propensity matching analysis. Ann Epidemiol. 2012;22(4):221–32. doi:10.1016/j.annepidem.2012.02.005.

Raghunathan TE, Lepkowski JM, Van Hoewyk J, Solenberger P. A multivariate technique for multiply imputing missing values using a sequence of regression models. Surv Methodol. 2001;27(1):85–95.

Valeri L, Vanderweele TJ. Mediation analysis allowing for exposure-mediator interactions and causal interpretation: theoretical assumptions and implementation with SAS and SPSS macros. Psychol Methods. 2013;18(2):137–50. doi:10.1037/a0031034.

Fritz MS, Mackinnon DP. Required sample size to detect the mediated effect. Psychol Sci. 2007;18(3):233–9. doi:10.1111/j.1467-9280.2007.01882.x.

Alberts HJ, Thewissen R, Raes L. Dealing with problematic eating behaviour. The effects of a mindfulness-based intervention on eating behaviour, food cravings, dichotomous thinking and body image concern. Appetite. 2012;58(3):847–51. doi:10.1016/j.appet.2012.01.009.

Alberts HJ, Mulkens S, Smeets M, Thewissen R. Coping with food cravings. Investigating the potential of a mindfulness-based intervention. Appetite. 2010;55(1):160–3. doi:10.1016/j.appet.2010.05.044.

May J, Andrade J, Batey H, Berry LM, Kavanagh DJ. Less food for thought. Impact of attentional instructions on intrusive thoughts about snack foods. Appetite. 2010;55(2):279–87. doi:10.1016/j.appet.2010.06.014.

Carmody JF, Olendzki BC, Merriam PA, Liu Q, Qiao Y, Ma Y. A novel measure of dietary change in a prostate cancer dietary program incorporating mindfulness training. J Acad Nutr Diet. 2012;112(11):1822–7. doi:10.1016/j.jand.2012.06.008.

Salmoirago-Blotcher E, Husinger M, Morgan L, Fischer D, Carmody J. Mindfulness-based stress reduction and change in health-related behaviors. J Evid Based Complement Altern Med. 2013;18(4):243–7.

Courbasson CM, Nishikawa Y, Shapira LB. Mindfulness-action based cognitive behavioral therapy for concurrent binge eating disorder and substance use disorders. Eat Disord. 2011;19(1):17–33. doi:10.1080/10640266.2011.533603.

Wanden-Berghe RG, Sanz-Valero J, Wanden-Berghe C. The application of mindfulness to eating disorders treatment: a systematic review. Eat Disord. 2011;19(1):34–48. doi:10.1080/10640266.2011.533604.

Visted E, Jollestad J, Nielsen MB, Nielsen GH. The impact of group-based mindfulness training on self-reported mindfulness: a systematic review and meta-analysis. Mindfulness. February 2014:DOI: 10.1007/s12671-014-0283-5.

Park T, Reilly-Spong M, Gross CR. Mindfulness: a systematic review of instruments to measure an emergent patient-reported outcome (PRO). Qual Life Res. 2013;22(10):2639–59. doi:10.1007/s11136-013-0395-8.

Baer RA, Smith GT, Hopkins J, Krietemeyer J, Toney L. Using self-report assessment methods to explore facets of mindfulness. Assessment. 2006;13(1):27–45. doi:10.1177/1073191105283504.

Christopher MS, Christopher V, Charoensuk S. Assessing "Western" Mindfulness among Thai Theravada Buddhist Monks. Ment Health, Relig Cult. 2009;12(3):303–14.

Brown KW, Ryan RM, Loverich TM, Biegel GM, West AM. Out of the Armchair and Into the Streets: Measuring Mindfulness Advances Knowledge and Improves Interventions: Reply to Grossman (2011). Psychol Assess. 2011;23(4):1041–6. doi:10.1037/A0025781.
Acknowledgments
Funding for this study was provided by NIH/NIA grant 1RC2AG036666 and NIH/NCCIH/OBBSR grant UH2AT009145.
Ethics declarations
Conflict of Interest
Eric B. Loucks, Willoughby B. Britton, Chanelle J. Howe, Roee Gutman, Stephen E. Gilman, Judson Brewer, Charles B. Eaton, and Stephen L. Buka declare that they have no conflicts of interest.
Ethical Approval
All procedures performed in studies involving human participants were in accordance with the ethical standards of the institutional and/or national research committee and with the 1964 Helsinki Declaration and its later amendments or comparable ethical standards.
Appendix
Appendix
About this article
Cite this article
Loucks, E.B., Britton, W.B., Howe, C.J. et al. Associations of Dispositional Mindfulness with Obesity and Central Adiposity: the New England Family Study. Int.J. Behav. Med. 23, 224–233 (2016). https://doi.org/10.1007/s12529-015-9513-z
Published:

Issue Date:

DOI: https://doi.org/10.1007/s12529-015-9513-z
Keywords
Mindfulness

Obesity

Adiposity

Epidemiology

Prevention