Abstract
Background
Biofeedback therapy has been reported to be effective in the treatment of migraine. However, previous studies have assessed its effectiveness using paper-and-pencil diaries, which are not very reliable.
Purpose
The objective of the present pilot study was to investigate the feasibility of using computerized ecological momentary assessment (EMA) for evaluating the efficacy of BF treatment for migraine in a randomized controlled trial.
Method
The subjects comprised one male and 26 female patients with migraine. They were randomly assigned to either biofeedback or wait-list control groups. Patients were asked to carry a palmtop-type computer to record momentary symptoms for 4 weeks before and after biofeedback treatment. The primary outcome measure was headache intensity. The secondary outcome measures included psychological stress, anxiety, irritation, headache-related disability and the frequency (number of days per month) of migraine attack and of headache of at least moderate intensity (pain rating ≥50).
Results
Headache intensity showed significant main effects of period (before vs. after therapy, p = 0.02) and group (biofeedback vs. control groups, p = 0.42) and a significant period × group interaction (p < 0.001). Biofeedback reduced the duration of headaches by 1.9 days, and the frequency of days when headache intensity was ≥50 by 2.4 times. In addition, headache-related disability, psychological stress, depression, anxiety, and irritation were significantly improved.
Conclusion
The present study used computerized EMA to show that biofeedback could improve the symptoms of migraine, including psychological stress and headache-related disability.
Access options
Buy single article
Instant access to the full article PDF.
USD 39.95
Price excludes VAT (USA)
Tax calculation will be finalised during checkout.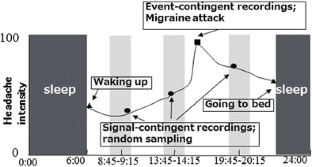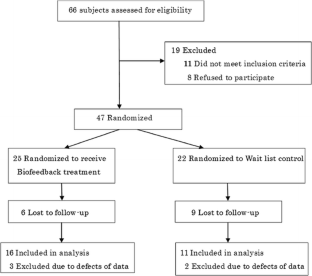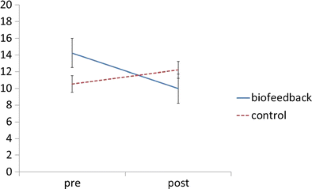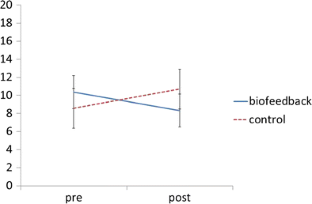 References
Lipton RB, Bigal ME, Diamond M, Freitag F, Reed ML, Stewart WF, et al. Migraine prevalence, disease burden, and the need for preventive therapy. Neurology. 2007;68:343–9.

Sakai F, Igarashi H. Prevalence of migraine in Japan: a nationwide survey. Cephalalgia. 1997;17(1):15–22.

Buse DC, Manack AN, Fanning KM, Serrano D, Reed ML, Turkel CC, et al. Chronic migraine prevalence, disability, and sociodemographic factors. Headache. 2012;52(10):1456–70.

Hershey AD, Powers SW, Vockell AL, LeCates S, Kabbouche MA, Maynard MK. PedMIDAS: development of a questionnaire to assess disability of migraines in children. Neurology. 2001;57(11):2034–9.

Powers SW, Patton SR, Hommel KA, Hershey AD. Quality of life in childhood migraines. Pediatrics. 2003;112(1 pt 1):e1–5.

Oldman AD, Smith LA, McQuay HJ, Moore RA. Pharmacological treatments for acute migraine: quantitative systematic review. Pain. 2002;97:247–57.

Yoon M, Savidou I, Diener H, Limmroth V. Evidence-based medicine in migraine prevention. Expert Rev Neurother. 2005;5:333–41.

Kelman L. The triggers or precipitants of the acute migraine attack. Cephalalgia. 2007;27(5):394–402.

Blackburn-Munro G, Blacburn-Munro RE. Chronic pain, chronic stress and depression: coincidence or consequence? J Neuroendocrinol. 2001;13:1009–23.

Wöber C, Wöber-Bingöl C. Triggers of migraine and tension-type headache. Handb Clin Neurol. 2010;97:161–72.

Yadav RK, Kalita J, Misra UK. A study of triggers of migraine in India. Pain Med. 2010;11:44–7.

Nicholson RA, Buse DC, Andrasik F, Lipton RB. Nonpharmacologic treatments for migraine and tension-type headache: how to choose and when to use. Curr Treat Options Neurol. 2011;13(1):28–40.

Nestoriuc Y, Martin A. Efficacy of biofeedback for migraine: a meta-analysis. Pain. 2007;128(1–2):111–27.

Goslin RE, Gray RN, McCrory DC, Penzien D, Rains J, Hasselblad V. Behavioral and physical treatments for migraine headache. Technical Review 2.2. Rockville: Agency for Health Care Policy and Research; 1999.

Nestoriuc Y, Martin A, Rief W, Andrasik F. Biofeedback treatment for headache disorders: a comprehensive efficacy review. Appl Psychophysiol Biofeedback. 2008;33:125–40.

Stone AA, Shiffman SS. Ecological momentary assessment (EMA) in behavioral medicine. Ann Behav Med. 1994;16:199–202.

Stone AA, Shiffman S, Schwartz JE, Broderick JE, Hufford MR. Patient non-compliance with paper diaries. BMJ. 2002;324:1193–4.

Headache Classification Subcommittee of the International Headache Society. The International classification of headache disorders: 2nd edition. Cephalalgia. 2004;24 suppl 1:9–160.

Nicholson NL, Blanchard EB. A controlled evaluation of behavioral treatment of chronic headache in the elderly. Behav Ther. 1993;24:395–408.

Holroyd K, Stensland M, Lipchik G, Hill K, O'Donnell F, Cordingley G. Psychosocial correlates and impact of chronic tension-type headaches. Headache. 2000;40:3–16.

Holroyd KA, O'Donnell FJ, Stensland M, Lipchik GL, Cordingley GE, Carlson BW. Management of chronic tension-type headache with tricyclic antidepressant medication, stress management therapy, and their combination. JAMA. 2001;285(17):2208–15.

Rokicki LA, Holroyd KA, France CR, Lipchik GL, France JL, Kvaal SA. Change mechanisms associated with combined relaxation/EMG biofeedback training for chronic tension headache. Appl Psychophysiol Biofeedback. 1997;22(1):21–41.

Kang EH, Park JE, Chung CS, Yu BH. Effect of biofeedback-assisted autogenic training on headache activity and mood states in Korean female migraine patients. J Korean Med Sci. 2009;24(5):936–40.

Hemmen B, Seelen HA. Effects of movement imagery and electromyography-triggered feedback on arm hand function in stroke patients in the subacute phase. Clin Rehabil. 2007;21:587–94.

McGrady A. Effects of group relaxation training and thermal biofeedback on blood pressure and related physiological and psychological variables in essential hypertension. Biofeedback Self Regul. 1994;19(1):51–66.

Beckham AJ, Greene TB, Meltaer-Broday S. A pilot study of heart rate variability biofeedback therapy in the treatment of perinatal depression on a specialized perinatal psychiatry inpatient unit. Arch Womens Ment Health. 2012;2:59–65.

Scolnick B, Mostofsky DI, Keane RJ. Pilot study employing heart rate variability biofeedback training to decrease anxiety in patients with eating disorders. J Eat Disord. 2014;2:17.

Eccleston C, Morley S, Williams A, Yorke L, Mastroyannopoulou K. Systematic review of randomized controlled trials of psychological therapy for chronic pain in children and adolescents, with a subset of meta-analysis pain relief. Pain. 2002;99:157–65.

Pistoia F, Sacco S, Carolei A. Behavioral therapy for chronic migraine. Curr Pain Headache Rep. 2013;17(1):304.

Hachizuka M, Yoshiuchi K, Yamamoto Y, Iwase S, Nakagawa K, Kawagoe K, et al. Development of a personal digital assistant (PDA) system to collect symptom information from home hospice patients. J Palliat Med. 2010;13(6):647–51.

Ndao-Brumblay SK, Green CR. Predictors of complementary and alternative medicine use in chronic pain patients. Pain Med. 2010;11(1):16–24.
Ethical Standards
All procedures followed were in accordance with the ethical standards of the responsible committee on human experimentation (institutional and national) and with the Helsinki Declaration of 1975, as revised in 2000. Informed consent was obtained from all patients for being included in the study
Conflict of Interest
Miyuki Odawara, Masahiro Hashizume, Kazuhiro Yoshiuchi, and Koji Tsuboi declare that they have no conflict of interest.
About this article
Cite this article
Odawara, M., Hashizume, M., Yoshiuchi, K. et al. Real-Time Assessment of the Effect of Biofeedback Therapy with Migraine: A Pilot Study. Int.J. Behav. Med. 22, 748–754 (2015). https://doi.org/10.1007/s12529-015-9469-z
Published:

Issue Date:

DOI: https://doi.org/10.1007/s12529-015-9469-z
Keywords
Migraine

Ecological momentary assessment

Biofeedback

Psychological stress

Headache-related disability

Multilevel model