Abstract
Background
Self-rated health (SRH) is an important predictor of objective health-related outcomes that, according to the Cognitive Process Model of SRH, is influenced by contextual factors (symptoms and personality). Although research indicates that personality contours SRH, less attention has been given to understanding the contributions of personality to future self-rated health (FSRH) or the contextual factors that play a role in shaping these effects.
Purpose
The aim of the present study was to extend the theory and research on FSRH by exploring the contributions of personality, current SRH, and fatigue to FSRH in the context of chronic illness, and to test the potential mediating role of optimism for explaining these effects.
Method
Two chronic illness samples (arthritis, N = 365, and inflammatory bowel disease, IBD; N = 290) completed identical surveys. A hierarchical regression model with age, education, and current health, and fatigue entered in the first two steps and traits entered in the last step, tested the effects of personality on FSRH. Mediation analyses controlling for contextual variables tested the explanatory role of optimism.
Results
Fatigue was a significant contributor to FSRH accounting for 11 % of the variance in the arthritis sample and 17 % in the IBD sample over the demographic variables. Both Agreeableness and Neuroticism accounted for additional significant but modest variance in FSRH (4 %); Agreeableness was associated with higher FSRH, whereas Neuroticism was associated with lower FSRH. For both traits, optimism fully explained the associations with FSRH.
Conclusion
After accounting for the influence of fatigue and other variables, the contributions of high Agreeableness and low Neuroticism to FSRH are modest in the context of chronic illness, and these associations may be explained by optimism.
This is a preview of subscription content, log in to check access.
Access options
Buy single article
Instant access to the full article PDF.
US$ 39.95
Price includes VAT for USA
Subscribe to journal
Immediate online access to all issues from 2019. Subscription will auto renew annually.
US$ 99
This is the net price. Taxes to be calculated in checkout.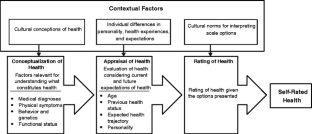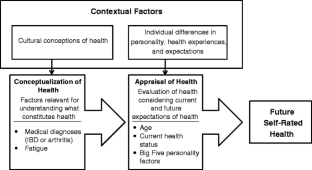 References
1.

Jylhä M. What is self-rated health and why does it predict mortality? Towards a unified conceptual model. Soc Sci Med. 2009;69(3):307–16.

2.

Tamayo-Fonseca N, Quesada JA, Nolasco A, Melchor I, Moncho J, Pereyra-Zamora P, et al. Self-rated health and mortality: a follow-up study of a Spanish population. Pub Health. 2013;127(12):1097–104.

3.

Mora PA, Orsak G, DiBonaventura MD, Leventhal EA. Why do comparative assessments predict health? The role of self-assessed health in the formation of comparative health judgments. Health Psychol. 2013;32(11):1175–8.

4.

Kristenson M, Olsson A, Kucinskiene Z. Good self- rated health is related to psychosocial resources and a strong cortisol response to acute stress: The LiVicordia study of Middle-Aged Men. Int J Behav Med. 2005;12(3):153–60.

5.

Ferraro KF, Wilkinson LR. Alternative measures of self-rated health for predicting mortality among older people: is past or future orientation more important? Gerontologist. 2013

6.

Wang C, Satariano WA. Self-rated current and future health independently predict subsequent mortality in an aging population. J Gerontol A Biol Sci Med Sci. 2007;62(12):1428–34.

7.

Löckenhoff CE, Terracciano A, Ferrucci L, Costa PT. Five-factor personality traits and age trajectories of self-rated health: the role of question framing. J Pers. 2012;80(2):375–401.

8.

Ree E, Odeen M, Eriksen H, Indahl A, Ihlebæk C, Hetland J et al. Subjective health complaints and self-rated health: are expectancies more important than socioeconomic status and workload? IntJ Behav Med. 2013:1-10. doi:10.1007/s12529-013-9329-7.

9.

Watson D, Pennebaker JW. Health complaints, stress and distress: exploring the central role of negative affectivity. Psychol Rev. 1989;96(7):234–54.

10.

Digman JM. Personality structure: Emergence of the five-factor model. 1990;41(1):417-40.

11.

John OP, Srivastava S. The Big Five trait taxonomy: history, measurement, and theoretical perspectives. In: Pervin LA, John OP, editors. Handbook of Personality: Theory and Research. 2nd ed. New York: The Guilford Press; 1999.

12.

Ingledew DK, Brunning S. Personality, preventive health behaviour and comparative optimism about health problems. J Health Psychol. 1999;4(2):193–208.

13.

Scheier MF, Carver CS. Optimism, coping, and health: assessment and implications of generalized outcome expectancies. Health Psychol. 1985;4(3):219–47.

14.

Lemola S, Räikkönen K, Gomez V, Allemand M. Optimism and self-esteem are related to sleep. Results from a large community-based sample. IntJ Behav Med. 2013;20(4):567–71.

15.

Rasmussen HN, Scheier MF, Greenhouse JB. Optimism and physical health: a meta-analytic review. Ann Behav Med. 2009;37(3):239–56.

16.

Scheier M, Carver C. Effects of optimism on psychological and physical well-being: theoretical overview and empirical update. Cogn Ther Res. 1992;16(2):201–28.

17.

Moon H, Hollenbeck JR, Humphrey SE, Maue B. The tripartite model of neuroticism and the suppression of depression and anxiety within an escalation of commitment dilemma. J Pers. 2003;71(3):347–68.

18.

Paunonen SV, Ashton MC. Big five factors and facets and the prediction of behavior. J Pers Soc Psychol. 2001;81(3):524–39.

19.

Scheier MF, Carver CS, Bridges MW. Distinguishing optimism from neuroticism (and trait anxiety, self-mastery, and self-esteem): a reevaluation of the Life Orientation Test. J Pers Soc Psychol. 1994;67:1063–78.

20.

Sharpe JP, Martin NR, Roth KA. Optimism and the Big Five factors of personality: beyond neuroticism and extraversion. Pers Indiv Diff. 2011;51(8):946–51.

21.

Booth-Kewley S, Vickers RR. Associations between major domains of personality and health behavior. J Pers. 1994;62(3):281–98.

22.

Hampson SE, Goldberg LR, Vogt TM, Dubanoski JP. Mechanisms by which childhood personality traits influence adult health status: educational attainment and healthy behaviors. Health Psychol. 2007;26(1):121–5.

23.

Goodwin R, Engstrom G. Personality and the perception of health in the general population. Psychol Med. 2002;32(2):325–32.

24.

Löckenhoff CE, Sutin AR, Ferrucci L, Costa Jr PT. Personality traits and subjective health in the later years: the association between NEO-PI-R and SF-36 in advanced age is influenced by health status. J Res Pers. 2008;42(5):1334–46.

25.

Casati J, Toner BB, De Rooy EC, Drossman DA, Maunder RG. Concerns of patients with inflammatory bowel disease: a review of emerging themes. Digest Dis Sci. 2000;45(1):26–31.

26.

Katz PP. The stresses of rheumatoid arthritis: appraisals of perceived impact and coping efficacy. Arthrit Care Res. 1998;11(1):9–22.

27.

Lemos-Giraldez S, Fidalgo-Aliste AM. Personality dispositions and health-related habits and attitudes: a cross-sectional study. Eur J Pers. 1997;11(3):197–209.

28.

Hong RY, Paunonen SV. Personality traits and health-risk behaviours in university students. Eur J Pers. 2009;23(8):675–96.

29.

Hampson SEA, Judy A. Conscientiousness, perceived risk, and risk-reduction behaviors: a preliminary study. Health Psychol. 2000;19:496–500.

30.

Ware JEJ, Sherbourne CD. The MOS 36-item short-form health survey (SF-36): I. Conceptual framework and item selection. Med Care. 1992;30(6):473–83.

31.

Preacher KJ, Hayes AF. Asymptotic and resampling strategies for assessing and comparing indirect effects in multiple mediator models. Behav Res Methods. 2008;40:879–91.

32.

Shrout PE, Bolger N. Mediation in experimental and nonexperimental studies: new procedures and recommendations. Psychol Meth. 2002;7:422–45.

33.

Preacher KJ, Hayes AF. SPSS and SAS procedures for estimating indirect effects in simple mediation models. Behav Res Methods. 2004;36:717–31.

34.

McCrae RR, Costa PTJ. Adding liebe und arbeit: the full five-factor model and well-being. Pers Soc Psychol Bull. 1991;17(2):227–32.

35.

Nyqvist F, Nygård M, Steenbeek W. Social capital and self-rated health amongst older people in Western Finland and Northern Sweden: a multi-level analysis. IntJ Behav Med. 2013:1-11

36.

Seligman MEP, Railton P, Baumeister RF, Sripada C. Navigating into the future or driven by the past. Perspect Psychol Sci. 2013;8(2):119–41.

37.

Hall P, Fong G, Cheng A. Time perspective and weight management behaviors in newly diagnosed Type 2 diabetes: a mediational analysis. J Behav Med. 2012;35:569–80.

38.

McDade TW, Chyu L, Duncan GJ, Hoyt LT, Doane LD, Adam EK. Adolescents' expectations for the future predict health behaviors in early adulthood. Soc Sci Med. 2011;73(3):391–8.

39.

Caspi A, Roberts BW, Shiner RL. Personality development: stability and change. Ann Rev Psychol. 2005;56(1):453–84.

40.

Roberts BW, Mroczek D. Personality trait change in adulthood. Curr Dir Psychol Sci. 2008;17(1):31–5.

41.

Rosenthal R, Rosnow RL. Essentials of behavioral research: methods and data analysis. 2nd ed. New York, NY: McGraw-Hill; 1991.
Acknowledgments
The data collection was supported by a Doctoral Fellowship from the Social Sciences and Research Council (Canada). Preparation of this paper was supported by the Canada Research Chairs Program.
Conflict of Interest
I, Fuschia Sirois, declare that I have no conflicts of interest.
Ethical Statement
I, Fuschia Sirois, declare that I conformed to the Helsinki Declaration concerning human rights and informed consent in conducting this research, and that I followed correct procedures concerning treatment of humans in research.
About this article
Cite this article
Sirois, F.M. Who Looks Forward to Better Health? Personality Factors and Future Self-Rated Health in the Context of Chronic Illness. Int.J. Behav. Med. 22, 569–579 (2015). https://doi.org/10.1007/s12529-015-9460-8
Keywords
Self-rated health

Personality

Future orientation

Optimism

Chronic illness

Fatigue