Abstract
Background
Oral diseases such as dental caries, periodontal disease, and tooth loss are a considerable public health problem. A review of the epidemiological data from many countries indicates that a global increase in dental caries prevalence affects children as well as adults. Despite the improvement in oral health of children in the last few decades, tooth decay remains one of the most common childhood diseases in both industrialized and developing countries.
Purpose
The study evaluates the effects of a self-regulatory intervention to increase dental flossing among adolescents and examines the mediating mechanisms underlying behavioral changes.
Methods
A cluster randomized controlled trial compared a brief intervention arm with a control arm in 166 girls aged 11–15 years. Planning, self-efficacy, and behavioral intention were specified as mediators between treatment conditions and follow-up dental flossing frequency. At baseline, the intervention group received theory-guided materials on oral hygiene. Four weeks later, changes in behavior and social-cognitive variables were assessed.
Results
The brief self-regulatory intervention led to an increase in dental flossing and social-cognitive constructs. A sequential mediator model was identified in which first changes in intention and afterwards changes in self-efficacy mediated between treatment conditions and behavioral outcomes.
Conclusion
Intention formation and self-efficacy seem to play an instrumental role in the mechanism that facilitates dental flossing among adolescent girls. Oral self-care interventions should consider the application of intention formation strategies combined with building confidence in one's ability to adhere to the regimen.
Access options
Buy single article
Instant access to the full article PDF.
US$ 39.95
Tax calculation will be finalised during checkout.
Subscribe to journal
Immediate online access to all issues from 2019. Subscription will auto renew annually.
US$ 79
Tax calculation will be finalised during checkout.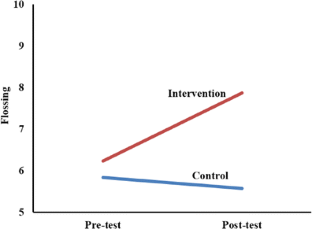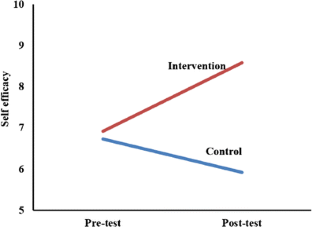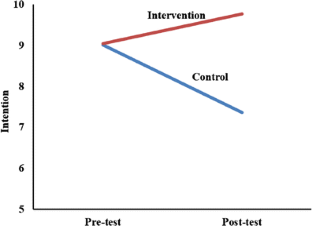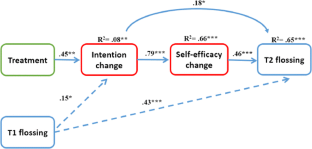 References
1.

Petersen PE. World Health Organization global policy for improvement of oral health—World Health Assembly 2007. Int Dent J. 2008;58(3):115–21.

2.

Bagramian RA, Garcia-Godoy F, Volpe AR. The global increase in dental caries. A pending public health crisis. Am J Dent. 2009;22(1):3–8.

3.

Sambunjak D, Nickerson JW, Poklepovic T, Johnson TM, Imai P, Tugwell P, et al. Flossing for the management of periodontal diseases and dental caries in adults. Cochrane Database Syst Rev. 2011. doi:10.1002/14651858.CD008829.

4.

Gangi C, Sherman D, White M. Embodied cognition and skilled health behaviour. Psychol Health. 2011;26(8):1006–17. doi:10.1080/08870446.2010.520714.

5.

Ramsay P. The board of registration in dentistry. How to keep your dental practice out of trouble. J Mass Dent Soc. 2000;49(2):24–6.

6.

Schüz B, Sniehotta FF, Wiedemann A, Seemann R. Adherence to a daily flossing regimen in university students: effects of planning when, where, how and what to do in the face of barriers. J Clin Periodontol. 2006;33(9):612–9.

7.

Buunk-Werkhoven YAB, Dijkstra A, van der Wal H, Basic N, Loomans SA, van der Schans CP, et al. Promoting oral hygiene behavior in recruits in the Dutch army. Mil Med. 2009;174(9):971–6.

8.

McCaul KD, O'Neill HK, Glasgow RE. Predicting the performance of dental hygiene behaviors: an examination of the Fishbein and Ajzen model and self-efficacy expectations. J Appl Soc Psychol. 1988;18(2):114–28. doi:10.1111/j.1559-1816.1988.tb00009.x.

9.

Sheeran P, Orbell S. Do intentions predict condom use? Meta-analysis and examination of six moderator variables. Br J Soc Psychol. 1998;37(2):231–50. doi:10.1111/j.2044-8309.1998.tb01167.x.

10.

Hagger MS, Luszczynska A. Implementation intention and action planning interventions in health contexts: state of the research and proposals for the way forward. Appl Psychol Health Well-Being. 2014;6(1):1–47. doi:10.1111/aphw.12017.

11.

Sniehotta FF, Schwarzer R, Scholz U, Schuz B. Action planning and coping planning for long-term lifestyle change: theory and assessment. Eur J Soc Psychol. 2005;35(4):565–76. doi:10.1002/ejsp.258.

12.

Munster Halvari AE, Halvari H, Bjornebekk G, Deci EL. Self-determined motivational predictors of increases in dental behaviors, decreases in dental plaque, and improvement in oral health: a randomized clinical trial. Health Psychol. 2012;31(6):777–88. doi:10.1037/a0027062.

13.

Schüz B, Wiedemann AU, Mallach N, Scholz U. Effects of a short behavioural intervention for dental flossing: randomized-controlled trial on planning when, where and how. J Clin Periodontol. 2009;36(6):498–505.

14.

Pakpour AH, Hidarnia A, Hajizadeh E, Plotnikoff RC. Action and coping planning with regard to dental brushing among Iranian adolescents. Psychol Health Med. 2012;17(2):176–87. doi:10.1080/13548506.2011.596551.

15.

Pakpour AH, Sniehotta FF. Perceived behavioural control and coping planning predict dental brushing behaviour among Iranian adolescents. J Clin Periodontol. 2012;39(2):132–7. doi:10.1111/j.1600-051X.2011.01826.x.

16.

Buglar ME, White KM, Robinson NG. The role of self-efficacy in dental patients' brushing and flossing: testing an extended health belief model. Patient Educ Couns. 2010;78(2):269–72. doi:10.1016/j.pec.2009.06.014.

17.

Stewart JE, Wolfe GR, Maeder L, Hartz GW. Changes in dental knowledge and self-efficacy scores following interventions to change oral hygiene behavior. Patient Educ Couns. 1996;27(3):269–77.

18.

Yekaninejad MS, Eshraghian MR, Nourijelyani K, Mohammad K, Foroushani AR, Zayeri F, et al. Effect of a school-based oral health-education program on Iranian children: results from a group randomized trial. Eur J Oral Sci. 2012;120(5):429–37. doi:10.1111/j.1600-0722.2012.00993.x.

19.

Anagnostopoulos F, Buchanan H, Frousiounioti S, Niakas D, Potamianos G. Self-efficacy and oral hygiene beliefs about toothbrushing in dental patients: a model-guided study. Behav Med. 2011;37(4):132–9. doi:10.1080/08964289.2011.636770.

20.

Morowatisharifabad M, Shirazi A, Karimzadeh K. Determinants of oral health behaviors among preuniversity (12th-grade) students in Yazd (Iran): an application of the health promotion model. Fam Commun Health J Health Promot Maint. 2007;30(4):342–50.

21.

Schwarzer R. Modeling health behavior change: How to predict and modify the adoption and maintenance of health behaviors. Appl Psychol Int Rev. 2008;57(1):1–29. doi:10.1111/j.1464-0597.2007.00325.x.

22.

Kwan S, Petersen PE. Oral health promotion through schools. World Health Organization. 2003.

23.

Michie S, Richardson M, Johnston M, Abraham C, Francis J, Hardeman W, et al. The behavior change technique taxonomy (v1) of 93 hierarchically clustered techniques: building an international consensus for the reporting of behavior change interventions. Ann Behav Med. 2013;46(1):81–95. doi:10.1007/s12160-013-9486-6.

24.

Schwarzer R, Antoniuk A, Gholami M. A brief intervention changing oral self-care, self-efficacy, and self-monitoring. Br J Health Psychol. 2014. doi:10.1111/bjhp.12091.

25.

Hayes AF. Introduction to mediation, moderation, and conditional process analysis: a regression-based approach. New York: Guilford Press; 2013.

26.

Millar MG. Predicting dental flossing behavior: the role of implicit and explicit responses and beliefs. Basic Appl Soc Psychol. 2011;33(1):7–15. doi:10.1080/01973533.2010.539949.

27.

Schüz B, Sniehotta FF, Mallach N, Wiedemann AU, Schwarzer R. Predicting transitions from preintentional, intentional and actional stages of change. Health Educ Res. 2009;24(1):64–75. doi:10.1093/her/cym092.
Acknowledgments
The authors confirm that the study was funded by the authors and their institutions.
Conflict of Interest
Maryam Gholami, Nina Knoll, and Ralf Schwarzer declare that they have no conflict of interest. The authors conformed to the Helsinki Declaration concerning human rights and informed consent, and they followed correct procedures concerning treatment of humans and animals in research.
About this article
Cite this article
Gholami, M., Knoll, N. & Schwarzer, R. A Brief Self-Regulatory Intervention Increases Dental Flossing in Adolescent Girls. Int.J. Behav. Med. 22, 645–651 (2015). https://doi.org/10.1007/s12529-014-9459-6
Keywords
Self-regulation

Intervention

Intention

Self-efficacy

Dental flossing

Adolescents