Abstract
Purpose
The present study aimed to induce elevated symptom reports through the presentation of unpleasant cues in patients with irritable bowel syndrome (IBS) and examine whether applying an emotion regulation technique (affect labeling) can reduce symptom reporting in patients.
Methods
Patients diagnosed with IBS (N = 29) and healthy controls (N = 26) were presented with six picture series (three pleasant, three unpleasant) under three within-subject conditions: merely viewing, emotional labeling, or content (non-emotional) labeling. Each picture viewing trial was followed by affect ratings and a symptom checklist, consisting of general arousal and IBS-specific symptoms.
Results
Viewing unpleasant pictures led to overall increased symptom reports, both for arousal and gastrointestinal symptoms, in both groups. Labeling the pictures did not reduce these effects significantly, although a trend toward less arousal symptoms after unpleasant cues emerged in the patient group only, especially during emotional labeling.
Conclusions
Current findings indicate that the mere presentation of unpleasant cues can induce elevated symptom reports in IBS patients. The results of the labeling manipulation provide modest support for the effectiveness of emotion regulation strategies in reversing these effects of unpleasant cues in patients suffering from functional syndromes. Methodological issues that may have confounded present results are discussed.
Access options
Buy single article
Instant access to the full article PDF.
USD 39.95
Price includes VAT (USA)
Tax calculation will be finalised during checkout.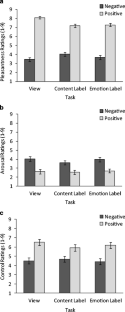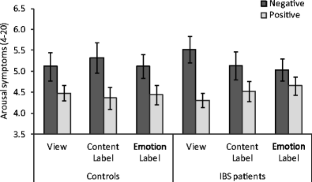 Notes
1.

Positive 1: 1463, 1920, 2550, 4574, 5201, 5260, 7330, 8030, 8080, 8185; positive 2: 1620, 2341, 5700, 5760, 5849, 7280, 8200, 8370, 8461, 8490; Positive 3: 1710, 2311, 2360, 5891, 7260, 8033, 8190, 8300, 8470, 8502; negative 1: 1114, 2095, 2520, 2692, 2900.1, 5971, 6315, 6821, 9181, 9611; negative 2: 1525, 6190, 6242, 9001, 9410, 9425, 9426, 9520, 9561, 9911; negative 3: 1932, 2800, 5972, 6300, 6370, 6800, 6838, 9041, 9140, 9421.

2.

Positive pleasantness ratings (1–9): M1 = 7.50 SD1 = 0.36, M2 = 7.57 SD2 = 0.46, M3 = 7.55 SD3 = 0.60; positive arousal ratings (1–9): M1 = 5.39 SD1 = 1.30, M2 = 5.09 SD2 = 1.27, M3 = 5.14 SD3 = 1.09; negative pleasantness ratings (1–9): M1 = 2.72 SD1 = 0.79, M2 = 2.58 SD2 = 0.65, M3 = 2.72 SD3 = 0.71; negative arousal ratings (1–9): M1 = 5.80 SD1 = 0.77, M2 = 5.71 SD2 = 1.02, M3 = 5.77 SD3 = 0.75.

3.

A parallel analysis procedure [36] was first conducted to determine the number of reliable factors, which suggested a two-factor structure for the checklist. A principal component analysis (PCA) with varimax rotation and factor extraction constrained to two factors (KMO = .57; χ2 (91) = 242.61, p < .001) confirmed the two-factor structure, which could explain 37.91 % of the variance. Items loading .60 or higher were retained for each of the two factors.
References
1.

Steinbrecher N, Koerber S, Frieser D, Hiller W. The prevalence of medically unexplained symptoms in primary care. Psychosomatics. 2011;52(3):263–71.

2.

Kroenke K. Patients presenting with somatic complaints: epidemiology, psychiatric co‐morbidity and management. Int J Methods Psychiatr Res. 2003;12(1):34–43.

3.

Nimnuan C, Hotopf M, Wessely S. Medically unexplained symptoms: an epidemiological study in seven specialities. J Psychosom Res. 2001;51:361–7.

4.

Reid S, Wessely S, Crayford T, Hotopf M. Medically unexplained symptoms in frequent attenders of secondary health care: retrospective cohort study. Brit Med J. 2001;322:1–4.

5.

Wessely S, Nimnuan C, Sharpe M. Functional somatic syndromes: one or many? Lancet. 1999;354:936–9.

6.

Henningsen P, Zimmermann T, Sattel H. Medically unexplained physical symptoms, anxiety, and depression: a meta-analytic review. Psychosom Med. 2003;65:528–33.

7.

Löwe B, Spitzer RL, Williams JB, Mussell M, Schellberg D, Kroenke K. Depression, anxiety and somatization in primary care: syndrome overlap and functional impairment. Gen Hosp Psychiatry. 2008;30(3):191–9.

8.

De Waal MW, Arnold IA, Eekhof JA, Van Hemert AM. Somatoform disorders in general practice prevalence, functional impairment and comorbidity with anxiety and depressive disorders. Brit J Psychiatry. 2004;184(6):470–6.

9.

Montoya P, Sitges C, García-Herrera M, Izquierdo R, Truyols M, Blay N, et al. Abnormal affective modulation of somatosensory brain processing among patients with fibromyalgia. Psychosom Med. 2005;67:957–63.

10.

Dickhaus B, Mayer EA, Firooz N, Stains J, Conde F, Olivas TI, et al. Irritable bowel syndrome patients show enhanced modulation of visceral perception by auditory stress. Am J Gastroenterol. 2003;98:135–43.

11.

Murray CD, Flynn J, Ratcliffe L, Jacyna MR, Kamm MA, Emmanuel AV. Effect of acute physical and psychological stress on gut autonomic innervation in irritable bowel syndrome. Gastroenterology. 2004;127(6):1695–703.

12.

Kennedy PJ, Clarke G, Quigley EM, Groeger JA, Dinan TG, Cryan JF. Gut memories: towards a cognitive neurobiology of irritable bowel syndrome. Neurosci Biobehav Rev. 2012;36(1):310–40.

13.

Mayer EA, Naliboff BD, Chang L, Coutinho SV. V. Stress and irritable bowel syndrome. Am J Physiol Gastrointest Liver Physiol. 2001;280(4):519–24.

14.

Naliboff BD, Waters AM, Labus JS, Kilpatrick L, Craske MG, et al. Increased acoustic startle responses in IBS patients during abdominal and nonabdominal threat. Psychosom Med. 2008;70(8):920–7.

15.

Tillisch K, Mayer EA, Labus JS. Quantitative meta-analysis identifies brain regions activated during rectal distension in irritable bowel syndrome. Gastroenterology. 2011;140(1):91–100.

16.

Berman SM, Naliboff BD, Suyenobu B, Labus JS, Stains J, Ohning G, et al. Reduced brainstem inhibition during anticipated pelvic visceral pain correlates with enhanced brain response to the visceral stimulus in women with irritable bowel syndrome. J Neurosci. 2008;28(2):349–59.

17.

Mayer EA, Berman S, Suyenobu B, Labus J, Mandelkern MA, Naliboff BD, et al. Differences in brain responses to visceral pain between patients with irritable bowel syndrome and ulcerative colitis. Pain. 2005;115:398–409.

18.

Bogaerts K, Janssens T, de Peuter S, Van Diest I, Van den Bergh O. Negative affective pictures can elicit physical symptoms in high habitual symptom reporters. Psychol Health. 2010;25(6):685–98.

19.

Constantinou E, Bogaerts K, Van Diest I, Van den Bergh O. Inducing symptoms in high symptom reporters via emotional pictures: the interactive effects of valence and arousal. J Psychosom Res. 2013;74(3):191–6.

20.

Elsenbruch S, Rosenberger C, Bingel U, Forsting M, Schedlowski M, Gizewski ER. Patients with irritable bowel syndrome have altered emotional modulation of neural responses to visceral stimuli. Gastroenterology. 2010;139(4):1310–9.

21.

van Middendorp H, Lumley MA, Jacobs JWG, van Doornen LJP, Bijlsma JWJ, Geenen R. Emotions and emotional approach and avoidance strategies in fibromyalgia. J Psychosom Res. 2008;64:159–67.

22.

Solberg Nes L, Roach AR, Segerstrom SC. Executive functions, self-regulation, and chronic pain: a review. Ann Behav Med. 2009;37(2):173–83.

23.

Berkman ET, Lieberman MD. Using neuroscience to broaden emotion regulation: theoretical and methodological considerations. Soc Personal Psychol Compass. 2009;3:475–93.

24.

Ochsner KN, Ray RD, Cooper JC, Robertson ER, Chopra S, Gabrieli JDE, et al. For better or for worse: neural systems supporting the cognitive down- and up-regulation of negative emotion. NeuroImage. 2004;23:483–99.

25.

Hariri AR, Bookheimer SY, Mazziotta JC. Modulating emotional responses: effects of a neocortical network on the limbic system. Neuroreport. 2000;11(1):43–8.

26.

Lieberman MD, Eisenberger NI, Crockett MJ, Tom SM, Pfeifer JH, Way BM. Putting feelings into words: affect labeling disrupts amygdala activity in response to affective stimuli. Psychol Sci. 2007;18(5):421–8.

27.

Lieberman MD, Inagaki TK, Tabibnia G, Crockett MJ. Subjective responses to emotional stimuli during labeling, reappraisal, and distraction. Emotion. 2011;11(3):468–80.

28.

Kircanski K, Lieberman MD, Craske MG. Feelings into words: contributions of language to exposure therapy. Psychol Sci. 2012;23(10):1086–91.

29.

Barrett LF. Solving the emotion paradox: categorization and the experience of emotion. Pers Soc Psychol Rev. 2006;10(1):20–46.

30.

Lieberman MD. Why symbolic processing of affect can disrupt negative affect: social cognitive and affective neuroscience investigations. In: Todorov A, Fiske S, Prentice D, editors. Social neuroscience: toward understanding the underpinnings of the social mind. New York: Oxford University Press; 2011. p. 188–209.

31.

Constantinou E, Van den Houte M, Bogaerts K, Van Diest I, Van den Bergh O. Can words heal? Using affect labeling to reduce the effects of unpleasant cues on symptom reporting. Front Psychol. 2014;5:807. doi:10.3389/fpsyg.2014.00807.

32.

Thompson WG, Longstreth GF, Drossman DA, Heaton KW, Irvine EJ, Müller-Lissner SA. Functional bowel disorders and functional abdominal pain. Gut. 1999;45 suppl 2:II43–7.

33.

Lang PJ, Bradley MM, Cuthbert B. International affective picture system (IAPS): instruction manual and affective ratings. Technical report A-6. Gainesville: University of Florida; 2005.

34.

Mikels JA, Fredrickson BL, Larkin GR, Lindberg CM, Maglio SJ, Reuter-Lorenz PA. Emotional category data on images from the international affective picture system. Behav Res Methods. 2005;37:626–30.

35.

Bradley MM, Lang PJ. Measuring emotion: the self-assessment manikin and the semantic differential. J Behav Ther Exp Psychiatry. 1994;25:49–59.

36.

Horn JL. A rationale and test for the number of factors in factor analysis. Psychometrika. 1965;30(2):179–85.

37.

Wientjes CJ, Grossman P. Over-reactivity of the psyche or the soma? Interindividual associations between psychosomatic symptoms, anxiety, heart rate, and end-tidal partial carbon dioxide pressure. Psychosom Med. 1994;56:533–40.

38.

Spinhoven PH, Ormel J, Sloekers PPA, Kempen GIJM, Speckens AEM, Hemert AV. A validation study of the hospital anxiety and depression scale (HADS) in different groups of Dutch subjects. Psychol Med. 1997;27(2):363–70.

39.

Zigmond AS, Snaith RP. The hospital anxiety and depression scale. Acta Psychiatr Scand. 1983;67(6):361–70.

40.

Spruyt A, Clarysse J, Vansteenwegen D, Baeyens F, Hermans D. Affect 4.0: a free software package for implementing psychological and psychophysiological experiments. Exp Psychol. 2010;57:36–45.

41.

Crane C, Martin M. Illness schema and level of reported gastrointestinal symptoms in irritable bowel syndrome. Cogn Ther Res. 2003;27(2):185–203.

42.

Keefe FJ, Lumley M, Anderson T, Lynch T, Carson KL. Pain and emotion: new research directions. J Clin Psychol. 2001;57(4):587–607.

43.

Porcelli P, Taylor GJ, Bagby RM, De Carne M. Alexithymia and functional gastrointestinal disorders. Psychother Psychosom. 1999;68(5):263–9.

44.

Halpert A, Rybin D, Doros G. Expressive writing is a promising therapeutic modality for the management of IBS: a pilot study. Am J Gastroenterol. 2010;105:2440–8.

45.

Gaylord SA, Palsson OS, Garland EL, Faurot KR, Coble RS, Mann JD, et al. Mindfulness training reduces the severity of irritable bowel syndrome in women: results of a randomized controlled trial. Am J Gastroenterol. 2011;106(9):1678–88.

46.

Ljótsson B, Falk L, Vesterlund AW, Hedman E, Lindfors P, Rück C, et al. Internet-delivered exposure and mindfulness based therapy for irritable bowel syndrome—a randomized controlled trial. Behav Res Ther. 2010;48(6):531–9.

47.

Zernicke KA, Campbell TS, Blustein PK, Fung TS, Johnson JA, Bacon SL, et al. Mindfulness-based stress reduction for the treatment of irritable bowel syndrome symptoms: a randomized wait-list controlled trial. Int J Behav Med. 2013;20(3):385–96.

48.

Barsky AJ, Peekna HM, Borus JF. Somatic symptom reporting in women and men. J Gen Intern Med. 2001;16(4):266–75.

49.

McTeague LM, Lang PJ. The anxiety spectrum and the reflex physiology of defense: from circumscribed fear to broad distress. Depress Anxiety. 2012;29(4):264–81.
Acknowledgments
Authors would like to thank the physicians and clinical trial coordinators at the gastrointestinal unit of the University Hospital Gasthuisberg (Leuven, Belgium) for the recruitment of IBS patients and Stéphanie Vandeweyer for her assistance in data collection.
Compliance with Ethical Standards
Each of the following authors, Elena Constantinou, Katleen Bogaerts, Lukas Van Oudenhove, Jan Tack, Ilse Van Diest, and Omer Van den Bergh, declares that s/he has no conflict of interest, that all procedures performed in this study were in accordance with the ethical standards of both the institutional and national research committee and with the 1964 Helsinki declaration and its later amendments or comparable ethical standards, and that informed consent was obtained from all individual participants included in the study.
About this article
Cite this article
Constantinou, E., Bogaerts, K., Van Oudenhove, L. et al. Healing Words: Using Affect Labeling to Reduce the Effects of Unpleasant Cues on Symptom Reporting in IBS Patients. Int.J. Behav. Med. 22, 512–520 (2015). https://doi.org/10.1007/s12529-014-9449-8
Keywords
Emotion regulation

Affect labeling

Symptom reporting

IBS patients