Abstract
Purpose
This study investigated the distinctiveness of two types of heavy work investment (i.e., workaholism and work engagement) by examining their 2-year longitudinal relationships with employee well-being and job performance. Based on a previous cross-sectional study by Shimazu and Schaufeli (Ind Health 47:495–502, 2009) and a shorter term longitudinal study by Shimazu et al. (Ind Health 50:316–21, 2012; measurement interval = 7 months), we predicted that workaholism predicts long-term future unwell-being (i.e., high ill-health and low life satisfaction) and poor job performance, whereas work engagement predicts future well-being (i.e., low ill-health and high life satisfaction) and superior job performance.
Method
A two-wave survey was conducted among employees from one Japanese company, and valid data from 1,196 employees was analyzed using structural equation modeling. T1–T2 changes in ill-health, life satisfaction, and job performance were measured as residual scores, which were included in the structural equation model.
Results
Workaholism and work engagement were weakly and positively related to each other. In addition, and as expected, workaholism was related to an increase in ill-health and to a decrease in life satisfaction. In contrast, and also as expected, work engagement was related to increases in both life satisfaction and job performance and to a decrease in ill-health.
Conclusion
Although workaholism and work engagement are weakly positively related, they constitute two different concepts. More specifically, workaholism has negative consequences across an extended period of 2 years, whereas work engagement has positive consequences in terms of well-being and performance. Hence, workaholism should be prevented and work engagement should be stimulated.
Access options
Buy single article
Instant access to the full article PDF.
US$ 39.95
Tax calculation will be finalised during checkout.
Subscribe to journal
Immediate online access to all issues from 2019. Subscription will auto renew annually.
US$ 79
Tax calculation will be finalised during checkout.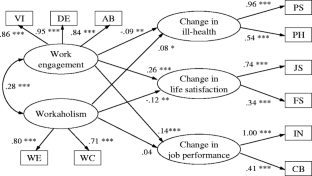 References
1.

van Beek I, Hu Q, Schaufeli WB, Taris TW, Schreurs BH. For fun, love, or money: what drives workaholic, engaged, and burned-out employees at work? Appl Psychol. 2012;61:30–55.

2.

Kanai A. Economic and employment conditions, Karoshi (work to death) and the trend of studies on workaholism in Japan. In: Burke R, editor. Research companion to working time and work addiction. Cheltenham: Edward Elgar; 2007. p. 158–72.

3.

Snir R, Harpaz I. Beyond workaholism: toward a general model of heavy work investment. Hum Resour Manage R. 2012;22:232–43.

4.

Shimazu A, Schaufeli WB. Is workaholism good or bad for employee well-being? The distinctiveness of workaholism and work engagement among Japanese employees. Ind Health. 2009;47:495–502.

5.

Schaufeli WB, Taris TW, Bakker AB. Dr Jekyll or Mr Hyde? On the differences between work engagement and workaholism. In: Burke RJ, editor. Research companion to working time and work addiction. Cheltenham: Edward Elgar; 2006. p. 193–217.

6.

Schaufeli WB, Taris TW, Bakker AB. It takes two to tango. Workaholism is working excessively and working compulsively. In: Burke RJ, Cooper CL, editors. The long work hours culture. Causes, consequences and choices. Bingley: Emerald; 2008. p. 203–26.

7.

Schaufeli WB, Salanova M, González-Romá V, Bakker AB. The measurement of engagement and burnout: a confirmatory factor analytic approach. J Happiness Stud. 2002;3:71–92.

8.

Schaufeli WB, Shimazu A, Taris TW. Being driven to work excessively hard: the evaluation of a two-factor measure of workaholism in The Netherlands and Japan. Cross-Cult Res. 2009;43:320–48.

9.

Bakker AB, Oerlemans W. Subjective well-being in organizations. In: Cameron KS, Spreitzer GM, editors. The oxford handbook of positive organizational scholarship. New York: Oxford University; 2011. p. 178–89.

10.

Shimazu A, Schaufeli WB, Kubota K, Kawakam N. Do workaholism and work engagement predict employee well-being and performance in opposite directions? Ind Health. 2012;50:316–21.

11.

Dwyer JE. Statistical models for the social and behavioral sciences. New York: Oxford University; 1983.

12.

Dormann C, Zapf D. Social stressors at work, irritation, and depressive symptoms: accounting for unmeasured third variables in a multi-wave study. J Occup Organ Psych. 2002;75:33–58.

13.

Van Beek I, Taris T, Schaufeli WB. Workaholic and work engaged employees: dead ringers or worlds apart? J Occup Health Psych. 2011;16:468–82.

14.

Shimazu A, Schaufeli WB, Kosugi S, Suzuki A, Nashiwa H, Kato A, et al. Work Engagement in Japan: validation of the Japanese version of the Utrecht Work Engagement Scale. Appl Psychol-Int Rev. 2008;57:510–23.

15.

Shimomitsu T, Yokoyama K, Ono Y, Maruta T, Tanigawa T. Development of a novel brief job stress questionnaire. In: Kato S, editor. Report of the research grant for the prevention of work-related diseases from the Ministry of Labour. Tokyo: Ministry of Labour; 1998. p. 107–15.

16.

Wanous JP, Reichers AE, Hudy MJ. Overall job satisfaction: how good are single item measures? J Appl Psychol. 1997;82:247–52.

17.

Williams LJ, Anderson SE. Job satisfaction and organizational commitment as predictors of organizational citizenship and in-role behaviors. J Manage. 1991;17:601–17.

18.

George JM, Zhou J. Understanding when bad moods foster creativity and good ones don't: the role of context and clarity of feelings. J Appl Psychol. 2002;87:687–97.

19.

Schaufeli WB, Bakker AB, Van Rhenen W. How changes in job demands and job resources predict burnout, work engagement, and sickness absenteeism. J Organ Behav. 2009;30:893–917.

20.

Smith P, Beaton D. Measuring change in psychosocial working conditions: methodological issues to consider when data are collected at baseline and one follow-up time point. Occup Environ Med. 2008;65:288–96.

21.

Schaufeli WB, Taris TW, Van Rhenen W. Workaholism, burnout, and engagement: three of a kind or three different kinds of employee well-being? Appl Psychol-Int Rev. 2008;57:173–203.

22.

Taris TW, Schaufeli WB, Shimazu A. The push and pull of work: the differences between workaholism and work engagement. In: Bakker AB, Leiter MP, editors. Work engagement: recent developments in theory and research. New York: Psychology; 2010. p. 39–53.

23.

Schaufeli WB, Bakker AB. Job demands, job resources, and their relationship with burnout and engagement: a multi-sample study. J Organ Behav. 2004;25:293–315.
Additional information
Human Rights
We state that we conformed to the Helsinki Declaration concerning human rights and informed consent, and that we followed correct procedures concerning treatment of humans in research.
About this article
Cite this article
Shimazu, A., Schaufeli, W.B., Kamiyama, K. et al. Workaholism vs. Work Engagement: the Two Different Predictors of Future Well-being and Performance. Int.J. Behav. Med. 22, 18–23 (2015). https://doi.org/10.1007/s12529-014-9410-x
Keywords
Hard work investment

Job performance

Physical complaints

Psychological distress

Workaholism

Work engagement