Abstract
Background
Psychosocial stress is a risk factor for hypertension and has been shown to affect response to treatment for psychiatric illnesses.
Purpose
We investigate the relationship between a history of social adversity experience and blood pressure control following antihypertensive medication use.
Methods
A total of 1,186 participants selected from the European Prospective Investigation into Cancer-Norfolk study (531 men and 655 women, aged 42 to 80 years) had attended two health checks at which blood pressure measurements were taken; were taking antihypertensive medication at the second, but not the first health check; and had completed a questionnaire assessment of their social and psychological circumstances which included details of traumatic experiences in childhood and of adverse life events, long-term difficulties, and perceived stress in adulthood.
Results
Experience of recent loss events in adulthood was associated with a smaller reduction in systolic blood pressure after starting hypertension treatment (β = 1.78, 95 % confidence interval 0.15–3.40, per life event), independently of age, sex, preexisting health conditions, cigarette smoking history, alcohol consumption, physical activity, and obesity.
Conclusion
Results from this study suggest that stress caused by recent losses may be associated with reduced effectiveness of treatment for hypertension. Subject to replication, these findings may help determine the specific physiological mechanisms by which medication treatment effectiveness is affected by stress.
Access options
Buy single article
Instant access to the full article PDF.
USD 39.95
Price excludes VAT (USA)
Tax calculation will be finalised during checkout.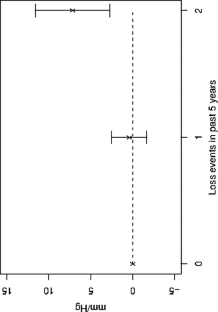 References
Berkman LF. Kawachi I Social epidemiology. New York: Oxford University Press; 2000.

Buwalda B, Kole MHP, Veenema AH, Huininga M, de Boer SF, Korte SM, et al. Long-term effects of social stress on brain and behavior: a focus on hippocampal functioning. Neurosci Biobehav Rev. 2005;29:83–97.

Stansfeld S, Marmot M. Stress and the heart: psychosocial pathways to coronary heart disease. London: BMJ Books; 2002.

Tosevski DL, Milovancevic MP. Stressful life events and physical health. Curr Opin Psychiatry. 2006;19:184–9.

Repetti RL, Taylor SE, Seeman TE. Risky families: family social environments and the mental and physical health of offspring. Psychol Bull. 2002;128:330–66.

Anda RF, Butchart A, Felitti VJ, Brown DW. Building a framework for global surveillance of public health implications of adverse childhood experience. Am J Prev Med. 2010;39(1):93–8.

Sparrenberger F, Cichelero FT, Ascoli AM, Fonseca FP, Weiss G, Berwanger O, et al. Does psychosocial stress cause hypertension? A systematic review of observational studies. J Hum Hypertens. 2009;23:12–9.

Tuomisto MT, Majahalme S, Kahonen M, Fredrikson M, Turjanmaa V. Psychological stress tasks in the prediction of blood pressure level and need for antihypertensive medication: 9–12 years of follow-up. Health Psychol. 2005;24:77–87.

Carrol D, Phillips AC, Der G, Hunt K, Benzeval M. Blood pressure reactions of acute mental stress and future blood pressure status: data from the 12-year follow-up of the West of Scotland study. Psychosom Med. 2011;73:737–42.

Nijm J, Jonasson I. Inflammation and cortisol response in coronary artery disease. Ann Med. 2009;41:224–33.

Hamer M, Steptoe A. Cortisol responses to mental stress and incident hypertension in healthy men and women. J Clin Metab. 2012;97(1):E29–34.

Stein DJ, Scott K, Haro Abad JM, Aguilar-Gaxiola S, Alonso J, Angermeyer M, et al. Early childhood adversity and later hypertension: data from the World Mental Health Survey. Ann Clin Psychiatry. 2010;22(1):19–28.

Alastalo H, Raikkonen K, Pesonen A-K, Osmond C, Barker DJP, Heinonen K, et al. Early life stress and blood pressure levels in late adulthood. J Hum Hypertens. 2012;27(2):90–4. doi:10.1038/jhh.2012.6.

Lehman BJ, Taylor SE, Kiefe CI, Seeman TE. Relationship of early life stress and psychological functioning to blood pressure in the CARDIA study. Health Psych. 2009;28(3):338–46.

Heim C, Shugart M, Craigheade WE, Nemeroff CB. Neurobiological and psychiatric consequences of child abuse and neglect. Dev Psychobiol. 2010;52(7):671–90.

Marc LG, Testa MA, Walker AM, Robbins GK, Shafer RW, Anderson NB, et al. Educational attainment and response to HAART during initial therapy for HIV-1 infection. J Psychosom Res. 2007;63:207–16.

Day N, Oakes S, Luben R, Khaw KT, Bingham S, Welch A, et al. EPIC-Norfolk: study design and characteristics of the cohort. European Prospective Investigation of Cancer. Br J Cancer. 1999;80 Suppl 1:95–103.

Bingham SA, Welch AA, McTaggart A, Mulligan AA, Runswick SA, Luben R, et al. Nutritional methods in the European prospective investigation of cancer in Norfolk. Public Health Nutr. 2001;4:847–58.

Khaw KT, Jakes R, Bingham S, Welch A, Luben R, Day N, et al. Work and leisure time physical activity assessed using a simple, pragmatic, validated questionnaire and incident cardiovascular disease and all-cause mortality in men and women: the European prospective investigation into cancer in Norfolk prospective population based study. Int J Epidemiol. 2006;35:1034–43.

Surtees PG, Wainwright NWJ. The shackles of misfortune: social adversity assessment and representation in a chronic-disease epidemiological setting. Soc Sci Med. 2007;64:95–111.

Brugha T, Bebbington P, Tennant C, Hurry J. The list of threatening experiences—a subset of 12 life event categories with considerable long-term contextual threat. Psychol Med. 1985;15:189–94.

Surtees PG, Wainwright NWJ, Luben RN, Khaw KT, Bingham SA. No evidence that social stress is associated with breast cancer incidence. Breast Cancer Res Tr. 2010;120:169–74.

Littman AJ, White E, Satia JA, Bowen DJ, Kristal AR. Reliability and validity of 2 single-item measures of psychosocial stress. Epidemiology. 2006;17:398–403.

Surtees PG, Wainwright NWJ, Khaw KT. Resilience, misfortune and mortality: evidence that sense of coherence is a marker of social stress adaptive capacity. J Psychosom Res. 2006;61:221–7.

Surtees PG, Wainwright NWJ, Pooley KA, Luben RN, Khaw KT, Easton DF, et al. Life stress, emotional health and mean telomere length in the European Prospective Investigation into Cancer (EPIC)-Norfolk population study. J Gerontol A Biol. 2011;66:1152–62.

StataCorp LP. StataCorp. Stata statistical software: release 10. College Station, Texas: StataCorp LP, 2007

Surtees PG, Wainwright NWJ, Khaw KT. Obesity, confident support, and functional health: cross-sectional evidence from the EPIC-Norfolk cohort. Int J Obes Relat Metab Disord 2004: 748–758

Wainwright NWJ, Surtees PG. Places, people, and their physical and mental functional health. J Epidemiol Com Health. 2003;58:333–9.

Miller M, Rahe R. Life changes scaling for the 1990s. J Psychosom Res. 1997;43(3):279–92.

Hart CL, Hol DJ, Lawlor DA, Smith GD, Lever TF. Effect of conjugal bereavement on mortality of the bereaved spouse in participants of the Renfrew/Paisley study. J Epidemiol Com Health. 2008;61:455–60.

Martikainen P, Valkonen T. Mortality after the death of a spouse: rates and causes of death in a large Finish cohort. Am J Public Health. 1996;86:1087–93.

Cankaya B, Chapman B, Talbot N, Moynihan J, Buderstein PR. History of sudden unexpected loss is associate with elevated interleukin-6 and decreased insulin-like growth factor-1 in women in an urban primary care setting. Psychosom Res. 2009;71:914–9.

Denton DA, Coghlan JP, Fei DT, Mckinley M, Nelson J, Scoggins B, et al. Stress, ACTH, salt intake and high blood pressure. Clin Exp Hypertens A. 1984;6:403–15.

Hooper L, Bartlett C, Smit GD, Ebrahm S. Systematic review of long term effects of advice to reduce dietary salt in adults. BMJ. 2002;325:628–36.

Williams K. The transition to widowhood and the social regulation of health: consequences for health and health risk behavior. J Gerontol Soc Sci. 2004;59B(6):S343–9.

Mugavero MJ, Pence BW, Whetten K, Leserman J, Swartz M, Stangl D, et al. Childhood abuse and initial presentation for HIV care: an opportunity for early intervention. AIDS Care. 2007;19:1083–7.
Acknowledgments
We thank the participants and general practitioners who took part in the EPIC-Norfolk study and the staff associated with the research program. EPIC-Norfolk is supported by program grants from the Medical Research Council UK (G9502233, G0300128) and Cancer Research UK (C865/A2883).
About this article
Cite this article
Wainwright, N.W., Levy, S., Pico, J. et al. Social Adversity Experience and Blood Pressure Control Following Antihypertensive Medication Use in a Community Sample of Older Adults. Int.J. Behav. Med. 21, 456–463 (2014). https://doi.org/10.1007/s12529-013-9319-9
Published:

Issue Date:

DOI: https://doi.org/10.1007/s12529-013-9319-9
Keywords
Blood pressure control

Hypertension treatment

Life events

Social adversity