Abstract
Background
Patients with chronic obstructive pulmonary disease (COPD) encounter many (gradual) losses due to their disease, which trigger a grieving process. This process is characterized by stages of denial, resistance, sorrow, and acceptance.
Purpose
This study examined whether these stages are conceptually distinct and whether the Acceptance of Disease and Impairments Questionnaire (ADIQ) can validly and reliably measure these stages in three samples of patients with COPD in the Netherlands.
Methods
Exploratory factor analysis (EFA) was performed on 145 outpatients with moderate to severe COPD. Confirmatory factor analyses were performed on 303 outpatients with mild to very severe COPD and 127 patients entering an inpatient pulmonary rehabilitation program. Furthermore, internal reliability, construct validity, sensitivity to change, and floor and ceiling effects were examined.
Results
EFA yielded a four-factor solution that explained 73.2 % of variance. Confirmatory factor analyses showed a good fit of the four-factor structure in all study samples. Cronbach's alpha reliability coefficients were .79 or higher. Subscales showed to be sensitive to change.
Conclusions
Four distinct stages of grief are recognized in COPD. The ADIQ is a valid and reliable instrument to measure these stages: denial, resistance, sorrow, and acceptance. Measuring the stages of grieving is important for disease management: addressing patients with a specific therapeutic approach for the stage they are in could help to motivate patients to engage in self-management and change their lifestyle.
Access options
Buy single article
Instant access to the full article PDF.
USD 39.95
Price excludes VAT (USA)
Tax calculation will be finalised during checkout.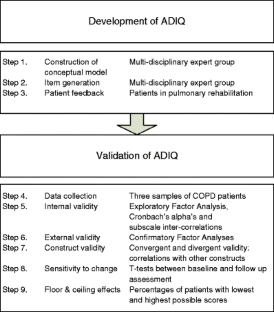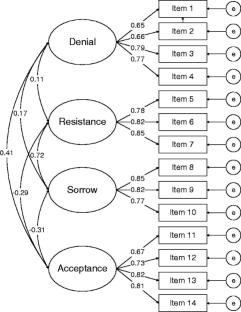 References
Lopez AD, Mathers CD. Measuring the global burden of disease and epidemiological transitions: 2002–2030. Ann Trop Med Parasitol. 2006;100(5–6):481–99.

Global Initiative for Chronic Obstructive Lung Disease. Global strategy for the diagnosis, management, and prevention of COPD. 2011. http://www.goldcopd.org/Global Strategy for the Diagnosis, Management and Prevention of COPD. Accessed 11 Sep 2012.

Vercoulen J. A simple method to enable patient-tailored treatment and to motivate the patient to change behavior. Chron Respir Dis. 2012;9(4):259–68.

Post L, Collins C. The poorly coping COPD patient—a psychotherapeutic perspective. Int J Psychiatry Med. 1981;11(2):173–82.

Kübler-Ross E. On death and dying. London: Tavistock; 1970.

Viane I, Crombez G, Eccleston C, et al. Acceptance of pain is an independent predictor of mental well-being in patients with chronic pain: empirical evidence and reappraisal. Pain. 2003;106(1–2):65–72.

Karademas EC, Hondronikola I. The impact of illness acceptance and helplessness to subjective health, and their stability over time: a prospective study in a sample of cardiac patients. Psychol Health Med. 2010;15(3):336–46.

Stuifbergen A, Becker H, Blozis S, Beal C. Conceptualization and development of the Acceptance of Chronic Health Conditions Scale. Issues Ment Health Nurs. 2008;29(2):101–14.

Karademas EC, Tsagaraki A, Lambrou N. Illness acceptance, hospitalization stress and subjective health in a sample of chronic patients admitted to hospital. J Health Psychol. 2009;14(8):1243–50.

George J, Kong DC, Thoman R, Stewart K. Factors associated with medication nonadherence in patients with COPD. Chest. 2005;128(5):3198–204.

Richardson A, Adner N, Nordstrom G. Persons with insulin-dependent diabetes mellitus: acceptance and coping ability. J Adv Nurs. 2001;33(6):758–63.

McCracken LM, Zhao-O'Brien J. General psychological acceptance and chronic pain: there is more to accept than the pain itself. Eur J Pain. 2010;14(2):170–5.

Evers AW, Duller P, van de Kerkhof PC, et al. The Impact of Chronic Skin Disease on Daily Life (ISDL): a generic and dermatology-specific health instrument. Br J Dermatol. 2008;158(1):101–8.

Evers AW, Kraaimaat FW, van Lankveld W, Jongen PJ, Jacobs JW, Bijlsma JW. Beyond unfavorable thinking: the illness cognition questionnaire for chronic diseases. J Consult Clin Psychol. 2001;69(6):1026–36.

McCracken LM, Eccleston C. Coping or acceptance: what to do about chronic pain? Pain. 2003;105(1–2):197–204.

Vercoulen J, Daudey L, Molema J, et al. An Integral assessment framework of health status in chronic obstructive pulmonary disease (COPD). Int J Behav Med. 2008;15(4):263–79.

Arrindell WA, Ettema JHM. SCL-90: Handleiding bij een multidimensionele psychopathologie-indicator [SCL-90: manual for a multifaceted measure of psychopathology]. Lisse: Swets & Zeitlinger; 1986.

Beck AT, Guth D, Steer RA, Ball R. Screening for major depression disorders in medical inpatients with the Beck Depression Inventory for Primary Care. Behav Res Ther. 1997;35(8):785–91.

Diener E, Emmons RA, Larsen RJ, Griffin S. The satisfaction with life scale. J Pers Assess. 1985;49(1):71–5.

Koopmans PC, Sanderman R, Timmerman I, Emmelkamp PM. The Irrational Beliefs Inventory (IBI): development and psychometric evaluation. Eur J Psychol Assess. 1994;10(1):15–27.

Vercoulen J, Swanink CMA, Galama JMD, Fennis JFM, van der Meer JWM, Bleijenberg G. Dimensional assessment in chronic fatigue syndrome. J Psychosom Res. 1994;38:383–92.

Bergner M, Bobbitt RA, Carter WB, Gilson BS. The sickness impact profile: development and final revision of a health status measure. Med Care. 1981;19(8):787–805.

Jacobs HM, Luttik A, Touw-Otten FWMM, De Melker RA. De 'sickness impact profile' resultaten van een valideringsonderzoek van de Nederlandse versie [The 'sickness impact profile'; result of a validation study on the Dutch version]. Ned Tijdschr Geneeskd. 1990;134(40):1950–4.

Jones PW, Quirk FH, Baveystock CM, Littlejohns P. A self-complete measure of health status for chronic airflow limitation. The St. George's Respiratory Questionnaire. Am Rev Respir Dis. 1992;145(6):1321–7.

Tammeling GJ, Quanjer PH. Standardized lung function testing. Eur Respir J. 1993;6 suppl 16:5–33.

Jolliffe IT. Principal component analysis. New York: Springer; 1986.

Stevens J. Applied multivariate statistics for the social sciences. 2nd ed. Hillsdale: Erlbaum; 1992.

Ogden J. Theory and measurement: conceptualisation, operationalisation, and the example of health status. In: Vingerhoets A, editor. Assessment in behavioral medicine. Hove: Brunner-Routledge; 2001. p. 73–90.

Kline RB. Principles and practice of structural equation modeling. New York: Guilford; 1998.

Browne MW, Cudeck R. Alternative ways of assessing model fit. Sociol Method Res. 1992;21(2):230–58.

Bentler PM. Comparative fit indexes in structural models. Psychol Bull. 1990;107(2):238–46.

Terwee CB, Bot SD, de Boer MR, et al. Quality criteria were proposed for measurement properties of health status questionnaires. J Clin Epidemiol. 2007;60(1):34–42.

Ary D, Jacobs LC, Razavieh A. Introduction to research in education. 5th ed. Fort Worth: Harcourt Brace College; 1996.

McHorney CA, Tarlov AR. Individual-patient monitoring in clinical practice: are available health status surveys adequate? Qual Life Res. 1995;4(4):293–307.

Effing TW, Bourbeau J, Vercoulen J, Apter AJ, Coultas D, Meek P, et al. Self-management programmes for COPD: moving forward. Chron Respir Dis. 2012;9(1):27–35.

Effing T, Monninkhof EM, van der Valk PD, et al. Self-management education for patients with chronic obstructive pulmonary disease. Cochrane Database Syst Rev. 2007;4, CD002990.

May S. Self-management of chronic low back pain and osteoarthritis. Nat Rev Rheumatol. 2010;6(4):199–209.

Riemsma RP, Kirwan JR, Taal E, Rasker JJ. Patient education for adults with rheumatoid arthritis. Cochrane Database Syst Rev. 2003;2, CD003688.

Augustin M, Holland B, Dartsch D, Langenbruch A, Radtke MA. Adherence in the treatment of psoriasis: a systematic review. Dermatology. 2011;222(4):363–74.

Blum MA, Koo D, Doshi JA. Measurement and rates of persistence with and adherence to biologics for rheumatoid arthritis: a systematic review. Clin Ther. 2011;33(7):901–13.

Charles MS, Blanchette CM, Silver H, Lavallee D, Dalal AA, Mapel D. Adherence to controller therapy for chronic obstructive pulmonary disease: a review. Curr Med Res Opin. 2010;26(10):2421–9.
Acknowledgments
We would like to thank Rogier Donders of the Department of Epidemiology, Biostatistics and HTA of the Radboud University Nijmegen Medical Centre for his expert statistical guidance, the multidisciplinary expert group of the Pulmonary Rehabilitation Unit Dekkerswald for their contribution to the development of the questionnaire, and all patients who have participated. The study was supported by grants of the Dutch Asthma Foundation, PICASSO for COPD, and the Department of Medical Psychology of the Radboud University Nijmegen Medical Centre.
About this article
Cite this article
Boer, L.M., Daudey, L., Peters, J.B. et al. Assessing the Stages of the Grieving Process in Chronic Obstructive Pulmonary Disease (COPD): Validation of the Acceptance of Disease and Impairments Questionnaire (ADIQ). Int.J. Behav. Med. 21, 561–570 (2014). https://doi.org/10.1007/s12529-013-9312-3
Published:

Issue Date:

DOI: https://doi.org/10.1007/s12529-013-9312-3
Keywords
Acceptance

Chronic obstructive pulmonary disease (COPD)

Grieving process

Questionnaire

Self-management

Validation