Abstract
Background
This study focused on workaholism as a personal attitude toward work and examined its effects on sleep quality among Japanese employees from various occupations.
Purpose
The present study aimed to demonstrate the prospective association of workaholism (i.e., working excessively hard in a compulsive fashion) with sleep quality among Japanese employees.
Methods
A Web-based prospective survey was conducted in October 2010 and May 2011 among registered monitors of a survey company. The questionnaire included workaholism, sleep quality, job characteristics, and demographics. Overall, 13,564 monitors were randomly invited to complete the first wave of the survey. The first 2,520 respondents were included in this study. The respondents who completed the first wave were invited to complete the second wave of the survey; 2,061 answered. A total of 364 respondents who changed their working conditions during the follow-up period were excluded. In addition, due to missing values, data from 14 respondents were excluded. Thus, the responses from 1,683 respondents were included in the analysis (859 males and 824 females). An analysis of covariance (ANCOVA) was conducted to compare adjusted sleep quality at follow-up among workaholism groups (low, middle, and high). To conduct the ANCOVA, we adjusted for demographics, sleep quality at baseline, and job characteristics.
Results
The high-workaholic group had significantly longer sleep latency at follow-up compared with the low- and middle-workaholic groups after adjusting for demographics, sleep latency at baseline, and job characteristics. In addition, the high-workaholic group demonstrated significantly higher levels of daytime dysfunction compared with the low-workaholic group. However, no significant differences were found among workaholic groups in terms of overall sleep quality, sleep duration, habitual sleep efficiency, sleep disturbance, and use of sleep medication.
Conclusion
Workaholism was associated with poor sleep quality at the 7-month follow-up in terms of sleep latency and daytime dysfunction.
This is a preview of subscription content, log in to check access.
Access options
Buy single article
Instant access to the full article PDF.
US$ 39.95
Tax calculation will be finalised during checkout.
Subscribe to journal
Immediate online access to all issues from 2019. Subscription will auto renew annually.
US$ 79
Tax calculation will be finalised during checkout.
References
1.

Shimazu A, Schaufeli WB. Is workaholism good or bad for employee well-being? The distinctiveness of workaholism and work engagement among Japanese employees. Ind Health. 2009;47:495–502.

2.

Van Wijhe CI, Peeters MC, Schaufeli WB. To stop or not to stop, that's the question: about persistence and mood of workaholics and work engaged employees. Int J Behav Med. 2011;18:361–72.

3.

Jones F, Burke RJ, Westman M. Work-life balance: key issues. In: Jones F, Burke RJ, Westman M, editors. Work-life balance: a psychological perspective. East Sussex: Psychology; 2006. p. 1–9.

4.

Åkerstedt T, Knustsson A, Westerholm P, Theorell T, Alfredsson L, Kecklund G. Sleep disturbances, work stress and work hours: a cross-sectional study. J Psychosom Res. 2002;53:741–8.

5.

Kecklund G, Åkerstedt T. Apprehension of the subsequent working day is associated with a low amount of slow wave sleep. Biol Psychol. 2004;66:169–76.

6.

Kubota K, Shimazu A, Kawakami N, Takahashi M, Nakata A, Schaufeli WB. Association between workaholism and sleep problems among hospital nurses. Ind Health. 2010;48:864–71.

7.

Kubota K, Shimazu A, Kawakami N, Takahashi M, Nakata A, Schaufeli WB. The empirical distinctiveness of workaholism and work engagement among hospital nurses in Japan: the effect on sleep quality and job performance. Ciencia & Trabajo. 2012;14:31–6.

8.

Tachibana H, Izumi T, Honda S, Takemoto T. The prevalence and pattern of insomnia in Japanese industrial workers: relationship between psychosocial stress and type of insomnia. Psychiatry Clin Neurosci. 1998;52:397–402.

9.

Hughes RG, Rogers AE. Are you tired?: sleep deprivation compromises nurses' health and jeopardizes patients. Am J Nurs. 2004;104:36–8.

10.

Scott SD, Rogers AE, Hwang WT, Zhang Y. Effects of critical care nurse work hours on vigilance and patients' safety. Am J Crit Care. 2006;15:30–7.

11.

Trinkoff A, Geiger-Brown J, Brady B, Lipscomb J, Muntaner C. How long and how much are nurses now working? Am J Nurs. 2006;106:60–71.

12.

Oates W. Confessions of a workaholic: the facts about work addiction. New York: World; 1971.

13.

McMillan LHW, O'Driscoll MP. Exploring new frontiers to generate an integrated definition of workaholism. In: Burke RJ, editor. Research companion to working time and work addiction. Cheltenham: Edward Elgar; 2006. p. 89–107.

14.

Porter G. Organizational impact of workaholism: suggestions for researching the negative outcomes of excessive work. J Occup Health Psychol. 1996;1:70–84.

15.

Robbinson BE. Work addiction. Deerfield Beach: Health Communications; 1989.

16.

Schaufeli WB, Taris TW, Van Rhenen W. Workaholism, burnout and engagement: three of a kind or three different kinds of employee well-being. Appl Psychol-Int Rev. 2008;57:173–203.

17.

Shimazu A, Schaufeli WB, Taris TW. How does workaholism affect worker health and performance? The mediating role of coping. Int J Behav Med. 2010;17:154–60.

18.

Oates W. On being a "workaholic" (a serious jest). Pastor Psychol. 1986;19:16–20.

19.

Korn ER, Pratt GJ, Lambrou PT. Hyper-performance: the AIM strategy for releasing your business potential. New York: Wiley; 1987.

20.

Machlowitz M. Workaholics: living with them, working with them. New York: Simon & Schuster; 1980.

21.

Spence JT, Robbins AS. Workaholism: definition, measurement, and preliminary results. J Pers Assess. 1992;58:160–78.

22.

Scott KS, Moore KS, Miceli MP. An exploration of the meaning and consequences of workaholism. Hum Relat. 1997;50:287–314.

23.

Nakata A, Haratani T, Kawakami N, Miki A, Kurabayashi L, Shimizu H. Sleep problems in white-collar male workers in an electric equipment manufacturing company in Japan. Ind Health. 2000;38:62–8.

24.

Nakata A, Ikeda T, Takahashi M, Hatratani T, Fujioka Y, Fukui S, et al. Sleep-related risk of occupational injuries in Japanese small and medium-scale enterprises. Ind Health. 2005;43:89–7.

25.

Simon G, Vonkoff M. Prevalence, burden, and treatment of insomnia in primary care. Am J Psychiatry. 1997;154:1417–23.

26.

Doi Y. An epidemiologic review on occupational sleep research among workers. Ind Health. 2005;43:3–10.

27.

Ohayon MM. Epidemiology of insomnia: what we know and what we still need to learn. Sleep Med Rev. 2002;6:97–111.

28.

Taris TW, Schaufeli WB, Verhoeven LC. Internal and external validation of the Dutch work addiction risk test: implications for jobs and nonwork conflict. Appl Psychol-Int Rev. 2005;54:37–60.

29.

Schaufeli WB, Shimazu A, Taris TW. Being driven to work excessively hard: the evaluation of a two-factor measure of workaholism in the Netherlands and Japan. Cross-Cult Res. 2009;43:320–48.

30.

Buysse DJ, Reynolds III CF, Monk TH, Berman SR, Kupfer DJ. The Pittsburgh Sleep Quality Index: a new instrument for psychiatric practice and research. Psychiatry Res. 1989;28:193–213.

31.

Doi Y, Minowa M, Uchiyama M, Okawa M. Development of the Japanese version of the Pittsburgh Sleep Quality Index. Jpn J Psychiatr Neurol. 1998;13:755–63. In Japanese.

32.

Nakata A, Hatratani T, Takahashi M, Kawakami N, Arito H, Kobayashi F, et al. Job stress, social support, and prevalence of insomnia in a population of Japanese daytime workers. Soc Sci Med. 2004;59(17):19–30.

33.

Shimomitsu T, Yokoyama K, Ono Y, et al. Report of the research grant for the prevention of work-related diseases from the Ministry of Labour. In: Kato S, editor. Development of a novel brief job stress questionnaire. Tokyo: Ministry of Labour; 1998. p. 107–15. In Japanese.

34.

SPSS Inc. PASW Statistics 18.0 Command Syntax Reference. Chicago; 2009.

35.

Melamed S, Shirom A, Toker S, Berliner S, Shapira I. Burnout and risk of cardiovascular disease: evidence, possible causal paths, and promising research directions. Psychol Bull. 2006;132:327–53.

36.

Vela-Bueno A, Moreno-Jiménez B, Rodríguez-Muñoz A, Olavarrieta-Bernardino S, Fernández-Mendoza J, José Dela Cruz-Troca J, et al. Insomnia and sleep quality among primary care physicians with low and high burnout levels. J Psychosom Res. 2008;64:435–42.

37.

Sapolsky RL, Michael R, Allan UM. How Do Glucocorticoids Influence Stress Responses? Integrating Permissive, Suppressive, Stimulatory, and Preparative Actions. Endocr Rev. 2000;21:55–89.

38.

Sonnentag S. Recovery, work engagement, and proactive behavior: a new look at the interface between non-work and work. J Appl Psychol. 2003;88:518–28.

39.

Sonnentag S, Fritz C. The recovery experiences questionnaire: development and validation of a measure for assessing recuperation and unwinding from work. J Occup Health Psychol. 2007;12:204–21.

40.

Fritz C, Sonnentag S. Recovery, well-being and job performance: effects of weekend experiences. J Occup Health Psychol. 2005;10:187–99.

41.

Heponiemi T, Kouvonen A, Vänskä J, Halila H, Sinervo T, Kivimäki M, et al. The association of distress and sleeping problems with physicians' intentions to change profession: the moderating effect of job control. J Occup Health Psychol. 2009;144:365–73.

42.

Edwards JR. To prosper, organizational psychology should overcome methodological barriers to progress. J Organ Behav. 2008;29:469–91.

43.

Spector PE. Method variance in organizational research: truth or urban legend? Organ Res Methods. 2006;9:221–32.

44.

Smith MA, Leigh B. Virtual subjects: using the Internet as an alternative source of subjects and research environment. Behav Res Meth Instrum Comput. 1997;29:496–505.

45.

Sivo SA, Saunders C, Chang Q, Jiang JJ. How low should you go? Low response rates and the validity of inference in is questionnaire research. J Assoc Inf Syst. 2006;7(6):351–414.
Acknowledgments
Grant-in-Aid for Scientific Research on Innovative Areas (Research in a Proposed Research Area) 2010 and 2011 (No. 4102-21119003) from the Ministry of Education, Culture, Sports, Science and Technology, Japan, supported the present study.
Appendix. The Pittsburgh Sleep Quality Index (PSQI)
Appendix. The Pittsburgh Sleep Quality Index (PSQI)
Instructions: The following questions relate to your usual sleep habits during the past month only. Your answers should indicate the most accurate reply for the majority of days and nights in the past month. Please answer all questions. During the past month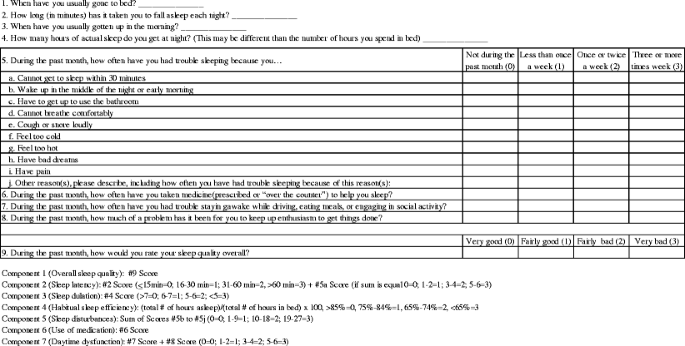 About this article
Cite this article
Kubota, K., Shimazu, A., Kawakami, N. et al. Workaholism and Sleep Quality Among Japanese Employees: A Prospective Cohort Study. Int.J. Behav. Med. 21, 66–76 (2014). https://doi.org/10.1007/s12529-012-9286-6
Keywords
Workaholism

Sleep quality

Japanese employees

Prospective cohort study