Abstract
Background
Sleep restriction and poor sleep quality is linked with cardiovascular morbidity.
Purpose
The present study aimed to explore the influence of daytime sleep supplementation on cardiovascular reactivity.
Method
Participants (N = 85) were generally healthy young adults and were randomized to a 60-min polysomnographically-monitored sleep condition or to a no-sleep condition. Participants then completed a standard three-phase mental stress reactivity task.
Results
Significantly lower mean arterial pressure means were found in the recovery phase of the stress reactivity task among participants that accrued more than 45 min of daytime sleep.
Conclusion
These findings suggest daytime sleep may offer cardiovascular benefit in the form of greater cardiovascular recovery from psychological stress. Further research should assess daytime sleep characteristics (time of day, length, and architecture) on cardiovascular response, in an effort to better understand its role as a possible recuperative agent against suboptimal nocturnal sleep patterns.
Access options
Buy single article
Instant access to the full article PDF.
US$ 39.95
Tax calculation will be finalised during checkout.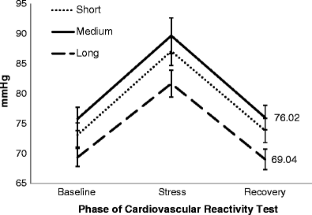 References
1.

Krueger PM, Friedman EM. Sleep duration in the United States: a cross-sectional population-based study. Am J Epidemiol. 2009;169:1052–63.

2.

Rajaratnam SMW, Arendt J. Health in a 24-h society. Lancet. 2001;358:999–1005.

3.

Bixler E. Sleep and society: an epidemiological perspective. Sleep Med. 2009;10:S3–6.

4.

Cauter EV, Spiegel K, Tasali E, Leproult R. Metabolic consequences of sleep and sleep loss. Sleep Med. 2008;9:S23–8.

5.

Javaheri S, Storfer-Isser A, Rosen CL, Redline S. Sleep quality and elevated blood pressure in adolescents. Circulation. 2008;118:1034–40.

6.

Gangwisch JE, Heymsfield SB, Boden-Albala B, Buijs RM, Kreier F, Pickering TG, et al. Short sleep duration as a risk factor for hypertension. Hypertension. 2006;47:833–9.

7.

Carroll D, Lovallo WR, Philips AC. Are large physiological reactions to acute psychological stress always bad for health? Soc Pers Psychol Compass. 2009;3/5:725–43.

8.

Roemmich JN, Labarinas CL, Joseph PN, Lambiase MJ, Archer III FD, Dorn J. Cardiovascular reactivity to psychological stress and carotid intima-media thickness in children. Psychophysiology. 2009;46:293–9.

9.

Jennings JR, Kamarck TW, Everson-Rose SA, Kaplan GA, Manuck SB, Salonen JT. Exaggerated blood pressure responses during mental stress are prospectively related to enhanced carotid atherosclerosis in middle-aged Finnish men. Circulation. 2004;110:2198–203.

10.

Laukkanen JA, Kurl S, Solonen R, Lakka TA, Rauramaa R, Solonen JT. Systolic blood pressure during recovery from exercise and risk of acute myocardial infarction in middle-aged men. Hypertension. 2004;44:820–5.

11.

Steptoe A, Donald AE, O'Donnell K, Marmot M, Deanfield JE. Delayed blood pressure recovery after psychological stress is associated with carotid intima-media thickness: Whitehall psychobiology study. Arterioscler Thromb Vasc Biol. 2006;26:2547–51.

12.

Borghi C, Costa FV, Boschi S, Mussi A, Ambrosioni E. Predictors of stable hypertension in young borderline subjects: a five-year follow-up study. J Cardiovasc Pharmacol. 1986;8 Suppl 5:S138–41.

13.

Åkerstedt T, Gilberg M. Subjective and objective sleepiness in the active individual. Int J Neurosci. 1990;52:29–37.

14.

Buysse DJ, Reynolds III CF, Monk TH, Berman SR, Kupfer DJ. The Pittsurgh Sleep Quality Index: a new instrument for psychiatry practice and research. Psychiatry Res. 1989;28:193–213.

15.

Iber C, Ancoli-Israel S, Chesson Jr AL, Quan SF for the American Academy of Sleep Medicine. The AASM manual for the scoring of sleep and associated events: rules, terminology and technical specifications, 1st ed. Illinois: American Academy of Sleep Medicine; 2007.

16.

Willis TA, O'Connor DB, Smith L. The influence of morningness–eveningness on anxiety and cardiovascular reactivity response to stress. Physiol Behav. 2005;85:125–33.

17.

Brooks A, Lack L. A brief afternoon nap following nocturnal sleep restriction; which nap duration in most recuperative? Sleep. 2006;29(6):831–40.

18.

Mednick SC, Nakayama K, Cantero JL, Atienza M, Levin AA, Pathak N. The restorative effect of naps on perceptual deterioration. Nat Neurosci. 2002;5(7):677–81.

19.

Mednick SC, Cai DJ, Kanady J, Drummond SPA. Comparing the benefits of caffeine, naps and placebo on verbal, motor and perceptual memory. Behav Brain Res. 2008;193:79–86.

20.

Steptoe A, Marmot M. Impaired cardiovascular recovery following stress predicts 3-year increases in blood pressure. Hypertension. 2005;23:529–36.

21.

Stewart JC, France CR. Cardiovascular recovery from stress predicts longitudinal changes in blood pressure. Biol Psychol. 2001;58:105–20.

22.

Wingard DL, Berkman LF. Mortality risk associated with sleeping patterns among adults. Sleep. 1983;6:102–7.

23.

Kojima M, Wakai K, Kawamura T, Tamakoshi A, Aoki R, Lin Y, et al. Sleep patterns and total mortality: a 12-year follow up study in Japan. J Epidemiol. 2000;10:87–93.
Acknowledgments
The authors would like to thank Amy Kimicata, Catie Vance, Lenny Costantini, and David Domachowski for their assistance with data collection and for their comments on an earlier draft of this manuscript. This research was supported by the FIPSE Endowed Fund and the Shanbrom Fund at Allegheny College.
About this article
Cite this article
Brindle, R.C., Conklin, S.M. Daytime Sleep Accelerates Cardiovascular Recovery after Psychological Stress. Int.J. Behav. Med. 19, 111–114 (2012). https://doi.org/10.1007/s12529-011-9150-0
Keywords
Nocturnal sleep

Cardiovascular reactivity

Daytime sleep

Cardiovascular disease

Polysomnography

Cardiovascular recovery