Abstract
Background
Controversy exists regarding the optimal rate of weight loss for long-term weight management success.
Purpose
This study examined whether gradual initial weight loss was associated with greater long-term weight reduction than rapid initial loss.
Methods
Groups were drawn from participants in the TOURS trial, which included a sample of middle-aged (mean = 59.3 years) obese women (mean BMI = 36.8) who received a 6-month lifestyle intervention followed by a 1-year extended care program. Participants were encouraged to reduce caloric intake to achieve weight losses of 0.45 kg/week. Groups were categorized as "FAST" (≥0.68 kg/week, n = 69), "MODERATE" (≥0.23 and <0.68 kg/week, n = 104), and "SLOW" (<0.23 kg/week, n = 89) based on rate of weight loss during first month of treatment.
Results
The FAST, MODERATE, and SLOW groups differed significantly in mean weight changes at 6 months (−13.5, −8.9, and −5.1 kg, respectively, ps < 0.001), and the FAST and SLOW groups differed significantly at 18 months (−10.9, −7.1, and −3.7 kg, respectively, ps < 0.001). No significant group differences were found in weight regain between 6 and 18 months (2.6, 1.8, and 1.3 kg, respectively, ps < 0.9). The FAST and MODERATE groups were 5.1 and 2.7 times more likely to achieve 10% weight losses at 18 months than the SLOW group.
Conclusion
Collectively, findings indicate both short- and long-term advantages to fast initial weight loss. Fast weight losers obtained greater weight reduction and long-term maintenance, and were not more susceptible to weight regain than gradual weight losers.
Access options
Buy single article
Instant access to the full article PDF.
US$ 39.95
Tax calculation will be finalised during checkout.
Subscribe to journal
Immediate online access to all issues from 2019. Subscription will auto renew annually.
US$ 79
Tax calculation will be finalised during checkout.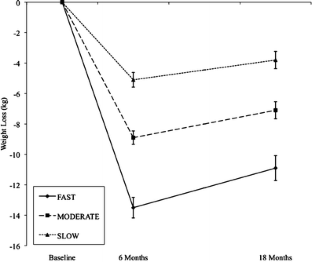 References
1.

National Heart, Lung and Blood Institute. Clinical guidelines on the identification, evaluation, and treatment of overweight and obesity in adults: the evidence report. Obes Res. 1998;6:51S–209.

2.

Wing RR, Hill JO. Successful weight loss maintenance. Annu Rev Nutr. 2001;21:323–41.

3.

Jeffery RW, Epstein LH, Wilson GT, Drewnowski A, Stunkard AJ, Wing RR. Long-term maintenance of weight loss: current status. Health Psychol. 2000;19 Suppl 1:5–16.

4.

Perri MG, Fuller PR. Success and failure in the treatment of obesity: where do we go from here? Med Exerc Nutr Health. 1995;4:255–72.

5.

Wadden TA, Butryn ML, Byrne KJ. Efficacy of lifestyle modification for long-term weight control. Obes Res. 2004;12:151S–62.

6.

Perri MG. The maintenance of treatment effects in the long-term management of obesity. Clin Psychol: Sci Pract. 1998;5:526–43.

7.

Klein S. Outcome success in obesity. Obes Res. 2001;9:354S–8.

8.

Krebs JD, Evans S, Cooney L, et al. Changes in risk factors for cardiovascular disease with body fat loss in obese women. Diab Obes Metab. 2002;4:379–87.

9.

Moore LL, Visioni JJ, Wilson PW, D'Agostino RB, Finkle WD, Ellison RC. Can sustained weight loss in overweight individuals reduce the risk of diabetes mellitus? Epidemiology. 2000;11:269–73.

10.

Elfhag K, Rössner S. Who succeeds in maintaining weight loss? A conceptual review of factors associated with weight loss maintenance and weight regain. Obes Rev. 2005;6:67–85.

11.

Vogels N, Diepvens K, Westerterp-Plantenga MS. Predictors of long-term weight maintenance. Obes Res. 2005;13:2162–8.

12.

Wadden TA, Foster GD, Wang J, et al. Clinical correlates of short- and long-term weight loss. Am J Clin Nutr. 1992;56:271S–4.

13.

Carels RA, Cacciapaglia HM, Douglass OM, Rydin S, O'Brien WH. The early identification of poor treatment outcome in a women's weight loss program. Eat Behav. 2003;4:265–82.

14.

Fogelholm M, Kukkonen-Harjula K, Oja P. Eating control and physical activity as determinants of short-term weight maintenance after a very-low-calorie diet among obese women. Int J Obes. 1999;23:203–10.

15.

Jeffery RW, Wing RR, Mayer RR. Are smaller weight losses or more achievable weight loss goals better in the long term for obese patients? J Consult Clin Psychol. 1998;66:641–5.

16.

Lutes LD, Winett RA, Barger SD, et al. Small changes in nutrition and physical activity promote weight loss and maintenance: 3-month evidence from the ASPIRE randomized trial. Ann Behav Med. 2008;35:351–7.

17.

Sbrocco T, Nedegaard RC, Stone JM, Lewis EL. Behavioral choice treatment promotes continuing weight loss: preliminary results of a cognitive-behavioral decision-based treatment for obesity. J Consult Clin Psychol. 1999;67:260–6.

18.

Kumanyika SK, Espeland MA, Bahnson JL, et al. Ethnic comparison of weight loss in the trial of nonpharmacologic interventions in the elderly. Obes Res. 2002;10:96–106.

19.

Stevens VJ, Obarzanek E, Cook NR, et al. Long-term weight loss and changes in blood pressure: results of the trials of hypertension prevention, phase II. Ann Intern Med. 2001;134:1–11.

20.

Wassertheil-Smoller S, Langford HG, Blaufox MD, et al. Effective dietary intervention in hypertensives: sodium restriction and weight reduction. J Am Diet Assoc. 1985;85:423–30.

21.

Astrup A, Rössner S. Lessons from obesity management programmes: greater initial weight loss improves long-term maintenance. Obes Rev. 2000;1:17–9.

22.

Wadden TA, Foster GD, Letizia KA. One-year behavioral treatment of obesity: comparison of moderate and severe caloric restriction and the effects of weight maintenance therapy. J Consult Clin Psychol. 1994;62:165–71.

23.

McGuire MT, Wing RR, Klem ML, Lang W, Hill JO. What predicts weight regain in a group of successful weight losers? J Consult Clin Psychol. 1999;67:177–85.

24.

Weiss EC, Galuska DA, Kettel Khan L, Gillespie C, Serdula MK. Weight regain in U.S. adults who experienced substantial weight loss; 1999–2002. Am J Prev Med. 2007;33:34–40.

25.

Perri MG, Limacher MC, Durning PE, et al. Extended-care programs for weight management in rural communities: the treatment of obesity in underserved rural settings (TOURS) randomized trial. Arch Intern Med. 2008;168:2347–54.

26.

Perri MG, Corsica JA. Improving the maintenance of weight lost in behavioral treatment of obesity. In: Wadden TA, Stunkard AJ, editors. Handbook of obesity treatment. New York: Guilford Press; 2001. p. 357–79.

27.

Jeffery RW, Drewnowski A, Epstein LH, et al. Long-term maintenance of weight loss: current status. Health Psychol. 2008;19:5–16.

28.

Wadden TA, Berkowitz RJ, Sarwer DB, Prus-Wisniewski R, Steinberg C. Benefits of lifestyle modification in the pharmacologic treatment of obesity. Arch Intern Med. 2001;161:218–27.

29.

Wadden TA, Berkowitz RI, Womble LG, et al. Randomized trial of lifestyle modification and pharmacotherapy for obesity. N Engl J Med. 2005;353:2111–20.

30.

Stotland SC, Larocque M. Early treatment response as a predictor of ongoing weight loss in obesity treatment. Br J Health Psychol. 2005;10:601–14.

31.

Latner JD, Stunkard AJ, Wilson GT, Jackson ML, Zelitch DS, Labouvie E. Effective long-term treatment of obesity: a continuing care model. Int J Obes. 2000;24:893–8.

32.

Toubro S, Astrup A. Randomised comparison of diets for maintaining obese subjects' weight after major weight loss: ad lib, low fat, high carbohydrate diet v fixed energy intake. Br Med J. 1997;4:314–29.
Acknowledgment
This research was supported by grant R18HL073326 from the National Heart, Lung, and Blood Institute.
Disclosure
The authors declare no conflict of interest.
Additional information
ClinicalTrials.gov NCT00201006.
About this article
Cite this article
Nackers, L.M., Ross, K.M. & Perri, M.G. The Association Between Rate of Initial Weight Loss and Long-Term Success in Obesity Treatment: Does Slow and Steady Win the Race?. Int.J. Behav. Med. 17, 161–167 (2010). https://doi.org/10.1007/s12529-010-9092-y
Keywords
Obesity

Weight loss

Lifestyle modification