Abstract
Background
Literature suggests that early patterns of aggressive behavior in both girls and boys are predictive of a variety of health risks in adulthood. However, longitudinal examination of predictive links between childhood aggression and negative adult physical health outcomes and overall medical service usage has not been done.
Purpose
The purpose of the present investigation is to extend the current body of knowledge regarding the long-term negative physical health sequelae of aggression observed in childhood, by examining direct and indirect paths (through educational attainment) from childhood aggression and other behavioral characteristics to poor physical health in middle adulthood.
Method
This study was carried out within the Concordia Longitudinal Risk Project, a study of over 4,000 individuals recruited as children in the 1970s from inner-city schools in Montreal.
Results
Childhood aggression was found to directly and positively predict medical service usage, as well as medical visits due to lifestyle-related illnesses and injuries, with indirect paths through educational attainment also present.
Conclusion
The findings from this study suggest that childhood aggression may be an identifiable precursor of poor health and increased service usage in adulthood and are relevant to preventative intervention.
Access options
Buy single article
Instant access to the full article PDF.
US$ 39.95
Tax calculation will be finalised during checkout.
Subscribe to journal
Immediate online access to all issues from 2019. Subscription will auto renew annually.
US$ 79
Tax calculation will be finalised during checkout.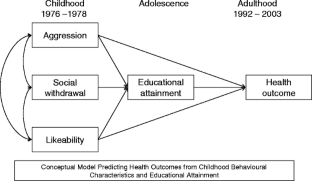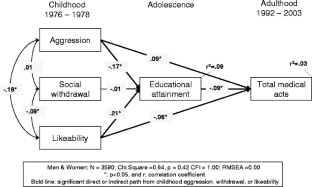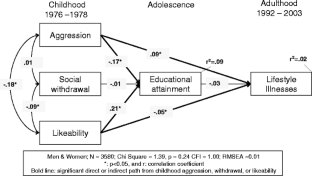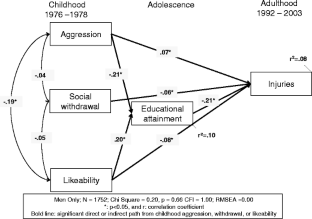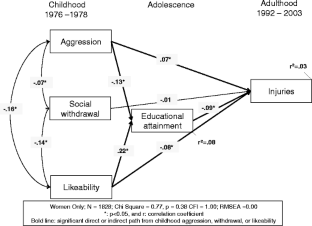 References
1.

Cairns RB, Cairns BD, Neckerman HJ. Early school dropout: configuration and determinants. Child Dev. 1989;60:1436–52.

2.

Bardone AM, Moffitt TE, Caspi A, Dickson N, Stanton WR, Silva P. Adult physical health outcomes of adolescent girls with conduct disorder, depression, and anxiety. J Am Acad Child Adolesc Psych. 1998;37:594–601.

3.

Capaldi DM, Stoolmiller M. Co-occurrence of conduct problems and depressive symptoms in early adolescent boys: III. Prediction to young-adult adjustment. Development and Psychopathology. 1999;11(1):59–84.

4.

Bardone AM, Moffitt TE, Caspi A, Dickson N, Silva P. Adult mental health and social outcomes of adolescent girls with depression and conduct disorder. Dev Psychopathol. 1996;8:811–29.

5.

Odgers CL, Caspi A, Broadbent JM, Dickson N, Hancox RJ, Harrington H, et al. Prediction of differential adult health burden by conduct problem subtype. Arch Gen Psychiatry. 2007;64:476–84.

6.

Caspi A, Begg D, Dickson N, Harrington H, Lagnley J, Moffitt TE, et al. Personality differences predict health-risk behaviours in young adulthood: evidence from a longitudinal study. J Pers Soc Psychol. 1997;73:1052–63.

7.

Deffenbacher JL, Deffenbacher DM, Lynch RS, Richards TL. Anger, aggression and risky behaviour: a comparison of high and low anger drivers. Behav Res Ther. 2003;41:701–18.

8.

Ensminger ME, Juon HS, Fothergill KE. Childhood and adolescent antecedents of substance use in adulthood. Addict. 2002;97:833–44.

9.

Fothergill KE, Ensminger ME. Childhood and adolescent antecedents of drug and alcohol problems: a longitudinal study. Drug Alcohol Depend. 2006;82:61–76.

10.

Caspi A, Moffit TE, Newman DL, Silva PA. Behavioural observations at age 3 years predict adult psychiatric disorders: longitudinal evidence form a birth cohort. Archi Gen Psychiatry. 1996;53:1033–9.

11.

Crum RM, Pratt LA. Risk of heavy drinking and alcohol use disorders in social phobia: a prospective analysis. Am J Psychiatry. 2001;158:1693–700.

12.

Uchino BN. Social support and health: a review of physiological processes potentially underlying links to disease outcomes. J Behav Med. 2006;29:377–87.

13.

Serbin LA, Peters PL, McAffer VJ, Schwartzman AE. Childhood aggression and withdrawal as predictors of adolescent pregnancy, early parenthood, and environmental risk to the next generation. Can J Behav Sci. 1991;23(3):318–31.

14.

Serbin LA, Cooperman JM, Peters PL, Lehoux PM, Stack DM, Schwartzman AE. Intergenerational transfer of psychosocial risk in women with childhood histories of aggression, withdrawal, or aggression and withdrawal. Dev Psychol. 1998;34(6):1246–62.

15.

Serbin LA, Temcheff CE, Cooperman CE, Stack DM, Ledingham J, Schwartzman AE. Predicting family poverty and other threats to parenting from childhood aggression and social withdrawal: a 30-year longitudinal study. Manuscript submitted for publication. Under review (in press)

16.

Pekarik EG, Prinz RJ, Liebert DE, Weintraub S, Neale JM. The Pupil Evaluation Inventory: a sociometric technique for assessing children's social behaviour. J Abnorm Child Psychol. 1976;4:83–97.

17.

Schwartzman AE, Ledingham J, Serbin LA. Identification of children at risk for adult schizophrenia: a longitudinal study. International Journal of Applied Psychology. 1985;34:363–80.

18.

Lyons J, Serbin LA, Marchessault K. The social behavior of peer-identified aggressive, withdrawn, and aggressive/withdrawn children. J Abnorm Child Psychol. 1988;16(5):539–52.

19.

Temcheff CE, Serbin LA, Martin-Storey A, Stack DM, Hodgins S, Ledingham J, et al. Continuity and pathways from aggression in childhood to family violence in adulthood: a 30-year longitudinal pathway. J Fam Violence. 2008;23:231–42.

20.

Bentler PM. EQS structural equations manual. Encino: Multivariate Software; 1995.
This research was partially supported by grants from the Social Sciences and Humanities Research Council, the Canadian Institutes of Health Research, and the Fonds Québécois de la Recherche sur la Société et la Culture. The Concordia Longitudinal Risk Project was initiated in 1976 by Jane Ledingham and Alex Schwartzman. The authors wish to thank Claude Senneville, and the Concordia Project team for their assistance in data collection and analysis. Finally, we are most indebted to the participants in the study.
About this article
Cite this article
Temcheff, C.E., Serbin, L.A., Martin-Storey, A. et al. Predicting Adult Physical Health Outcomes from Childhood Aggression, Social Withdrawal and Likeability: A 30-Year Prospective, Longitudinal Study. Int.J. Behav. Med. 18, 5–12 (2011). https://doi.org/10.1007/s12529-010-9082-0
Keywords
Adult physical health

Childhood aggression

High-psychosocial risk

Prospective

Longitudinal