Abstract
Classroom community in higher education benefits students' learning because it can soothe students' anxiety about isolation. However, only a small number of studies investigated the key factors behind the cohesion of a classroom community. It is a vital issue because previous studies have pointed out that cohesion is crucial for the survival of a community. Against this background, this study developed a research model that incorporates social presence and social capital, so as to identify the decisive factors behind the cohesion of a classroom community. Our research findings demonstrated that social presence plays a pivotal role in affecting the cohesion of a classroom community. The former not only directly influenced the latter, but also affected it indirectly via structural and relational social capital. This result implies that increasing the interaction among community members (e.g. engaging them in discussion rather than allowing them to ignore read messages) is the first priority if we are going to alleviate students' anxiety about isolation with classroom community. As students' interaction increases, their social ties and mutual trust will become stronger, and their cohesion will be strengthened as well.
Access options
Buy single article
Instant access to the full article PDF.
US$ 39.95
Tax calculation will be finalised during checkout.
Subscribe to journal
Immediate online access to all issues from 2019. Subscription will auto renew annually.
US$ 79
Tax calculation will be finalised during checkout.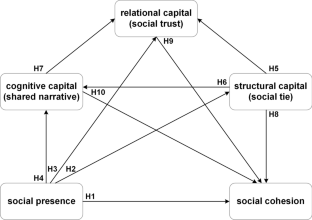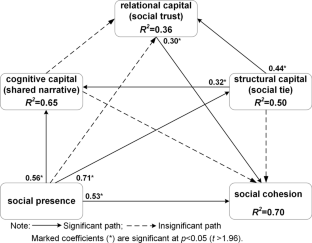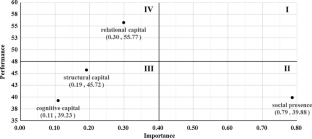 References
Baisley-Nodine, E., Ritzhaupt, A. D., & Antonenko, P. D. (2018). Exploring social presence within an online course using Twitter. E-Learning and Digital Media, 15(5), 235–253

Bano, S., Cisheng, W., Khan, A. N., & Khan, N. A. (2019). WhatsApp use and student's psychological well-being: Role of social capital and social integration. Children and Youth Services Review, 103, 200–208

Baturay, M. H., & Bay, O. F. (2010). The effects of problem-based learning on the classroom community perceptions and achievement of web-based education students. Computers & Education, 55(1), 43–52

Blattner, G., & Fiori, M. (2009). Facebook in the language classroom: Promises and possibilities. International Journal of Instructional Technology and Distance Learning, 6(1), 17–28

Bossche, P. V. D., Gijselaers, W. H., Segers, M., & Kirschner, P. A. (2006). Social and cognitive factors driving teamwork in collaborative learning environments: Team learning beliefs and behaviors. Small Group Research, 37(5), 490–521

Brown, B., & Pederson, J. A. (in press) LinkedIn to classroom community: Assessing classroom community on the basis of social media usage. Journal of Further and Higher Education, https://doi.org/10.1080/0309877X.2018.1541973.

Brown, S. A., Massey, A. P., Montoya-Weiss, M. M., & Burkman, J. R. (2002). Do I really have to? User acceptance of mandated technology. European Journal of Information Systems, 11(4), 283–295

Chang, C. M., & Hsu, M. H. (2016). Understanding the determinants of users' subjective well-being in social networking sites: An integration of social capital theory and social presence theory. Behaviour & Information Technology, 35(9), 720–729

Chang, H. H., Hsieh, P. H., & Fu, C. S. (2016). The mediating role of sense of virtual Community. Online Information Review, 40(7), 882–899

Chen, B. H., & Chiou, H. H. (2014). Learning style, sense of community and learning effectiveness in hybrid learning environment. Interactive Learning Environments, 22(4), 485–496

Cheng, G. (2019). Exploring factors influencing the acceptance of visual programming environment among boys and girls in primary schools. Computers in Human Behavior, 92, 361–372

Chin, W. W., & Newsted, P. R. (1999). Structural equation modeling analysis with small samples using partial least squares. In R. Hoyle (Ed.), Statistical strategies for small sample research. (pp. 307–341). Sage Publications.

Conway, B. (2010). Introduction: actors, contexts and temporality. In Commemoration and bloody sunday. Palgrave Macmillan Memory Studies. Palgrave Macmillan, London.

Diep, N. A., Cocquyt, C., Zhu, C., & Vanwing, T. (2016). Predicting adult learners' online participation: Effects of altruism, performance expectancy, and social capital. Computers & Education, 101, 84–101

Fornell, C., & Larcker, D. F. (1981). Evaluating structural equation models with unobservable variables and measurement error. Journal of Marketing Research, 18(1), 39–50

Gefen, D., & Straub, D. (2003). Managing user trust in b2c e-services. eService Journal, 2(2), 7–24

Ghasemy, M., Teeroovengadum, V., Becker, J. M., & Ringle, C. M. (in press). This fast car can move faster: a review of PLS-SEM application in higher education research. Higher Education, https://doi.org/https://doi.org/10.1007/s10734-020-00534-1.

Gunawardena, C. N., & Zittle, F. J. (1997). Social presence as a predictor of satisfaction within a computer-mediated conferencing environment. The American Journal of Distance Education, 11(3), 8–26

Gupta, S., Meissonier, R., Drave, V. A., & Roubaud, D. (2020). Examining the impact of Cloud ERP on sustainable performance: A dynamic capability view. International Journal of Information Management, 51, Article 102028.

Hair, J. F., Black, W. C., Babin, B. J., Anderson, R. E., & Tatham, R. L. (2006). Multivariate data analysis. (6th ed.). Prentice-Hall.

Hair, J. F., Ringle, C. M., & Sarstedt, M. (2011). PLS-SEM: Indeed a silver bullet. Journal of Marketing Theory and Practice, 19(2), 139–152

Hartelius, E. J., & Browning, L. D. (2008). The application of rhetorical theory in managerial research: A literature review. Management Communication Quarterly, 22(1), 13–39

Hau, Y. S., & Kim, Y. G. (2011). Why would online gamers share their innovation-conducive knowledge in the online game user community? Integrating individual motivations and social capital perspectives. Computers in Human Behavior, 27(2), 956–970

Huang, R., Kahai, S., & Jestice, R. (2010). The contingent effects of leadership on team collaboration in virtual teams. Computers in Human Behavior, 26(5), 1098–1110

Huang, Y. M. (2017). Exploring students' acceptance of team messaging services: The roles of social presence and motivation. British Journal of Educational Technology, 48(4), 1047–1061

Huang, Y. M. (2019). Examining students' continued use of desktop services: Perspectives from expectation-confirmation and social influence. Computers in Human Behavior, 96, 23–31

Johannesen, M., Mifsud, L., & Øgrim, L. (2019). Identifying social presence in student discussions on Facebook and canvas. Technology, Knowledge and Learning, 24, 641–657

Karahanna, E., Straub, D. W., & Chervany, N. L. (1999). Information technology adoption across time: A cross-sectional comparison of pre-adoption and post-adoption beliefs. MIS Quarterly, 23(2), 183–213

Kelly, N., Clarà, M., Kehrwald, B., & Danaher, P.A. (2016). Presence, identity, and learning in online learning communities. In Online learning networks for pre-service and early career teachers. Palgrave Pivot, London.

Kim, C., Kang, M., & Wang, T. (2016). Influence of knowledge transfer on SNS community cohesiveness. Online Information Review, 40(7), 959–978

Lee, S. F., & Yann, C. W. (2017). Social presence's affects on user relational performance, relational information process' role of mediating and moderating effects caused by different social media websites. Applied Science and Management Research, 4(1), 51–60

Li, S. C. S., Ku, L. L., & Chen, Y. S. S. (2018). A niche analysis of three interpersonal media: Examining the competition among Facebook, Line, and e-mail. Chinese Journal of Communication, 11(4), 419–436

Lieberman, E. S. (2018). Living-learning communities in college: outcomes for women in engineering (doctoral dissertation). Retrieved from https://rucore.libraries.rutgers.edu/rutgers-lib/59333/.

Lin, C. P. (2011). Modeling job effectiveness and its antecedents from a social capital perspective: A survey of virtual teams within business organizations. Computers in Human Behavior, 27(2), 915–923

Lisha, C., Goh, C. F., Yifan, S., & Rasli, A. (2017). Integrating guanxi into technology acceptance: An empirical investigation of WeChat. Telematics and Informatics, 34(7), 1125–1142

Nahapiet, J., & Ghoshal, S. (1998). Social capital, intellectual capital, and the organizational advantage. Academy of Management Review, 23(2), 242–266

Okazaki, S., Andreu, L., & Campo, S. (2017). Knowledge sharing among tourists via social media: A comparison between Facebook and TripAdvisor. International Journal of Tourism Research, 19(1), 107–119

Oliveira, T., Thomas, M., Baptista, G., & Campos, F. (2016). Mobile payment: Understanding the determinants of customer adoption and intention to recommend the technology. Computers in Human Behavior, 61, 404–414

Ooi, K. B., Hew, J. J., & Lee, V. H. (2018). Could the mobile and social perspectives of mobile social learning platforms motivate learners to learn continuously? Computers & Education, 120, 127–145

Padilla-Meléndez, A., Garrido-Moreno, A., & Aguila-Obra, A. R. D. (2008). Factors affecting e-collaboration technology use among management students. Computers & Education, 51(2), 609–623

Rigdon, E., Ringle, C., & Sarstedt, M. (2010). Structural modeling of heterogeneous data with partial least squares. In Malhotra, N. (Ed.) Review of marketing research (Review of Marketing Research, Vol. 7), Emerald Group Publishing Limited, Bingley, pp. 255–296.

Rovai, A. P. (2002a). Sense of community, perceived cognitive learning, and persistence in asynchronous learning networks. The Internet and Higher Education, 5(4), 319–332

Rovai, A. P. (2002b). Development of an instrument to measure classroom community. The Internet and Higher Education, 5(3), 197–211

Rovai, A. P., & Jordan, H. M. (2004). Blended learning and sense of community: A comparative analysis with traditional and fully online graduate courses. International Review of Research in Open and Distance Learning, 5(2), 1–13

Salas, E., Grossman, R., Hughes, A. M., & Coultas, C. W. (2015). Measuring team cohesion: Observations from the science. Human Factors, 57(3), 365–374

Shiue, Y. C., Chiu, C. M., & Chang, C. C. (2010). Exploring and mitigating social loafing in online communities. Computers in Human Behavior, 26(4), 768–777

Son, J. E., Lee, S. H., Cho, E. Y., & Kim, H. W. (2016). Examining online citizenship behaviours in social network sites: A social capital perspective. Behaviour & Information Technology, 35(9), 730–747

Streukens, S., Leroi-Werelds, S., & Willems, K. (2017). Dealing with non-linearity in importance performance-map analysis (IPMA): An integrative framework in a PLS-SEM context. In H. Latan & R. Noonan (eds.), Partial least squares structural equation modeling: Basic concepts, methodological issues and applications. New York: Springer.

Sun, Y., & Shang, R. A. (2014). The interplay between users' intraorganizational social media use and social capital. Computers in Human Behavior, 37, 334–341

Törrönen, M. (2015). Toward a theoretical framework for social work—reciprocity: The symbolic justification for existence. Journal of Social Work Values & Ethics, 12(2), 77–88

Tulin, M., Pollet, T. V., & Lehmann-Willenbrock, N. (2018). Perceived group cohesion versus actual social structure: A study using social network analysis of egocentric Facebook networks. Social Science Research, 74, 161–175

Ubon, N., A., & Kimble, C. (2003). Supporting the creation of social presence in online learning communities using asynchronous text-based CMC. In Proceedings of the 3rd international conference on technology in teaching and learning in higher education (pp. 295–300). Germany.

Urquhart, J., & Acott, T. (2014). A sense of place in cultural ecosystem services: The case of Cornish fishing communities. Society and Natural Resources, 27(1), 3–19

Venkatesh, V., Morris, M. G., Davis, G. B., & Davis, F. D. (2003). User acceptance of information technology: Toward a unified view. MIS Quarterly, 27(3), 425–478

Vorakulpipat, C., & Rezgui, Y. (2009). Knowledge value creation characteristics of virtual teams: a case study in the construction sector. In: Camarinha-Matos L.M., Paraskakis I., Afsarmanesh H. (eds.) Leveraging Knowledge for Innovation in Collaborative Networks. PRO-VE 2009. IFIP Advances in Information and Communication Technology, vol 307. Springer, Berlin, Heidelberg.

Wong, K. K. K. (2013). Partial least squares structural equation modeling (PLS-SEM) techniques using SmartPLS. Marketing Bulletin, 24, 1–32

Xu, K., & Lombard, M. (2017). Persuasive computing: feeling peer pressure from multiple computer agents. Computers in Human Behavior, 74, 152–162
Acknowledgements
The authors would like to thank the Ministry of Science and Technology of the Republic of China, Taiwan, for financially supporting this research under Contract Nos. MOST 106-2511-S-218-006-MY3, 109-2511-H-218-004-MY3, and 109-2511-H-218-002-MY2.
Additional information
Publisher's Note
Springer Nature remains neutral with regard to jurisdictional claims in published maps and institutional affiliations.
About this article
Cite this article
Wang, DC., Jeng, YL., Chiang, CM. et al. Exploring the cohesion of classroom community from the perspectives of social presence and social capital. J Comput High Educ (2021). https://doi.org/10.1007/s12528-021-09277-z
Keywords
Classroom community

Cohesion

Social presence

Social capital