Abstract
EPortfolio use meets institutional reporting requirements and provides an opportunity for students to demonstrate learning, showcase their strengths to future employers, and develop lifelong reflective practice. At the same time, ePortfolio use offers students repeated opportunities to develop the skills necessary for academic progress and participation in contemporary online professional environments. To ensure that any ePortfolio implementation is making a positive impact across these areas it is important to be informed about the users' attitudes, conceptual understanding and achievements when using this pedagogical and professional tool. We report student ePortfolio use at an Australian regional university. The paper compares students' conceptual understanding and attitudes towards technology and user experience before and after use of an ePortfolio. It provides an overview of pertinent literature, outlines the research context and methodology, followed by the comparison results. Its contribution to ePortfolio research and practice, and implications for educators and institutional decision makers are also discussed. These results highlight the importance of adopting innovative ways to reinforce the value of ePortfolio for students through external motivation until they adopt their career persona and become intrinsically motivated to embrace strategies and tools that facilitate their progression.
Access options
Buy single article
Instant access to the full article PDF.
US$ 39.95
Tax calculation will be finalised during checkout.
Subscribe to journal
Immediate online access to all issues from 2019. Subscription will auto renew annually.
US$ 79
Tax calculation will be finalised during checkout.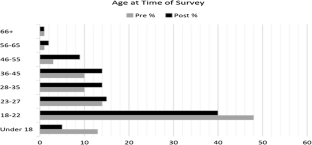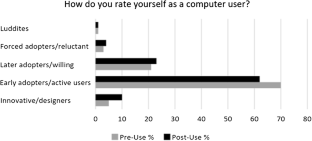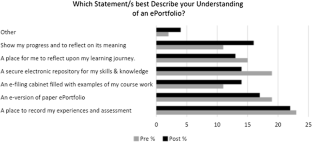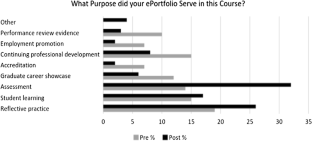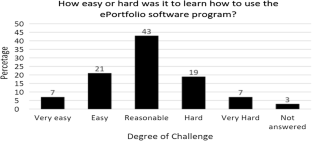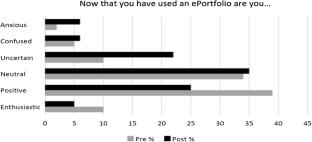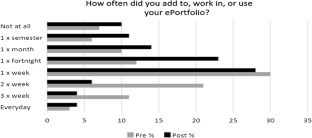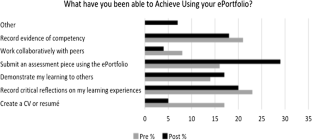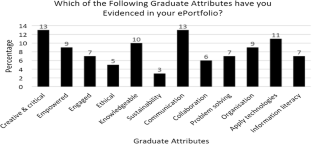 References
Beetham, H. (2005). E-Portfolios in post-16 learning in the UK: Developments, issues and opportunities. A report prepared for the JISC e-Learning and Pedagogy strand of the JISC e-Learning Programme. Retrieved February 5, 2019 from http://www.recordingachievement.ac.uk/images/pdfs/case_studies/14-19/eportfolio.pdf.

Birks, M., Hartin, P., Woods, C., Emmanuel, E., & Hitchins, M. (2016). Students' perceptions of the use of eportfolios in nursing and midwifery education. Nurse Education in Practice, 18(May), 46–51.

Blom, D., Rowley, J., Bennett, D., Hitchcock, M., & Dunbar-Hall, P. (2014). Knowledge sharing: Exploring institutional policy and educator practice through ePortfolios in music and writing. Electronic Journal of e-Learning, 12(2), 138–148.

Bryant, L. H., & Chittum, J. R. (2013). ePortfolio effectiveness: A (n Ill-fated) search for empirical support. International Journal of ePortfolio, 3(2), 189–198.

Butler, P. (2006). A review of the literature on portfolios and electronic portfolios. A report for the eCDF ePortfolio Project, Massey University College of Education, Palmerston North, New Zealand. Retrieved on February 16, 2019 from http://www.eportfoliopractice.qut.edu.au/docs/Butler%20-%20Review%20of%20lit%20on%20ePortfolio%20research%20-%20NZOct%202006.pdf.

Chang, E., & Daly, J. (2016). Transitions in nursing: Preparing for professional practice. Chatswood: Elsevier.

Chatham-Carpenter, A., Seawel, L., & Raschig, J. (2010). Avoiding the pitfalls: Current practices and recommendations for ePortfolios in higher education. Journal of Educational Technology Systems, 38(4), 437–456.

Chau, J., & Cheng, G. (2010). Towards understanding the potential of e-portfolios for independent learning: A qualitative study. Australasian Journal of Educational Technology, 26(7), 932–950.

Clark, J. E. (2010). The digital imperative: Making the case for a 21st century pedagogy. Computers and Composition, 27(1), 27–35.

Conole, G., de Laat, M., Dillon, T., & Darby, J. (2008). 'Disruptive technologies', 'pedagogical innovation': What's new? Findings from an in-depth study of students' use and perception of technology. Computers & Education, 50(2), 511–524.

Dagley, V., & Berrington, B. (2005). Learning from an evaluation of an electronic portfolio to support general practitioners' personal development planning, appraisal, and revalidation. Education for Primary Care, 16(5), 567–574.

Dalziel, C. (2013). Learning through technology. HRD, 105, 28–29.

Downer, T., & Slade, C. (2019). Starting early: Using ePortfolios to prepare first year midwifery students for professional practice. In K. Trimmer, T. Newman, & F. Padró (Eds.), Ensuring quality in professional education volume I. Cham: Palgrave Macmillan.

Endacott, R., Gray, M. A., Jasper, M. A., McMullan, M., Miller, C., Scholes, J., et al. (2004). Using portfolios in the assessment of learning and competence: The impact of four models. Nurse Education in Practice, 4(4), 250–257.

Gerbic, P., Lewis, L., & Amin, N. (2011). Student perspectives of ePortfolios: Change over four semesters. In Proceedings from ASCILITE 2011 Changing demands, changing directions, Hobart, Tasmania, Australia, 4–7 December 2011.

Hartnell-Young, E. (2006). E-portfolios for knowledge and learning. In A. Jafari & C. Kaufman (Eds.), Handbook of research on ePortfolios (pp. 125–134). Hershey: Idea Group Reference.

Hsieh, P., Lee, C., & Chen, W. (2015). Students' perspectives on e-portfolio development and implementation: A case study in Taiwanese higher education. Australasian Journal of Educational Technology, 31(6), 641–656.

JISC (2008). Effective practice with e-Portfolios. Retrieved on February 5, 2019 from http://www.jisc.ac.uk/eportfolio.

Joyce, P. A. (2005). Framework for portfolio development in postgraduate nursing practice. Journal of Clinical Nursing, 14(4), 456–463.

Lin, Q. (2008). Pre-service teachers' learning experiences of constructing ePortfolios online. Internet and Higher Education, 11(3), 194–200.

Lopez-Fernandez, O., & Rodriguz-Illera, J. L. (2009). Investigating university students' adaptation to a digital learner course portfolio. Computers & Education, 52(3), 608–616.

McDonald, B. (2012). Portfolio assessment: Direct from the classroom. Assessment and Evaluation in Higher Education, 37(3), 335–347.

Meyer, E., Abrami, P. C., Wade, C. A., Aslan, O., & Deault, L. (2010). Improving literacy and metacognition with electronic portfolios: Teaching and learning with ePEARL. Computers and Education, 55(1), 84–91.

Morbarhan, R., Rahman, A. A., & Majidi, M. (2015). Electronic portfolio motivational factors from students' perspective: A qualitative study. Knowledge Management and E-Learning, 7(2), 265–279.

Peacock, S., & Murray, S. (2009). Learners' initial expectations and experiences of ePortfolios: A pilot study. Brookes eJournal of Learning and Teaching, 2(4). Retrieved from http://bejlt.brookes.ac.uk/articles/learners_initial_expectations_and_experiences_of_eportfolios/.

Reardon, R., Lumsdon, J., & Meyer, K. (2005). Developing an E-Portfolio program: Providing a comprehensive tool for student development, reflection, and integration. Journal of Student Affairs Research and Practice (NASPA), 42(3), 368–380.

Ring, G., & Foti, S. (2006). Using ePortfolios to facilitate professional development among pre-service teachers. In A. Jafari & C. Kaufman (Eds.), Handbook of research on ePortfolios (pp. 340–457). Hershey: Idea Group Publishing.

Ritzhaupt, A., Singh, O., & Seyferth, T. (2008). Development of the electronic portfolio student perspective instrument: An ePortfolio integration initiative. Journal of Computing in Higher Education, 19(2), 47–71.

Shroff, R., Deneen, C., & Lim, C. P. (2014). Student ownership of learning using e-portfolio for career development. Journal of Information Systems Technology & Planning, 7(18), 75–90.

Slade, C. (2015). Early student aspirations of using ePortfolios. In Paper presented at the Tertiary Education Management Conference (TEMC): Leading Locally Competing Globally, Wollongong, NSW, Australia.

Slade, C., Murfin, K., & Readman, K. (2013). Evaluating processes and platforms for potential ePortfolio use: the role of the middle agent. International Journal of ePortfolio, 3(2), 177–188.

Tosh, D., Light, T., Fleming, K., & Hayward, J. (2005). Engagement with electronic portfolios: Challenges from the student perspective. Canadian Journal of Learning and Technology, 31(3). Retrieved from https://www.cjlt.ca/index.php/cjlt/article/view/26492/19674.

Tsai, M. J., Liang, J. C., Hou, H. T., & Tsai, C. C. (2012). University students' online information searching strategies in different search contexts. Australasian Journal of Educational Technology, 28(5), 881–895.

Tzeng, J. (2011). Perceived values and prospective users' acceptance of prospective technology: The case of a career ePortfolio system. Computers & Education, 56(1), 157–165.

Wade, A., Abrami, P. C., & Sclater, J. (2005). An electronic portfolio to support learning. Canadian Journal of Learning and Technology, 31(3). Retrieved from https://www.cjlt.ca/index.php/cjlt/article/view/26489/19671.

Watson, C. E., Kuh, G. D., Rhodes, T., Penny Light, T., & Chen, H. (2016). Editorial: ePortfolios—The eleventh high impact practice. International Journal of ePortfolio, 6(2), 65–69.

Wetzel, K., & Strudler, N. (2006). Costs and benefits of electronic portfolios in teacher education: Student voices. Journal of Computing in Teacher Education, 22(3), 99–108.

Whetstone, L., & Carr-Chellman, A. (2001). Preparing preservice teachers to use technology. TechTrends, 45, 11–45.

Wuetherick, B., & Dickinson, J. (2015). Why ePortfolios? Student perceptions of ePortfolio use in continuing education learning environments. International Journal of ePortfolio, 5(1), 39–53.

Xuesong, Z., Olfman, L., & Firpo, D. (2011). An information system design theory for collaborative ePortfolio systems. In 44th Hawaii International Conference on System Sciences (pp. 1e10). Retrieved February 16, 2019 from https://dl.acm.org/citation.cfm?id=1955602&picked=prox.

Yancey, N. (2009). Electronic portfolios a decade into the twenty-first century: What we know, what we need to know. Peer Review, 11(1), 28–32.

Yu, T. (2012). E-portfolio, a valuable job search tool for college students. Campus-Wide Information Systems, 29(1), 70–76.
Funding
This study received no funding.
Ethics declarations
Conflict of interest
The authors declare that they have no potential conflict of interest in this study.
Ethical approval
Human ethics approval was given by the University of the Sunshine Coast.
Informed consent
Informed consent was obtained from all individual participants included in the study. Participation was voluntary.
Additional information
Publisher's Note
Springer Nature remains neutral with regard to jurisdictional claims in published maps and institutional affiliations.
The original version of this article was revised to correct the truncated Appendices 1 and 2.
Appendices
Appendix 1: pre-use student survey
Student survey of initial expectations of ePortfolios at University of the Sunshine Coast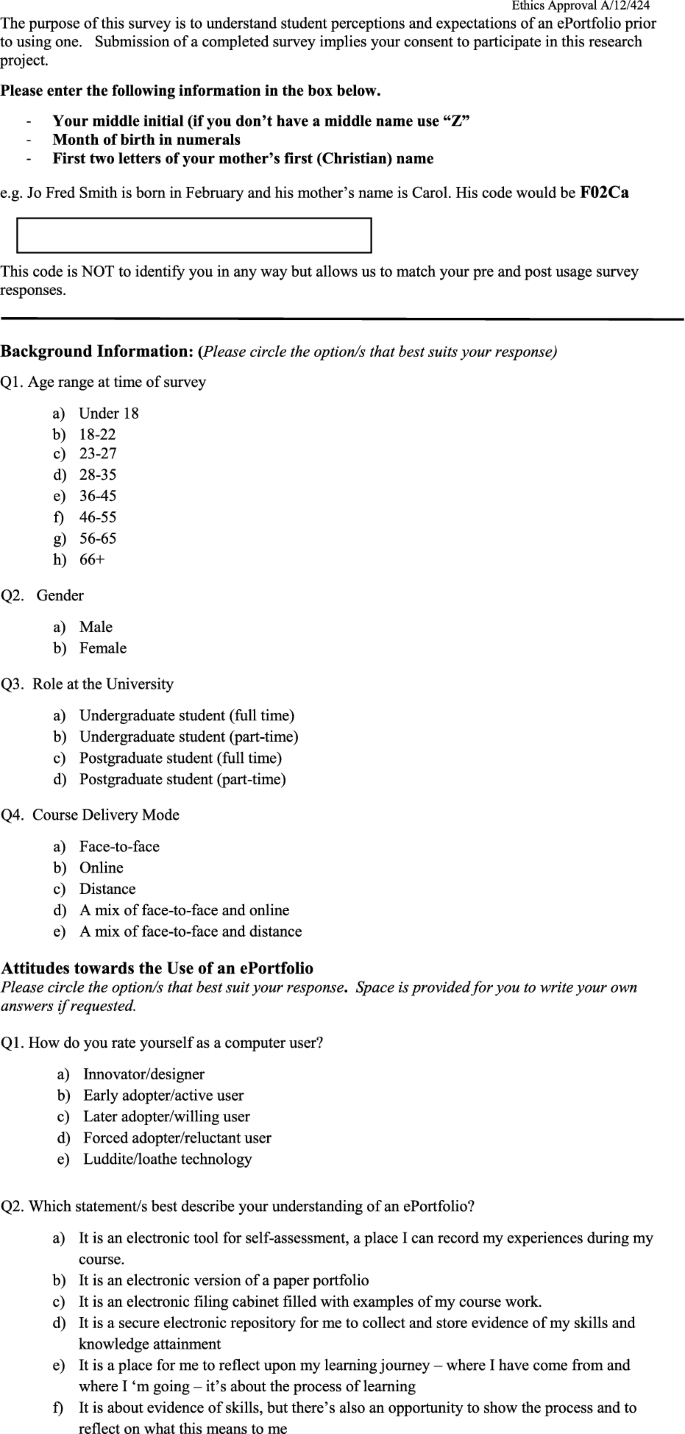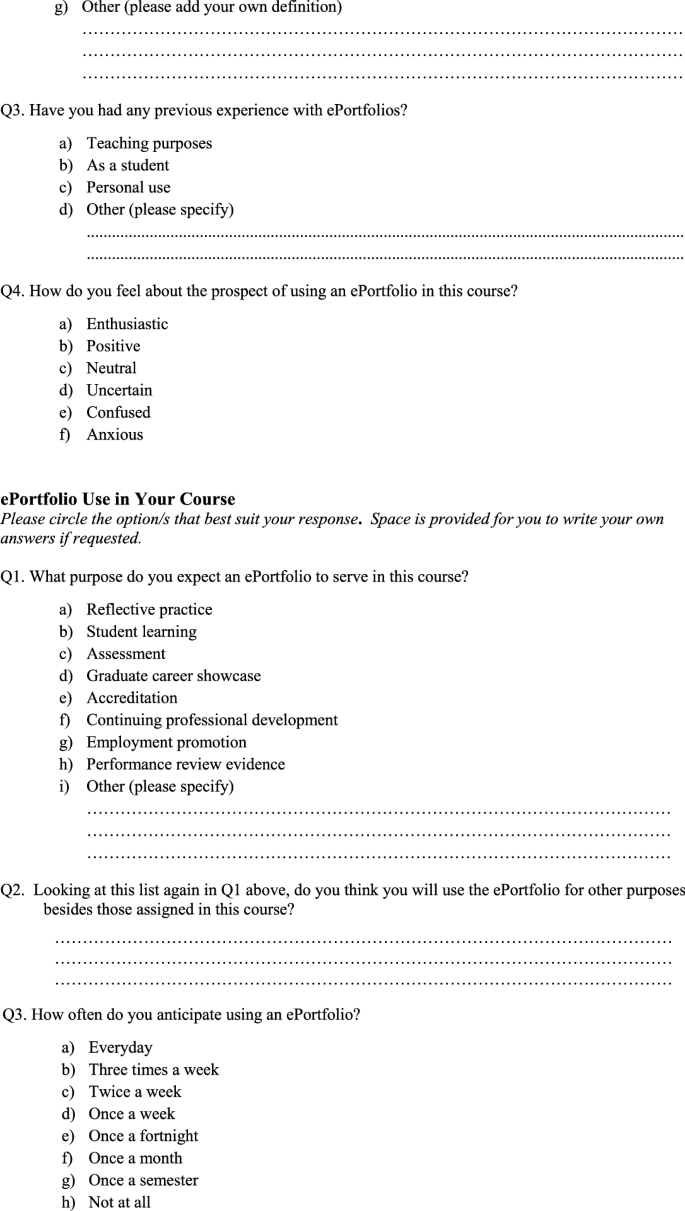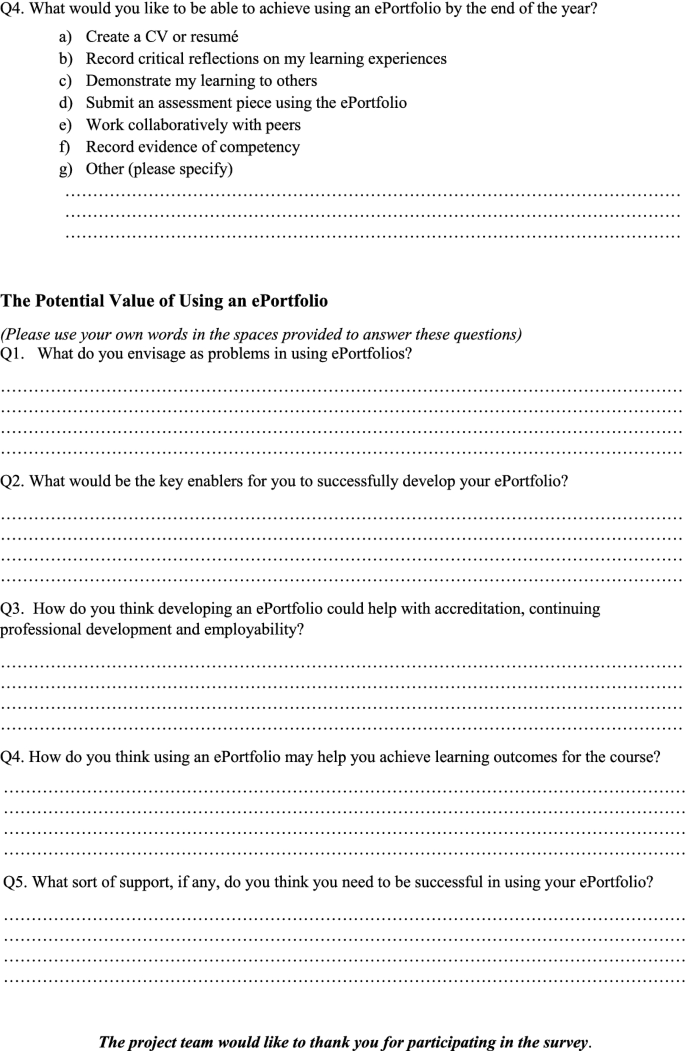 Appendix 2: post-use student survey
Student survey post ePortfolio use at University of the Sunshine Coast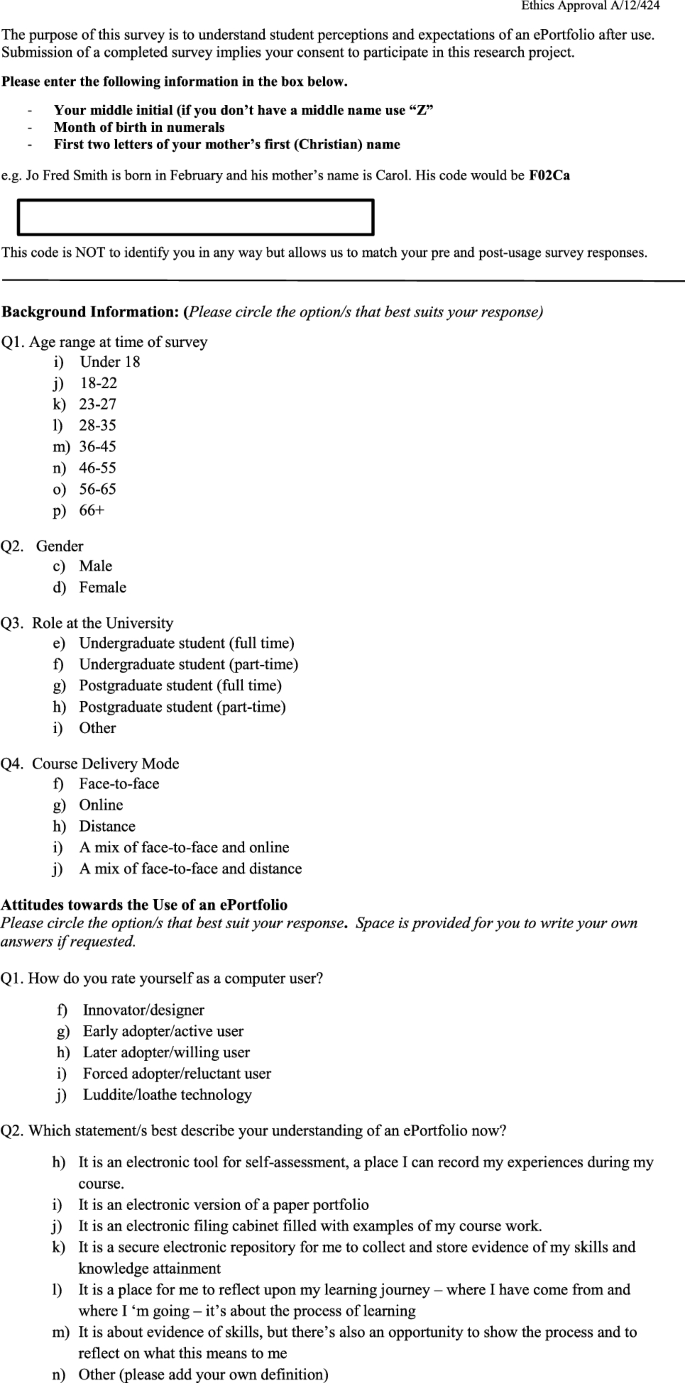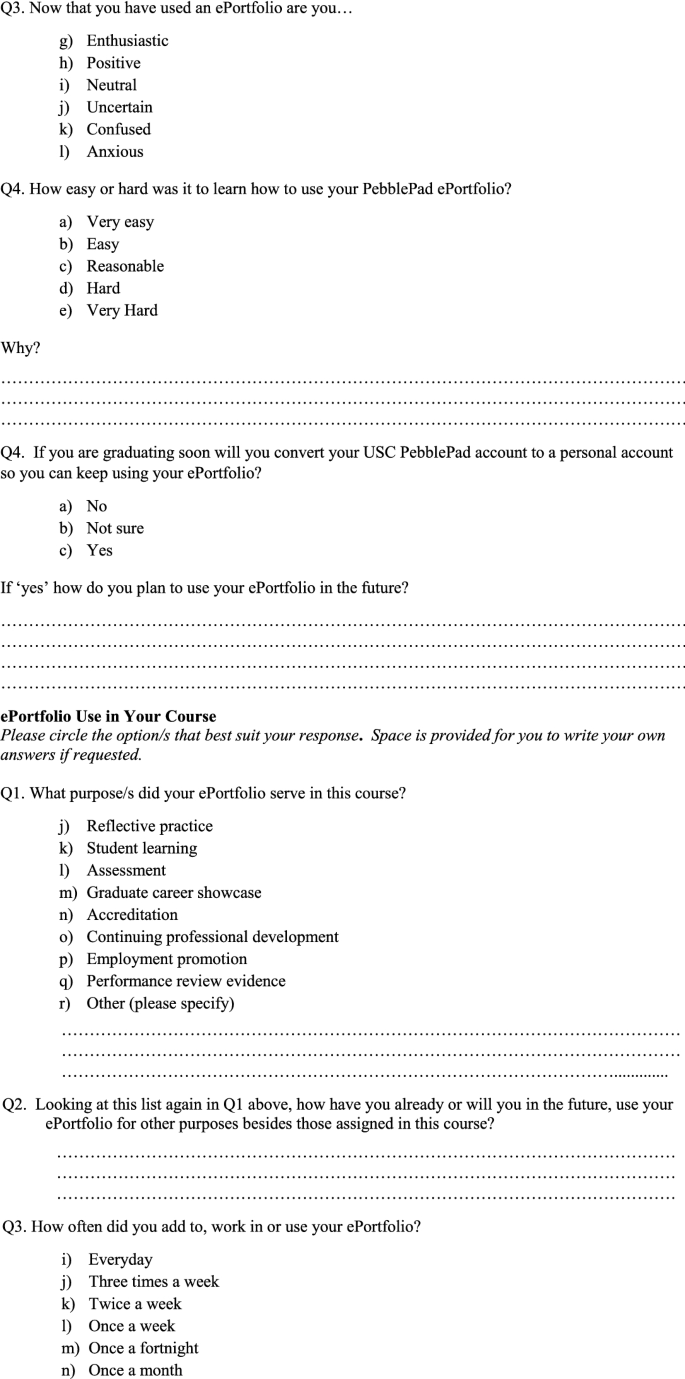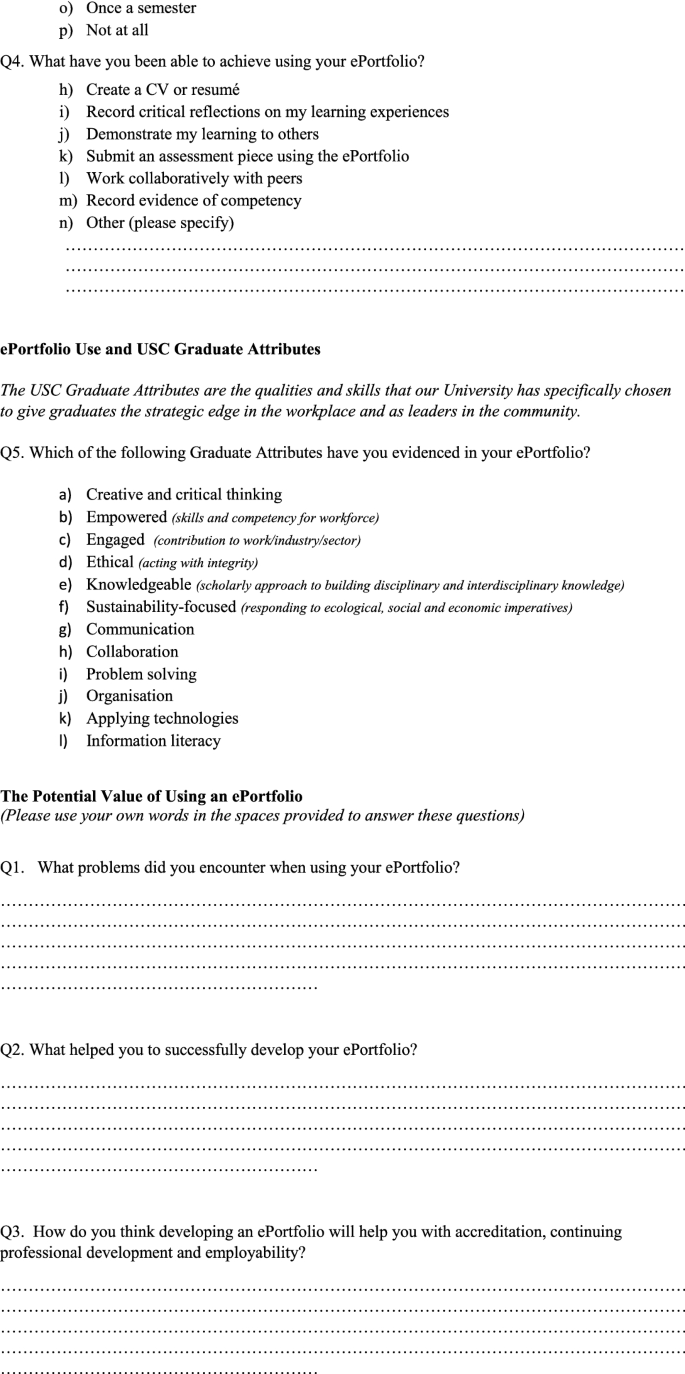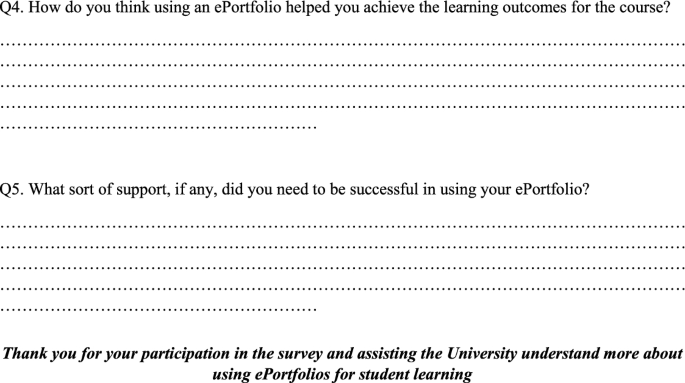 About this article
Cite this article
Slade, C., Downer, T. Students' conceptual understanding and attitudes towards technology and user experience before and after use of an ePortfolio. J Comput High Educ 32, 529–552 (2020). https://doi.org/10.1007/s12528-019-09245-8
Keywords
ePortfolio

Student perspectives

Pre-use and post-use surveys

Pedagogy

Professional development

Motivation