Abstract
High levels of digital media use have become a feature of university lectures. While certainly capable of supporting learning outcomes, studies indicate that, when media use is off-task, it presents as a disruption, distracting both users and those around them from academic tasks. In this study an exploratory, mixed-methods assessment of a media use policy for a semester-long course is presented. This policy divided the lecture theatre into two sections, one for those who wished to use digital devices and one for those who did not. Such a policy empowered students to leverage the value of media, if desired, while affording those who wished not to use media, or be disrupted by their peers' use of media, a degree of protection from distracting cues. Findings indicate that those who consistently selected the same side performed better than those who moved from side to side. Two post-course focus groups revealed that, while having some limitations, the policy was well received by the participants and heightened their awareness of the possible distractions of off-task media use, enabling them to identify and maintain a strategy for their in-lecture attentional allocation and behaviour.
This is a preview of subscription content, log in to check access.
Access options
Buy single article
Instant access to the full article PDF.
US$ 39.95
Tax calculation will be finalised during checkout.
Subscribe to journal
Immediate online access to all issues from 2019. Subscription will auto renew annually.
US$ 99
Tax calculation will be finalised during checkout.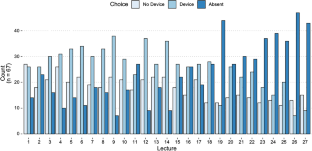 Notes
1.

The university is ranked inside the top 400 on the 2017/2018 Times Higher Education World University Rankings (Times Higher Education 2017) and has a student population of 31,639.

2.

Two participants were international exchange students and were not assigned to a faculty or program.

3.

In the relevant grading system, a grade of 50 is required to achieve a pass and a grade of 75 represents a distinction.

4.

In addition to the five media use categories (device only, device high, non-device high, non-device only, movers), the table presents three more general categories (Device, No Device and Movers).
References
Abramova, O., Baumann, A., Krasnova, H., & Lessmann, S. (2017). To phub or not to phub: Understanding off-task smartphone usage and its consequences in the academic environment. In I. Ramos, V. Tuunainen, & H. Krcmar (Eds.), 25th European conference on information systems (ECIS) (pp. 1984–1999). Guimaraes, Portugal.

Baker, W. M., Lusk, E. J., & Neuhauser, K. L. (2012). On the use of cell phones and other electronic devices in the classroom: Evidence from a survey of faculty and students. Journal of Education for Business,87, 275–289.

Bayless, M. L., Clipson, T. W., & Wilson, S. A. (2013). Faculty perceptions and policies of students' use of personal technology in the classroom. Faculty Publications,32, 119–137.

Berger, P. (2017). Beyond plain acceptance or sheer resistance: A typology of university instructors' attitudes to students' media use in class. Teaching and Teacher Education,67, 410–417.

Berry, M. J., & Westfall, A. (2015). Dial D for distraction: The making and breaking of cell phone policies in the college classroom. College Teaching,63, 62–71.

Bowman, L. L., Levine, L. E., Waite, B. M., & Gendron, M. (2010). Can students really multitask? An experimental study of instant messaging while reading. Computers & Education,54, 927–931.

Braun, V., & Clarke, V. (2006). Thematic analysis revised. Qualitative Research in Psychology,3, 77–101.

Brooks, D. C., & Pomerantz, J. (2017). ECAR study of undergraduate students and information technology, 2017. Technical Report ECAR (Educause Cener for Analysis and Research) Louisville, CO.

Chen, Q., & Yan, Z. (2016). Does multitasking with mobile phones affect learning? A review. Computers in Human Behavior,54, 34–42.

Dietz, S., & Henrich, C. (2014). Texting as a distraction to learning in college students. Computers in Human Behavior,36, 163–167.

Evans, R., & Matthew, A. F. (2013). A new era: Personal technology challenges educational technology. In H. Carter, M. Gosper, & J. Hedberg (Eds.), Proceedings of the 30th Ascilite conference (pp. 262–266). Sydney, Australia.

Finn, A. N., & Ledbetter, A. M. (2013). Teacher power mediates the effects of technology policies on teacher credibility. Communication Education,62, 26–47.

Flanigan, A. E., & Babchuk, W. A. (2015). Social media as academic quicksand: A phenomenological study of student experiences in and out of the classroom. Learning and Individual Differences,44, 40–45.

Flanigan, A. E., & Kiewra, K. A. (2017). What college instructors can do about student cyber-slacking. Educational Psychology Review,30, 585–598.

Fried, C. B. (2008). In-class laptop use and its effects on student learning. Computers & Education,50, 906–914.

Gaudreau, P., Miranda, D., & Gareau, A. (2014). Canadian university students in wireless classrooms: What do they do on their laptops and does it really matter? Computers & Education,70, 245–255.

Jeong, S.-H., & Hwang, Y. (2012). Does multitasking increase or decrease persuasion? Effects of multitasking on comprehension and counterarguing. Journal of Communication,62, 571–587.

Junco, R. (2012). In-class multitasking and academic performance. Computers in Human Behavior,28, 2236–2243.

Karnad, A. (2014). Trends in educational technologies. Technical Report London School of Economics and Political Science London, UK.

Katz, L., & Lambert, W. (2016). A happy and engaged class without cell phones? It's easier than you think. Teaching of Psychology,43, 340–345.

Kong, S. C., & Song, Y. (2015). An experience of personalized learning hub initiative embedding BYOD for reflective engagement in higher education. Computers & Education,88, 227–240.

Kuznekoff, J., & Titsworth, S. (2013). The impact of mobile phone usage on student learning. Communication Education,62, 233–252.

Le Roux, D. B., & Parry, D. A. (2017a). In-lecture media use and academic performance: Does subject area matter? Computers in Human Behavior,77, 86–94.

Le Roux, D. B., & Parry, D. A. (2017b). A new generation of students: Digital media in academic contexts. In J. Liebenberg & S. Gruner (Eds.), ICT education SACLA 2017 (pp. 19–36). Cham: Springer.

Ledbetter, A. M., & Finn, A. N. (2013). Teacher technology policies and online communication apprehension as predictors of learner empowerment. Communication Education,62, 301–317.

McCoy, B. R. (2013). Digital distractions in the classroom: Student classroom use of digital devices for non-class related purposes. Journal of Media Education,4, 5–12.

Ophir, E., Nass, C., & Wagner, A. D. (2009). Cognitive control in media multitaskers. In M. Posner (Ed.), Proceedings of the National Academy of Sciences of the United States of America (pp. 15583–15587).

Parry, D. A., & le Roux, D. B. (2018a). In-lecture media use and academic performance: Investigating demographic and intentional moderators. South African Computer Journal, 30(1), 85–107.

Parry, D. A., & le Roux, D. B. (2018b). Off-task media use in lectures: Towards a theory of determinants. In S. Kabanda, H. Suleman, & S. Gruner (Eds.), ICT education SACLA 2018. Cham: Springer.

Ravizza, S. M., Hambrick, D. Z., & Fenn, K. M. (2014). Non-academic internet use in the classroom is negatively related to classroom learning regardless of intellectual ability. Computers & Education,78, 109–114.

Rosen, L., Lim, A., Carrier, M., & Cheever, N. (2011). An empirical examination of the educational impact of text message-induced task switching in the classroom: Educational implications and strategies to enhance learning. Revista de Psicología Educativa,17, 163–177.

Sana, F., Weston, T., & Cepeda, N. J. (2013). Laptop multitasking hinders classroom learning for both users and nearby peers. Computers & Education,62, 24–31.

Santos, I. M., Bocheco, O., & Habak, C. (2018). A survey of student and instructor perceptions of personal mobile technology usage and policies for the classroom. Education and Information Technologies,23, 617–632.

van der Schuur, W., Baumgartner, S. E., Sumter, S. R., & Valkenburg, P. M. (2015). The consequences of media multitasking for youth: A review. Computers in Human Behavior,53, 204–215.

Times Higher Education. (2017). Times higher education world university rankings. Retrieved May 12, 2018, from https://bit.ly/2eElALO.

Tindell, D. R., & Bohlander, R. W. (2012). The use and abuse of cell phones and text messaging in the classroom: A survey of college students. College Teaching,60, 1–9.

Waite, B. M., Lindberg, R., Ernst, B., Bowman, L. L., & Levine, L. E. (2018). Off-task multitasking, note-taking and lower- and higher-order classroom learning. Computers & Education,120, 98–111.

Wood, E., Zivcakova, L., Gentile, P., Archer, K., Pasquale, D. D., & Nosko, A. (2011). Examining the impact of off-task multi-tasking with technology on real-time classroom learning classroom learning. Computers & Education,58, 365–374.

Wu, J. Y. (2017). The indirect relationship of media multitasking self-efficacy on learning performance within the personal learning environment: Implications from the mechanism of perceived attention problems and self-regulation strategies. Computers & Education,106, 56–72.

Wu, J., Mei, W., & Ugrin, J. C. (2018). Student cyberloafing in and out of the classroom in China and the relationship with student performance. Cyberpsychology, Behavior, and Social Networking,21, 199–204.

Zhang, W., & Zhang, L. (2012). Explicating multitasking with computers: Gratifications and situations. Computers in Human Behavior,28, 1883–1891.
Ethics declarations
Conflict of interest
The authors declare that they have no competing interests.
Additional information
Publisher's Note
Springer Nature remains neutral with regard to jurisdictional claims in published maps and institutional affiliations.
Appendix: In-lecture media use policy
Appendix: In-lecture media use policy
We acknowledge that students have different approaches to their learning experience in class. Part of that learning experience is the use of digital devices such as tablets, phones and laptops. For this reason, we will adopt a policy where we split the class into two sections: device and no-device. To implement this we will be following a basic set of rules for the duration of the course. These are as follows:
1.

For every lecture the venue will be split in two sections—one for device users, and one for those who wish not to use devices. The border between these sections will be the aisle which divides the venue. When facing the front of the venue, the seating on the right of the aisle will form the "device section", while the seating on the left of the aisle will form the "no-device section".

2.

When seated in the no-device section you are not allowed to use any form of digital device during the lecture. It should be left in your bag, or placed out of sight.

3.

When seated in the device section you may use any digital device you choose as you see fit, but you are encouraged to use it for purposes that relate to the lecture.

4.

At the outset of each lecture you may choose to sit in either section. You do not have to sit in the same section throughout the course, but you may not move between sections during a lecture.

5.

Where you decide to sit during lectures will not influence any aspect of your assessment in this course.

6.

To learn more about the effects and value of this policy, the lecturer will keep track of students' seating decisions by circulating different class attendance registers for the different sections.
About this article
Cite this article
Parry, D.A., le Roux, D.B. & Cornelissen, L.A. Managing in-lecture media use: the feasibility and value of a split-class policy. J Comput High Educ 32, 261–281 (2020). https://doi.org/10.1007/s12528-019-09232-z
Keywords
In-lecture media use

Technology in the classroom

Technology and learning

BYOD policy

Higher education