Abstract
Flipped Classroom (FC) is a blended learning approach being promoted in higher education in recent years. It flips the conventional pedagogic arrangement so that students use the out-of-class time to conduct lower-order learning and the in-class time to conduct higher-order learning. Nevertheless, unlike the adoption phenomena in other academic disciplines such as Science, Engineering, Medicine and Education in university teaching, the adoption of FC in Social Science has been rare. This paper reports on a quantitative study (n = 152) in which the Stages of Concern model was employed to probe into the concerns of Social Science faculty members (SSFMs) about introducing FC into their teaching practice. The study reveals that the participants were having strong categorical concerns of "Information" and "Management." The findings shed light on designing more precise interventions for addressing SSFMs' actual needs when flipping their classrooms, providing a useful reference for researchers and practitioners who are pursuing work on promoting FC in higher education.
This is a preview of subscription content, log in to check access.
Access options
Buy single article
Instant access to the full article PDF.
US$ 39.95
Tax calculation will be finalised during checkout.
Subscribe to journal
Immediate online access to all issues from 2019. Subscription will auto renew annually.
US$ 99
Tax calculation will be finalised during checkout.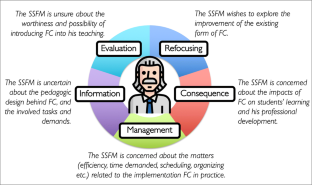 References
Alammary, A., Sheard, J., & Carbone, A. (2014). Blended learning in higher education: Three different design approaches. Australasian Journal of Educational Technology, 30(4), 440–454.

Anderson, L. W., Krathwohl, D. R., Airasian, P. W., Cruikshank, K. A., Mayer, R. E., Pintrich, P. R., et al. (2001). A taxonomy for learning, teaching, and assessing: A revision of Bloom's taxonomy of educational objectives. Essex: Pearson.

Baepler, P., Walker, J. D., & Driessen, M. (2014). It's not about seat time: Blending, flipping, and efficiency in active learning classrooms. Computers and Education, 78, 227–236.

Barkley, E. (2010). Student engagement techniques: A handbook for college faculty. San Francisco: Jossey-Bass.

Bergmann, J., & Sams, A. (2009). Remixing chemistry class: Two Colorado teachers make vodcasts of their lectures to free up class time for hands-on activities. Learning and Leading with Technology, 36(4), 22–27.

Bernard, J. S. (2015). The flipped classroom: Fertile ground for nursing education research. International Journal of Nursing Education Scholarship, 12(1), 99–109.

Biggs, J., & Moore, P. (1993). Process of learning (3rd ed.). London: Prentice Hall.

Borgerding, L. A., Sadler, T. D., & Koroly, M. J. (2013). Teachers' concerns about biotechnology education. Journal of Science Education and Technology, 22(2), 133–147.

Çakıroğlu, Ü., & Öztürk, M. (2017). Flipped classroom with problem based activities: Exploring self-regulated learning in a programming language course. Educational Technology and Society, 20(1), 337–349.

Chen, Y., Wang, Y., Kinshuk, & Chen, N. S. (2014). Is FLIP enough? Or should we use the FLIPPED model instead? Computers and Education, 79, 16–27.

Cheung, D. (2005). Science teachers' concerns about school-based curriculum development. Hong Kong Science Teachers' Journal, 22(2), 1–7.

Cheung, D., & Yip, D. Y. (2004). How science teachers' concerns about school-based assessment of practical work vary with time: The Hong Kong experience. Research in Science and Technological Education, 22(2), 153–169.

Chuang, H. H., Weng, C. Y., & Chen, C. H. (2018). Which students benefit most from a flipped classroom approach to language learning? British Journal of Educational Technology, 49(1), 56–68.

Creswell, J. W. (2015). Educational research: Planning, conducting, and evaluating quantitative and qualitative research (4th ed.). Upper Saddle River, NJ: Pearson Education.

De Freitas, S., & Oliver, M. (2005). Does e-learning policy drive change in higher education? A case study relating models of organisational change to e-learning implementation. Journal of Higher Education Policy and Management, 27(1), 81–96.

Dong, A. M. (2016). A literature review on flipped classroom from 2010 to 2015. In Paper presented at the 24th Chinese America educational research and development association annual conference, Washington, DC.

Ertmer, P. A. (1999). Addressing first-and second-order barriers to change: Strategies for technology integration. Educational Technology Research and Development, 47(4), 47–61.

Flipped Learning Network. (2013). What is flipped learning? Retrieved September 1, 2018, from http://flippedlearning.org/cms/lib07/VA01923112/Centricity/Domain/46/FLIP_handout_FNL_Web.pdf.

Fullan, M. (2007). The new meaning of educational change (4th ed.). New York: Teachers College Press.

Fullan, M., Quinn, J., & Adam, E. (2016). The taking action guide to building coherence in schools, districts, and systems. New York: SAGE.

Fuller, F. F. (1969). Concerns of teachers: A developmental conceptualization. American Educational Research Journal, 6(2), 207–226.

Gee, J. P. (2013). Creating smarter students through digital learning. New York: Palgrave.

Gough, E., DeJong, D., Grundmeyer, T., & Baron, M. (2017). K-12 teacher perceptions regarding the flipped classroom model for teaching and learning. Journal of Educational Technology Systems, 45(3), 390–423.

Hall, G. E., & Hord, S. M. (1987). Change in schools: Facilitating the process. New York: NY State University of New York Press.

Hall, G. E., & Hord, S. M. (2001). Implementing change: Patterns, principles, and potholes. New Jersey: Pearson.

Hau, K. T. (2015). Flipped classroom. Hong Kong Institute of Educational Research Newsletters, 36, 1–2.

Hockings, C., Cooke, S., Yamashita, H., McGinty, S., & Bowl, M. (2008). Switched off? A study of disengagement among computing students at two universities. Research Papers in Education, 23(2), 191–201.

Hung, H. (2014). Flipping the classroom for English language learners to foster active learning. Computer Assisted Language Learning, 28(1), 81–96.

Hwang, G. J. (Ed.). (2016). Flipped classroom: Theories, strategies and applications. Taipei: Higher Education Press.

Hwang, G. J., Lai, C. L., & Wang, S. Y. (2015). Seamless flipped learning: A mobile technology-enhanced flipped classroom with effective learning strategies. Journal of Computers in Education, 2(4), 449–473.

Jansen, B. A. (2011). Inquiry unpacked: An introduction to inquiry-based learning. Library Media Connection, 29(5), 10–12.

Johnson, L., Adams Becker, S., Estrada, V., & Freeman, A. (2015). NMC horizon report: 2015 higher (education ed.). Austin, Texas: The New Media Consortium.

Jong, M. S. Y. (2014). Elementary students' view of collaborative knowledge building in LearningVillages. Interaction Design and Architecture(s), 21, 37–56.

Jong, M. S. Y. (2016). Teachers' concerns about adopting constructivist online game-based learning in formal curriculum teaching. British Journal of Educational Technology, 47(4), 601–617.

Jong, M. S. Y. (2017). Empowering students in the process of social inquiry learning through flipping the classroom. Educational Technology and Society, 20(1), 306–322.

Jong, M. S. Y. (2018). A pilot study on social science faculty members' adoption of flipped learning. Paper presented at the IEEE Education Society Technical Committee on Learning Sciences Annual Meeting 2018, Hong Kong, China.

Jong, M. S. Y., Chan, T., Hue, M. T., & Tam, V. (2018). Gamifying and mobilising social enquiry-based learning in authentic outdoor environments. Educational Technology & Society, 21(4), 277–292.

Jong, M. S. Y., & Tsai, C. C. (2016). Understanding the concerns of teachers about leveraging mobile technology to facilitate outdoor social inquiry learning: The EduVenture experience. Interactive Learning Environments, 24(2), 328–344.

Kurt, G. (2017). Implementing the flipped classroom in teacher education: Evidence from Turkey. Educational Technology and Society, 20(1), 211–221.

Lage, M. J., Platt, G. J., & Treglia, M. (2000). Inverting the classroom: A gateway to creating an inclusive learning environment. The Journal of Economic Education, 31(1), 30–43.

Lin, J. L., Liang, J. C., Su, Y. C., & Tsai, C. C. (2013). Exploring the relationships between self-efficacy and preference for teacher authority among computer science majors. Journal of Educational Computing Research, 49(2), 189–207.

Lo, C. K., Lie, C. W., & Hew, K. F. (2018). Applying "First Principles of Instruction" as a design theory of the flipped classroom: Findings from a collective study of four secondary school subjects. Computers and Education, 118, 150–165.

Marcu, A. D. (2013). Relationship of self-efficacy to stages of concern in the adoption of innovation in higher education. Retrieved from Virginia Polytechnic Institute and State University (Accession No. 13625).

Martin, S., Farnan, J., & Arora, V. (2013). FUTURE: New strategies for hospitalists to overcome challenges in teaching and today's wards. Journal of Hospital Medicine, 8(7), 409–413.

Mason, G., Shuman, T., & Cook, K. (2013). Comparing the effectiveness of an inverted classroom to a traditional classroom in an upper-division engineering course. IEEE Transactions on Education, 56(4), 430–435.

Matar, N. (2015). Evaluating e-learning system use by "CBAM—stages of concern" methodology in Jordanian Universities. World of Computer Science and Information Technology Journal, 5(5), 78–81.

Maxwell, J. A. (2017). Qualitative inquiry and research design: Choosing among five approaches (4th ed.). Thousand Oaks, CA: SAGE.

O'Flaherty, J., & Phillips, C. (2015). The use of flipped classrooms in higher education: A scoping review. Internet and Higher Education, 25, 85–95.

Prensky, M. (2016). Education to better their world: Unleashing the power of 21st-century kids. New York: Teachers College Press.

Prober, C., & Khan, S. (2013). Medical education reimagined: A call to action. Academic Medicine, 88, 1407–1410.

Randall, J. H. (2016). Stages of faculty concern about teaching online: Relationships between faculty teaching methods and technology use in teaching. Retrieved from ERIC. (ERIC No. ED571076).

Sahin, A., Cavlazoglu, B., & Zeytuncu, Y. E. (2015). Flipping a college calculus course: A case study. Educational Technology and Society, 18(3), 142–152.

Seery, M. K. (2015). Flipped learning in higher education chemistry: Emerging trends and potential directions. Chemistry Education: Research and Practice, 16(4), 758–768.

Small, R. V., Arone, M. P., Stripling, B., & Berger, P. (2012). Teaching for inquiry: Engaging the learner within. New York: Neal-Schuman Publishers.

Song, Y., & Kapur, M. (2017). How to flip the classroom—"Productive failure" or "traditional flipped classroom" pedagogical design? Educational Technology and Society, 20(1), 292–305.

Sun, J. C. Y., Wu, Y. T., & Lee, W. I. (2017). The effect of the flipped classroom approach to OpenCourseWare instruction on students' self-regulation. British Journal of Educational Technology, 48(3), 713–729.

Wallace, V. L., & Husid, W. N. (2011). Collaborating for inquiry-based learning (2nd ed.). Santa Barbara, CA: Libraries Unlimited.

Yeung, K., & O'Malley, P. (2014). Making "The Flip" work: Barriers to and implementation strategies for introducing flipped teaching methods into traditional higher education courses. New Directions for Institutional Research, 10(1), 59–63.

Ziegenfuss, D. H. (2016). Closing the loop: Building synergy for learning through a professional development MOOC about flipped teaching. Current Issues in Emerging eLearning, 3(1), 103–124.
Acknowledgements
Thank you very much to all SSFMs who participated in the present study, especially the five SSFMs who participated in the focus group interview.
Additional information
Publisher's Note
Springer Nature remains neutral with regard to jurisdictional claims in published maps and institutional affiliations.
Appendix
Appendix
A: Items in the SoC questionnaire
SoC construct
Item
When I think about the adoption of FC in my teaching practice, how much am I concerned about the followings?
Evaluation
E1
How many colleagues in my faculty now are flipping their classrooms
E2
My faculty dean's attitude towards FC
E3
The global popularity of FC in higher education
E4
Whether the LMS in my university can facilitate my adoption of FC
Information
I1
Whether I have fully understood the pedagogic idea of FC
I2
Professional development training for learning more about FC
I3
How to design adequate pre-class learning activities for FC
I4
How to design adequate in-class learning activities for FC
Management
M1
Time demanded for developing the pre-class materials for flipping my classroom
M2
My technical competence in developing the pre-class materials for flipping my classroom
M3
Whether students will be willing to finish the pre-class activities of FC
M4
Whether students will actively participate in the in-class activities of FC
Consequence
C1
Enhancing my students' higher order thinking through FC
C2
Enhancing my students' understanding of their learning role in FC
C3
Collaborate with other SSFMs to design the resources for implementing FC
C4
A community for exchanging SSFMs' experiences in implementing FC
Refocusing
R1
Enhancing the current use of FC based on my experiences
R2
Enhancing the current use of FC based on my students' experiences
R3
Using FC in more courses that I am teaching
R4
Expanding the scope of adopting FC in my faculty
B: Guiding questions asked in the focus group interview
1.

When and where did you first learn FC?

2.

To what extent are you familiar with the pedagogic idea of FC?

3.

Do you think you are technically ready to flip your classroom?

4.

What kinds of support should your university provide you with in order to facilitate you to try FC in your teaching?

5.

Can you picture how your students will perform in a FC setting?
About this article
Cite this article
Jong, M.SY. To flip or not to flip: social science faculty members' concerns about flipping the classroom. J Comput High Educ 31, 391–407 (2019). https://doi.org/10.1007/s12528-019-09217-y
Keywords
Flipped classroom

Stages of concern

Social science faculty members

Blended learning

Higher education