Abstract
With the growing attention paid to fear of missing out (FoMO) psychological phenomenon in explaining social media engagement (SME), this mixed-method research measured the relative impact of FoMO on students' SME for personal reasons during lectures. The moderating effect of culture (minority vs. non-minority students) on the connection between FoMO and SME was also considered. Quantitative data were gathered from 279-undergraduate students. The structural equation modeling results showed a positive moderate connection between the FoMO and SME variables. The bootstrapping result showed a significant indirect effect between the minority group of students and SME through increased levels of FoMO. A sequential explanatory strategy was used to refine and interpret the quantitative results. Accordingly, qualitative data were gathered by using semi-structured interviews to assist in explaining the findings of the quantitative phase. The qualitative data suggested several explanations for students' distractive behavior enabled by technology during class. The main recurrent theme was the frequently used instructional activities based on the teacher-centered pedagogical approach. This approach imposed greater challenges for minority students as they tend to grapple with a host of language barriers. These students reported using social media tools to seek help from friends during lectures and feared missing out a useful assistance. Another finding showed that mainly non-minority students who experienced FoMO admitted using social media during lessons regardless of the teaching method implemented.
Access options
Buy single article
Instant access to the full article PDF.
US$ 39.95
Tax calculation will be finalised during checkout.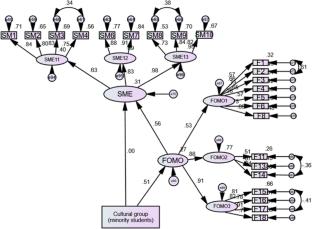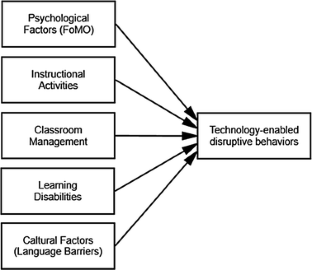 References
Acquisti, A., & Gross, R. (2006). Imagined communities: Awareness, information sharing, and privacy on the Facebook. In Proceedings from privacy enhancing technologies workshop, 28–30 June 2006 (pp. 1–22). Retrieved from http://people.cs.pitt.edu/~chang/265/proj10/zim/imaginedcom.pdf.

Alt, D. (2014). The construction and validation of a new scale for measuring features of constructivist learning environments in higher education. Frontline Learning Research, 2(3). doi:10.14786/flr.v2i2.68.

Alt, D. (2015). College students' academic motivation, media engagement and fear of missing out. Computers in Human Behavior, 49, 111–119.

Alt, D. (2016). Students' wellbeing, fear of missing out, and social media engagement for leisure in higher education learning environments. Current Psychology. doi:10.1007/s12144-016-9496-1.

Alt, D., & Geiger, B. (2012). Goal orientations and tendency to neutralize academic cheating: An ecological perspective. Psychological Studies, 57(4), 404–416.

Anderson, H. (2011). Never heard of fomo? You're so missing out. The observer. Retrieved from http://www.theguardian.com/commentisfree/2011/apr/17/hephzibah-anderson-fomo-new-acronym.

Arnold, N., & Paulus, T. (2010). Using a social networking site for experiential learning: Appropriating, lurking, modeling and community building. Internet and Higher Education, 13, 188–196.

Bentler, P. M. (2006). EQS 6 structural equations program manual. Encino, CA: Multivariate Software Inc.

Choi, J., & Ziegler, G. (2015). Literacy education for low-educated second language learning adults in multilingual contexts: The case of luxembourg. Multilingual Education, 5(1), 1–21.

Creswell, J. W. (2002). Educational research: Planning, conducting, and evaluating quantitative and qualitative research. Upper Saddle River, NJ: Merrill Prentice Hall.

Creswell, J. W. (2003). Research design: Qualitative, quantitative, and mixed methods approaches (2nd ed.). Thousand Oaks, CA: Sage.

Dixon, L. Q., & Wu, S. (2014). Home language and literacy practices among immigrant second-language learners. Language Teaching, 47(4), 414–449.

Ellison, N. B., Steinfield, C., & Lampe, C. (2007). The benefits of Facebook "friends": Social capital and college students use of online social network sites. Journal of Computer-Mediated Communication, 12, 1143–1168.

Galagan, P. (2010). Burp, chatter, tweet: New sounds in the classroom. T + D, 64(7), 26–29.

Garrett, T. (2014). Effective classroom management: The essentials. New York, NY: Teachers College Press.

Gemmill, E., & Peterson, M. (2006). Technology use among college students: Implications for student affairs professionals. NASPA Journal, 43(2), 280–300.

Hai, A. (2012). Higher education for Arab citizens of Israel realities, challenges and new opportunities. Inter‐Agency Task Force on Israeli Arab Issues.

Heafner, T. L., & Friedman, A. M. (2008). Wikis and constructivism in secondary social studies: Fostering a deeper understanding. Computers in the Schools, 25, 288–302.

Howe, N., & Strauss, W. (2000). Millennials rising: The next great generation. New York, NY: Vintage Books.

Jackson, C. (2011). Your students love social media… and so can you. Teaching Tolerance, 39, 38–41.

Jones, N., Blackey, H., Fitzgibbon, K., & Chew, E. (2010). Get out of MySpace! Computers & Education, 54, 776–782.

Juncoa, R., & Cotten, S. R. (2012). No A 4 U: The relationship between multitasking and academic performance. Computers & Education, 59(2), 505–514.

Kellner, S. (2013). Is FoMO depriving us of our ability to exist in the present and take pleasure in the here and now? The independent. Retrieved from http://www.independent.co.uk/voices/comment/is-fomo-depriving-us-of-our-ability-to-exist-in-the-present-and-take-pleasure-in-the-here-and-now-8449677.html.

Kiraly, D. (2014). A social constructivist approach to translator education: Empowerment from theory to practice. London and New York: Routledge.

Kraushaar, J. M., & Novak, D. C. (2010). Examining the effects of student multitasking with laptops during the lecture. Journal of Information Systems Education, 21, 241–251.

Licklider, B. L. (2009) 'On teaching and learning: Putting the principles and practices of dialogue education into action' in Review of Higher Education, 33(1), Fall, 129–130.

Lin, P. C., Hou, H. T., Wang, S. M., & Chang, K. E. (2013). Analyzing knowledge dimensions and cognitive process of a project-based online discussion instructional activity using Facebook in an adult and continuing education course. Computers & Education, 60, 110–121.

Lindorth, T., & Bergquist, M. (2010). Laptopers in an educational practice: promoting the personal learning situation. Computers & Education, 54, 311–320.

McHenry, R. (2011). The new digital shoreline: How Web 2.0 and Millennials are revolutionalizing higher education. Sterling, VA: Stylus Publishing.

McMahon, M., & Pospisil, R. (2005). Laptops for a digital lifestyle: Millennial students and wireless mobile technologies. In Proceedings of the 22nd ASCILITE conference, 4–7 December 2005 (pp. 421–431). Retrieved from http://www.ascilite.org.au/conferences/brisbane05/blogs/proceedings/49_McMahon%20&%20Pospisil.pdf.

Ophira, E., Nass, C., & Wagner, D. (2009). Cognitive control in media multitaskers. In Proceedings of the National Academy of Sciences, 18 February 2009 (pp. 15583–15587). Retrieved from http://dx.doi.org/10.1073/pnas.0903620106.

Patton, M. (2002). Qualitative research and evaluation methods (3rd ed.). Thousand Oaks, CA: Sage Publications.

Peräkylä, A. (2008). Analyzing talk and text. In N. K. Denzin & Y. S. Lincoln (Eds.), Collecting and interpreting qualitative materials (3rd ed., pp. 351–374). Los Angeles, CA: SAGE Publications.

Przybylski, A. K., Murayama, K., DeHaan, C. R., & Gladwell, V. (2013). Motivational, emotional, and behavioral correlates of fear of missing out. Computers in Human Behavior, 29, 1841–1848.

Sana, F., Weston, T., & Cepeda, N. J. (2013). Laptop multitasking hinders classroom learning for both users and nearby peers. Computers & Education, 62, 24–31.

Savage, T. V., & Savage, M. K. (2010). Successful classroom management and discipline: Teaching self-control and responsibility (3rd ed.). Los Angeles, CA: Sage.

Seltman, H. J. (2015). Experimental design and analysis. Retrieved from http://www.stat.cmu.edu/~hseltman/309/Book/Book.pdf.

Top, E. (2012). Blogging as a social medium in undergraduate courses: Sense of community best predictor of perceived learning. Internet and Higher Education, 15, 24–28.

Wandel, T. L. (2008). Colleges and universities want to be your friend: Communicating via online social networking. Planning for Higher Education, 37(1), 35–48.

Weinstein, C., Curran, M., & Tomlinson-Clarke, S. (2003). Culturally responsive classroom management: Awareness into action. Theory into Practice, 42(4), 269–276.

Wood, E., Zivcakova, L., Gentile, P., Archer, K., De Pasquale, D., & Nosko, A. (2012). Examining the impact of off-task multi-tasking with technology on real-time classroom learning. Computers & Education, 58, 365–374.

Wurst, C., Smarkola, C., & Gaffney, M. A. (2008). Ubiquitous laptop usage in higher education: Effects on student achievement, student satisfaction, and constructivist measures in honors and traditional classrooms. Computers & Education, 51, 1766–1783.
Ethics declarations
Conflict of interest
The authors declare that they have no conflict of interest.
About this article
Cite this article
Alt, D. Students' social media engagement and fear of missing out (FoMO) in a diverse classroom. J Comput High Educ 29, 388–410 (2017). https://doi.org/10.1007/s12528-017-9149-x
Keywords
Social media engagement

Fear of missing out

Mixed-method study

Diverse classroom