Abstract
Since Massive Open Online Courses (MOOCs) started to become part of the scene of Higher Education (HE), many institutions have joined the race of MOOC creation. However, producing MOOCs has shown to be a cumbersome and expensive activity for HE institutions. For this reason, many universities have started to explore and experiment with hybrid initiatives in which locally produced and third-party MOOCs are reused and integrated into traditional courses. Most of the hybrid initiatives described in the literature so far focus on flipped classroom experiences, although there are some other possibilities for integrating MOOCs in the curriculum. Moreover, few studies have reported on the institutional support required for implementing hybrid initiatives, and their benefits from a curriculum perspective. In order to shed some light on the opportunities that arise from the reuse of MOOCs, this paper presents H-MOOC, a framework that describes hybrid MOOC-based initiatives as a continuum of two factors: (1) institutional support to reuse an existing MOOC, and (2) curricular content alignment between the MOOC and the program, or the course hybridized. In addition, H-MOOC proposes indicators to measure the impact of these initiatives at both educational and institutional levels. Examples of actual hybrid initiatives and a set of guiding questions are presented to show how to apply the H-MOOC framework in different contexts.
Access options
Buy single article
Instant access to the full article PDF.
USD 39.95
Price excludes VAT (USA)
Tax calculation will be finalised during checkout.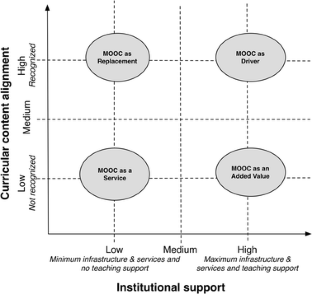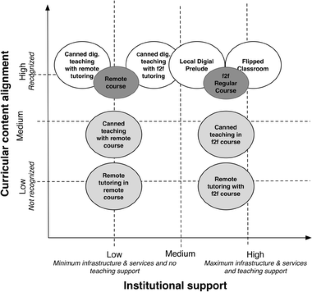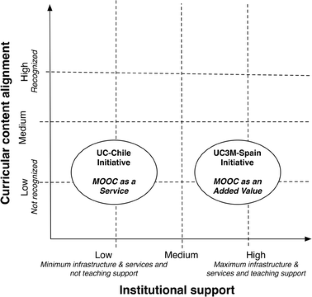 References
Alario-Hoyos, C., Kloos, C. D., Estévez-Ayres, I., Fernández-Panadero, C., Blasco, J., Pastrana, S., et al. (2016). Interactive activities: The key to learning programming with MOOCs. In Proceedings of the fourth European MOOCs Stakeholders Summit (EMOOCs), pp. 319–328.

Bruff, D. O., Fisher, D. H., McEwen, K. E., & Smith, B. E. (2013). Wrapping a MOOC: Student perceptions of an experiment in blended learning. Journal of Online Learning and Teaching, 9(2), 187–199.

Conole, G. (2015). MOOCs as disruptive technologies: Strategies for enhancing the learner experience and quality of MOOCs. Revista de Educación a Distancia, RED, 39. http://revistas.um.es/red/article/view/234221/179941.

Firmin, R., Schiorring, E., Whitmer, J., Willett, T., Collins, E. D., & Sujitparapitaya, S. (2014). Case study: Using MOOCs for conventional college coursework. Distance Education, 35(2), 178–201.

Georgina, D. A., & Hosford, C. C. (2009). Higher education faculty perceptions on technology integration and training. Teaching and Teacher Education, 25(5), 690–696.

Georgina, D. A., & Olson, M. R. (2008). Integration of technology in higher education: A review of faculty self-perceptions. The Internet and Higher Education, 11(1), 1–8.

Ghadiri, K., Qayoumi, M. H., Junn, E., Hsu, P., & Sujitparapitaya, S. (2013). The transformative potential of blended learning using MIT edX's 6.002 x online MOOC content combined with student team-based learning in class. Environment, 8, 14.

Griffiths, R., Chingos, M., Mulhern, C., & Spies, R. (2014). Interactive online learning on campus: Testing MOOCs and other hybrid formats in the University System of Maryland. New York: Ithaka S + R.

Joseph, A., & Nath, B. (2013). Integration of Massive Open Online Education (MOOC) system with in-Classroom Interaction and Assessment and Accreditation: An extensive report from a pilot study. In Proceedings of the international conference on e-learning, e-business, enterprise information systems, and e-Government (EEE), 105.

Kerr, B. (2015). The flipped classroom in engineering education: A survey of the research. In Proceedings of the IEEE international conference on interactive collaborative learning, pp. 815–818.

Kloos, C. D., Muñoz-Merino, P. J., Alario-Hoyos, C., Ayres, I. E., & Fernández-Panadero, C. (2015). Mixing and blending MOOC technologies with face-to-face pedagogies. In Proceedings of the IEEE Global Engineering Education Conference (EDUCON), Tallin, Estonia, pp. 967–971.

Kloos, C. D., Muñoz-Merino, P. J., Muñoz-Organero, M., Alario-Hoyos, C., Pérez-Sanagustín, M., Ruipérez, J. A., & Sanz, J. L. (2014). Experiences running MOOCs and SPOCs at UC3M. In Proceedings of the IEEE Global Engineering Education Conference (EDUCON), pp. 884–891.

Konstan, J. A., Walker, J. D., Brooks, D. C., Brown, K., & Ekstrand, M. D. (2015). Teaching recommender systems at large scale: Evaluation and lessons learned from a hybrid MOOC. ACM Transactions on Computer-Human Interaction, 22(2), 10.

McLean, S., Attardi, S. M., Faden, L., & Goldszmidt, M. (2016). Flipped classrooms and student learning: not just surface gains. Advances in Physiology Education, 40(1), 47–55.

Moskal, P., Dziuban, C., & Hartman, J. (2013). Blended learning: A dangerous idea? The Internet and Higher Education, 18, 15–23.

Ng'ambi, D., & Bozalek, V. (2015). Editorial: Massive open online courses (MOOCs): Disrupting teaching and learning practices in higher education. British Journal of Educational Technology, 46(3), 451–454.

Nissenson, P. M., & Shih, A. C. (2015). MOOC on a budget: Development and implementation of a low-cost MOOC at a State University. In Proceedings of the 122nd ASEE annual conference & exposition, pp. 1–25.

Pérez-Sanagustín, M., Hernández-Correa, J., Gelmi, C., Hilliger, I., & Rodriguez, M. F. (2016b). Does taking a MOOC as a complement for remedial courses have an effect on my learning outcomes? A pilot study on calculus. In Proceedings of the European conference on technology enhanced learning (in press).

Pérez-Sanagustín, M., Hilliger, I., Alario-Hoyos, C., Delgado Kloos, C., & Rayyan, S. (2016a). Describing MOOC-based Hybrid initiatives: The H-MOOC Framework. In Proceedings of the European MOOCs Stakeholders Summir (EMOOCs), pp. 159–172.

Porter, W. W., Graham, C. R., Bodily, R. G., & Sandberg, D. S. (2016). A qualitative analysis of institutional drivers and barriers to blended learning adoption in higher education. Internet and Higher Education, 28, 17–27.

Riffell, S., & Sibley, D. (2005). Using web-based instruction to improve large undergraduate biology courses: An evaluation of a hybrid course format. Computers & Education, 44(3), 217–235.

Sandeen, C. (2013). Integrating MOOCs into traditional higher education: The emerging "MOOC 3.0" era. Change: The Magazine of Higher Learning, 45(6), 34–39.

Soffer, T., & Cohen, A. (2015). Implementation of Tel Aviv University MOOCs in academic curriculum: A pilot study. The International Review of Research in Open and Distributed Learning, 16(1), 80–97.

Wu, J. H., Tennyson, R. D., & Hsia, T. L. (2010). A study of student satisfaction in a blended e-learning system environment. Computers & Education, 55(1), 155–164.

Zhang, Y. (2013). Benefiting from MOOC. In World conference on educational multimedia. Hypermedia and Telecommunications, 2013(1), pp. 1372–1377.
Acknowledgements
This work has been partially supported by the Fondecyt Project (11150231), the Project The Clover 2030 Engineering Strategy (14ENI2-26862), the Erasmus+ Programme of the European Union, projects MOOC-Maker (561533-EPP-1-2015-1-ES-EPPKA2-CBHE-JP), SHEILA (562080-EPP-1-2015-BE-EPPKA3-PI-FORWARD) and COMPETEN-SEA (574212-EPP-1-2016-1- NL-EPPKA2-CBHE-JP), by the Madrid Regional Government, through the eMadrid Excellence Network (S2013/ICE-2715), and by the Spanish Ministry of Economy and Competitiveness, project RESET (TIN2014-53199-C3-1-R) and fellowship FPDI-2013-17411.
About this article
Cite this article
Pérez-Sanagustín, M., Hilliger, I., Alario-Hoyos, C. et al. H-MOOC framework: reusing MOOCs for hybrid education. J Comput High Educ 29, 47–64 (2017). https://doi.org/10.1007/s12528-017-9133-5
Published:

Issue Date:

DOI: https://doi.org/10.1007/s12528-017-9133-5
Keywords