Abstract
Researchers have proposed that social media provide complementary learning environments for Massive Open Online Courses (MOOCs) that might engender participation, engagement, and peer-support. Although suggestive, nearly all of the research in this area consists of case studies, making it challenging to determine whether or to what extent findings can be generalized to MOOCs beyond those studied. This mixed methods research used data mining techniques to retrieve a large-scale Twitter data set from 116 MOOCs with course-dedicated hashtags. Using quantitative and qualitative methods, it then examined users' participation patterns, the types of users posting to those hashtags, the types of tweets that were posted, and the variation in types of posted tweets across users. While popular narratives suggest that social media provide a space for increased participation, this study provides little evidence to support these claims in the context of Twitter as an adjunct to MOOCs. Results show that learners make up only about 45% of users and contribute only about 35% of tweets. The majority of users contribute minimally, and an active minority of users contributes the preponderance of messages. These findings do not reveal substantive evidence of learners contributing to multiple hashtags, which may suggest that learners did not find Twitter to be a useful space that provided added value or responded to their needs. Ultimately, these results demonstrate the need for greater intentionality in integrating social media into MOOCs.
Access options
Buy single article
Instant access to the full article PDF.
USD 39.95
Price excludes VAT (USA)
Tax calculation will be finalised during checkout.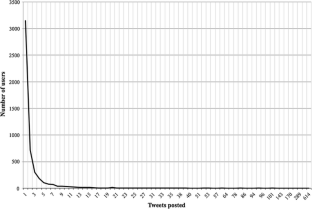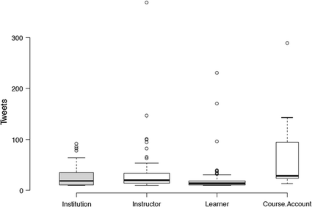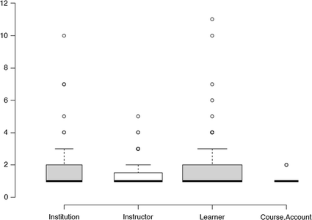 References
Ajjan, H., & Hartshorne, R. (2008). Investigating faculty decisions to adopt Web 2.0 technologies: Theory and empirical tests. The Internet and Higher Education, 11(2), 71–80.

Alario-Hoyos, C., Perez-Sanagustin, M., Delgado-Kloos, C., Parada, G. H. A., & Munoz-Organero, M. (2014). Delving into participants' profiles and use of social tools in MOOCs. IEEE Transactions on Learning Technologies, 7(3), 260–266.

Brady, K. P., Holcomb, L. B., & Smith, B. V. (2010). The use of alternative social networking sites in higher educational settings: A case study of the e-learning benefits of Ning in education. Journal of Interactive Online Learning, 9(2), 151–170.

Cheston, C. C., Flickinger, T. E., & Chisolm, M. S. (2013). Social media use in medical education: A systematic review. Academic Medicine, 88(6), 893–901.

Churcher, K. M. A., Downs, E., & Tewksbury, D. (2014). "Friending" Vygotsky: A social constructivist pedagogy of knowledge building through classroom social media use. Journal of Effective Teaching, 14(1), 33–50.

Conole, G. (2013). MOOCs as disruptive technologies: Strategies for enhancing the learner experience and quality of MOOCs. Revista de Educación a Distancia, 39. Retrieved on 13 Sept 2016. http://revistas.um.es/red/article/view/234221/0.

Gao, F., Luo, T., & Zhang, K. (2012). Tweeting for learning: A critical analysis of research on microblogging in education published in 2008–2011. British Journal of Educational Technology, 43(5), 783–801.

García-Peñalvo, F. J., Cruz-Benito, J., Borrás-Gené, O., & Blanco, Á. F. (2015). Evolution of the conversation and knowledge acquisition in social networks related to a MOOC course. In Proceedings of HCI international 2015 conference, pp. 470–481.

Greenhow, C. (2011). Online social networking and learning. International Journal of Cyber Behavior, Psychology and Learning, 1(1), 36–50.

Greenhow, C., Robelia, B., & Hughes, J. E. (2009). Learning, teaching, and scholarship in a digital age: Web 2.0 and classroom research—What path should we take now? Educational Researcher, 38(4), 246–259.

Kimmons, R., & Veletsianos, G. (2016). Education scholars' evolving uses of twitter as a conference backchannel and social commentary platform. British Journal of Educational Technology, 47(3), 445–464.

Knox, J. (2014). Digital culture clash: "Massive" education in the e-learning and digital cultures MOOC. Distance Education, 35(2), 164–177.

Kop, R., Fournier, H., & Mak, J. (2011). A pedagogy of abundance or a pedagogy to support human beings? Participant support on massive open online courses. The International Review of Research in Open and Distributed Learning, 12(7), 74–93.

Koutropoulos, A., Abajian, S. C., DeWaard, I., Hogue, R. J., Keskin, N. O., & Rodriguez, C. O. (2014). What tweets tell us about MOOC participation. International Journal of Emerging Technologies in Learning, 9(1). http://online-journals.org/index.php/i-jet/article/view/3316.

Liu, M., McKelroy, E., Kang, J., Harron, J., & Liu, S. (2016). Examining the use of Facebook and Twitter as an additional social space in a MOOC. American Journal of Distance Education, 30(1), 14–26.

Manca, S., & Ranieri, M. (2013). Is it a tool suitable for learning? A critical review of the literature on Facebook as a technology-enhanced learning environment. Journal of Computer Assisted learning, 29(6), 487–504.

McLoughlin, C., & Lee, M. J. W. (2007). Social software and participatory learning: Pedagogical choices with technology affordances in the Web 2.0 era. In Proceedings of the ascilite conference, 2007, Singapore. http://www.ascilite.org/conferences/singapore07/procs/mcloughlin.pdf.

Prestridge, S. (2014). A focus on students' use of Twitter–Their interactions with each other, content and interface. Active Learning in Higher Education, 15(2), 101–115.

Salmon, G., Ross, B., Pechenkina, E., & Chase, A. (2015). The space for social media in structured online learning. Research in Learning Technology, 23, 1–14.

Selwyn, N. (2009). Faceworking: Exploring students' education-related use of Facebook. Learning, Media and Technology, 34(2), 157–174.

Selwyn, N., & Stirling, E. (2016). Social media and education… now the dust has settled. Learning, Media and Technology, 41(1), 1–5.

Skrypnyk, O., Joksimović, S., Kovanović, V., Gašević, D., & Dawson, S. (2016). Roles of course facilitators, learners, and technology in the flow of information of a cMOOC. International Review of Research in Open and Distributed Learning, 16(3). doi:10.19173/irrodl.v16i3.2170.

Twitter API. (2016). API overview. Twitter Developers. https://dev.twitter.com/overview/api.

van Treeck, T., & Ebner, M. (2013). How useful is Twitter for learning in massive communities? An analysis of two MOOCs. In K. Weller, A. Bruns, J. Burgess, M. Mahrt, & C. Puschmann (Eds.), Twitter & Society (pp. 411–424). New York, NY: Peter Lang.

Veletsianos, G., & Kimmons, R. (2016). Scholars in an increasingly digital and open world: How do education professors and students use twitter? The Internet and Higher Education, 30, 1–10.

Wang, Q., Woo, H. L., Quek, C. L., Yang, Y., & Liu, M. (2012). Using the Facebook group as a learning management system: An exploratory study. British Journal of Educational Technology, 43(3), 428–438.

Zheng, S., Han, K., Rosson, M. B., & Carroll, J. M. (2016). The role of social media in MOOCs: How to use social media to enhance student retention. In Proceedings of the third ACM conference on learning @ scale, pp. 419–428.
Ethics declarations
Conflict of interest
The authors declare that they have no conflict of interest.
About this article
Cite this article
Veletsianos, G. Toward a generalizable understanding of Twitter and social media use across MOOCs: who participates on MOOC hashtags and in what ways?. J Comput High Educ 29, 65–80 (2017). https://doi.org/10.1007/s12528-017-9131-7
Published:

Issue Date:

DOI: https://doi.org/10.1007/s12528-017-9131-7
Keywords
MOOCs

Social media

Twitter

Participation patterns

Hashtags