Abstract
Online labs (OLs) constitute digital educational tools which can have a significant role in supporting science, technology, engineering and mathematics (STEM) teachers in their daily teaching practice. Designing STEM lessons supported by specific OLs is a challenging task and thus, it is useful for STEM teachers to be able to share their lesson plans in a way that these can be effectively searched by others. The most common way to facilitate this process is (a) to characterize the lesson plans with appropriately selected educational metadata and (b) to build a web repository that collects the metadata records of the lesson plans (following a common metadata schema) and offers search and retrieval functionalities. In our previous work, a metadata schema that can be used for characterizing STEM lesson plans supported by OLs has been proposed. The scope of this paper is to complement the findings of our previous work and present the technical implementation of the proposed metadata schema via a web-based repository, namely the Go-Lab repository and a study on the real usage of the metadata schema's elements through the analysis of the lesson plans' metadata records that have been published to this repository by STEM teachers.
This is a preview of subscription content, log in to check access.
Access options
Buy single article
Instant access to the full article PDF.
US$ 39.95
Price includes VAT for USA
Subscribe to journal
Immediate online access to all issues from 2019. Subscription will auto renew annually.
US$ 99
This is the net price. Taxes to be calculated in checkout.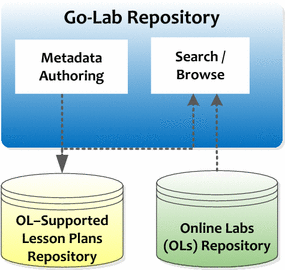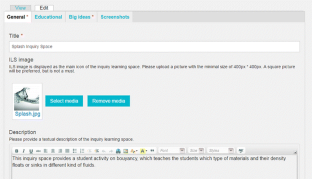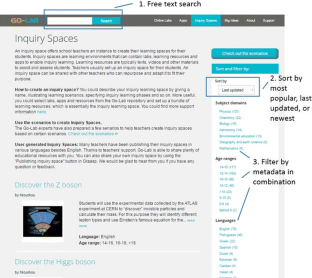 References
Anderson, L. W. (Ed.), Krathwohl, D. R. (Ed.), Airasian, P.W., Cruikshank, K. A., Mayer, R. E., Pintrich, P. R., Raths, J., & Wittrock, M. C. (2001). A taxonomy for learning, teaching, and assessing: A revision of Bloom's taxonomy of educational objectives. New York: Longma.

Balamuralithara, B., & Woods, P. C. (2009). Virtual laboratories in engineering education: The simulation lab and remote lab. Computer Applications in Engineering Education, 17(1), 108–118.

Battigelli, S., & Sugliano, A. M. (2009). Lesson plan archiviation: Metadata and Web 2.0 applications. Journal of e-Learning and Knowledge Society, 5(3), 59–67.

Cao, Y., Govaerts, S., Dikke, D., Faltin, N., & Gillet, D. (2014). Helping each other teach: Design and realisation of a social tutoring platform. In Journal of Immersive Education (JiED)—proceedings of 4th European immersive education summit, immersive education initiative, Austria.

Creswell, J. W. (2008). Research design: Qualitative, quantitative, and mixed methods approaches (3rd ed.). Thousand Oaks, CA: Sage.

Dagienė, V., & Kubilinskienė, S. (2010). Technology-based lesson plans: Preparation and description. Informatics in Education-An International Journal, 9(2), 217–228.

De Jong, T., Linn, M. C., & Zacharia, Z. C. (2013). Physical and virtual laboratories in science and engineering education. Science, 340(6130), 305–308.

De Jong, T., Sotiriou, S., & Gillet, D. (2014). Innovations in STEM education: The Go-Lab federation of online labs. Smart Learning Environments, 1(1), 1–16.

Dikke, D., Tsourlidaki, E., Zervas, P., Cao, Y., Faltin, N., Sotiriou, S., & Sampson, D (2014). GoLabz: Towards a federation of online labs for inquiry-based science education at school. In Proceedings of the international conference on education and learning (EDULEARN14), pp. 3238–3248.

Dong, L., Marshall, J., & Wang, J. (2009). A web-based collaboration environment for k-12 math and science teachers. In Proceedings of the 39th IEEE conference on frontiers in education (FIE'09), pp. 1–6.

Geelan, D. R., & Fan, X. (2014). Teachers using interactive simulations to scaffold inquiry instruction in physical science education. In J. Gilbert & B. Eilam (Eds.), Science Teachers' use of visual representations (pp. 249–270). Dordrecht: Springer.

Gomes, L., & Bogosyan, S. (2009). Current trends in remote laboratories. IEEE Transactions on Industrial Electronics, 56(12), 4744–4756.

Govaerts, S., Cao, Y., Vozniuk, A., Holzer, A., Zutin, D. G., Ruiz, E. S. C., Bollen, L., Manske, S., Faltin, N., Salzmann, C., Tsourlidaki, E., & Gillet., D. (2013). Towards an online lab portal for inquiry-based stem learning at school. In Proceedings of the international conference on web-based learning – ICWL 2013, (pp. 244–253). Springer, Berlin.

Harlen, W. (Ed.). (2010). Principles and big ideas of science education. Herts: Association for Science Education.

Heintz, M., Law, E. L.-C., Govaerts, S., Holzer, A., & Gillet, D (2014). Pdot: Participatory design online tool. In CHI '14 extended abstracts on human factors in computing systems (CHI EA '14). ACM, New York, NY, pp. 2581–2586.

Heintz, M., Law, E. L. C., Manoli, C., Zacharia, Z., & van Riesen, S. A. (2015). A survey on the usage of online labs in science education: Challenges and implications.

IEEE Learning Technology Standards Committee (LTSC). (2005). Final standard for learning object metadata. IEEE Learning Technology Standards Committee. http://ltsc.ieee.org/wg12/. Accessed 21 December 2015.

Ochoa, X., & Duval, E. (2009). Automatic evaluation of metadata quality in digital repositories. International Journal on Digital Libraries, 10(2–3), 67–91.

Pedaste, M., Mäeots, M., Siiman, L. A., de Jong, T., van Riesen, S. A., Kamp, E. T., et al. (2015). Phases of inquiry-based learning: Definitions and the inquiry cycle. Educational research review, 14, 47–61.

Renear, A. H., Sacchi, S., & Wickett, K. M. (2010). Definitions of dataset in the scientific and technical literature. Proceedings of the American Society for Information Science and Technology, 47(1), 1–4.

Sayary, A. M. A., Forawi, S. A., & Mansour, N. (2015). STEM education and problem-based learning. In R. Wegerif, L. Li, & J. Kaufman (Eds.), The Routledge international handbook of research on teaching thinking (pp. 357–368). NY: Routledge.

Tsourlidaki, E., Zervas, P., Sotiriou S., & Sampson, D. (2015). An investigation with European school teachers on how to characterize virtual and remote labs. In Proceedings of the 6th IEEE international conference on engineering education towards excellence and innovation 2015 (EDUCON2015).

Van Es, R., & Koper, R. (2006). Testing the pedagogical expressiveness of IMS LD. Educational Technology & Society, 9(1), 229–249.

Wang, C.-Y., Wu, H.-K., Lee, S. W.-Y., Hwang, F.-K., Chang, H.-Y., Wu, Y.-T., et al. (2014). A review of research on technology-assisted school science laboratories. Educational Technology & Society, 17(2), 307–320.

Wiggins, G., & McTighe, J. (1999). Understanding by design. Alexandria, VA: Association for Supervision and Curriculum Development.

Zervas, P., Kalamatianos, A., Tsourlidaki, E., Sotiriou, S., & Sampson, D. (2014). A methodology for organizing virtual and remote laboratories. In D. G. Sampson, D. Ifenthaler, J. M. Spector, & P. Isaias (Eds.), Digital systems for open access to formal and informal learning (pp. 235–255). Berlin: Springer.

Zervas, P., Sergis, S., Sampson, D., & Fyskilis, S. (2015a). Towards competence-based learning design driven remote and virtual labs recommendations for science teachers. Technology, Knowledge and Learning, 20(2), 185–199.

Zervas, P., Tsourlidaki, E., Sotiriou, S., & Sampson, D. (2015a). Towards a metadata schema for characterizing lesson plans supported by virtual and remote labs in school education. In Proceedings of the IADIS 12th international conference on cognition and exploratory learning in digital age (CELDA2015).
Acknowledgments
The work presented in this paper has been partially funded by the European Commission in the context of the Go-Lab project (Grant Agreement No. 317601) under the Information and Communication Technologies (ICT) theme of the 7th Framework Programme for R&D (FP7). This document does not represent the opinion of the European Commission, and the European Commission is not responsible for any use that might be made of its content.
Ethics declarations
Conflict of interest
The authors declare that they have no conflict of interest.
About this article
Cite this article
Zervas, P., Tsourlidaki, E., Cao, Y. et al. A study on the use of a metadata schema for characterizing school education STEM lessons plans by STEM teachers. J Comput High Educ 28, 389–405 (2016). https://doi.org/10.1007/s12528-016-9113-1
Keywords
School STEM education

Inquiry-based learning

Online lab

Web-based repository

Metadata schema

Lesson plan