Abstract
Is the curriculum in British universities being influenced by decisions about ownership of intellectual property rights (IPR) in 'open educational resources' (OERs) that are available online under Creative Commons licenses, free of charge? This paper provides the context for, describes and analyses three significant examples in British higher education where OERs are being created for use by academics and learners on campus or at a distance. OpenLearn and iTunes U, two of the British examples, are drawn from the Open University of the United Kingdom, which teaches over 200,000 undergraduate and graduate students almost entirely at a distance. The third example, OTTER, is at the University of Leicester, a campus university in England with about 7,000 distance learners. Both universities depend on government funding, student fees, research and entrepreneurial income. All three examples are funded indirectly by the British government, though OpenLearn has received substantial US foundation support as well. In presenting these examples, the questions arise of whether the projects are supply- or demand-driven, and of whether they are altruistic or not. Debate over intellectual property rights has influenced creation of the OERs and vice versa, but from these three examples it seems doubtful whether, as yet, OERs and IPR have significantly influenced British universities' curriculum. The paper ends with discussion of how OERs created in British universities are influencing teaching and learning in other countries, as globalisation advances.
Access options
Buy single article
Instant access to the full article PDF.
USD 39.95
Price excludes VAT (USA)
Tax calculation will be finalised during checkout.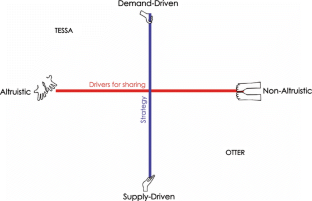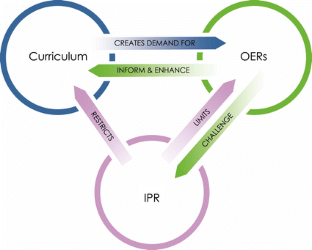 References
Atkins, D. E., Brown, J. S., & Hammond, A. L. (2007). A review of the open educational resources (OER) movement: Achievements, challenges, and new opportunities. Report to the William and Flora Hewlett Foundation. http://learn.creativecommons.org/wp-content/uploads/2008/03/areviewoftheopeneducationalresourcesoermovement_bloglink.pdf. Accessed May 26, 2010.

Bissell, A. N. (2009). Permission granted: Open licensing for educational resources. Open Learning: The Journal of Open and Distance Learning, 24(1), 97–106.

Bissell, A., Park, J., & Brooks, A. (2008). What status for "open"? An examination of the licensing policies of open educational organizations and projects. Report from CC Learn to the William and Flora Hewlett Foundation. http://creativecommons.org/weblog/entry/11700. Accessed May 28, 2010.

Commonwealth of Learning. (2009). OERs: The promise and the pitfalls. Connections: Learning for Development, 14(3), 8–9.

Department of Business, Innovation and Skills. (2009). Higher ambitions: The future of universities in a knowledge economy. http://www.bis.gov.uk/assets/biscore/corporate/docs/h/09-1447-higher-ambitions.pdf. Accessed May 22, 2010.

Finkelstein, M. J., Frances, C., Jewett, F. I., & Scholz, B. W. (2000). Dollars, distance, and online education: The new economics of college teaching and learning. Phoenix, AZ: Oryx Press.

Hatakka, M. (2009). Build it and they will come? Inhibiting factors for re-use of open content in developing countries. Electronic Journal on Information Systems in Developing Countries (http://www.ejisdc.org), 37(5), 1–16.

Korn, N., Oppenheim, C., & Duncan, C. (2008). Open content licences: JISC guidance November 2008. http://www.jisc.ac.uk/media/documents/funding/project_management/open_content_licences_jiscguidancenov2008.doc. Accessed May 24, 2010.

Lane, A. (2006). From pillar to post: Exploring the issues involved in repurposing distance learning materials for use as Open Educational Resources. http://kn.open.ac.uk/public/document.cfm?docid=9724. Accessed October 22, 2009.

McAndrew, P., dos Santos, A. I., Lane, A., Godwin, S., Okada, A., Wilson, T., et al. (2009). OpenLearn: Research report 2006–2008. Milton Keynes: The Open University.

MIT. (2004). OpenCourseWare Story. http://www.bb.ustc.edu.cn/ocw/NR/rdonlyres/1118F4F3-AA41-4CB4-B71F-F6E058AD22AA/0/MIT_OCW_Approach_10_5_04.pdf. Accessed May 28, 2010.

OECD. (2007). Giving knowledge for Free: The emergence of open educational resources. Education and Skills, 2007 (3), 1–153. http://puck.sourceoecd.org/vl=5684928/cl=18/nw=1/rpsv/~6670/v2007n3/s1/p1l. Accessed May 28, 2010.

OpenLearn, The Open University. (2007). http://oerwiki.iiep-unesco.org/index.php?title=OER_stories:OpenLearn%2C_The_Open_University. Accessed May 28, 2010.

Stacey, P. (2007). BC campus. http://oerwiki.iiep-unesco.org/index.php?title=OER_stories:_BCcampus. Accessed May 28, 2010.

Tsiavos, P. (2009). Case studies mapping the flows of content, value and rights across the public sector. http://www.jisc.ac.uk/media/documents/publications/scaiprcasestudiesv2.pdf. Accessed March 24, 2010.
Acknowledgments
The authors thank Emma Davies for assistance in preparing the figures.
About this article
Cite this article
Hawkridge, D., Armellini, A., Nikoi, S. et al. Curriculum, intellectual property rights and open educational resources in British universities—and beyond. J Comput High Educ 22, 162–176 (2010). https://doi.org/10.1007/s12528-010-9036-1
Published:

Issue Date:

DOI: https://doi.org/10.1007/s12528-010-9036-1
Keywords
British universities

Curriculum

Intellectual property rights

Open educational resources

Open University

University of Leicester

Beyond Distance Research Alliance