Access options
Buy single article
Instant access to the full article PDF.
US$ 39.95
Tax calculation will be finalised during checkout.
Subscribe to journal
Immediate online access to all issues from 2019. Subscription will auto renew annually.
US$ 79
Tax calculation will be finalised during checkout.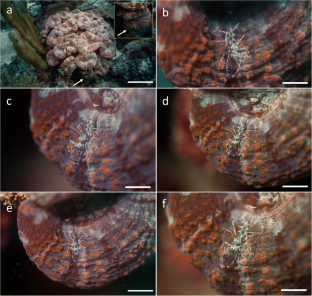 References
Brinkmann BW, Fransen CHJM (2016) Identification of a new stony coral host for the anemone shrimp Periclimenes rathbunae Schmitt, 1924 with notes on the host-use pattern. Contrib Zool 85:437–456

González-Muñoz R, Garese A, Acuña FH, Reimer JD, Simões N (2019) The spotted cleaner shrimp, Periclimenes yucatanicus (Ives, 1891), on an unusual scleractinian host. Diversity 11:213

Hoeksema BW, Fransen CHJM (2017) Host switch by the Caribbean anemone shrimp Periclimenes rathbunae in Curaçao. Coral Reefs 36:607

Horká I, De Grave S, Fransen CHJM, Petrusek A, Ďuriš Z (2016) Multiple host switching events shape the evolution of symbiotic palaemonid shrimps (Crustacea: Decapoda). Sci Rep 6:26486

Spotte S, Heard RW, Bubucis PM, Manstan RR, McLelland JA (1991) Pattern and coloration of Periclimenes rathbunae from the Turks and Caicos Islands, with comments on host associations in other anemone shrimps of the West Indies and Bermuda. Gulf Res Rep 8:301–311
Acknowledgements
We thank Charles Fransen, Bert Hoeksema, Lena Menzel, and four reviewers for their constructive comments and support letters. Nibo and Milton are thanked for diving and logistical support.
Funding
JEGH thanks Idea Wild for providing the necessary funds for two Light & Motion Photo Lights which were used to record this observation.
Ethics declarations
Conflict of interest
The authors declare no competing interests.
Ethical approval
No animal testing was performed during this study.
Sampling and field studies
All necessary permits for sampling and observational field studies have been obtained by the authors from the competent authorities and are mentioned in the acknowledgements, if applicable.
Data availability
All data generated or analyzed during this study are included in this published article.
Author contribution
The ecological observation and the inception of the first draft of this manuscript was written by Jaaziel E. García-Hernández, while Nikolaos V. Schizas commented on all previous versions of the manuscript and assisted during scuba survey. Both authors read and approved the final manuscript.
Additional information
Publisher's note
Springer Nature remains neutral with regard to jurisdictional claims in published maps and institutional affiliations.
Communicated by L. Menzel
About this article
Cite this article
García-Hernández, J.E., Schizas, N.V. Who are you? The "anemone shrimp" Periclimenes rathbunae perched on the stony coral Mussa angulosa. Mar. Biodivers. 51, 25 (2021). https://doi.org/10.1007/s12526-021-01171-2
Received:

Revised:

Accepted:

Published: