Abstract
Biology of planktonic stomatopod larvae has long remained poorly understood and often considered "black boxes" in life history studies. From coralline crustose algal (CCA) reefs at Datan, Taoyuan, Taiwan, using light traps recently designed, we collected considerable number of stomatopod larvae and juveniles. Applying DNA barcoding techniques using mitochondrial cytochrome oxidase I (COI) and 16S ribosomal RNA (16S rRNA) gene sequences, 14 morphotypes were revealed to represent 12 distinct species, seven of which identified to species level by comparing against reference sequences available from online source (GenBank), whereas the other five do not cluster with any known sequences. All stomatopod larvae and juveniles were described and illustrated. We report Manningia pilaensis (De Man, 1888) and Levisquilla jurichi (Makarov, 1979) as new records of the stomatopod fauna of Taiwan and confirm the validity of Lysiosquillina maculata (Fabricius, 1793). Based on material we acquired from light traps, which include propelagic antizoea larvae (of L. maculata), and also postlarval and juvenile forms (of various squillid species), both positively phototactic, indicating the current understanding of negative-positive-negative phototactic tendency from early planktonic to postlarval stages through the development of stomatopod larvae, might not be as distinct as previously described.
Access options
Buy single article
Instant access to the full article PDF.
USD 39.95
Price includes VAT (USA)
Tax calculation will be finalised during checkout.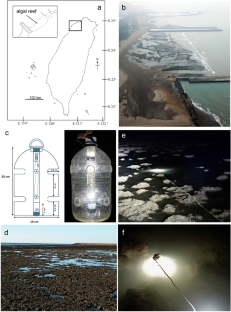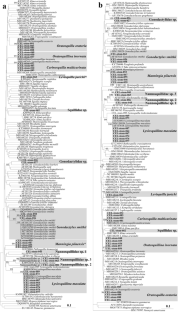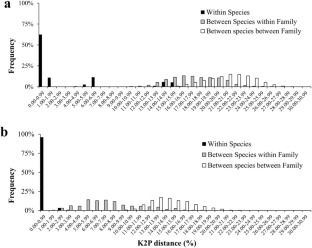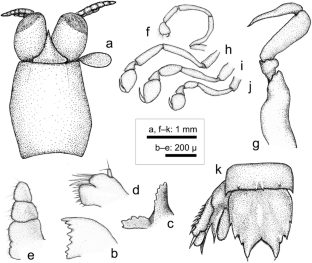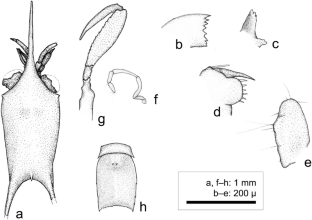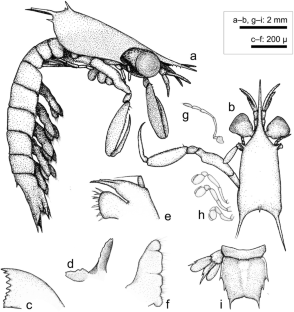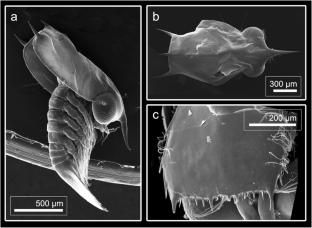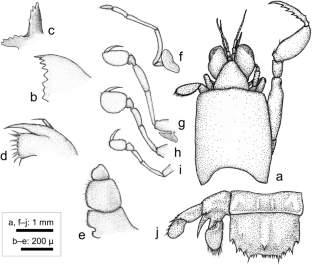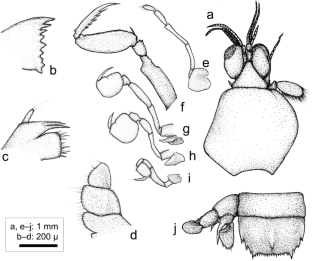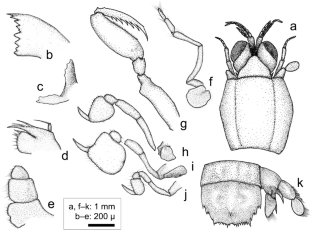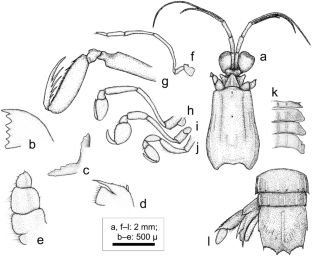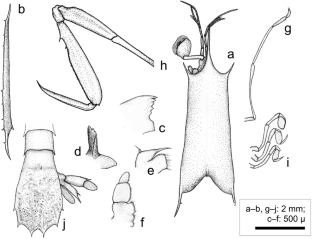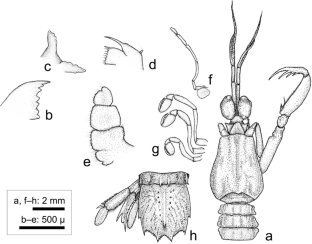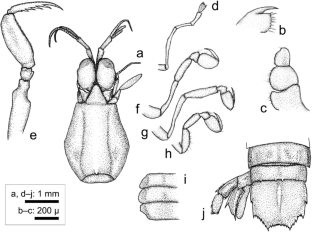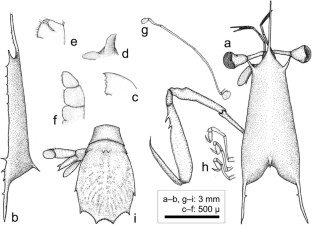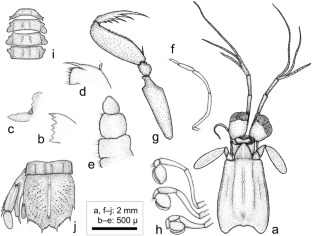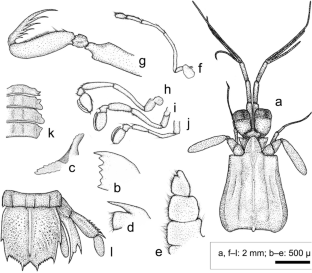 References
Adey WH (1998) Coral reefs: algal structured and mediated ecosystems in shallow, turbulent, alkaline waters. J Phycol 34:393–406. https://doi.org/10.1046/j.1529-8817.1998.340393.x

Adey WH, Vassar JM (1975) Colonization, succession and growth rates of tropical crustose coralline algae (Rhodophyta, Cryptonemiales). Phycologia 14:55–69

Ahyong ST (2001) Revision of the Australian Stomatopod Crustacea. Rec Aust Mus Supp 26:1–326

Ahyong ST (2005) Coral reef mantis shrimps from the vicinity of Sodwana Bay, South Africa (Crustacea: Stomatopoda). Proc Biol Soc Washington 118:158–164. https://doi.org/10.2988/0006-324X(2005)118[158:CRMSFT]2.0.CO;2

Ahyong ST (2012) Stomatopod crustacea of the KUMEJIMA 2009 expedition, Japan. Zootaxa 3367:232–251. https://doi.org/10.11646/zootaxa.3367.1.22

Ahyong ST, Jarman SN (2009) Stomatopod interrelationships: preliminary results based on analysis of three molecular loci. Arthr Syst Phyl 67:91–98

Ahyong ST, Chan T-Y, Liao Y-C (2008) A catalogue of the mantis shrimps (Stomatopoda) of Taiwan. National Taiwan Ocean University, Keelung, 190pp

Ahyong ST, Haug JT, Haug C (2014) Stomatopoda. In: Martin JW, Olesen J, Høeg JT (eds) Atlas of crustacean larvae. John Hopkins University Press, Baltimore, pp185–189

Ahyong ST, Hwang H-S, Kim W (2018) Review of the mantis shrimp genus Taku Manning, 1995 (Stomatopoda: Gonodactyloidea: Takuidae). J Crust Biol 38:451–459. https://doi.org/10.1093/jcbiol/ruy033

Alikunhi KH (1944) Final pelagic larva of Squilla hieroglyphica Kemp. Curr Sci 13(9):237–238

Alikunhi KH (1950) Observations on some larval and post-larval stomatopods. J Bombay Nat Hist Soc 49:101–107

Alikunhi KH (1952) An account of the stomatopod larvae of the Madras plankton. Rec Indian Mus 49:239–319

Alikunhi KH (1958) Notes on a collection of stomatopod larvae from the bay of Bengal, off the Mahanadi estuary. J Zool Soc India 10:120–147

Alikunhi KH (1967) An account of the post-larval development, moulting and growth of the common stomatopods of the Madras coast. In Proceedings of the Symposium on Crustacea, held at Ernakulam from January 12–15, 1965, pt. 2. Mandapam Camp: Marine Biological Association of India. pp 824–939

Alikunhi KH, Aiyar RG (1942) On some Squilla larvae from the Madras plankton. Curr Sci 11(2):56–58

Alikunhi KH, Aiyar RG (1943) Growth in some stomatopods. Curr Sci 12(3):80–82

Ballesteros E (2006) Mediterranean coralligenous assemblages: a synthesis of present knowledge. Ocean Mar Biol Annu Rev 44:123–195

Barber P, Boyce SL (2006) Estimating diversity of Indo-Pacific coral reef stomatopods through DNA barcoding of stomatopod larvae. Proc R Soc B 273:2053–2061. https://doi.org/10.1098/rspb.2006.3540

Barber PH, Erdmann MV (2000) Molecular systematics of the Gonodactylidae (Stomatopoda) using mitochondrial cytochrome oxidase C (subunit 1) DNA sequence data. J Crust Biol 20:20–36. https://doi.org/10.1163/1937240X-90000004

Bok MJ, Porter ML, Cronin TW (2015) Ultraviolet filters in stomatopod crustaceans: diversity, ecology and evolution. J Exp Biol 218:2055–2066. https://doi.org/10.1242/jeb.122036

Borradaile LA (1900) On the Stomatopoda and Macrura brought by Dr Willey from the South Seas. Zoological results based on material collected in New Nritain, New Guinea, Loyalty Islands and elsewhere. collected during the years 1895, 1896 and 1897. Part IV. Cambridge University Press, Cambridge, pp 395–428

Bosence DWJ (1983) Coralline algal reef frameworks. J Geol Soc Lond 140:365–376. https://doi.org/10.1144/gsjgs.140.3.0365

Bouchet P, Ng PKL, Largo D, Tan SH (2009) PANGLAO 2004—investigations of the marine species richness in the Philippines. Raff Bull Zool Supp 20:1–19

Bracken-Grissom HD, Felder DL, Vollmer NL, Martin JW, Crandall KA (2012) Phylogenetics links monster larva to deep-sea shrimp. Ecol Evol 2:2367–2373. https://doi.org/10.1002/ece3.347

Brooks WK (1886) Report on the Stomatopoda collected by H. M. S. Challenger during the years 1873–76. The Vovage of the H. M. S. Challenger, Zoology 16:1–116

Castro P (1988) Animal symbioses in coral reef communities: a review. Symbiosis 5:161–184

Chan T-Y, Ho KC, Li CP, Chu KH (2009) Origin and diversification of the clawed lobster genus Metanephrops (Crustacea: Decapoda: Nephropidae). Mol Phyl Evol 50:411–422. https://doi.org/10.1016/j.ympev.2008.11.020

Chan BKK, Shao K-T, Shao Y-T, Chang Y-W (2016) A simplified, economical, and robust light trap for capturing benthic and pelagic zooplankton. J Exp Mar Biol Ecol 482:25–32. https://doi.org/10.1016/j.jembe.2016.04.003

Chu C, Loh KH, Ng CC, Ooi AL, Konishi Y, Huang SP, Chong VC (2019) Using DNA barcodes to aid the identification of larval fishes in tropical estuarine waters (Malacca Straits, Malaysia). Zool Stud 58:30. https://doi.org/10.6620/ZS.2019.58-30

Cook CE, Yue Q, Akam M (2005) Mitochondrial genomes suggest that hexapods and crustaceans are mutually paraphyletic. Proc R Soc B 272:1295–1304. https://doi.org/10.1098/rspb.2004.3042

Costa FO, deWaard JR, Boutillier J, Ratnasingham S, Dooh RT, Hajibabaei M, Hebert PDN (2007) Biological identifications through DNA barcodes: the case of the Crustacea. Can J Fish Aquat Sci 64:272–295. https://doi.org/10.1139/f07-008

Crandall KA, Fitzpatrick JF Jr (1996) Crayfish molecular systematics: using a combination of procedures to estimate phylogeny. Syst Biol 45:1–26. https://doi.org/10.1093/sysbio/45.1.1

Dai C-F, Wang S-W, Chang J-S, Jeng A-I (2009) Handbook for ecological tours of Guanyin algae reef. Liquefied natural gas engineering office. CPC Corporation, Taiwan

Dana JD (1852–1855) Crustacea, part I. United States exploring expedition during the years 1838, 1839, 1840, 1841, 1842, under the command of Charles Wilkes, U.S.N. 13. C. Sherman, Philidelphia, 685 pp (1852), atlas (1855)

de Haan W (1833–1850) Crustacea. In: von Siebold PF (ed) Fauna japonica sive Descriptio Animalium, quae in Itinere per Japoniam, Jussu et Auspiciis Superiorum, qui Summum in India Batava imperium Tenent, Suspecto, Annis 1823–1830 Collegit, Notis, Observationibus et Adumbrationibus Illustravit. Lugduni-Batavorum, 243pp

de Man JG (1887–1888) Report on the podophthalmous Crustacea of the Mergui archipelago, collected for the trustees of the Indian museum, Calcutta, by Dr. John Anderson F.R.S., superintendent of the museum. J Linn Soc Zool 22:1–305

de Man JG (1898) Bericht über die von Herrn Schiffscapitän storm zu Atjeh, an den westlichen Küsten von Malakka, Borneo und Celebes sowie in der Java-see-gesammelten Decapoden und Stomatopoden. Sechster (Schluss-) Theil. Zool Jb Abt Syst 10:677–708

Dethier MN, Steneck RS (2001) Growth and persistence of diverse intertidal crusts: survival of the slow in a fast-paced world. Mar Ecol Prog Ser 223:89–100

Dingle H (1969) Ontogenetic changes in phototaxis and thigmokinesis in stomatopod larvae. Crustaceana 16:108–110

ĎuriŠ Z (2018) Madeirasquilla tuerkayi, a new genus and species of mantis shrimps from Madeira Island, eastern Atlantic (Crustacea: Stomatopoda: Nannosquillidae). Zootaxa 4399:553–562. https://doi.org/10.11646/zootaxa.4399.4.5

Elliott J (2002) DNA evidence for morphological and cryptic Cenozoic speciations in the Anaspididae, 'living fossils' from the Triassic. J Evol Biol 13:624–633. https://doi.org/10.1046/j.1420-9101.2000.00207.x

Emery KO, Tracey JI Jr, Ladd HS (1954) Geology of bikini and nearby atolls. Geol Surv Prof Pap 260A:265pp

Fabricius JC (1781) Species Insectorum Exhidentes Eorum Differentias Specificas, Synonyma Auctorum, Loca Natalia, Mmetamorphosin Adiectis, Observationibus, Descriptionibus. Hamburgii et Kilon i, 552pp

Fabricius JC (1787) Mantissa insectorum sistens eorum species nuper detectas: adjectis characteribus genericis, differentiis specificis, emendationibus, observationibus. Proft Hafniae I, 348pp

Fabricius JC (1793) Entomologia Systematica Emendata et Aucta. Secundum classes, Ordines, genera, species. Adjectis Synonimis, Locis, Observationibus, Descriptionibus 2. Hafniae, 519pp

Fabricius JC (1798) Entomologia Systematica emendata et aucta, secundum classes, ordines, genera, species adjectis synonimis locis observationibus descriptionibus. Hafniae. I-IV. Supplementum Entomologiae Systematicae Copenhagen, 572pp

Feller KD, Cronin TW (2014) Hiding opaque eyes in transparent organisms: a potential role for larval eyeshine in stomatopod crustaceans. J. Exp Biol 217:3263–3273. https://doi.org/10.1242/jeb.108076

Feller KD, Cronin TW (2016) Spectral absorption of visual pigments in stomatopod larval photoreceptors. J Comp Phys A 202:215–223. https://doi.org/10.1007/s00359-015-1063-y

Feller KD, Cronin TW, Ahyong ST, Porter ML (2013) Morphological and molecular description of the late-stage larvae of Alima leach, 1817 (Crustacea: Stomatopoda) from Lizard Island, Australia. Zootaxa 3722:22–32

Folmer O, Black M, Hoeh W, Lutz R, Vrijenhoek R (1994) DNA primers for amplification of mitochondrial cytochrome c oxidase subunit I from diverse metazoan invertebrates. Mol Mar Biol Biotechnol 3:294–299

Foxon GEH (1939) Stomatopod larvae. Sci Rep 6:251–266

Fukuda T (1909) The Stomatopoda of Japan. Dobutsugaku Zasshi 21:54–62

Fukuda T (1911) Supplement to Japanese Stomatopoda. Dobutsugaku Zasshi 23:173–175

Fukuda T (1913) On two species of Japanese Stomatopods, with list of Stomatopoda found in Japanese seas. Dobutsugaku Zasshi 25:69–72

Ghosh HC (1990) Stomatopoda: Crustacea. Fauna of Lakshadweep. State Fauna Series 2:199–212

Giesbrecht W (1910) Stomatopoden, Erster Theil. Fauna Flora Golfes Neapel Monogr 33:1–239

Glynn PW, Enochs IC (2011) Invertebrates and their roles in coral reef ecosystems. In: Dubinsky Z, Stambler N (eds) Coral reefs: an ecosystem in transition. Springer Science+Business Media B.V, Netherlands, pp 273–325. https://doi.org/10.1007/978-94-007-0114-4_18

Greenwood JD, Williams BG (1984) Larval and early post-larval stages in the abbreviated development of Heterosquilla tricarinata (Claus, 1871) (Crustacea, Stomatopoda). J Plankton Res 6:615–635

Gurney R (1946) Notes on Stomatopod larvae. Proc Zool Soc London 116(1):133–175. https://doi.org/10.1111/j.1096-3642.1946.tb00112.x

Hamano T (1989) Biology of Stomatopods. 18. Taxonomy and key of Japanese Stomatopoda 16. Family Lysiosquillidae. Aquabiol 11:468–471

Hamano T, Matsuura S (1987) Egg size, duration of incubation, and larval development of the Japanese mantis shrimp in the laboratory. Nippon Suisan Gakkaishi 53:23–39

Haug C, Haug JT (2014) Defensive enrolment in mantis shrimp larvae (Malacostraca: Stomatopoda). Cont Zool 83:185–194

Haug C, Wagner P, Bjarsch JM, Braig F, Haug JT (2018) A new "extreme" type of mantis shrimp larva. Nauplius 26:e2018019. https://doi.org/10.1590/2358-2936e2018019

Hebert PDN, Cywinska A, Ball SL, deWaard JR (2003) Biological identifications through DNA barcodes. Proc R Soc B 270:313–321. https://doi.org/10.1098/rspb.2002.2218

Holthuis LB (1941) Biological results of the Snellius expedition XII. The Stomatopoda of the Snellius Expedition. Temminckia 6:241–294

Holthuis LB (1967) The second Israel South Red Sea expedition, 1965, report no. 1. The stomatopod Crustacea collected by the 1962 and 1965 Israel South Red Sea expeditions. Israel J Zool 16:1–45

How MJ, Porter ML, Radford AN, Feller KD, Temple SE, Caldwell RL, Marshall NJ, Cronin TW, Roberts NW (2014) Out of the blue: the evolution of horizontally polarized signals in Haptosquilla (Crustacea, Stomatopoda, Protosquillidae). J Exp Biol 217:3425–3431

Hwang J-J, Yu H-P (1980) A fauna-list of the Crustacea from Lan-Yu Island. Ann Taiwan Mus 23:151–179

Kemp S (1911) Preliminary descriptions of new species and varieties of Crustacea Stomatopoda in the Indian museum. Rec Indian Mus 6:93–100

Kemp S (1913) An account of the Crustacea Stomatopoda of the Indo-Pacific region based on the collection in the Indian museum. Mem Indian Mus 4:1–217

Komai T (1927) Stomatopoda of Japan and adjacent localities. Mem Coll Sci Kyoto Imp Univ Ser B 3:307–354

Komai T (1932) An enormous swarm of stomatopod larvae. Annot Zool Japon 13:351–354

Komai T, Tung YM (1929) Notes on the larval stages of Squilla oratoria with remarks on some other stomatopod larvae found in the Japanese seas. Annot Zool Japan 12:187–237

Kumar S, Stecher G, Li M, Knyaz C, Tamura K (2018) MEGA X: molecular evolutionary genetics analysis across computing platforms. Mol Biol Evol 35:1547–1549. https://doi.org/10.1093/molbev/msy096

Kuo C-Y, Chung A, Keshavmurthy S, Huang Y-Y, Yang S-Y, Chen CA (2019) Lonely giant on the sand: unexpected massive Taiwanese coral, Polycyathus chaishanensis in the Datan algal reef demands a conservation focus. Galaxea J Coral Reef Stud 21:11–21. https://doi.org/10.3755/galaxea.21.1_11

Latreille PA (1802) Histoire naturelle, générale et particulière, des Crustacés et des Insectes, 3. F. Dufart, Paris, 467 pp

Latreille PA (1828) Squille, Squilla. Encyclopédie Méthodique. Entomologie ou Historire naturelle des Crustacés, des Arachnides et des Insectes 10. Paris: Asasse, Paris, pp467–475

Leach WE (1817–1818) A general notice of the animals taken by Mr. John Cranch, during the expedition to explore the source of the River Zaire. In: Tuckey JK, Narrative of an Expedition to Explore the River Zaire, Usually Called the Congo, in South Africa, in 1816, under the Direction of Captain J. K. Tuckey, R.N., to Which is Added, the Journal of Professor Smith, Some General Observations on the Country and its Inhabitants, and an Appendix: Containing the Natural History of that Part of the Kingdom of Congo Through Which the Zaire Flows. John Murray, London, pp407–409

Lee S-C, Wu S-K (1966) The stomatopod crustacea of Taiwan. Bull Inst Zool Acad Sin 5:41–58

Leray M, Knowlton N (2015) DNA barcoding and metabarcoding of standardized samples reveal patterns of marine benthic diversity. Proc Natl Acad Sci U S A 112:2076–2081. https://doi.org/10.1073/pnas.1424997112

Leray M, Knowlton N, Ho S-L, Nguyen BN, Machida RJ (2019) GenBank is a reliable resource for 21st century biodiversity research. Proc Natl Acad Sci U S A 116:22651–22656. https://doi.org/10.1073/pnas.1911714116

Li JJ, Shih YJ, Ho PH, Jiang GC (2019) Description of the first zoea of the cavernicolous crab Karstama boholano (Ng, 2002) (Crustacea: Decapoda: Sesarmidae) from Taiwan, with notes on ecology. Zool Stud 58:36. https://doi.org/10.6620/ZS.2019.58-36

Lin M-F, Kitahara MV, Tachikawa H, Keshavmurthy S, Chen CA (2012) A new shallow-water species, Polycyathus chaishanensis sp. nov. (Scleractinia: Caryophylliidae), from Chaishan, Kaohsiung, Taiwan. Zool Stud 51(2):213–221

Lin H-J, Hsu H-F, Liao W-S, Lee C-L, Liu P-J, Lin S-M (2013) Biodiversity of the algal reefs in Taoyuan. J Wetlands 2:1–24

Liou C-Y (2012) Rescue algal reefs in Taiwan: vanishing treasure chest of biodiversity. Endemic Species Research Institute, Council of Agriculture, Executive Yuan, Taiwan Available at: https://www.tesri.gov.tw/A15_7/content/10026

Liou C-Y, Yang S-Y, Chen CA (2017) Unprecedented calcareous algal reefs in northern Taiwan merit high conservation priority. Coral Reefs 36:1253

Liu L-C, Lin S-M, Caragnano A, Payri C (2018) Species diversity and molecular phylogeny of non-geniculate coralline algae (Corallinophycidae, Rhodophyta) from Taoyuan algal reefs in northern Taiwan, including Crustaphytum gen. Nov. and three new species. J Appl Phycol 30:3455–3469. https://doi.org/10.1007/s10811-018-1620-1

Makarov RR (1978) New data on crustaceans of the families Lysiosquillidae and Gonodactylidae (Crustacea, Stomatopoda) from Tonkin Bay (Vietnam). Zool Zhur Mos 57:176–189

Makarov RR (1979) Mantis shrimps (Crustacea: Hoplocarida: Stomatopoda) in collections of expeditions of the research vessel "Akademic Kripovich". Biol Morya Vladivostok 3:14–23

Manning RB (1965) Stomatopoda from the collection of his majesty the emperor of Japan. Crustaceana 9(3):249–262

Manning RB (1967) Notes on the genus Manningia with description of a new species (Crustacea: Stomatopoda). Proc US Nat Mus 122:1–13. https://doi.org/10.5479/si.00963801.122-3589.1

Manning RB (1968) Stomatopod Crustacea from Madagascar. Proc US Nat Mus 124:1–61. https://doi.org/10.5479/si.00963801.124-3641.1

Manning RB (1970) Some Stomatopod crustaceans from Tuléar, Madagascar. Bull Mus Natl Hist Nat 2 Sér 41(6):1429–1441

Manning RB (1977) A monograph of the west African stomatopod Crustacea. Atlantide Rep 12:25–181

Manning RB (1978) New and rare Stomatopod Crustacea from the indo-West Pacific region. Smiths Contr Zool 264:1–36

Manning RB (1980) The superfamilies, families, and genera of recent stomatopod crustacea, with diagnoses of six new families. Proc Biol Soc Washington 93(2):362–372

Manning RB (1995) Stomatopod Crustacea of Vietnam: the legacy of Raoul Serène. Crust Res, Sp no 4:1–339

Manning RB (1998) Stomatopods. In: Carpenter KE, Niem VH (eds) FAO species identification guide for fishery purposes. The living marine resources of the Western Central Pacific. Vol. 2. Cephalopods, crustaceans, holothurians and sharks. FAO, Rome, pp827–849

Manning RB, Lewinsohn C (1986) Notes on some stomatopod Crustacea from the Sinai peninsula, Red Sea. Smith Cont Zool 433:1–19. https://doi.org/10.5479/si.00810282.433

Matzen da Silva J, Creer S, dos Santos A, Coata AC, Cunha MR, Costa FO, Carvalho GR (2011) Systematic and evolutionary insights derived from mtDNA COI barcode diversity in the Decapoda (Crustacea: Malacostraca). PLoS One 6:e19449. https://doi.org/10.1371/journal.pone.0019449

Meier R, Kwong S, Vaidya G, Ng PKL (2006) DNA barcoding and taxonomy in Diptera: a tale of high intraspecific variability and low identification success. Syst Biol 55:715–728

Meiklejohn KA, Damaso N, Robertson JM (2019) Assessment of BOLD and GenBank -- their accuracy and reliability for the identification of biological materials. PLoS One 14(6):e0217084. https://doi.org/10.1371/journal.pone.0217084

Michel A (1968) Dérive des larves de stomatopodes de l'Est de l'Océan Indien. Cah ORSTOM Sér Océan 6(1):13–41

Michel A, Manning RB (1971) A new Austrosquilla (Stomatopoda) from the Marquesas Islands. Crustaceana 20(3):237–240

Moosa MK (1991) The Stomatopoda of New Caledonia and Chesterfield Islands. In: Richer de Forges B (ed) Le benthos des fonds meubles des lagons de Nouvelle-Calédonie vol 1, pp 147–219

Moosa MK (2000) Marine biodiversity of the South China Sea: a checklist of stomatopod crustacea. Raff Bull Zool Supp 8:405–457

Morgan SG, Goy JW (1987) Reproduction and larval development of the mantis shrimp Gonodactylus bredini (Crustacea: Stomatopoda) maintained in the laboratory. J Crust Biol 7:595–618. https://doi.org/10.1163/193724087X00379

Morgan SG, Provenzano AJ Jr (1979) Development of pelagic larvae and postlarva of Squilla empusa (Crustacea, Stomapoda), with an assessment of larval characters within the Squillidae. Fish Bull 77(1):61–90

Nobili G (1904) Diagnoses préliminaires de vingt-huit espèces nouvelles de stomatopodes et décapodes macroures de la Mer Rouge. Bull Mus Hist Nat 10:228–238

Palecanda S, Feller KD, Porter ML (2020) Using larval barcoding to estimate stomatopod species richness at Lizard Island, Australia for conservation monitoring. Sci Rep 2020(1):10990. https://doi.org/10.1038/s41598-020-67696-x

Plaisance L, Knowlton N, Paulay G, Meyer C (2009) Reef-associated crustacean fauna: biodiversity estimates using semi-quantitative sampling and DNA barcoding. Coral Reefs 28:977–986. https://doi.org/10.1007/s00338-009-0543-3

Plaistance L, Caley MJ, Brainard RE, Knowlton N (2011) The diversity of coral reefs: What are we missing? PloS ONE 6(10):e25026. https://doi.org/10.1371/journal.pone.0025026

Pocock RI (1893) Report upon the stomatopod crustaceans obtained by P. W. Bassett-Smith, Esq., Surgeon R. N., during the cruise, in the Australian and China seas, of H.M.S. "Penguin," Commander W. U. Moore. Ann Mag Nat Hist Ser 6 11:473–479

Porter ML, Zhang Y, Desai S, Caldwell RL, Cronin TW (2010) Evolution of anatomical and physiological specialization in the compound eyes of stomatopod crustaceans. J Exp Biol 213:3473–3486. https://doi.org/10.1111/j.1755-0998.2009.02643.x

Provenzano AJ Jr, Manning RB (1978) Studies on development of Stomatopod Crustacea II. The later larval stages of Gonodactylus oerstedii Hansen reared in the laboratory. Bull Mar Sci 28(2):297–315

Radulovici AE, Sainte-Marie B, Dufresne F (2009) DNA barcoding of marine crustaceans from the estuary and gulf of St Lawrence: a regional-scale approach. Mol Ecol Res 9:181–187. https://doi.org/10.1111/j.1755-0998.2009.02643.x

Raupach MJ, Radulovici AE (2015) Looking back on a decade of barcoding crustaceans. Zookeys 539:53–81. https://doi.org/10.3897/zookeys.539.6530

Raupach MJ, Barco A, Steinke D, Beermann J, Laakmann S, Mohrbeck I, Neumann H, Kihara TC, Pointner K, Radulovici A, Segelken-Voigt A, Wesse C, Knebelsberger T (2015) The application of DNA barcodes for the identification of marine crustaceans from the North Sea and adjacent regions. PLoS One 10:e0139421. https://doi.org/10.1371/journal.pone.0139421

Schubart CD, Reimer J, Diesel R (1998) Morphological and molecular evidence for a new endemic freshwater crab, Sesarma ayatum sp. n., (Grapsidae, Sesarminae) from eastern Jamaica. Zool Scr 27:373–380. https://doi.org/10.1111/j.1463-6409.1998.tb00468.x

Schubart CD, Niegel JE, Felder DL (2000) Use of the mitochondrial 16S rRNA gene for phylogenetic and population studies of Crustacea. Crust Issues 12:817–830

Serène R (1947) Sur des Stomatopodes rares trouves en Indochine et n'existant pas dans les collections du Museum. Bull Mus Nat Hist Natl Paris, 2 Sér 19:381–389

Serène R (1954) Observations biologiques Sur les stomatopodes. Mém Inst Océan Nhatrang 8:1–93

Serène R (1962) Révision du genre Pseudosquilla (Stomatopoda) et définition de genres nouveaux. Bull Inst Océan Monaco 59:1–27

Shanbhogue SL (1975) Descriptions of stomatopod larvae from the Arabian Sea with a list of stomatopod larvae and adults from the Indian Ocean and a key for their identification part I. J Mar Biol Ass India 17(2):196–238

Shen H, Braband A, Scholtz G (2013) Mitogenomic analysis of decapod crustacean phylogeny corroborates traditional views on their relationships. Mol Phylogenet Evol 66:776–789. https://doi.org/10.1016/j.ympev.2012.11.002

Shih H-T, Hsu P-Y, Shahdadi A, Schubart CD, Li J-J (2019) The synonymy of the supratidal crab species Parasesarma cognatum Rahayu & Li, 2013 with P. liho Koller, Liu & Schubart, 2010 (Decapoda: Brachyura: Sesarmidae) based on morphological and molecular evidence, with a note on P. paucitorum Rahayu & Ng, 2009. Zool Stud 58:21. https://doi.org/10.6620/ZS.2019.58-21

Steller DL, Riosmena-Rodríguez R, Foster MS, Roberts CA (2003) Rhodolith bed diversity in the Gulf of California: the importance of rhodolith structure and consequences of disturbance. Aq Cons Mar Fr Ecosyst 13:S5–S20

Tang RWK, Yau C, Ng W-C (2010) Identification of stomatopod larvae (Crustacea: Stomatopoda) from Hong Kong waters using DNA barcodes. Mol Ecol Resour 10:439–448. https://doi.org/10.1111/j.1755-0998.2009.02794.x

Tate R (1883) Descriptions of some new species of Squilla from South Australia. Trans Proc R Soc S Aust 6:48–53

Toon A, Finley M, Staples J, Crandall KA (2009) Decapod phylogenetics and molecular evolution. In: Martin JW, Crandall KA, Felder DL (eds) Decapod crustacean Phylogenetics, crust Iss 18, CRC Press, Boca Raton, pp15–29

Townsley SJ (1953) Adult and larval stomatopod crustaceans occurring in Hawaiian waters. Pac Sci 7:399–437

Van Der Wal C, Ahyong ST, Ho SYW, Lo N (2017) The evolutionary history of Stomatopoda (Crustacea: Malacostraca) inferred from molecular data. PeerJ 5:e3844. https://doi.org/10.7717/peerj.3844

Van Der Wal C, Ahyong ST, Ho SYW, Lins LSF, Lo N (2019) Combining morphological and molecular data resolves the phylogeny of Squilloidea (Crustacea : Malacostraca). Invert Syst 33:89–100. https://doi.org/10.1071/IS18035

Vereshchaka AL, Kulagin DN, Lunina AA (2018) A phylogenetic study of krill (Crustacea: Euphausiacea) reveals new taxa and co-evolution of morphological characters. Cladist 35:150–172. https://doi.org/10.1111/cla.12239

Wang J-W, Chiou T-H (2017) Three new records of Nannosquillidae from Taiwan with notes on their ecology (Crustacea, Stomatopoda, Lysiosquilloidea). Zookeys 721:33–43. https://doi.org/10.3897/zookeys.721.20588

Wang Y-L, Liu R (2008) Hoplocarida Calmann, 1904. In: Liu RY (ed) Checklist of marine biota of China seas. Science Press, Beijing, pp654–660

Wang S-W, Dai C-F, Shea K-S (2008) Holocene reefal limestones of coastal Taoyuan. In: Proceedings of the Vth Symposium on Stratigraphy of Taiwan. Central Geological Survey, Ministry of Economic Affairs, R.O.C, pp150

Ward RD, Zemlak TS, Innes BH, Last PR, Hebert PDN (2005) DNA barcoding Australia's fish species. Phil Trans R Soc Lond B Biol Sci 360:1847–1857. https://doi.org/10.1098/rstb.2005.1716

Webb KE, Barnes DKA, Clark MS, Bowden DA (2006) DNA barcoding: a molecular tool to identify Antarctic marine larvae. Deep-Sea Res II 53:1053–1060. https://doi.org/10.1016/j.dsr2.2006.02.013

White A (1848) Descriptions of two new species of Crustacea. Proc Zool Soc Lond 144:pl.VII(1, 1a)

Wood-Mason J (1895) Figures and descriptions of nine species of Squillidae from the collection in the Indian museum. Calcutta, pp 1–11

Yeh T-C, Hsueh P-W (2010) Taku spinosocarinatus (Fukuda, 1909): first record of a takuid stomatopod from Taiwan. Crustaceana 83:369–373. https://doi.org/10.1163/001121610X12627655658285
Acknowledgments
The authors would like to acknowledge a grant for CCA reef research from Biodiversity Research Center, Academia Sinica, Taiwan. Thanks also to Hee-Seung Hwang (Seoul National University, Korea) for the initial discussion on stomatopod taxonomy, Noah Last (Third Draft Editing) for his English language editing, and Dr. Shane Ahyong (Australian Museum, Sydney) and one anonymous reviewer for providing much helpful comments to improve the quality of the article. We also thank the Taiwan Power Company for offering temporary entrance permits in accessing the Datan algal reefs. Thanks to Chu yu-wei, Juvenile Art Center, for providing the aerial photograph of Datan algal reef.
Funding
This study was funded by research grant from Academia Sinica to BKKC.
Ethics declarations
Conflict of interest
The authors declare that they have no conflict of interest.
Ethical approval
This article does not contain any studies with animals performed by any of the authors.
Sampling and field studies
All necessary permits for sampling and observational field studies have been obtained by the authors from the competent authorities and are mentioned in the "Acknowledgments" section, if applicable.
Data availability statement
Authors deposited sequences of the specimens in NCBI GenBank (https://www.ncbi.nlm.nih.gov/genbank/).
Author contribution statement
BKKC and RJM designed the study. PCT, BKKC, RJM, WPH, and HRL conducted field samplings and laboratory sorting. WPH conducted the SEM observations. YFT and HRL conducted molecular analysis. KW prepared line drawings. KW, BKKC, and YFT wrote the MS.
Additional information
Publisher's note
Springer Nature remains neutral with regard to jurisdictional claims in published maps and institutional affiliations.
Communicated by E. Macpherson
Supplementary Information
About this article
Cite this article
Wong, K.J.H., Tsao, YF., Tsai, PC. et al. To the light side: molecular diversity and morphology of stomatopod larvae and juveniles (Crustacea: Malacostraca: Stomatopoda) from crustose coralline algal reefs in Taiwan. Mar. Biodivers. 51, 20 (2021). https://doi.org/10.1007/s12526-020-01150-z
Received:

Revised:

Accepted:

Published:
Keywords
Mantis shrimp larvae

Datan algal reef

Light trap

DNA barcoding

COI

16S rRNA

New record