Abstract
Limited research effort in the Central Mediterranean deep sea has reported a lower species diversity in this area than in adjacent regions. With the recent advent of remotely operated underwater vehicles (ROVs), the deep sea has become more accessible to surveys, especially rocky benthic areas such as canyons and escarpments. The aim of the present study was to assess diversity, spatial and bathymetric distribution, density, habitat, and microhabitat associations of echinoderms in deep waters around the Maltese Islands. Video data were acquired through ROV surveys as part of the LIFE BaĦAR for N2K project, at depths of 216 to 1031 m. In total, 25 echinoderm taxa were recorded, including the first Central Mediterranean records of the sea stars Marginaster capreensis (Gasco, 1876) and Sclerasterias neglecta (Perrier, 1891), and the first record of the holothuroid Mesothuria intestinalis (Ascanius, 1805) from Maltese waters. Six species were observed deeper than their currently accepted depth range in the Mediterranean. The most abundant species were the crinoids Antedon mediterranea (Lamarck, 1816) and Leptometra phalangium (Müller, 1841), which formed very dense aggregations of up to 2900 individuals/1000 m2 in a small area to the south of Malta. This area also supports the only known Mediterranean population of the Atlantic sea star Coronaster briareus (Verrill, 1882). Bathymetric distribution varied for each species, and the overall echinoderm diversity seemed stable across the surveyed depths. Since previous deep-sea studies in the area were based on trawling surveys, many deep-sea echinoderm species are reported in the literature as occurring on sedimentary bottoms. However, the present study revealed that several occur more often on rocky substrata, corals, or anthropogenic objects than on sediments. Our study based on video footage also provided insights into the microhabitat of many deep-sea species, yielding information that is not obtainable through remote sampling.
Access options
Buy single article
Instant access to the full article PDF.
USD 39.95
Price excludes VAT (USA)
Tax calculation will be finalised during checkout.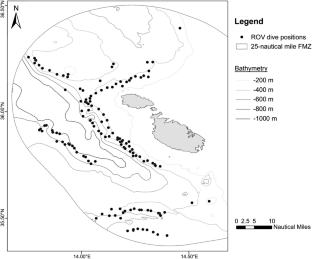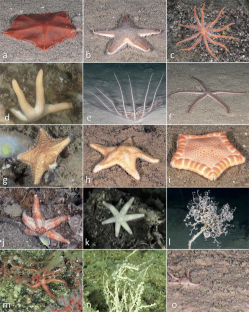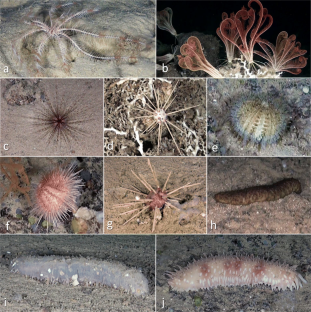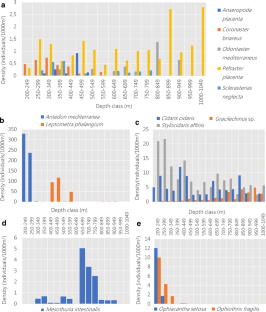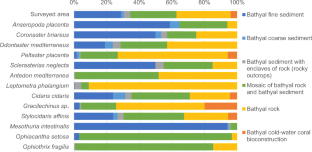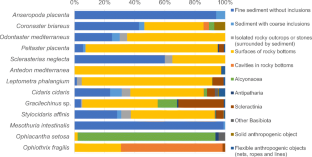 References
Ascanius P (1805) Icones Rerum Naturalium, ou figures enluminées d'histoire naturelle du Nord. In: Copenhagen, pp 1–8

Bensettiti F, Bioret F, Roland J, Lacoste JP (2004) Habitats côtiers

Bianchi CN (2007) Biodiversity issues for the forthcoming tropical Mediterranean Sea. Biodivers Enclosed Seas Artif Mar Habitats 580:7–21. https://doi.org/10.1007/978-1-4020-6156-1_1

Bo M, Canese S, Bavestrello G (2019) On the coral-feeding habit of the sea star Peltaster placenta. Mar Biodivers 49:2009–2012. https://doi.org/10.1007/s12526-018-0931-4

Bowser P, Knittweis L (2019) Litter from dolphinfish fish aggregation devices (FADs): management perspectives based on a Maltese case study. Rapp Comm int Mer Médit 42:276

Bruzelius N (1805) Dissertatio sistens species cognitas asteriarum, quamr. sub praesidio A.J. Retzii. exhibet N. Bruzelius

Cartes JE, Maynou F, Fanelli E et al (2009) The distribution of megabenthic, invertebrate epifauna in the Balearic Basin (western Mediterranean) between 400 and 2300 m: environmental gradients influencing assemblages composition and biomass trends. J Sea Res 61:244–257. https://doi.org/10.1016/j.seares.2009.01.005

Clark HL (1925) A catalogue of the recent sea-urchins (Echinoidea) in the collection of the British Museum (Natural History). Oxford Univ Press, p 250

CoCoNet project (2016) Revised list of Mediterranean and Black Sea habitats. http://cordis.europa.eu/result/rcn/181925_en.html

Coll M, Piroddi C, Steenbeek J et al (2010) The biodiversity of the Mediterranean Sea: estimates, patterns, and threats. PLoS One 5. https://doi.org/10.1371/journal.pone.0011842

Colloca F, Carpentieri P, Balestri E, Ardizzone GD (2004) A critical habitat for Mediterranean fish resources: shelf-break areas with Leptometra phalangium (Echinodermata: Crinoidea). Mar Biol 145:1129–1142. https://doi.org/10.1007/s00227-004-1405-8

Cuvier G (1817) Les Annélides. In: Paris D (ed) Le règne animal distribué d'apres son organisation, pour servir de base a l'histoire naturelle des animaux et d'introduction à l'anatomie comparée, vol 2, pp 515–532

Danovaro R, Company JB, Corinaldesi C et al (2010) Deep-sea biodiversity in the Mediterranean Sea: the known, the unknown, and the unknowable. PLoS One 5:1–25. https://doi.org/10.1371/journal.pone.0011832

DeLaHoz MV, Sardà F, Coll M et al (2018) Biodiversity patterns of megabenthic non-crustacean invertebrates from an exploited ecosystem of the Northwestern Mediterranean Sea. Reg Stud Mar Sci 19:47–68. https://doi.org/10.1016/j.rsma.2018.03.002

Delle Chiaje (1828) Memorie sulla storia e notomia degli animali senza vertebre del regno di Napoli. Napoli Frat Fernandes (vol 1), Soc Tipogr (vol 2–4). https://doi.org/10.5962/bhl.title.10021

Düben MW (1844) Norriges Hafs-fauna. In: Öfversigt af Kongl Vetenskaps-akademiens Forh, pp 110–116

von Düben MW, Koren J (1844) Öfversigt af Skandinaviens Echinodermer [Overview of Scandinavian Echinodermata]. K Sven Vetenskapsakademiens Handl:229–328

Evans J, Knittweis L, Aguilar R et al (2018) On the occurrence of Coronaster briareus (Echinodermata, Forcipulatida, Asteriidae) in the Mediterranean Sea. Mar Biodivers 48:1381–1390. https://doi.org/10.1007/s12526-016-0617-8

Gasco F (1876) Descrizione di alcuni Echinodermi nuovi o per la prima trovati nel Mediterraneo. Rend dell'Accademia delle Sci Fische e Mat 15:32–41

González-Irusta JM, Preciado I, López-López L et al (2014) Trawling disturbance on the isotopic signature of a structure-building species, the sea urchin Gracilechinus acutus (Lamarck, 1816). Deep Res Part II Top Stud Oceanogr 106:216–224. https://doi.org/10.1016/j.dsr2.2013.09.036

González-Irusta PA, Serrano A (2012) Environmental and fisheries effects on Gracilechinus acutus (Echinodermata: Echinoidea) distribution: is it a suitable bioindicator of trawling disturbance? ICES J Mar Sci 69:1457–1465. https://doi.org/10.1093/icesjms/fss102

Gray JE (1840) XXXII. A synopsis of the genera and species of the class Hypostoma (Asterias, Linnaeus). Ann Mag Nat Hist 6:275–290

Hebbeln D, Widenberg C, Beuck L et al (2009) Report and preliminary results of RV POSEIDON Cruise POS 385 cold-water corals of the Alboran Sea (western Mediterranean Sea). Berichte aus dem Fachbereich der Geowissenschaften der Univ Bremen:1–79

Hernández JC, Clemente S, Tuya F et al (2013) Echinoderms of the Canary Islands, Spain. Springer Berlin Heidelberg, Berlin

Koehler R (1921) Faune de France: Échinodermes. In: Lechevalier

Koukouras A, Sinis AI, Bobori D et al (2007) The echinoderm (Deuterostomia) fauna of the Aegean Sea , and comparison with those of the neighbouring seas. J Biol Res 7:67–92

Lamarck JBM de (1816) Histoire naturelle des animaux sans vertèbres, Tome troisième

Linnaeus C (1758) Systema Naturae per regna tria naturae, secundum classes, ordines, genera, species, cum characteribus, differentiis, synonymis, locis. In: Editio decima, reformata [10th revised edition], vol 1. Laurentius Salvius, Holmiae, p 824

Lyman T (1879) Ophiuridae and Astrophytidae of the "Challenger" expedition. In: Part II. Bull Museum Comp Zool Harvard Coll Cambridge, Mass

Mastrototaro F, Mifsud C (2008) Some observations on the morphology of Sclerasterias richardi a rarely encountered Mediterranean Sea star (Echinodermata: Asteriidae). Mediterr Mar Sci 9:103–110

Mecho A, Billett DSM, Ramirez-Llodra E et al (2014) First records, rediscovery and compilation of deep-sea echinoderms in the middle and lower continental slope of the Mediterranean Sea. Sci Mar 78:281. https://doi.org/10.3989/scimar.03983.30C

Michez N, Fourt M, Aish A et al (2014) Typologie des biocénoses benthiques de Méditerranée Version 2. Rapp SPN MNHN, Paris 33:26

Mifsud C, Taviani M, Stöhr S (2009) Remarks on Echinodermata from the South Central Mediterranean Sea based upon collections made during the MARCOS cruise (10 to 20th April, 2007). Mediterr Mar Sci 10:63–72

Milne-Edwards H (1882) Rapport sur les Travaux de la Commission chargée par M. le Ministre de l'Instruction Publique d'étudier la faune sous-marine dans les grandes profondeurs de la Méditerranée et de l'Océan Atlantique. Arch des Mission Sci littéraires 9:1–59

Mortensen T (1927) Handbook of the echinoderms of the British Isles. Oxford university Press

Müller J (1841) Über die Gattungen und Arten der Comatulen. Monatsberichte Königlich Preuss Akad der Wissenschaften zu Berlin

Müller J, Troschel FH (1842) System der Asteriden.1. Asteriae. 2. Ophiuridae. Vieweg: Braunschweig

Müller OF (1789) Zoologia Danica seu animalium Daniae et Norvegiae rariorum ac minus notorum descriptiones et historia. N Molleri Filii, Havniae

Pace R, Dimech M, Camilleri M, Cabalenas Mosteiro A (2007a) Distribution and density of discarded limestone slabs used in the traditional Maltese lampuki fishery. Rapp Comm int Mer Médit 38:568

Pace R, Dimech M, Camilleri M, Schembri PJ (2007b) Litter as a source of habitat islands on deep water muddy bottoms. Rapp Comm int Mer Médit 38:567

Pennant T (1777) British zoology, vol IV. Crustacea. Mollusca. Testacea, London

Perrier E (1891) Stellerides nouveaux provenant des campagnes du yacht l'Hirondelle. Mémoires la Société Zool Fr 4:258–271

Philippi RA (1845) Beschreibung einiger neuer Echinodermen nebst kritischen Bemerckungen über einige weniger bekannte Arten. Arch für Naturgeschichte 11:344–359

Risso A (1826) Histoire naturelle des principales productions de l'Europe Méridionale et particulièrement de celles des environs de Nice et des Alpes Maritimes. Levrault, Paris, pp 1–480. https://doi.org/10.5962/bhl.title.58984

Rodriguez J (1980) Echinoderms (except Holothuroidea) of the Southern Mediterranean coast of Spain. In: Echinoderms: present and past. pp 127–131

Rueda JL, Urra J, Aguilar R et al (2019) 29 cold-water coral associated fauna in the Mediterranean Sea and adjacent areas. Springer, Cham, pp 295–333

Sars GO (1872) Nye Echinodermer fra den norske kyst. Forh i Vidensk i Christ 1871:1–31

Southward EC, Campbell AC, London LS of, Association E and CS (2006) Echinoderms: keys and notes for the identification of British species. Linnean Society of London and the Estuarine and Coastal Sciences Association

Stevenson A, Davies JS, Williams A et al (2018) Echinoid associations with coral habitats differ with taxon in the deep sea and the influence of other echinoids, depth, and fishing history on their distribution. Deep Res Part I Oceanogr Res Pap 133:27–38. https://doi.org/10.1016/j.dsr.2018.01.007

Stevenson A, Kroh A (2020) Deep-sea sea urchins. Dev Aquac Fish Sci 43:237–254. https://doi.org/10.1016/B978-0-12-819570-3.00014-7

Stevenson A, Rocha C (2013) Evidence for the bioerosion of deep-water corals by echinoids in the Northeast Atlantic. Deep Res Part I Oceanogr Res Pap 71:73–78. https://doi.org/10.1016/j.dsr.2012.09.005

Taboada S, Pérez-Portela R (2016) Contrasted phylogeographic patterns on mitochondrial DNA of shallow and deep brittle stars across the Atlantic-Mediterranean area. Sci Rep 6:1–13. https://doi.org/10.1038/srep32425

Tanti CM, Schembri PJ (2006) A synthesis of the echinoderm fauna of the Maltese islands. J mar biol Ass UK 86:163–165. https://doi.org/10.1017/S0025315406012987

Taviani M, Angeletti L, Canese S et al (2017) The "Sardinian cold-water coral province" in the context of the Mediterranean coral ecosystems. Deep Res Part II Top Stud Oceanogr 145:61–78. https://doi.org/10.1016/j.dsr2.2015.12.008

Taviani M, Angeletti L, Ceregato A et al (2010) The crinoid garden of Montecristo Island Marine Sanctuary (Tuscan archipelago National Park , Mediterranean Sea). Rapp Comm int Mer Médit 39:674

Terribile K, Evans J, Knittweis L, Schembri PJ (2015) Maximising MEDITS: using data collected from trawl surveys to characterise the benthic and demersal assemblages of the circalittoral and deeper waters around the Maltese Islands (Central Mediterranean). Reg Stud Mar Sci 3:163–175. https://doi.org/10.1016/j.rsma.2015.07.006

Terribile K, Schembri PJ (2013) Depth distribution of Cidaris cidaris (Linnaeus, 1758) and Stylocidaris affinis (Philippi, 1845)(Echinodermata, Echinoidea) around the Maltese Islands. Rapp Comm int Mer Médit 40:697

Tortonese E (1965) ECHINODERMATA, Fauna d'Italia 6. Calderini, Bologna

Verrill AE (1882) Notice of the remarkable marine fauna occupying the outer banks off the southern coast of New England, No 4. i>American J Sci 3:216–225

von Marenzeller E (1893) Berichte der Commission für Erforschung des östlichen Mittelmeeres. Zoologische Ergebnisse. In: 1.Echinodermen gesammelt 1890, 1891 und 1892. Denkschriften Kais Akad Wissenschaften, Wien
Acknowledgements
We thank the crew of the Oceana Ranger for their assistance with the ROV surveys. We are also grateful to Prof. Rocío Pérez-Portela for assistance with the identification of Ophiothrix fragilis and to Dr. Andreas Kroh for supplying us with the identification key for Cidaridae. The present work was undertaken as part of the LIFE BaĦAR for N2K (LIFE12 NAT/MT/000845) Project, which was 50% co-financed by the EU LIFE+ Funding Programme and implemented by the Maltese Environment and Resources Authority (ERA), the University of Malta, Fundación Oceana, the Ministry for the Environment, Sustainable Development, and Climate Change (MESDC), and the Department for Fisheries and Aquaculture within MESDC. We are also grateful to ERA and to the Continental Shelf Department within the Ministry for Transport and Infrastructure (Malta) for granting us the necessary permits to undertake the marine surveys. We also thank two anonymous reviewers for their helpful comments.
Funding
This study was funded by the EU LIFE+ Funding Programme (grant number LIFE12 NAT/MT/000845, awarded to LIFE BaĦAR for N2K Consortium).
Ethics declarations
Conflict of interest
The authors declare that they have no conflict of interest.
Ethical approval
This article does not contain any studies with animals performed by any of the authors.
Sampling and field studies
All necessary permits for sampling and observational field studies have been obtained by the authors from the competent authorities and are mentioned in the acknowledgements, if applicable.
Data availability
All data generated or analysed during this study are included in this published article (and its supplementary information files). The conclusions of this paper do not rely on any publicly available data.
Author contribution statement
PJS, JAB, and RA conceived and designed the research. RA led the offshore research cruises supported by SG and HA; JE and LK also contributed to the field sampling. CL extracted and analysed the data and wrote the manuscript together with JE. All authors reviewed and approved the manuscript.
Additional information
Communicated by S. Stöhr
Publisher's note
Springer Nature remains neutral with regard to jurisdictional claims in published maps and institutional affiliations.
Electronic supplementary material
About this article
Cite this article
Leonard, C., Evans, J., Knittweis, L. et al. Diversity, distribution, and habitat associations of deep-water echinoderms in the Central Mediterranean. Mar. Biodivers. 50, 69 (2020). https://doi.org/10.1007/s12526-020-01095-3
Received:

Revised:

Accepted:

Published:

DOI: https://doi.org/10.1007/s12526-020-01095-3
Keywords