Abstract
Okenia polycerelloides (Ortea & Bouchet, 1983) is a small goniodoridid nudibranch originally described from the Canary Islands. Its taxonomic history has been problematic since its original description, a situation that worsened after this taxon was synonymized with Okenia zoobotryon (Smallwood, 1910), one of the most problematic Okenia Menke, 1830 species. Because of their external similarity, it has been difficult to determine the differences between the two taxa without a meticulous anatomical study. Thus, we present herein the first complete anatomical study of O. polycerelloides, based on specimens from the type locality and from Brazil (the latter previously identified as O. zoobotryon). A topotype of O. zoobotryon was also analyzed. Additionally, we also performed a preliminary molecular analysis on these species. Okenia polycerelloides can be distinguished externally from O. zoobotryon by the absence of integumentary spicules and the presence of a posterodorsal papilla, and internally by characteristics of the digestive (shape of the salivary glands, length of the typhlosole) and reproductive systems (diameter and length of the penial sac; cilia on the penis; and shapes of the seminal receptacle, bursa copulatrix, and ampulla). Molecular analysis revealed a high genetic divergence in both COI and H3 genes between O. polycerelloides and O. zoobotryon, which support both species as distinct. Therefore, we present a redescription and propose to restore the species status of O. polycerelloides, and consider the records of O. zoobotryon in the South Atlantic Ocean as attributable to O. polycerelloides, until new evidence may suggest otherwise.
Access options
Buy single article
Instant access to the full article PDF.
US$ 39.95
Tax calculation will be finalised during checkout.
Subscribe to journal
Immediate online access to all issues from 2019. Subscription will auto renew annually.
US$ 79
Tax calculation will be finalised during checkout.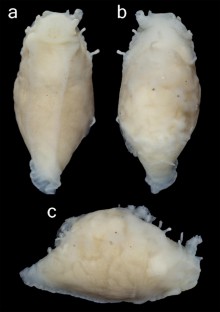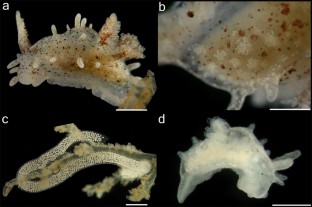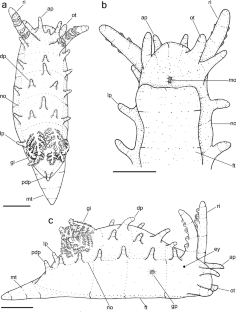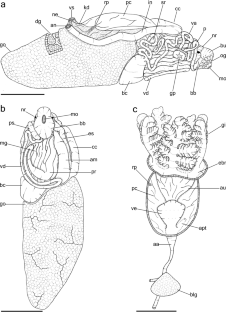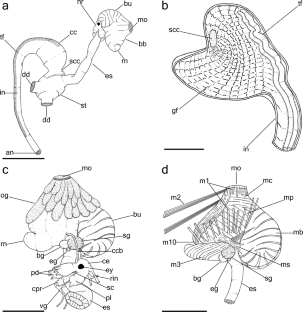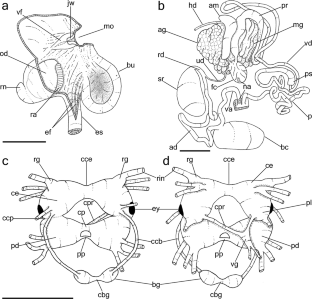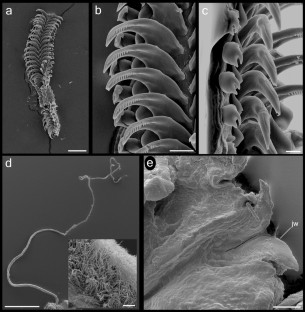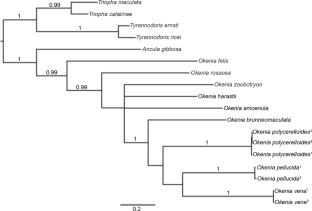 References
Adams H, Adams A (1854) The genera of recent Mollusca; arranged according to their organization. van Voorst, London

Alvim J, Pimenta AD (2016) Comparative morphology and redescription of Pleurobranchus species (Gastropoda, Pleurobranchoidea) from Brazil. Zool Stud 55(15)

Bergh LSR (1880) On the nudibranchiate gasteropod Mollusca of the North Pacific Ocean, with special reference to those of Alaska. Part II. Proc Acad Nat Sci Philadelphia 32:40–127

Bergh LSR (1907) The Opisthobranchia of South Africa. Trans South Afr Philos Soc 27(1):1–144

Bullivant JS, Bils RF (1968) The pharyngeal cells of Zoobotryon verticillatum (Delle Chiaje) a gymnolaemate bryozoan. N Z J Mar Freshw Res 2:438–446

Burn R (1967) Descriptions of two new species of Okenia (Nudibranchia, Doridacea) from south-eastern Australia. Proc R Zool Soc NSW 1965(/1966):52–57

Caballer-Gutiérrez M, Ortea J, Rivero N, Tucker GC, Malaquias MA, Narciso S (2015) The opisthobranch gastropods (Mollusca: Heterobranchia) from Venezuela: an annotated and illustrated inventory of species. Zootaxa 4034(2):201–256

Carmona L, Malaquias MAE, Gosliner TM, Pola M, Cervera JL (2011) Amphi-Atlantic distributions and cryptic species in sacoglossan sea slugs. J Molluscan Stud 77:401–412

Carmona L, Bhave V, Salunkhe R, Pola M, Gosliner TM, Cervera JL (2014a) Systematic review of Anteaeolidiella (Mollusca, Nudibranchia, Aeolidiidae) based on morphological and molecular data, with a description of three new species. Zool J Linnean Soc 171:108–132

Carmona L, Lei RB, Pola M, Gosliner TM, Valdés A, Cervera JL (2014b) Untangling the Spurilla neapolitana (Delle Chiaje, 1841) species complex: a review of the genus Spurilla Bergh, 1864 (Mollusca: Nudibranchia: Aeolidiidae). Zool J Linnean Soc 170:132–154

Carmona L, Pola M, Gosliner TM, Cervera JL (2014c) Review of Baeolidia, the largest genus of Aeolidiidae (Mollusca: Nudibranchia), with the description of five new species. Zootaxa 3802:477–514

Carmona L, Pola M, Gosliner TM, Cervera JL (2014d) The Atlantic-Mediterranean genus Berghia Trinchese, 1877 (Nudibranchia: Aeolidiidae): taxonomic review and phylogenetic analysis. J Molluscan Stud 80:482–498

Clark KB (1984) New records and synonymies of Bermuda opisthobranchs (Gastropoda). The Nautilus 98:85–97

Colgan DJ, McLauchlan A, Wilson GDF, Livingston SP, Edgecombe GD, Macaranas J, Cassis G, Gray MR (1998) Histone H3 and U2 snRNA DNA sequences and arthropod molecular evolution. Aust J Zool 46:419–437

Cooper JG (1863) On new or rare Mollusca inhabiting the coast of California. Proc Calif Acad Sci 1(3):56–60

Cunha CM, Simone LRL (2019) Morphological re-description of Aplysia depilans (Gastropoda: Anaspidea): new insights into the anatomy of the anaspideans. J Mar Biol Assoc U K 99(3):595–610

Cuvier G (1817) Le règne animal distribué d'après son organisation, pour servir de base a l'histoire naturelle des animaux et d'introduction a l'anatomie compare. Deterville, Paris

Darriba D, Taboada GL, Doallo R, Posada D (2012) jModelTest 2: more models, new heuristics and parallel computing. Nat Methods 9(8):772

Delle Chiaje S (1822) Memorie sulla storia e notomia degli animali senza vertebre del Regno di Napoli. Fratelli Fernandes, Napoli

Edgar RC (2004) MUSCLE: multiple sequence alignment with high accuracy and high throughput. Nucleic Acids Res 32:1792–1797

Edmunds M, Just H (1985) Dorid, dendronotoid and arminid nudibranchiate Mollusca from Barbados. J Molluscan Stud 51:52–63

Elkhorn Slough Research (2002) Least wanted aquatic invaders, spaghetti bryozoan (Zoobotryon verticillatum). http://www.elkhornslough.org/research/aquaticinvaders/aquatic21.htm. Accessed 05 September 2016

Farrapeira CMR (2011) The introduction of the bryozoan Zoobotryon verticillatum (Delle Chiaje, 1822) in northeast of Brazil: a cause for concern. Biol Invasions 13:13–16

Fox R (2001) Zoobotryon verticillatum, Ctenostome, Bryozoan. Invertebrate anatomy online. http://webs.lander.edu/rsfox/invertebrates/zoobotryon.html. Accessed 05 September 2016

García FJ, Domínguez M, Troncoso JS (2008) Opistobranquios de Brasil: descripción y distribución de opistobranquios del litoral de Brasil y Del Archipiélago Fernando de Noronha. Feito S.L., Vigo

Gosliner TM (2004) Phylogenetic systematics of Okenia, Sakishimaia, Hopkinsiella and Hopkinsia (Nudibranchia: Goniodorididae) with descriptions of new species from the tropical Indo-Pacific. Proc Calif Acad Sci 55(5):125–161

Gosliner TM (2010) Two new species of nudibranch mollusks from the coast of California. Proc Calif Acad Sci 61(16):623–631

Gosliner TM, Bertsch HW (2004) Systematics of Okenia from the Pacific coast of North America (Nudibranchia: Goniodorididae) with descriptions of three new species. Proc Calif Acad Sci 55(22):414–430

Grune S (2005) Okenia zoobotryon from Venezuela. Sea Slug Forum. http://www.seaslugforum.net/find/13487. Accessed 04 May 2018

Heller C (1967) Die Bryozoen des adriatischen Meeres. Verh Zool-Bot Ges Wien 17:77–136

Hill K (2001) Zoobotryon verticillatum. Smithsonian Marine Station at Fort Pierce. http://www.sms.si.edu/irlspec/zoobot_vertic.htm. Accessed 11 September 2016

Ianniello LM (2007) Okenia zoobotryon from southeast Florida, USA. Sea Slug Forum. http://www.seaslugforum.net/find/21015. Accessed 03 May 2018

Leuckart FS (1828) Breves animalium quorundam maxima ex parte marinorum descriptiones. Augusti Osswaldi, Heidelbergae

Lovén SL (1846) Index Molluscorum litora Scandinaviae occidentalia habitantium. Öfversigt af Kongliga Vetenskaps Akademiens Förhandlingar 3:134–160

MacFarland FM (1905) A preliminary account of the Dorididae of Monterey Bay, California. Proc Biol Soc Wash 18:35–54

Marcus E (1957) On Opisthobranchia from Brazil. Zool J Linnean Soc 43:390–486

McCann LD, Hitchcock NG, Winston JE, Ruiz GM (2007) Non-native bryozoans in coastal embayments of the southern United States: new records for the Western Atlantic. Bull Mar Sci 80(2):319–342

Menke KT (1830) Synopsis methodica molluscorum generum omnium et specierum earum, quae in Museo Menkeano adservantur, cum synonymia critica et novarum specierum diagnosibus. Editio altera, auctior et emdatior. Georg Uslar, Pyrmonti

Meyer C, Geller J, Paulay G (2005) Fine scale endemism on coral reefs: archipelagic differentiation in turbinid gastropods. Evolution 59:113–125

Micael J, Gillon A, Jardim N, Rodrigues P, Costa AC (2018) Sexual reproduction in the invasive bryozoan Amathia verticillata (Ctenostomatida: Vesiculariidae). J Coast Conserv 22:305

Miller MA, Pfeiffer W, Schwartz T (2010) Creating the CIPRES Science Gateway for inference of large phylogenetic trees. In: Gateway cComputing Environments Workshop (GCE). New Orleans, LA

Miranda AA, Almeida ACS, Vieira LM (2018) Non-native marine bryozoans (Bryozoa: Gymnolaemata) in Brazilian waters: assessment, dispersal and impacts. Mar Pollut Bull 130:184–191

Odhner NJ (1941) New polycerid nudibranchiate mollusca and remarks on this family. Göteborgs Kungl Vetensk Samhälles  handl, Ser B, Mat Naturvetensk Skr 1:1–20

Ortea J, Bouchet P (1983) Un nuevo Goniodorididae (Mollusca: Nudibranchiata) de las islãs Canarias. Vieraea 12:49–54

Ortea J, Moro L, Bacallado JJ, Pérez Sánchez JM, Vallès Y (1996) Nuevos datos sobre la fauna de dóridos fanerobranquios (Gastropoda, Nudibranchia) delas islas Canarias. Rev Acad Canaria Cienc 8:125–138

Ortea J, Moro L, Espinosa J (2009) El género Okenia Menke, 1830 (Mollusca: Nudibranchia) en las islas Canarias con notas sobre Okenia zoobotryon (Smallwood, 1910) una especie en controversia permanente. Vieraea 37:75–83

Paz-Sedano S, Ortigosa D, Pola M (2017) A new Okenia Menke, 1830 from the Azores Islands, Portugal (Mollusca, Nudibranchia, Goniodorididae). Spixiana 40:13–22

Poddubetskaia M (2004) Okenia zoobotryon? from Senegal. Sea Slug Forum. http://www.seaslugforum.net/find/10265. Accessed 04 May 2018

Pola M (2015) The identity of Okenia zoobotryon (Smallwood, 1910) (Nudibranchia: Goniodorididae): redescription and proposed designation of a neotype. Am Malacol Bull 33:72–77

Pola M, Cervera LJ, Gosliner TM (2008) Description of the first Roboastra species (Nudibranchia, Polyceridae, Nembrothinae) from the Western Atlantic. Bull Mar Sci 83(2):391–399

Pola M, Padula V, Gosliner TM, Cervera JL (2014a) Going further on an intricate and challenging group of nudibranchs: description of five novel species and a more complete molecular phylogeny of the subfamily Nembrothinae (Polyceridae). Cladistics 30(6):607–634

Pola M, Roldán P, Padilla S (2014b) Molecular data on the genus Okenia (Nudibranchia: Goniodorididae) reveal a new cryptic species from New South Wales (Australia). J Mar Biol Assoc UK 94:587–598

Rambaut A. (2007) FigTree Tree Figure Drawing Tool, Version 1.4. http://tree.bio.ed.ac.uk/software/figtree/ Accessed 26 January 2019

Rambaut A, Drummond AJ, Xie D, Baele G, Suchard MA (2018) Posterior summarization in Bayesian phylogenetics using Tracer 1.7. Syst Biol 67:901–904

Redfern C (2004) Okenia zoobotryon from the Bahamas. Sea Slug Forum. http://www.seaslugforum.net/find/12421. Accessed 04 May 2018

Rios EC (2009) Compendium of Brazilian sea shells. Evangraf, Rio Grande

Risso A (1818) Mémoire sur quelques Gastropodes nouveaux, Nudibranches et Tectibranches observés dans la mer de Nice. J Phys Chim Hist Nat Arts 87:368–377

Ronquist F, Huelsenbeck JP (2003) MrBayes: Bayesian phylogenetic inference under mixed models. Bioinformatics 19:1572–1574

Rudman WB (2004) Further species of the opisthobranch genus Okenia (Nudibranchia: Goniodorididae) from the Indo-West Pacific. Zootaxa 695:1–70

Rudman WB (2006) Comment on re: radula of Senegalese Okenia zoobotryon by angel Valdes. Sea Slug Forum. http://www.seaslugforum.net/find/16883. Accessed 11 April 2018

Rudman WB (2007) Two new species of Okenia (Gastropoda: Nudibranchia: Goniodorididae) from eastern Australia and Tanzania. Zootaxa 1657:57–67

Sales L, Queiroz V, Migotto AE (2016) Rediscovery of Okenia impexa Marcus 1957 on the Brazilian coast: the first image of a living specimen from Brazil. Spixiana 39:203–204

Santagata S (2008) The morphology and evolutionary significance of the ciliary fields and musculature among marine bryozoan larvae. J Morphol 269:349–364

Smallwood WM (1910) Notes on the hydroids and nudibranchs of Bermuda. Proc Zool Soc London 80:137–147

Smallwood WM (1912) Polycerella zoobotryon. Proceedings of the American Academy of Arts and Sciences 47:609–630

Valdés A, Ortea J (1995) Revised taxonomy of some species of the genus Okenia Menke, 1830 (Mollusca: Nudibranchia) from the Atlantic Ocean, with the description of a new species. The Veliger 38:223–234

Valdés A, Hamann J, Behrens DW, Dupont A (2006) Caribbean Sea Slugs: a field guide to the opisthobranch mollusks from the tropical northwestern Atlantic. Sea Challengers Natural History Books, Etc., Gig Harbor

Vayssière AJ (1901) Recherches zoologiques et anatomiques sur les mollusques Opisthobranches du Golfe de Marseille (suite et fin). Annales du Musée d'histoire naturelle de Marseille 6:1–130

Willan RC, Chang Y-W (2017) Description of three new species of Tambja (Gastropoda, Nudibranchia, Polyceridae) from the western Pacific Ocean reveals morphological characters with taxonomic and phylogenetic significance for traditional Polyceridae and related 'phaneorobranch' nudibranchs. Basteria 81(1–3):1–23
Acknowledgments
We are grateful to Elizabeth Kools and Terry Gosliner for the loan of specimens held by the California Academy of Sciences (CASIZ), and to Leopoldo Moro Abad and Manuel Caballer Gutiérrez (Manuel Caballer MNHN, project E-RECOLNAT: ANR-11-INBS-0004) for the donation of the topotype and images of the holotype. We thank Philippe Bouchet and Virginie Héros for the opportunity to analyze the type material of O. polycerelloides deposited in the MNHN and again to Manuel Caballer Gutiérrez for the support during the visit to the collection. We also thank the Universidade de São Paulo (USP), particularly the staffs of the laboratories of electron microscopy of the Museu de Zoologia (MZSP) and the Instituto de Biociências (IB-USP), for their help in the SEM preparations, and of the Centro de Biologia Marinha for their assistance in the laboratory and field work during this study (CEBIMar-USP; project no. 810).
Funding
This study was supported by fellowships from the Coordenação de Aperfeiçoamento de Pessoal de Nível Superior (CAPES – Finance Code 001) and the Fundação de Amparo à Pesquisa do Estado de São Paulo (FAPESP) to LS (grant 2013/08425-0). Partial funding was also provided by FAPESP to CMC (grant 2010/11253-9) and the Conselho Nacional de Desenvolvimento Científico e Tecnológico (CNPq) to AEM (grant 308056/2015-9). This paper is a contribution of NP-BioMar, USP.
Ethics declarations
Conflict of interest
The authors declare that they have no conflicts of interest.
Ethical approval
All applicable international, national, and/or institutional guidelines for the care and use of animals were followed by the authors.
Sampling and field studies
All necessary permits for sampling and observational field studies have been obtained by the authors from the competent authorities and are mentioned in the acknowledgements, if applicable.
Data availability statement
The datasets generated and/or analyzed during the current study are available in the GenBank (National Institutes of Health genetic sequence database) repository, https://www.ncbi.nlm.nih.gov/genbank/.
Additional information
Publisher's note
Springer Nature remains neutral with regard to jurisdictional claims in published maps and institutional affiliations.
Communicated by V. Ugorri
About this article
Cite this article
Sales, L., Migotto, A.E., Baroni, S. et al. Taxonomic reassessment and redescription of Okenia polycerelloides (Ortea & Bouchet, 1983) (Nudibranchia: Goniodorididae) based on morphological and molecular data. Mar Biodiv 49, 2351–2368 (2019). https://doi.org/10.1007/s12526-019-00972-w
Received:

Revised:

Accepted:

Published:

Issue Date:
Keywords
Bermudella
Okenia zoobotryon

Anatomy

Taxonomy

Re-instatement

Amathia verticillata