Abstract
The clam Coelomactra antiquata (Spengler, 1802) is one of the most economically important marine bivalves in China. Previous genetic analysis shows that C. antiquata possibly consists of two cryptic species, a northern and a southern lineage. Some differences between the two lineages are observed in their morphology and fitness in aquaculture. However, little is known about the genetic basis of these differences. In this study, a comparative transcriptomics study was performed to provide additional information for delineating the cryptic species of C. antiquata, as well as insights into the adaptive evolution in the southern lineage of C. antiquata. A total of 4377 orthologous genes were identified using a phylogenetic tree-based approach. The Kimura 2-parameter genetic distances were 0.0385 between the two lineages of C. antiquata, and 0.006 within the northern lineage. The sequence divergences supports that the lineages represent two cryptic species. We identified 28 positively selected genes (PSGs) from the southern lineage of C. antiquata using a modified branch-site model. The PSGs were implicated in innate immune responses, metabolism, development, cell division, transmembrane transport, and signaling processes, which could be related to the higher disease resistance, growth rate, and adaptability of the southern lineage than its northern counterpart. The comparative transcriptome analysis provides a foundation for future investigations on the biological differences between the two lineages of C. antiquata.
Access options
Buy single article
Instant access to the full article PDF.
US$ 39.95
Tax calculation will be finalised during checkout.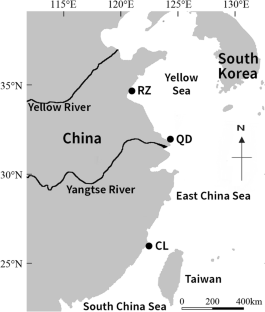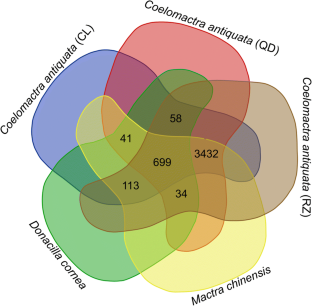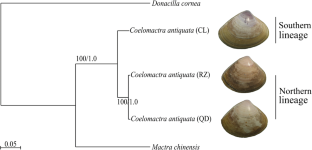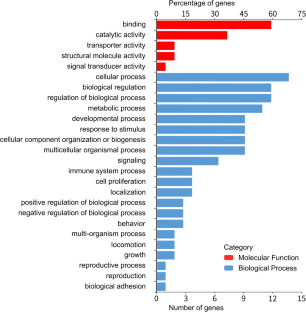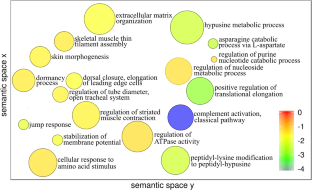 References
Alexa A, Rahnenführer J, Lengauer T (2006) Improved scoring of functional groups from gene expression data by decorrelating GO graph structure. Bioinformatics 22:1600–1607

Allam B, Raftos D (2015) Immune responses to infectious diseases in bivalves. J Invertebr Pathol 131:121–136

Asard H, Barbaro R, Trost P, Bérczi A (2013) Cytochromes b561: ascorbate-mediated trans-membrane electron transport. Antioxid Redox Signal 19:1026–1035

Bellen HJ, Kooyer S, D'Evelyn D, Pearlman J (1992) The Drosophila couch potato protein is expressed in nuclei of peripheral neuronal precursors and shows homology to RNA-binding proteins. Genes Dev 6:2125–2136

Boettiger A, Ermentrout B, Oster G (2009) The neural origins of shell structure and pattern in aquatic mollusks. Proc Natl Acad Sci 106:6837–6842

Bolger AM, Lohse M, Usadel B (2014) Trimmomatic: a flexible trimmer for Illumina sequence data. Bioinformatics 30:2114–2120

Bublitz M, Musgaard M, Poulsen H et al (2013) Ion pathways in the sarcoplasmic reticulum Ca2+-ATPase. J Biol Chem 288:10759–10765

Camacho C, Coulouris G, Avagyan V et al (2009) BLAST+: architecture and applications. BMC Bioinformatics 10:421

Cho I, Jackson MR, Swift J (2016) Roles of cross-membrane transport and signaling in the maintenance of cellular homeostasis. Cell Mol Bioeng 9:234–246

Conesa A, Götz S (2008) Blast2GO: a comprehensive suite for functional analysis in plant genomics. Int J Plant Genomics 2008:619832

Das S, Sarkar A, Choudhury SS et al (2015) Engulfment and cell motility protein 1 (ELMO1) has an essential role in the internalization of Salmonella typhimurium into enteric macrophages that impact disease outcome. Cell Mol Gastroenterol Hepatol 1:311–324

Dufresne M, Seva C, Fourmy D (2006) Cholecystokinin and gastrin receptors. Physiol Rev 86:805–847

Enard D, Cai L, Gwennap C, Petrov DA (2016) Viruses are a dominant driver of protein adaptation in mammals. eLife 5:e12469

Enright AJ, Van Dongen S, Ouzounis CA (2002) An efficient algorithm for large-scale detection of protein families. Nucleic Acids Res 30:1575–1584

Finn RD, Coggill P, Eberhardt RY et al (2016) The Pfam protein families database: towards a more sustainable future. Nucleic Acids Res 44:D279–D285

Fontenille L, Rouquier S, Lutfalla G, Giorgi D (2014) Microtubule-associated protein 9 (Map9/asap) is required for the early steps of zebrafish development. Cell Cycle 13:1101–1114

Fu L, Niu B, Zhu Z et al (2012) CD-HIT: accelerated for clustering the next-generation sequencing data. Bioinformatics 28:3150–3152

Gallardo-Escárate C, Valenzuela-Muñoz V, Nuñez-Acuña G et al (2014) Transcriptome analysis of the couch potato (CPO) protein reveals an expression pattern associated with early development in the salmon louse Caligus rogercresseyi. Gene 536:1–8

Goldman N, Yang Z (1994) A codon-based model of nucleotide substitution for protein-coding DNA sequences. Mol Biol Evol 11:725–736

Grabherr MG, Haas BJ, Yassour M et al (2011) Full-length transcriptome assembly from RNA-Seq data without a reference genome. Nat Biotechnol 29:644–652

Haas BJ, Papanicolaou A, Yassour M et al (2013) De novo transcript sequence reconstruction from RNA-Seq: reference generation and analysis with Trinity. Nat Protoc 8:1494–1512

Heras J, Koop BF, Aguilar A (2011) A transcriptomic scan for positively selected genes in two closely related marine fishes: Sebastes caurinus and S. rastrelliger. Mar Genomics 4:93–98

Holmes EC (2004) Adaptation and immunity. PLoS Biol 2:e307

Hopkins MT, Lampi Y, Wang T-W et al (2008) Eukaryotic translation initiation factor 5A is involved in pathogen-induced cell death and development of disease symptoms in Arabidopsis. Plant Physiol 148:479–489

Huerta-Cepas J, Forslund K, Coelho LP et al (2017) Fast genome-wide functional annotation through orthology assignment by eggNOG-mapper. Mol Biol Evol 34:2115–2122

Hughes AL (2007) Looking for Darwin in all the wrong places: the misguided quest for positive selection at the nucleotide sequence level. Heredity 99(4):364–373

Jeffroy O, Brinkmann H, Delsuc F, Philippe H (2006) Phylogenomics: the beginning of incongruence? Trends Genet 22:225–231

Jones P, Binns D, Chang H-Y et al (2014) InterProScan 5: genome-scale protein function classification. Bioinformatics 30:1236–1240

Jorgensen PL, Hakansson KO, Karlish SJD (2003) Structure and mechanism of Na,K-ATPase: functional sites and their interactions. Annu Rev Physiol 65:817–849

Kalyaanamoorthy S, Minh BQ, Wong TKF et al (2017) ModelFinder: fast model selection for accurate phylogenetic estimates. Nat Methods 14:587–589

Katoh K, Standley DM (2013) MAFFT multiple sequence alignment software version 7: improvements in performance and usability. Mol Biol Evol 30:772–780

Kober KM, Pogson GH (2017) Genome-wide signals of positive selection in strongylocentrotid sea urchins. BMC Genomics 18:555

Kocot KM, Cannon JT, Todt C et al (2011) Phylogenomics reveals deep molluscan relationships. Nature 477:452

Kocot KM, Citarella MR, Moroz LL, Halanych KM (2013) PhyloTreePruner: a phylogenetic tree-based approach for selection of orthologous sequences for phylogenomics. Evol Bioinformatics Online 9:429–435

Koenig D, Jiménez-Gómez JM, Kimura S et al (2013) Comparative transcriptomics reveals patterns of selection in domesticated and wild tomato. Proc Natl Acad Sci U S A 110:E2655–E2662

Kong L, Li Q (2009) Genetic evidence for the existence of cryptic species in an endangered clam Coelomactra antiquata. Mar Biol 156:1507–1515

Kong L, Li Q, Qiu Z (2007) Genetic and morphological differentiation in the clam Coelomactra antiquata (Bivalvia: Veneroida) along the coast of China. J Exp Mar Biol Ecol 343:110–117

Kück P, Longo GC (2014) FASconCAT-G: extensive functions for multiple sequence alignment preparations concerning phylogenetic studies. Front Zool 11:81

Kumar S, Stecher G, Tamura K (2016) MEGA7: molecular evolutionary genetics analysis version 7.0 for bigger datasets. Mol Biol Evol 33:1870–1874

Lin Z (2008) Studies on biological comparisons and hybridization of two geographic populations of Coelomactra antiquata. Fujian Normal University (in Chinese)

Liu D, Zhu S (2010) Study of morphological difference of Coelomactra antiquate in Fujian and Jiangsu coasts. South China Fish Sci 6:29–34 in Chinese

Liu H, Zhu JX, Sun HL et al (2006) The clam, Xishi tongue Coelomactra antiquata a promising new candidate for aquaculture in China. Aquaculture 255:402–409

Liu Z, Xu J, Zhu B et al (2007) The upper ocean response to tropical cyclones in the northwestern Pacific analyzed with Argo data. Chin J Oceanol Limnol 25:123–131

Liu J, Li Q, Kong L, Zheng X (2011) Cryptic diversity in the pen shell Atrina pectinata (Bivalvia: Pinnidae): high divergence and hybridization revealed by molecular and morphological data. Mol Ecol 20:4332–4345

Mandai K, Rikitake Y, Shimono Y, Takai Y (2013) Afadin/AF-6 and canoe: roles in cell adhesion and beyond. Prog Mol Biol Transl Sci 116:433–454

McCormack JE, Hird SM, Zellmer AJ et al (2013) Applications of next-generation sequencing to phylogeography and phylogenetics. Mol Phylogenet Evol 66:526–538

Meng X, Zhao N, Shen X et al (2012) Complete mitochondrial genome of Coelomactra antiquata (Mollusca: Bivalvia): the first representative from the family Mactridae with novel gene order and unusual tandem repeats. Comp Biochem Physiol Part D Genomics Proteomics 7:175–179

Meng X, Shen X, Zhao N et al (2013) Mitogenomics reveals two subspecies in Coelomactra antiquata (Mollusca: Bivalvia). Mitochondrial DNA 24:102–104

Nakada T, Russell JA, Boyd JH et al (2015) Identification of a nonsynonymous polymorphism in the SVEP1 gene associated with altered clinical outcomes in septic shock. Crit Care Med 43:101–108

Nguyen L-T, Schmidt HA, von Haeseler A, Minh BQ (2015) IQ-TREE: a fast and effective stochastic algorithm for estimating maximum-likelihood phylogenies. Mol Biol Evol 32:268–274

Ni G, Li Q, Kong L, Zheng X (2012a) Phylogeography of bivalve Cyclina sinensis: testing the historical glaciations and Changjiang River outflow hypotheses in northwestern Pacific. PLoS One 7:e49487

Ni L, Li Q, Kong L et al (2012b) DNA barcoding and phylogeny in the family Mactridae (Bivalvia: Heterodonta): evidence for cryptic species. Biochem Syst Ecol 44:164–172

Ni G, Li Q, Kong L, Yu H (2014) Comparative phylogeography in marginal seas of the northwestern Pacific. Mol Ecol 23:534–548

Noris M, Remuzzi G (2013) Overview of complement activation and regulation. Semin Nephrol 33:479–492

Pertea G, Huang X, Liang F et al (2003) TIGR gene indices clustering tools (TGICL): a software system for fast clustering of large EST datasets. Bioinformatics 19:651–652

Ronquist F, Teslenko M, van der Mark P et al (2012) MrBayes 3.2: efficient Bayesian phylogenetic inference and model choice across a large model space. Syst Biol 61:539–542

Sela I, Ashkenazy H, Katoh K, Pupko T (2015) GUIDANCE2: accurate detection of unreliable alignment regions accounting for the uncertainty of multiple parameters. Nucleic Acids Res 43:W7–W14

Shen X, Meng XP, Chu KH et al (2014) Comparative mitogenomic analysis reveals cryptic species: a case study in Mactridae (Mollusca: Bivalvia). Comp Biochem Physiol Part D Genomics Proteomics 12:1–9

Shen X, Meng X, Tian M et al (2016) The first mitochondrial genome of Coelomactra antiquata (Mollusca: Veneroida: Mactridae) from Guangxi (China) and potential molecular markers. Mitochondrial DNA A DNA Mapp Seq Anal 27:3642–3643

Shi J, Xi H, Wang Y et al (2003) Divergence of the genes on human chromosome 21 between human and other hominoids and variation of substitution rates among transcription units. Proc Natl Acad Sci U S A 100:8331–8336

Simão FA, Waterhouse RM, Ioannidis P et al (2015) BUSCO: assessing genome assembly and annotation completeness with single-copy orthologs. Bioinformatics 31:3210–3212

Beskrivelse over det toskallede conchylie-slaegt Mactra Skrivter af Naturhistorie-Selskabet 5(2):92–128

Stamatakis A (2014) RAxML version 8: a tool for phylogenetic analysis and post-analysis of large phylogenies. Bioinformatics 30:1312–1313

Sui Y, Liu Y, Zhao X et al (2017) Defense responses to short-termhypoxia and seawater acidification in the thick shell mussel Mytilus coruscus. Front Physiol 8:145

Supek F, Bošnjak M, Škunca N, Šmuc T (2011) REVIGO summarizes and visualizes long lists of gene ontology terms. PLoS One 6(7):e21800

Suyama M, Torrents D, Bork P (2006) PAL2NAL: robust conversion of protein sequence alignments into the corresponding codon alignments. Nucleic Acids Res 34:W609–W612

Termini CM, Gillette JM (2017) Tetraspanins function as regulators of cellular signaling. Front Cell Dev Biol 5:34

Thielsch A, Knell A, Mohammadyari A et al (2017) Divergent clades or cryptic species? Mito-nuclear discordance in a Daphnia species complex. BMC Evol Biol 17:227

Toews DPL, Brelsford A (2012) The biogeography of mitochondrial and nuclear discordance in animals. Mol Ecol 21:3907–3930

Wang Z, Gerstein M, Snyder M (2009) RNA-Seq: a revolutionary tool for transcriptomics. Nat Rev Genet 10:57

Wang X-W, Luan J-B, Li J-M et al (2011) Transcriptome analysis and comparison reveal divergence between two invasive whitefly cryptic species. BMC Genomics 12:458

Wood DE, Salzberg SL (2014) Kraken: ultrafast metagenomic sequence classification using exact alignments. Genome Biol 15:R46

Xiao J, Zhong H, Liu Z et al (2015) Transcriptome analysis revealed positive selection of immune-related genes in tilapia. Fish Shellfish Immunol 44:60–65

Yamazaki K (2014) Glutamine–fructose-6-phosphate transaminase 1,2 (GFPT1,2). In: Handbook of glycosyltransferases and related genes. Springer, Tokyo, pp 1465–1479

Yang Z (2007) PAML 4: phylogenetic analysis by maximum likelihood. Mol Biol Evol 24:1586–1591

Yang Y, Smith SA (2014) Orthology inference in nonmodel organisms using transcriptomes and low-coverage genomes: improving accuracy and matrix occupancy for phylogenomics. Mol Biol Evol 31:3081–3092

Yang Z, Wong WS, Nielsen R (2005) Bayes empirical bayes inference of amino acid sites under positive selection. Mol Biol Evol 22:1107–1118

Ye J, Fang L, Zheng H et al (2006) WEGO: a web tool for plotting GO annotations. Nucleic Acids Res 34:W293–W297

You Z, Bao Y, Zhang A (2007) Morphological and RAPD variation among five populations of Coelomactra antiquata. Acta Oceanol Sin 29:98–104 in Chinese

Yuan Y, Kong L, Li Q (2013) Mitogenome evidence for the existence of cryptic species in Coelomactra antiquata. Genes Genomics 35:693–701

Zhang J, Nielsen R, Yang Z (2005) Evaluation of an improved branch-site likelihood method for detecting positive selection at the molecular level. Mol Biol Evol 22:2472–2479
Acknowledgments
We thank Jiaojiao Niu for useful discussions and valuable suggestions. We thank Shuyin Chen for providing raw RNA-seq data. We also thank anonymous reviewers for their constructive comments.
Funding
This study was funded by A Project Funded by the Priority Academic Program Development of Jiangsu Higher Education Institutions, Top-notch Academic Programs Project of Jiangsu Higher Education Institution (PPZY2015B159), Open-end Fund of Key Laboratory of Aquaculture in South China Sea for Aquatic Economic Animal of Guangdong Higher Education Institutes (2011007), and Huaihai Institute of Technology Natural Science Fund (Z2012013).
Ethics declarations
Conflict of interest
The authors declare that they have no conflict of interest.
Ethical approval
All applicable international, national, and/or institutional guidelines for the care and use of animals were followed by the authors.
Sampling and field studies
All necessary permits for sampling and observational field studies have been obtained by the authors from the competent authorities.
Data availability
The datasets generated during and/or analyzed during the current study are available from the corresponding author on reasonable request.
Additional information
Publisher's note
Springer Nature remains neutral with regard to jurisdictional claims in published maps and institutional affiliations.
Communicated by K. Kocot
Electronic supplementary material
About this article
Cite this article
Yi, L., Ma, K.Y., Qin, J. et al. Insights into cryptic diversity and adaptive evolution of the clam Coelomactra antiquata (Spengler, 1802) from comparative transcriptomics. Mar Biodiv 49, 2311–2322 (2019). https://doi.org/10.1007/s12526-019-00964-w
Received:

Revised:

Accepted:

Published:

Issue Date:
Keywords
RNA-seq

Orthologous gene

Phylogenomics

Genetic distance

Gene ontology

Positive selection