Abstract
Coral reefs worldwide are facing multiple severe stressors leading to ecosystem degradation, but local extinctions of species are not well documented. Here, we track the diversity of Pocilloporidae Gray, 1840 coral species—many of which are known to be sensitive to environmental disturbances—on Singapore reefs through time, integrating information from taxonomically verified museum specimens, careful examination of the literature, and DNA sequences. We found that more Pocilloporidae species were detected in the past than at present. A total of five species were historically recorded under Pocillopora Lamarck, 1816; Seriatopora Lamarck, 1816; and Stylophora Schweigger, 1820. Among the five species, only Pocillopora acuta Lamarck, 1816 appears to remain on Singapore reefs. The absence of Seriatopora for over half a century and the recent losses of Stylophora and the other species of Pocillopora are likely caused by habitat loss and other stressors associated with coastal urbanization, which have been further exacerbated by recent bleaching events.
This is a preview of subscription content, log in to check access.
Access options
Buy single article
Instant access to the full article PDF.
US$ 39.95
Price includes VAT for USA
Subscribe to journal
Immediate online access to all issues from 2019. Subscription will auto renew annually.
US$ 99
This is the net price. Taxes to be calculated in checkout.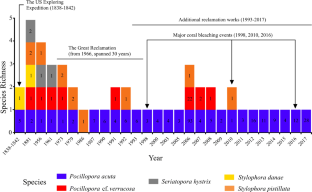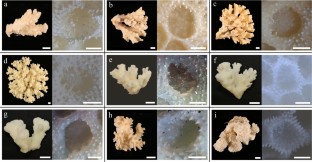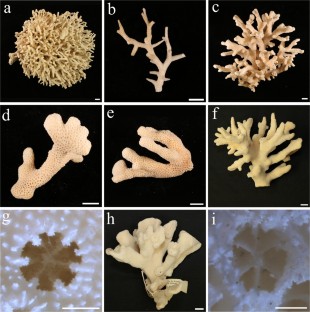 References
Affendi YA, Tajuddin BH, Lee LY, Adzis KAA, Yusuf Y (2005) Scleractinia coral diversity of Kg Tekek, Pulau Tioman, Marine Park. In: Second Regional Symposium on Environment and Natural Resources. Pan Pacific Hotel, Kuala Lumpur, Malaysia, pp 20–31

Anthony KRN, Connolly SR (2004) Environmental limits to growth: physiological niche boundaries of corals along turbidity:light gradients. Oecologia 141:373–384. https://doi.org/10.1007/s00442-004-1647-7

Aronson MFJ, La Sorte FA, Nilon CH, Katti M, Goddard MA, Lepczyk CA, Warren PS, Williams NS, Cilliers S, Clarkson B, Dobbs C, Dolan R, Hedblom M, Klotz S, Kooijmans JL, Kuhn I, Macgregor-Fors I, McDonnell M, Mortberg U, Pysek P, Siebert S, Sushinsky J, Werner P, Winter M (2014) A global analysis of the impacts of urbanization on bird and plan diversity reveals key anthropogenic drivers. Proc R Soc B Biol Sci 281:20133330. https://doi.org/10.1098/rspb.2013.3330

Barshis DJ, Ladner JT, Oliver TA, Seneca FO, Traylor-Knowles N, Palumbi S (2013) Genomics basis for coral resilience to climate change. Proc Natl Acad Sci U S A 110:1387–1392. https://doi.org/10.1073/pnas.1210224110

Bauman AG, Guest JR, Dunshea G, Low J, Todd PA, Steinberg PD (2015) Coral settlement on a highly disturbed equatorial reef system. PLoS One 10:e0127874. https://doi.org/10.1371/journal.pone.0127874

Berkelmans R (2009) How much is too much? In: VanOppen M, Lough J (eds) Coral bleaching: patterns, processes, Causes and Consequences. Springer, Berlin, pp 103–119

Bessell-Brown P, Negri AP, Fisher R, Clode PL, Jones R (2017) Cumulative impacts: thermally bleached corals have reduced capacity to clear deposited sediment. Sci Rep 7:2716. https://doi.org/10.1038/s41598-017-02810-0

Birrell CL, McCook LJ, Willis BL (2005) Effects of algal turfs and sediment on coral settlement. Mar Pollut Bull 51:408–414. https://doi.org/10.1016/j.marpolbul.2004.10.022

Bongiorni L, Giovanelli D, Rinkevich B, Pusceddu A, Chou LM, Danovaro R (2011) First step in the restoration of a highly degraded coral reef (Singapore) by in situ coral intensive farming. Aquaculture 322-323:191–200. https://doi.org/10.1016/j.aquaculture.2011.09.024

Brook BW, Sodhi NS, Ng PKL (2003) Catastrophic extinctions follow deforestation in Singapore. Nature 424:420–423. https://doi.org/10.1038/nature01795

Browne NK, Tay JKL, Low J, Larson O, Todd PA (2015) Fluctuations in coral health of four common inshore reef corals in response to seasonal and anthropogenic changes in water quality. Mar Environ Res 15:39–52. https://doi.org/10.1016/j.marenvres.2015.02.002

Cairns SD (1991) Catalog of the type specimens of stony corals (Milleporidae, Stylasteridae, Scleractinia) in the National Museum, Smithsonian Institution. Smithson Contrib Zool 514:1–59

Caley MJ, Carr MH, Hixon MA, Hughes TP, Jones GP, Menge BA (1996) Recruitment and the local dynamics of open marine populations. Ann Rev Ecol Syst 27:477–500. https://doi.org/10.1146/annurev.ecolsys.27.1.477

Carlton JT, Geller JB, Reaka-Kudla ML, Norse EA (1999) Historical extinctions in the sea. Annu Rev Ecol Syst 30:515–538. https://doi.org/10.1146/annurev.ecolsys.30.1.515

Carpenter KE, Abrar M, Aeby G, Aronson RB, Banks S, Bruckner A, Chiriboga A, Cortes J, Delbeek JC, DeVantier L, Edgar GJ, Edwards AJ, Fenner D, Guzman HM, Hoeksema BW, Hodgson G, Johan O, Licuanan WY, Livingstone SR, Lovell ER, Moore JA, Obura DA, Ochavillo D, Polidoro BA, Precht WF, Quibilan MC, Reboton C, Richards ZT, Rogers AD, Sanciangco J, Sheppard A, Sheppard C, Smith J, Stuart S, Turak E, Veron JE, Wallace C, Weil E, Wood E (2008) One-third of reef-building corals face elevated extinction risk from climate change and local impacts. Science 321:560–563. https://doi.org/10.1126/science.1159196

Chang GC, Dickey TD (2004) Coastal Ocean optical influences on solar transmission and radiant heating rate. J Geophys Res 109:C01020. https://doi.org/10.1029/2003JC001821

Chia LS, Khan H, Chou LM (1988) The coastal environmental profile of Singapore. ICLARM Tech Rep 21:1–92

Chou LM (2006) Marine habitats in one of the world's busiest harbours. In: Wolanski E (ed) The environment in Asia Pacific Harbours. Springer, Netherlands, pp 377–391

Chou LM, Quek ST (1993) Planulation in the scleractinian coral Pocillopora damicornis in Singapore waters. Proc 7th Int coral reef Symp 1:500

Chou LM, Huang D, Tun KPP, Kwik JTB, Tay YC, Seow AL (2010) Temporal changes in reef community structure at Bintan Island (Indonesia) suggest need for integrated management. Pac Sci 64:99–111. https://doi.org/10.2984/64.1.099

Chou LM, Nguyen N, Tun K (2014) Managing Singapore's coral reefs. In: Kimura T, Tun K, Chou LM (eds) Status of coral reefs in east Asian Seas Region: 2014, vol 216. Ministry of the Environment, Tokyo, pp 37–45

Chou LM, Toh KB, Ng CSL (2015) Coastal urbanization impacts on biodiversity - the case of marinas in Singapore. In: The Asian Conference on Sustainability. Energy and the Environment, Kobe, Japan, pp 375–381

Chou LM, Huang D, Tan KS, Toh TC, Goh BPL, Tun K (2018). Singapore. In: Sheppard CRC (ed) World seas: an environmental evaluation. The Indian Ocean to the Pacific London, vol 2. Academic Press, pp 539–558

Chuang SH (1961) On Malayan Shores. Muwu Shosa, Singapore

Chuang SH (1977) Ecology of Singapore and Malayan coral reefs - preliminary classification. Proc 3rd Int Coral Reef Symp, vol 1, pp 545–561

Connolly SR, Baird AH (2010) Estimating dispersal potential for marine larvae: dynamic models applied to scleractinian corals. Ecology 91(12):3572–3583. https://doi.org/10.1890/10-0143.1

Cumming RL (2009) Population outbreaks and large aggregations of Drupella on the great barrier reef. Great Barrier Reef Marine Park Authority 96:1–44

Cunning R, Bay RA, Gillette P, Baker AC, Traylor-Knowles N (2018) Comparative analysis of the Pocillopora damicornis genome highlights role of immune system in coral evolution. Sci Rep 8:16134. https://doi.org/10.1038/s41598-018-34459-8

Dana JD (1846) Zoophytes. United States exploring expedition during the years 1838-1842. Lea and Blanchard, Philadelphia

DeSalvo MK, Voolstra CR, Sunagawa S, Scwartz JA, Stillman JH, Coffroth MA, Szmant AM, Medina M (2008) Differential gene expression during thermal stress and bleaching in the Caribbean coral Montastrea faveolata. Mol Ecol 17:3952–3971. https://doi.org/10.1111/j.1365-294X.2008.03879.x

DeVantier L, Turak E (2017) Species richness and relative abundance of reef-building corals in the indo-West Pacific. Diversity 9:25. https://doi.org/10.3390/d9030025

Dikou A, van Woesik R (2006) Survival under chronic stress from sediment load: Spatial patterns of hard coral communities in the southern islands of Singapore. Mar Pollut Bull 52(1):7–21. https://doi.org/10.1016/j.marpolbul.2005.07.021

Dixson DL, Abrego D, Hay ME (2014) Chemically mediated behavior of recruiting corals and fishes: a tipping point that may limit reef recovery. Science 345:892–897. https://doi.org/10.1126/science.1255057

Douek J, Amar K-O, Rinkevich B (2011) Maternal-larval population genetic traits in Stylophora pistillata, a hermaphroditic brooding coral species. Genetica 139:1531–1542. https://doi.org/10.1007/s10709-012-9653-x

Duckworth A, Giofre N, Jones R (2017) Coral morphology and sedimentation. Mar Pollut Bull 125:289–300. https://doi.org/10.1016/j.marpolbul.2017.08.036

Dulvy NK, Sadovy Y, Reynolds JD (2003) Extinction vulnerability in marine populations. Fish Fish 4:25–64. https://doi.org/10.1046/j.1467-2979.2003.00105.x

Edwards A, Emberton H (1980) Crustacea associated with the scleractinian coral, Stylophora pistillata (Esper), in the Sudanese Red Sea. J Exp Mar Biol Ecol 41:225–240. https://doi.org/10.1016/0022-0981(80)90178-1

Ellis J, Solander D (1786) The natural history of many curious and uncommon zoophytes. Benjamin White and Son, Peter Elmsly, Strand

Erftemeijer PLA, Riegl B, Hoeksema BW, Todd PA (2012) Environmental impacts of dredging and other sediment disturbances on corals: a review. Mar Pollut Bull 64:1737–1765. https://doi.org/10.1016/j.marpolbul.2012.05.008

Esper EJC (1797) Fortsetzungen der Pflanzenthiere in Abbildungennach der Natur mit Farben erleuchtet nebst Beschreibungen. Erster Theil, Nürnberg

Fabricius K (2005) Effects of terrestrial runoff on the ecology of corals and coral reefs: review and synthesis. Mar Pollut Bull 50:125–146. https://doi.org/10.1016/j.marpolbul.2004.11.028

Fadlallah Y (1985) Reproduction in the coral Pocillopora verrucosa on the reefs adjacent to the industrial city of Yanbu (Red Sea, Saudi Arabia). Proc Int Coral Reef Congr 4:313–318

Falkowski PG, Dubinsky Z, Muscatine L, Porter JW (1984) Light and bioenergetics of a symbiotic coral. Bioscience 34:705–709. https://doi.org/10.2307/1309663

Falkowski PG, Jokiel PL, Kinzie RA (1990) Irradiance and corals. In: Dubinsky Z (ed) Ecosystems of the world: coral reefs. Elsevier, Amsterdam, pp 89–107

Flot J, Tillier S (2007) The mitochondrial genome of Pocillopora (Cnidaria: Scleractinia) contains two variable regions: the putative D-loop and a novel ORF of unknown function. Gene 401:80–87. https://doi.org/10.1016/j.gene.2007.07.006

Flot JF, Magalon H, Cruaud C, Couloux A, Tillier S (2008) Patterns of genetic structure among Hawaiian corals of the genus Pocillopora yield clusters of individuals that are compatible with morphology. C R Biol 331:239–247. https://doi.org/10.1016/j.crvi.2007.12.003

Flot JF, Blanchot J, Charpy L, Cruaud C, Licuanan WY et al (2011) Incongruence between morphotypes and genetically delimited species in the coral genus Stylophora: phenotypic plasticity, morphological convergence, morphological stasis or interspecific hybridization? BMC Ecol 11:22. https://doi.org/10.1186/1472-6785-11-22

Gilmour JP (1999) Experimental investigation into the effects of suspended sediment on fertilisation, larval survival and settlement in a scleractinian coral. Mar Biol 135:451–456. https://doi.org/10.1007/s002270050645

Glynn PW, De Weerdt WH (1991) Elimination of two reef-building hydrocorals following the 1982-83 El Niño warming event. Science 25:69–71. https://doi.org/10.1126/science.253.5015.69

Glynn PW, Feingold JS (1992) Hydrocoral species not extinct. Science 257:1845–1847. https://doi.org/10.1126/science.1411496

Goh BPL (1991) Mortality and settlement success of Pocillopora damicornis planula larvae during recovery from low levels of nickel. Pac Sci 45:276–286

Goh BPL, Chou LM, Ng PKL (1990) Anomuran and brachyuran crab symbionts of Singapore hard corals of the families Acroporidae, Agariciidae and Pocilloporidae. Indo-Malay Zool 6:25–44

Government of Singapore (2018) The great land reclamation at East Coast. Government Technology Agency of Singapore. https://data.gov.sg. Accessed 1 Aug 2018

Gray JE (1840) Pocilloporidae. Synop Contents Br Mus 41:54–84

Guest JR, Baird AH, Maynard JA, Muttaqin E, Edwards AJ, Campbell SJ, Yewdall K, Affendi YA, Chou LM (2012) Contrasting patterns of coral bleaching susceptibility in 2010 suggest an adaptive response to thermal stress. PLoS One 7(3):e33353. https://doi.org/10.1371/journal.pone.0033353

Guest JR, Tun K, Low J, Vergés A, Marzinelli EM, Campbell AH, Bauman AG, Feary DA, Chou LM, Steinberg PD (2016a) 27 years of benthic and coral community dynamics on turbid highly urbanised reefs of Singapore. Sci Rep 6:36260. https://doi.org/10.1038/srep36260

Guest JR, Vergés A, Bauman AG, Campbell AH, Chou LM (2016b) Examining the relationship between fish herbivore biomass, coral and macroalgal cover on Singapore's heavily disturbed reefs. PeerJ Prepr 4:e1907v2. https://doi.org/10.7287/peerj.preprints.1907v2

Heery EC, Hoeksema BW, Browne NK, Reimer JD, Ang PO, Huang D, Friess DA, Chou LM, Loke LHL, Saksena-Taylor P, Alsagoff N, Yeemin T, Sutthacheep M, Vo ST, Bos AR, Gumanao GS, Hussein MAS, Waheed Z, Lane DJW, Johan O, Kunzmann A, Jompa J, Suharsono TD, Bauman AG, Todd PA (2018) Urban coral reefs: degradation and resilience of hard coral assemblages in coastal cities of east and Southeast Asia. Mar Pollut Bull 135:654–681. https://doi.org/10.1016/j.marpolbul.2018.07.041

Hilton MJ, Manning SS (1995) Conversion of coastal habitats in Singapore: indications of unsustainable development. Environ Conserv 22:307–322. https://doi.org/10.1017/S0376892900034883

Hodgson G (1990) Sediment and the settlement of larvae of the reef coral Pocillopora damicornis. Coral Reefs 9(1):41–43. https://doi.org/10.1007/BF00686720

Hoegh-Guldberg O, Smith GJ (1989) The effect of sudden changes in temperature, light and salinity on the population density and export of zooxanthellae from the reef corals Stylophora pistillata Esper and Seriatopora hystrix Dana. J Exp Mar Biol Ecol 129(3):279–303. https://doi.org/10.1016/0022-0981(89)90109-3

Hoegh-Guldberg O, Mumby PJ, Hooten AJ, Steneck RS, Greenfield P, Gomez HCD, Sale PF, Edwards AJ, Caldeira K, Knowlton N, Eakin CM, Iglesias-Prieto R, Muthiga N, Bradbury RH, Dubi A, Hatziolos ME (2007) Coral reefs under rapid climate change and ocean acidification. Science 318:1737–1742. https://doi.org/10.1126/science.1152509

Hoeksema BW, Cairns S (2019a) World list of Scleractinia. Seriatopora elegans Milne Edwards, 1860. World register of marine species. http://www.marinespecies.org/aphia.php?p=taxdetails&id=869393. Accessed 28 Nov 2018

Hoeksema BW, Cairns S (2019b) World list of Scleractinia. Seriatopora jeschkei Studer, 1879. World Register of Marine Species. http://www.marinespecies.org/aphia.php?p=taxdetails&id=1261960. Accessed 28 Nov 2018

Hoeksema BW, Hermanto B (2018) Plastic nets as substrate for reef corals in Lembeh Strait, Indonesia. Coral Reefs 37:631. https://doi.org/10.1007/s00338-018-1686-x

Hoeksema BW, Koh EGL (2009) Depauperation of the mushroom coral fauna (Fungiidae) of Singapore (1860s-2006) in changing reef conditions. Raffles Bull Zool Suppl 22:91–101

Hoeksema BW, van der Land J, van der Meij SET, van Ofwegen LP, Reijnen BT, van Soest RWM, de Voogd NJ (2011) Unforeseen importance of historical collections as baselines to determine biotic change of coral reefs: the Saba Bank case. Mar Ecol Evol Persp 32:135–141. https://doi.org/10.1111/j.1439-0485.2011.00434.x

Hoogenboom MO, Connolly SR, Anthony KRN (2008) Interactions between morphological and physiological optmize energy acquisition in corals. Ecology 89:1144–1154. https://doi.org/10.1890/07-1272.1

Housing Development Board (1963) Annual Report. Housing Singapore Periodicals, Singapore. http://eresources.nlb.gov.sg Accessed 1 Aug 2018

Huang D, Tun KPP, Chou LM, Todd PA (2009) An inventory of zooxanthellate scleractinian corals in Singapore including 33 new records. Raffles Bull Zool Suppl 22:69–80

Hughes TP (1994) Catastrophes, phase shifts, and large-scale degradation of a Caribbean coral reef. Science 265:1547–1551. https://doi.org/10.1126/science.265.5178.1547

Hughes TP, Kerry JT, Alvarez-Noriega M, Alvarez-Romero JG, Anderson KD, Baird AH, Babcock RC, Beger M, Bellwood DR, Berkelmans R, Bridge TC, Butler IR, Byrne M, Cantin NE, Comeau S, Connolly SR, Cumming GS, Dalton SJ, Diaz-Pulido G, Eakin CM, Figueira WF, Gilmour JP, Harrison HB, Heron SF, Hoey AS, Hobbs JPA, Hoogenboom MO, Kennedy EV, Kuo CY, Lough JM, Lowe RJ, Liu G, McCulloch MT, Malcolm HA, McWilliam MJ, Pandolfi JM, Pears RJ, Pratchett MS, Schoepf V, Simpson T, Skirving WJ, Sommer B, Torda G, Wachenfeld DR, Willis BL, Wilson SK (2017) Global warming and recurrent mass bleaching of corals. Nature 543:373–377. https://doi.org/10.1038/nature21707

Hughes TP, Anderson KD, Connolly SR, Heron SF, Kerry JT, Jm L, Baird AH, Baum JK, Berumen ML, Bridge TC, Claar DC, Eakin CM, Gilmour JP, Graham NAJ, Harrison H, Hobbs JPA, Hoey AS, Hoogenboom M, Lowe RJ, McCulloch MT, Pandolfi JM, Pratchett M, Schoepf V, Torda G, Wilson SK (2018) Spatial and temporal patterns of mass bleaching of corals in the Anthropocene. Science 359:80–83. https://doi.org/10.1126/science.aan8048

Jacobs AFG, Heusinkveld BG, Kraai A, Paaijmans KP (2008) Diurnal temperature fluctuations in an artificial small shallow water body. Int J Biometeorol 52:271–280. https://doi.org/10.1007/s00484-007-0121-8

Jiang Y, Kirkman H, Hua A (2001) Megacity development: managing impacts on marine environments. Ocean Coast Manage 44:293–318. https://doi.org/10.1016/S0964-5691(01)00052-7

Jompa J, McCook LJ (2003) Coral-algal competition: macroalgae with different properties have different effects on corals. Mar Ecol Prog Ser 258:87–95. https://doi.org/10.3354/meps258087

Kinzie R III (1993) Spawning in the reef corals Pocillopora verrucosa and P. eydouxi at Sesoko Island, Okinawa. Galaxea 11:93–105

Kitano YF, Nagai S, Ueno M, Yasuda N (2015) Most Pocillopora damicornis around Yaeyama Islands are Pocillopora acuta according to mitochondrial ORF sequences. Galaxea JCRS 17:21–22

Knowlton N (2001) The future of coral reefs. Proc Natl Acad Sci U S A 98:5419–5425. https://doi.org/10.1073/pnas.091092998

Koehl MRA (2007) Mini review: hydrodynamics of larval settlement into fouling communities. Biofouling 23:357–368. https://doi.org/10.1080/08927010701492250

Lai S, Loke LHL, Hilton MJ, Bouma TJ, Todd PA (2015) The effects of urbanisation on coastal habitats and the potential for ecological engineering: a Singapore case study. Ocean Coast Manage 103:78–85. https://doi.org/10.1016/j.ocecoaman.2014.11.006

LaJeunesse TC, Parkinson JE, Gabrielson PW, Jeong HJ, Reimer JD, Voolstra CR, Santos SR (2018) Systematic revision of Symbiodiniaceae highlights the antiquity and diversity of coral endosymbionts. Curr Biol 28:2570–2580. https://doi.org/10.1016/j.cub.2018.07.008

Lamarck J (1816) Histoire naturelle des animaux sans vertebres, vol 2. Verdier, Paris

Lee A-C, Sin TM (2009) Trapezia septata DANA, 1852 (Brachyura, Trapeziidae): a new record of Singapore with notes on its relationship with the host coral, Pocillopora verrucosa. Crustaceana 82:1603–1608. https://doi.org/10.1163/156854009X463838

Lee CS, Walford J, Goh BPL (2012) The effect of benthic macroalgae on coral settlement. Contrib Mar Sci:89–93. https://doi.org/10.13140/RG.2.1.5133.6801

Lee A-C, Baula IU, Miranda LN, Sin TM (2015) A photographic guide to the marine algae of Singapore. Tropical Marine Science Institute, National University of Singapore, Singapore

Leong RC, Marzinelli EM, Low JKY, Bauman AG, Lim EWX, Lim CY, Steinberg PD, Guest JR (2018) Effect of coral-algal interactions on early life history processes in Pocillopora acuta in a highly disturbed coral reef system. Front Mar Sci 5:385. https://doi.org/10.3389/fmars.2018.00385e

Licuanan WY, Capili EB (2004) New records of stony corals from the Philippines previously known from peripheral areas of the indo-Pacific. Raffles Bull Zool 52:285–288

Lim A (2015) Pasir Panjang Terminal's $3.5b expansion kicks off. The Straits Times. http://eresources.nlb.gov.sg. Accessed 1 Aug 2018

Low JKY, Fong J, Todd PA, Chou LM, Bauman AG (2018) Seasonal variation of Sargassum ilicifolium (Phaeophyceae) growth on equatorial coral reefs. J Phycol. https://doi.org/10.1111/jpy.12818

Loya Y (1972) Community structure and species diversity of hermatypic corals at Eilat, Red Sea. Mar Biol 13:100–123. https://doi.org/10.1007/BF00366561

Marshall PA, Baird AH (2000) Bleaching of corals on the great barrier reef: differential susceptibilities among taxa. Coral Reefs 19:155–163. https://doi.org/10.1007/s003380000086

Mass T, Einbinder S, Brokovich E, Shashar N, Vago R, Erez J, Dubinsky Z (2007) Photoacclimation of Stylophora pistillata to light extremes: metabolism and calcification. Mar Ecol Prog Ser 334:93–102. https://doi.org/10.3354/meps334093

Mayfield AB, Bruckner AW, Chen C-H, Chen C-S (2015) A survey of pocilloporid corals and their endosymbiotic dinoflagellate communities in the austral and Cook Islands of the South Pacific. Platax 12:1–17

Mayfield AB, Chen Y-J, Lu C-Y, Chen C-S, Lanz-Mendoza H (2018) The proteomic response of the reef coral Pocillopora acuta to experimentally elevated temperatures. PLoS One 13(1):e0192001. https://doi.org/10.1371/journal.pone.0192001

Maynard JA, Anthony KRN, Marshall PA, Masiri I (2008) Major bleaching events can lead to increased thermal tolerance in corals. Mar Biol 155:173–182. https://doi.org/10.1007/s00227-008-1015-y

Meyers SD, Linville AJ, Luther ME (2014) Alteration of residual circulation due to large-scale infrastructure in a coastal plain estuary. Estuar Coast 37:493–507. https://doi.org/10.1007/s12237-013-9691-3

Middlebrook R, Hoegh-Guldberg O, Leggat W (2008) The effect of thermal history on the susceptibility of reef-building corals to thermal stress. J Exp Biol 211:1050–1056. https://doi.org/10.1242/jeb.013284

Miller DJ, Hemmrich G, Ball EE, Hayward DC, Khalturin K, Funayama N, Agata K, Bosch TC (2007) The innate immune repertoire in cnidarian-ancestral complexity and stochastic gene loss. Genome Biol 8:R59. https://doi.org/10.1186/gb-2007-8-4-r59

Milne Edwards H, Haime J (1850) Recherches sur les polypiers. Mémoire 5. Monographie des oculinides. Ann Sci Nat Zool 13(3):63–110

Moberg F, Folke C (1999) Ecological goods and services of coral reef ecosystems. Ecol Econ 29:215–233. https://doi.org/10.1016/S0921-8009(99)00009-9

Moyer JT, Emerson WK, Ross M (1982) Massive destruction of scleractinian corals by the muricid gastropod, Drupella, in Japan and the Philippines. The Nautilus 96:69–82

Nature Society Singapore (2003) Singapore waters: unveiling our seas. Marine Conservation Group, Singapore

Nemenzo F (1964) Systematic studies on Philippine shallow-water scleractinians: V. Suborder Astrocoeniida. Nat Appl Sci Bull 18:193–223

Nemenzo F (1986) Guide to Philippine Flora and Fauna: corals. Natural Resources Management Center, Ministry of Natural Resources and University of the Philippines

Palmer C, Traylor-Knowles NG, Willis B, Bythell JC (2011) Coral use similar immune cells and woundhealing processes as those of higher organisms. PLoS One 6:e23992. https://doi.org/10.1371/journal.pone.0023992

Perez K III, Rodgers KS, Jokiel PL, Lager CV, Lager DJ (2014) Effects of terrigenous sediment on settlement and survival of the reef coral Pocillopora damicornis. PeerJ 2:e387. https://doi.org/10.7717/peerj.387

Poquita-Du RC, Ng CSL, Loo JB, Afiq-Rosli L, Tay YC, Todd PA, Chou LM, Huang D (2017) New evidence shows that Pocillopora 'damicornis-like' corals in Singapore are actually Pocillopora acuta (Scleractinia: Pocilloporidae). Biodivers Data J 5:e11407. https://doi.org/10.3897/BDJ.5.e11407

Porter JW (1976) Autotrophy, heterotrophy, and resource partitioning in Carribean reef-building corals. Am Nat 110:731–742

Pratchett MS, McCowan D, Maynard JA, Heron SF (2013) Changes in bleaching susceptibility among corals subject to ocean warming and recurrent bleaching in Moorea, French Polynesia. PLoS One 8:e70443. https://doi.org/10.1371/journal.pone.0070443

Purchon RD (1956) A list of corals collected in the vicinity of Singapore. Proc Linnean Soc NSW 81(2):157–158

Putnam HM, Gates RD (2015) Preconditioning in the reef-building coral Pocillopora damicornis and the potential for trans-generational acclimatization in coral larvae under future climate change conditions. J Exp Biol 218:2365–2372. https://doi.org/10.1242/jeb.123018

Rasher DB, Hay ME (2010) Chemically rich seaweeds poison corals when not controlled by herbivores. Proc Natl Acad Sci U S A 107:9683–9688. https://doi.org/10.1073/pnas.0912095107

Razak TB, Hoeksema BW (2003) The hydrocoral genus Millepora (Hydrozoa: Capitata: Milleporidae) in Indonesia. Zool Verh 345:313–336

Richards Z, Beger M (2013) Regional conservation status of Scleractinian coral biodiversity in the Republic of the Marshall Islands. Diversity 5:522–540. https://doi.org/10.3390/d5030522

Richards ZT, Hobbs JPA (2014) The status of hard coral diversity at Christmas Island and Cocos (Keeling) Islands. Raffles Bull Zool Suppl 30:376–398

Richmond RH (1987) Energetics, competency, and long-distance dispersal of planula larvae of the coral Pocillopora damicornis. Mar Biol 93:527–533. https://doi.org/10.1007/BF00392790

Rinkevich B, Loya Y (1979) The reproduction of the Red Sea coral Stylophora pistillata, I. Gonads and planulae. Mar Ecol Prog Ser 1:133–144. https://doi.org/10.3354/meps001133

Rinkevich B, Loya Y (1987) Variability in the pattern of sexual reproduction of the coral Stylophora pistillata at Eilat, Red Sea: a long-term study. Biol Bull 173:335–344. https://doi.org/10.2307/1541546

Rogers CS (1990) Responses of coral reefs and reef organisms to sedimentation. Mar Ecol Prog Ser 62:185–202. https://doi.org/10.3354/meps062185

Roth MS (2014) The engine of the reef: photobiology of the coral-algal symbiosis. Front Microbiol 5:422. https://doi.org/10.3389/fmicb.2014.00422

Rowley AF, Powell A (2007) Invertebrate immune systems specific, quasi-specific, or non-specific? J Immunol 179:7209–7214. https://doi.org/10.4049/jimmunol.179.11.7209

Ruiz-Diaz CP, Toledo-Hernández C, Sabat AM, Marcano M (2013) Immune response to a pathogen in corals. J Theor Biol 332:141–148. https://doi.org/10.1016/j.jtbi.2013.04.028

Sam SQ, Toh TC, Kikuzawa YP, Ng CSL, Taira D, Afiq-Rosli L, Tan KS, Chou LM (2017) Egg capsules and veligers of the corallivorous muricid gastropod Drupella rugosa (born, 1778). Invertebr Reprod Dev 61:164–171. https://doi.org/10.1080/07924259.2017.1315343

Samsuri AN, Kikuzawa YP, Taira D, Sam SQ, Sim WT, Ng CSL, Afiq-Rosli L, Wee TWD, Ng NK, Toh TC, Chou LM (2018) The effectiveness of Trapezia cymodoce in defending its host coral Pocillopora acuta against corallivorous Drupella. Mar Biol 165:70. https://doi.org/10.1007/s00227-018-3330-2

Scheer G, Pillai CSG (1983) Report on the stony corals from the Red Sea. ZoologicaStuttg 133:1–198 pls 1-41

Schmidt-Roach S, Miller KJ, Woolsey E, Gerlach G, Baird AH (2012) Broadcast spawning by Pocillopora species on the great barrier reef. PLoS One 7:e50847. https://doi.org/10.1371/journal.pone.0050847

Schmidt-Roach S, Johnston E, Fontana S, Jury CP, Forsman Z (2014a) Daytime spawning of Pocillopora species in Kaneohe Bay, Hawai'i. Galaxea. JCRS 16:11–12. https://doi.org/10.3755/galaxea.16.11

Schmidt-Roach S, Miller KJ, Lundgren P, Andreakis N (2014b) With eyes wide open: a revision of species within and closely related to the Pocillopora damicornis species complex (Scleractinia: Pocilloporidae) using morphology and genetics. Zool J Linnean Soc 170:1–33. https://doi.org/10.1111/zoj.12092

Schweigger AF (1820) Handbuch der Naturgeschichte der skelettlosen ungegliederten Thiere. Im Verlag der Dyk'schen Buchhandlung, Leipzig

Searle AG (1956) An illustrated key to Malayan hard corals. Malay Nat J 11:1–26

Shaffer HB, Fisher RN, Davidson C (1998) The role of natural history collections in documenting species declines. Trends Ecol Evol 13:27–30. https://doi.org/10.1016/S0169-5347(97)01177-4

Sherman CDH (2008) Mating system variation in the hermaphroditic brooding coral, Seriatopora hystrix. Heredity 100:296–303. https://doi.org/10.1038/sj.hdy.6801076

Shlesinger Y, Loya Y (1985) Coral community reproductive patterns: Red Sea versus the great barrier reef. Science 228:1333–1335. https://doi.org/10.1126/science.228.4705.1333

Sier C, Olive P (1994) Reproduction and reproductive variability in the coral Pocillopora verrucosa from the Republic of Maldives. Mar Biol 118:713–722. https://doi.org/10.1007/bf00347520

Stat M, Pochon X, Franklin EC, Bruno JF, Casey KS, Selig ER, Gates RD (2013) The distribution of the thermally tolerant symbiont lineage (Symbiodinium clade D) in corals from Hawaii: correlations with host and the history of ocean thermal stress. Ecol Evol 3:1317–1329. https://doi.org/10.1002/ece3.556

Stafford-Smith MG, Ormond RFG (1992) Sediment-rejection mechanisms of 42 species of Australian scleractinian corals. Mar Freshw Res 43(4):683. https://doi.org/10.1071/MF9920683

Stefani F, Benzoni F, Yang SY, Pichon M, Galli P, Chen CA (2011) Comparison of morphological and genetic analyses reveals cryptic divergence and morphological plasticity in Stylophora (Cnidaria, Scleractinia). Coral Reefs 30:1033–1049. https://doi.org/10.1007/s00338-011-0797-4

Sutherland KP, Porter JW, Torres C (2004) Disease and immunity in Caribbean and indo-Pacific zooxanthellate corals. Mar Ecol Prog Ser 266:273–302. https://doi.org/10.3354/meps266273

Tanner JE (1995) Seasonality and lunar periodicity in the reproduction of pocilloporid corals. Coral Reefs 15:59–66. https://doi.org/10.1007/BF01626077

Tanzil JTI, Ng PKA, Tey YQ, Tan HYB, Yun YE, Huang D (2016) A preliminary characterisation of Symbiodinium diversity in some common corals from Singapore. COSMOS 12:15–27. https://doi.org/10.1142/S0219607716500014

Terrana L, Caulier G, Todinanahary G, Lepoint G, Eeckhaut I (2016) Characteristics of the infestation of Seriatopora corals by the coral gall crab Hapalocarcinus marsupialis Stimpson, 1859 on the great reef of Toliara, Madagascar. Symbiosis 69:113–122. https://doi.org/10.1007/s13199-016-0391-1

The Business Times (1992) Tender for Pasir Panjang terminal, Singapore. http://eresources.nlb.gov.sg. Accessed 1 Aug 2018

Todd PA (2008) Morphological plasticity in scleractinian corals. Biol Rev 83:315–337. https://doi.org/10.1111/j.1469-185X.2008.00045.x

Todd PA, Chou LM (2005) A tale of survival: Labrador Park, Singapore. Coral Reefs 24:391. https://doi.org/10.1007/s00338-005-0022-4

Todd PA, Ong X, Chou LM (2010) Impacts of pollution on marine life in Southeast Asia. Biodivers Conserv 19(4):1063–1082

Toh TC (2014) The use of sexually propagated scleractinian corals for reef restoration. Doctoral Dissertation, National University of Singapore

Toh KB, Ng CSL, Wu B, Toh TC, Cheo PR, Tun K, Chou LM (2017) Spatial variability of epibiotic assemblages on marina pontoons in Singapore. Urban Ecosyst 20:183–197. https://doi.org/10.1007/s11252-016-0589-2

UNU-IHDP (2015) Coastal zones and urbanization. Summary for decision-makers, Bonn

Venera-Ponton DE, Diaz-Pulido G, McCook LJ, Rangel-Campo A (2011) Macroalgae reduce growth of juvenile corals but protect them from parrotfish damage. Mar Ecol Prog Ser 421:109–115. https://doi.org/10.3354/meps08869

Veron JEN (2000) Corals of the world. Australian Insitute of marine science. Townsville, Queensland

Veron JEN, Pichon M (1976) Scleractinia of eastern Australia. Monograph Series of the Australian Institute for Marine Science I

Ward S (1992) Evidence for broadcast spawning as well as brooding in the scleractinian coral Pocillopora damicornis. Mar Biol 112:641–646. https://doi.org/10.1007/BF00346182

Wee SYC (2017) Diversity and community structure of coral epifauna at an in situ nursery. Honours Thesis, National University of Singapore

Wiens JJ (2016) Climate-related local extinctions are already widespread among plant and animal. PLoS Biol 14:e2001104. https://doi.org/10.1371/journal.pbio.2001104

Wong JSY, Chan SYK, Ng CSL, Tun KPP, Darling E, Huang D (2018) Comparing patterns of taxonomic, functional and phylogenetic diversity in reef coral communities. Coral Reefs 37:737–750. https://doi.org/10.1007/s00338-018-1698-6

Yeo DCJ, Ahyong ST, Lodge DM, Ng PKL, Naruse T, Lane DJW (2010) Semisubmersible oil platforms: understudied and potentially major vectors of biofouling-mediated invasions. Biofouling 26:179–186. https://doi.org/10.1080/08927010903402438

Yip ZT, Quek RZB, Low JKY, Wilson B, Bauman AG et al (2018) Diversity and phylogeny of Sargassum (Fucales, Phaeophyceae) in Singapore. Phytotaxa 369:200–210. https://doi.org/10.11646/phytotaxa.369.3.3

Ziegler M, Roder CM, Buchel C, Voolstra CR (2014) Limits to physiological capacity of the coral Pocillopora verrucosa from the Central Red Sea. Coral Reefs 33:1–15. https://doi.org/10.1007/s00338-014-1192-8
Acknowledgements
We especially thank Chua Keng Soon (LKCNHM) and Stephen Cairns (USNM) for assistance with loans, imaging, and cataloging of specimens. We would also like to acknowledge Sin Tsai Min and Lee Ai Chin Michelle from the Tropical Marine Science Institute for additional information on Pocillopora corals in Singapore reefs. Many thanks to Pang Hui En from Experimental Marine Ecology Laboratory and members of the Reef Ecology Laboratory at the Department of Biological Sciences, National University of Singapore, for fieldwork and laboratory support. The comments from James Guest, three anonymous reviewers and Associate Editor Bert Hoeksema greatly improved this paper.
Funding
This research is supported by the National Research Foundation, Prime Minister's Office, Singapore under its Marine Science Research and Development Programme (Award Nos. MSRDP-P03 and MSRDP-P05).
Ethics declarations
Conflict of interest
The authors declare that they have no conflict of interest.
Ethical approval
All applicable international, national, and/or institutional guidelines for the care and use of animals were followed by the authors.
Sampling and field studies
All necessary permits for sampling and observational field studies have been obtained by the authors from the competent authorities.
Data availability
The datasets generated during and/or analyzed during the current study are available at Zenodo (https://doi.org/10.5281/zenodo.2536262).
Additional information
Publisher's note
Springer Nature remains neutral with regard to jurisdictional claims in published maps and institutional affiliations.
Communicated by B. W. Hoeksema
About this article
Cite this article
Poquita-Du, R.C., Quek, Z., Jain, S.S. et al. Last species standing: loss of Pocilloporidae corals associated with coastal urbanization in a tropical city state. Mar Biodiv 49, 1727–1741 (2019). https://doi.org/10.1007/s12526-019-00939-x
Received:

Revised:

Accepted:

Published:

Issue Date:
Keywords
Coastal modification

Pocillopora

Scleractinia

Sedimentation

Species richness