Abstract
Two beaching events of the calycophoran siphonophore Abylopsis tetragona (Otto, 1823) were observed in two different areas of the Strait of Gibraltar during the cold season. The first was discovered on November 2014, on Getares Beach (Algeciras Bay, Mediterranean part of the Strait of Gibraltar), where more than 700 colonies were found deposited along the tideline. The second event was discovered on January 2015, on Paloma Baja Beach (Tarifa, Atlantic part of the Strait of Gibraltar) where an average density of 170 colonies m−2 was spread along the seashore. Both events seemed to be promoted by strong easterly winds, preceded by upwelling episodes that may have concentrated high densities of the siphonophore in superficial layers. This study represents the first report of a calycophoran siphonophore mass stranding. The records were made thanks to citizen science and jellyfish outreach at secondary schools (PERSEUS@school initiative), illustrating the importance of citizen science projects in observing natural phenomena. We consider the monitoring and recording of cnidarian stranding events especially important in highly productive and biologically active areas such as the Strait of Gibraltar.
This is a preview of subscription content, log in to check access.
Access options
Buy single article
Instant access to the full article PDF.
US$ 39.95
Price includes VAT for USA
Subscribe to journal
Immediate online access to all issues from 2019. Subscription will auto renew annually.
US$ 99
This is the net price. Taxes to be calculated in checkout.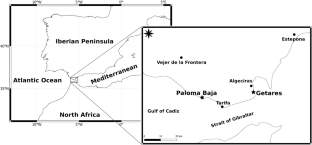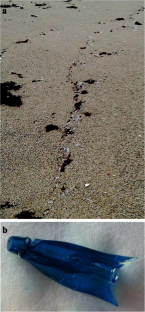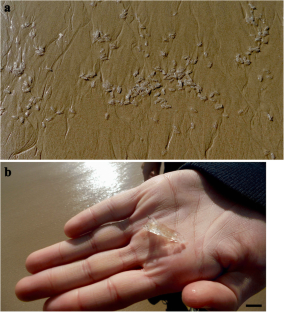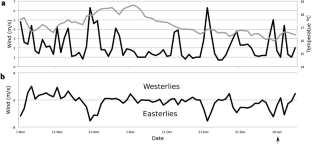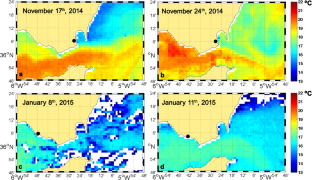 References
Alvariño A (1971) Siphonophores of the Pacific with a review of the world distribution. Bull Scripps Inst Ocean 16:1–432

Andersen V, Sardou J, Nival P (1992) The diel migrations and vertical distributions of zooplankton and micronekton in the northwestern Mediterranean Sea. 2. Siphonophores, hydromedusae and pyrosomids. J Plankton Res 14:1155–1169. https://doi.org/10.1093/plankt/14.8.1155

Araya JF, Aliaga JA, Araya ME (2015) On the distribution of Physalia physalis (Hydrozoa: Physaliidae) in Chile. Mar Biodivers. https://doi.org/10.1007/s12526-015-0417-6

Bigelow HB, Sears M (1937) Siphonophorae. Copenhagen

Boero F (2016) Teaching zoology in the age of machines. Ital J Zool 83:283–284. https://doi.org/10.1080/11250003.2016.1223610

Boero F, Belmonte G, Bracale R et al (2013) A salp bloom (Tunicata, Thaliacea) along the Apulian coast and in the Otranto Channel between March-May 2013. F1000Res 2:1–7. https://doi.org/10.12688/f1000research.2-181.v1

Boero F, Putti M, Trainito E et al (2009) First records of Mnemiopsis leidyi (Ctenophora) from the Ligurian, Tyrrhenian and Ionian Seas (Western Mediterranean) and first record of Phyllorhiza punctata (Cnidaria) from the Western Mediterranean. Aquat Invasions 4:675–680. https://doi.org/10.3391/ai.2009.4.4.13

Bouillon J, Medel MD, Pagès F et al (2004) Fauna of the Mediterranean Hydrozoa. Sci Mar 68:438. https://doi.org/10.3989/scimar.2004.68s25

Buecher E (1999) Appearance of Chelophyes appendiculata and Abylopsis tetragona (Cnidaria, Siphonophora) in the Bay of Villefranche, northwestern Mediterranean. J Sea Res 41:295–307. https://doi.org/10.1016/S1385-1101(99)00005-2

Dallot S, Goy J, Carré C (1988) Peuplements de carnivores planctoniques gélatineux et structures productives en Méditerranée occidentale. Oceanol Acta:193–209

Davenport J (1995) Upwelling-generated plankton strandlines: important predictable food sources for seabirds at Husvik, South Georgia. Mar Biol 123:207–217. https://doi.org/10.1007/BF00353612

Dunstall TC, Carter CH, Monroe BP et al (1990) Influence of upwellings, storms, and generating station operation on water chemistry and plankton in the Nanticoke Region of Long Point Bay, Lake Erie. Can J Fish Aquat Sci 47:1434–1445

Echevarria F, Zabala L, Corzo A et al (2009) Spatial distribution of autotrophic picoplankton in relation to physical forcings: the Gulf of Cadiz, Strait of Gibraltar and Alboran Sea case study. J Plankton Res 31:1339–1351. https://doi.org/10.1093/plankt/fbp070

Flux JEC (2009) First mass stranding of Velella velella in New Zealand. Mar Biodivers Rec 1:e84. https://doi.org/10.1017/S175526720700872X

Forsskål P (1775) Descriptiones Animalium, Avium, Amphibiorum, Piscium, Insectorum, Vermium; quae in Itinere Orientali Observavit Petrus Forskål. Post mortem auctoris edidit Carsten Niebuhr. Adjuncta est materia medica kahirina atque tabula maris Rubri geographica. Hauniae

Gili J-M, Pagès F, Riera T (1987a) Distribución de las especies más frecuentes de sifonóforos calicóforos en la zona norte del Mediterráneo occidental. Investig Pesq 51:323–338

Gili J-M, Pagès F, Vives F (1987b) Distribution and ecology of a population of planktonic cnidarians in the western Mediterranean. In: Bouillon J, Boero F, Cicogna F, Cornelius PFS (eds) Modern trends in the systematics, ecology, and evolution of hydroids and hydromedusae. Oxford University Press, Oxford, pp 157–170

Gómez F, Gorsky G, García-Górriz E, Picheral M (2004) Control of the phytoplankton distribution in the Strait of Gibraltar by wind and fortnightly tides. Estuar Coast Shelf Sci 59:485–497. https://doi.org/10.1016/j.ecss.2003.10.008

Graham WM, Pagès F, Hamner WM (2001) A physical context for gelatinous zooplankton aggregations: a review. Hydrobiologia 451:199–212

Greve W (1994) The 1989 German Bight invasion of Muggiaea atlantica. ICES J Mar Sci 51:355–358. https://doi.org/10.1006/jmsc.1994.1037

Haddock SHD (2004) A golden age of gelata: past and future research on planktonic ctenophores and cnidarians. Hydrobiologia 530–531:549–556. https://doi.org/10.1007/s10750-004-2653-9

Harvey WH (1855) Some account of the marine botany of the colony of Western Australia. Trans Roy Ir Acad 22:525–566

Houghton JDR, Doyle TK, Davenport J et al (2007) Stranding events provide indirect insights into the seasonality and persistence of jellyfish medusae (Cnidaria: Scyphozoa). Hydrobiologia 589:1–13. https://doi.org/10.1007/s10750-007-0572-2

Kienberger K, Prieto L (2016) The first record of Drymonema dalmatinum from the northern Alboran Sea (western Mediterranean). Mar Biodivers 0–1. https://doi.org/10.1007/s12526-016-0620-0

Kienberger K, Prieto L (2017) The jellyfish Rhizostoma luteum (Quoy & Gaimard, 1827): not such a rare species after all. Mar Biodivers. https://doi.org/10.1007/s12526-017-0637-z

Linnaeus C von (1758) Caroli Linnaei...Systema naturae per regna tria naturae: secundum classes, ordines, genera, species, cum characteribus, differentiis, synonymis, locis. Impensis Direct. Laurentii Salvii., Holmiae

Lučić D, Benović A, Batistić M et al (2011) A short-term investigation of diel vertical migrations of the calycophoran Siphonophora in the open south Adriatic Sea (July 2003). Acta Adriat 52:159–172

Luján M, Crespo-Blanc A, Comas M (2011) Morphology and structure of the Camarinal Sill from high-resolution bathymetry: evidence of fault zones in the Gibraltar Strait. Geo-Marine Lett 31:163–174. https://doi.org/10.1007/s00367-010-0222-y

Macías D, Bruno M, Echevarria F et al (2008) Meteorologically-induced mesoscale variability of the North-western Alboran Sea (southern Spain) and related biological patterns. Estuar Coast Shelf Sci 78:250–266. https://doi.org/10.1016/j.ecss.2007.12.008

Macías D, García CM, Echevarría Navas F et al (2006) Tidal induced variability of mixing processes on Camarinal Sill (Strait of Gibraltar): a pulsating event. J Mar Syst 60:177–192. https://doi.org/10.1016/j.jmarsys.2005.12.003

Macías D, Navarro G, Bartual A et al (2009) Primary production in the Strait of Gibraltar: carbon fixation rates in relation to hydrodynamic and phytoplankton dynamics. Estuar Coast Shelf Sci 83:197–210. https://doi.org/10.1016/j.ecss.2009.03.032

Mapstone GM (2014) Global diversity and review of Siphonophorae (Cnidaria: Hydrozoa). PLoS One 9:e87737. https://doi.org/10.1371/journal.pone.0087737

Mills CE, Pugh PR, Harbison GR, Haddock SHD (1996) Medusae, siphonophores and ctenophores of the Alboran Sea, south western Mediterranean. Sci Mar 60:145–163

Navarro G, Ruiz J, Huertas IE et al (2006) Basin-scale structures governing the position of the deep fluorescence maximum in the Gulf of Cádiz. Deep Sea Res Part II Top Stud Oceanogr 53:1261–1281. https://doi.org/10.1016/j.dsr2.2006.04.013

Navarro G, Vázquez Á, Macías D et al (2011) Understanding the patterns of biological response to physical forcing in the Alborán Sea (western Mediterranean). Geophys Res Lett 38:1–5. https://doi.org/10.1029/2011GL049708

Otto AW (1823) Beschreibung einiger neuen Mollusken und Zoophyten. Nov Acta Leop Carol 11:273–314

Pagès F, Gili J-M (1992) Influence of Agulhas waters on the population structure of planktonic cnidarians in the southern Benguela region. Sci Mar 56:109–123

Pagès F, González HE, Ramón M et al (2001) Gelatinous zooplankton assemblages associated with water masses in the Humboldt Current System, and potential predatory impact by Bassia bassensis (Siphonophora: Calycophorae). Mar Ecol Prog Ser 210:13–24

Prieto L, Armani A, Macías D (2013) Recent strandings of the giant jellyfish Rhizostoma luteum Quoy and Gaimard, 1827 (Cnidaria: Scyphozoa: Rhizostomeae) on the Atlantic and Mediterranean coasts. Mar Biol 160:3241–3247. https://doi.org/10.1007/s00227-013-2293-6

Prieto L, Macías D, Peliz A, Ruiz J (2015) Portuguese Man-of-War (Physalia physalis) in the Mediterranean: a permanent invasion or a casual appearance? Sci Rep 5:11545. https://doi.org/10.1038/srep11545

Pugh PR (1989) Gelatinous zooplankton - the forgotten fauna. Prog Underw Sci 14:67–78

Pugh PR (1999) Siphonophorae. In: Boltovskoy D (ed) South Atlanctic Zooplankton. Backhuys Publishers, Leiden, The Netherlands., pp 467–511

Pugh PR (1974) The vertical distribution of the siphonophores collected during the Sond Cruise, 1965. J mar biol Ass UK 54:25–90

Purcell JE (1982) Feeding and growth of the siphonophore Muggiaea atlantica (Cunningham 1893). J Exp Mar Bio Ecol 62:39–54

Purcell JE, Arai MN (2001) Interactions of pelagic cnidarians and ctenophores with fish: a review. Hydrobiologia 451:27–44

Purcell JE, Kremer P (1983) Feeding and metabolism of the siphonophore Sphaeronectes gracilis. J Plankton Res 5:95–106. https://doi.org/10.1093/plankt/5.1.95

Quoy JRC, Gaimard JP (1827) Observations zoologiques faites à bord de l'Astrolabe, en mai 1826, dans le Détroit de Gibraltar. Ann Sci Nat Paris 10:175–237

Sammartino S, Lafuente JG, Garrido JCS et al (2014) A numerical model analysis of the tidal flows in the Bay of Algeciras, Strait of Gibraltar. Cont Shelf Res 72:34–46. https://doi.org/10.1016/j.csr.2013.11.002

Silvertown J (2009) A new dawn for citizen science. Trends Ecol Evol 24:467–471. https://doi.org/10.1016/j.tree.2009.03.017
Acknowledgments
Special thanks to the students of first bachelor of the school María Auxiliadora (Algeciras): Beatriz Escobar, Irene Tirado, Paola Cuellar, Mario Mena, Quique Laza, Víctor Hernández, Daniel Jaén, Eduardo Conde and Pedro Martínez, and the students of 4° high-school of the same school: Cristina Martínez Pérez, Aurelio Sánchez Alfonso, Alejandro Pérez Romero and Manuel Jiménez González who informed about the second event. The students involved in the project won two first national prizes in two different young researchers competitions (April and June, 2015) and were finalists in the international Science on Stage competition (Hungary, July 2017) for their developed jellyfish research project. Thanks to Dr. G. Mapstone for encouraging this work and her valuable comments on the manuscript.
Funding
KK, LP and GN were funded by PERSEUS European Project (FP7-287600). KK was also funded by the Rotary Club Genève Lac, Switzerland.
Ethics declarations
Conflict of interest
The authors declare that they have no conflict of interest.
Ethical approval
This article does not contain studies with live animals performed by any of the authors.
Sampling and field studies
All necessary permits for sampling and observational field studies have been obtained by the authors from the competent authorities and are mentioned in the acknowledgements, if applicable. The study is compliant with CBD and Nagoya protocols.
Additional information
Communicated by S. Piraino
About this article
Cite this article
Guerrero, E., Kienberger, K., Villaescusa, A. et al. First record of beaching events for a calycophoran siphonophore: Abylopsis tetragona (Otto, 1823) at the Strait of Gibraltar. Mar Biodiv 49, 1587–1593 (2019). https://doi.org/10.1007/s12526-018-0926-1
Received:

Revised:

Accepted:

Published:

Issue Date:
Keywords
Mass stranding

Gelatinous zooplankton

Citizen science

Outreach

Secondary schools