Abstract
A new species of the genus Planonasus is described from off southwestern India and Sri Lanka in the northern Indian Ocean. The new species occurs along the upper continental slope from 200 to 1000 m deep and was landed in fisheries for gulper sharks (Centrophorus spp.). Planonasus indicus sp. n. externally closely resembles P. parini (Carcharhiniformes: Pseudotriakidae), the only other member of the genus. It can be distinguished from P. parini by a combination of morphological characters including absence of oral papillae, lack of a distinct white mark on the free rear tip of the first dorsal fin, sides and underside of head, as well as fin edges that are similar in color as body (vs. dusky), more tooth rows in the lower jaw, shorter labial furrows, longer and less high spiracles, proportionally higher, more angular dorsal fins, especially the second dorsal fin, proportionally longer pectoral fins, a proportionally larger anal fin, longer distances from the snout tip to the origins of the caudal fin, both dorsal fins and the pelvic fins, as well as to the vent, and shorter distances for preorbital snout, prepectoral length, pelvic midpoint to second dorsal fin origin, and pelvic-anal space. A revised diagnosis of the genus and key to the family is also provided.
This is a preview of subscription content, log in to check access.
Access options
Buy single article
Instant access to the full article PDF.
US$ 39.95
Price includes VAT for USA
Subscribe to journal
Immediate online access to all issues from 2019. Subscription will auto renew annually.
US$ 99
This is the net price. Taxes to be calculated in checkout.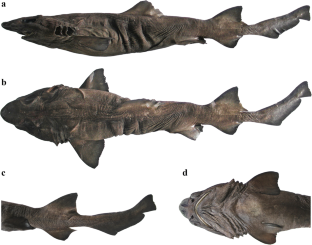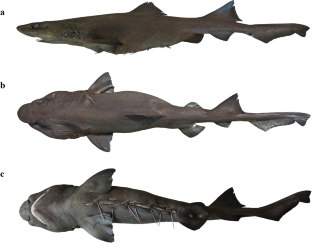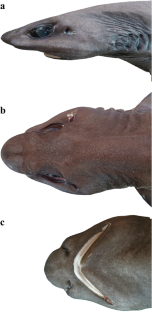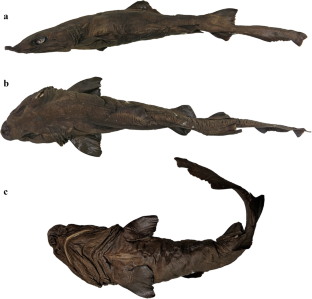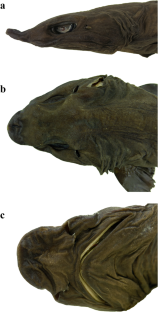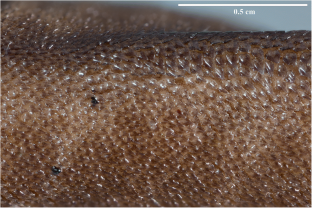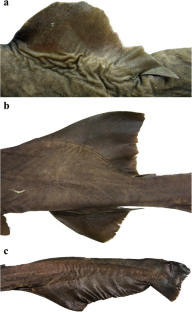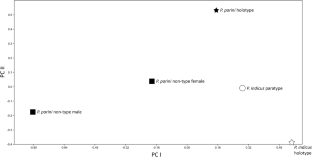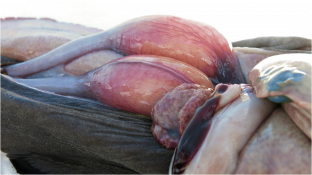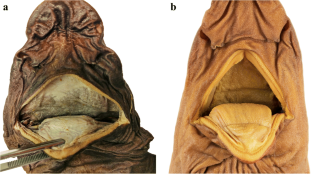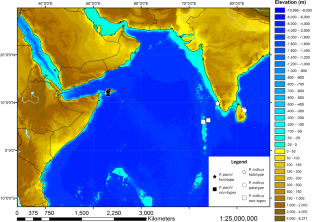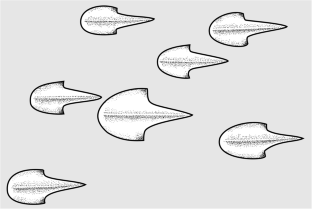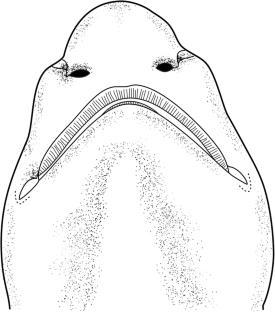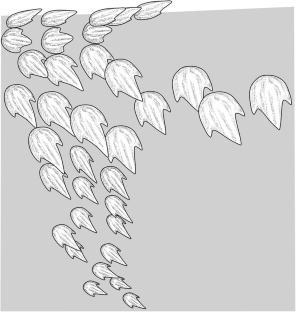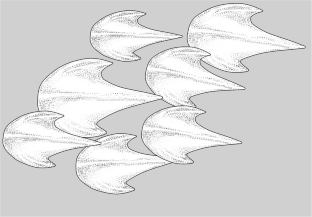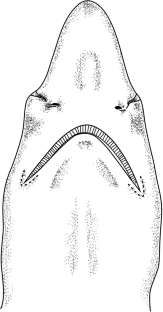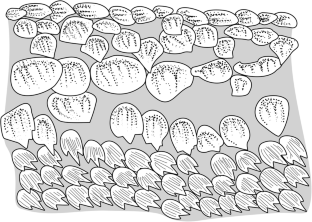 References
Adam MS, Merrett NR, Anderson RC (1998) Additions to the fish fauna of the Maldive Islands, part 1: an annotated checklist of the deep demersal fishes of the Maldive Islands. Ichthyol Bull JLB Smith Inst Ichthyol 67(1):1–19

Akhilesh KV, Hashim M, Bineesh KK, Shanis CPR, Ganga U (2010) New distributional records of deep-sea sharks from Indian waters. J Mar Biol Ass India 52:29–34

Akhilesh KV, Ganga U, Pillai NGK, Vivekanandan E, Bineesh KK, Shanis CPR, Hashim M (2011) Deep-sea fishing for chondrichthyan resources and sustainability concerns—a case study from southwest coast of India. Indian J Geo Mar Sci 40(3):347–355

Akhilesh KV, Bineesh KK, Gopalakrishnan A, Jena JK, Basheer VS, Pillai NGK (2014) Checklist of Chondrichthyans in Indian waters. J Mar Biol Ass India 56(1):109–120

Amante C, Eakins BW (2009) ETOPO1 1 arc-minute global relief model: procedures, Data Sources and Analysis NOAA Tech Mem NEDIS NGDC-24, 19 pp

Anderson RC, Ahmed H (1993) The shark fisheries of the Maldives. Ministry of Fisheries and Agriculture, Republic of Maldives and Food and Agriculture Organization of the United Nations, 76 pp

Compagno LJV (1973) Ctenacis and Gollum, two new genera of sharks (Selachii; Carcharhinidae). Proc Cal Acad Sci (Series 4) 39(14):257–272

Compagno LJV (1984) FAO species catalogue. Vol. 4, Sharks of the world. An annotated and illustrated catalogue of shark species known to date. FAO Fish Synop 4(1), 125, 249 pp

Compagno LJV (1988) Sharks of the order Carcharhiniformes. Princeton University Press, Princeton, New Jersey, 445 pp

Compagno LJV (1999) Checklist of living elasmobranchs. In: Hamlett WC (ed) Sharks, skates, and rays: the biology of elasmobranch fishes. The Johns Hopkins University Press, Baltimore, USA, pp 471–498

Compagno LJV (2005) Checklist of living Chondrichthyes. In: Hamlett WC (ed) Reproductive biology and phylogeny of chondrichthyes: sharks, batoids, and chimaeras. Science Publishers, Inc., Enfield, New Hampshire, USA, pp. 501–548

Compagno LJV, Dando M, Fowler S (2005) A field guide to the sharks of the world. Harper Collins Publishing Ltd., London, p 368

de Brito Capello F (1868) Description de trois nouveaux poissons des mers du Portugal. J Sci Math Phys Nat Lisboa 1(4):318–322

Ebert DA (2013) Deep-sea cartilaginous fishes of the Indian Ocean. Vol. 1. Sharks. FAO Species Catalogue for Fishery Purposes 8(1). Rome: FAO, 256 pp.

Ebert DA, Fowler S, Compagno LJV (2013) Sharks of the world: a fully illustrated guide to the sharks of the world. Wild Nature Press, p 528

Ebert DA, De Silva RI, Goonewardena ML (2017) First record of the dwarf false catshark, Planonasus parini (Carcharhiniformes: Pseudotriakidae) from Sri Lanka. Loris 27(5&6): 63–64. December 2016 [2017].

Fowler HW (1941) The fishes of the groups Elasmobranchii, Holocephali, Isospondyli, and Ostariophysi obtained by United States Bureau of Fisheries Steamer Albatross in 1907 to 1910, chiefly in the Philippine Islands and adjacent seas. Bull US Natl Mus 100: i-x, 1–879, Figs. 1–30.

Garrick JAF (1954) Studies on New Zealand Elasmobranchii. Part III. A new species of Triakis (Selachii) from New Zealand. T Roy Soc New Zeal 82:695–702

Gill T (1893) Families and subfamilies of fishes. Mem Natl Acad Sci 6:127–138

Hammer Ø, Harper DAT, Ryan PD (2001) PAST: paleontological statistics software package for education and data analysis. Palaeontol Electron 4(1):1–9

Jabado RW, Ebert DA (2015) Sharks of the Arabian Seas: an identification guide. The International Fund for Animal Welfare, Dubai, p 240

Jordan DS, Evermann BW (1896) The fishes of North and Middle America. Bull US Natl Mus 47:1–1240

Jordan DS, Snyder JO (1904) On a collection of fishes made by Mr. Alan Owston in the deep waters of Japan. Smiths Misc Coll 45:230–240

Last PR, Stevens JD (2009) Sharks and rays of Australia. CSIRO Publishing, Melbourne, 644 pp

Last PR, Gaudiano JP (2011) Gollum suluensis sp. nov. (Carcharhiniformes: Pseudotriakidae), a new gollumshark from the southern Philippines. Zootaxa 3002:17–30

Musick JA, Ellis JK (2005) Reproductive evolution of chondrichthyans. In: Hamlett WC (ed) Reproductive biology and phylogeny of chondrichthyes: sharks, batoids, and chimaeras, Science Publishers. Inc. Enfield, NH, pp 45–79

Naylor GJP, Caira JN, Jensen K, Rosana KAM, White WT, Last PR (2012a) A DNA sequence-based approach to the identification of shark and ray species and its implications for global elasmobranch diversity and parasitology. B Am Mus Nat Hist 367(1):1–263

Naylor GJP, Caira JN, Jensen K, Kerri, Rosana KAM, Straube N, Lakner C.(2012b) Elasmobranch phylogeny: a mitochondrial estimate based on 595 species. In: Carrier JC, Musick JA, Heithaus MR (eds) Biology of sharks and their relatives, 2nd edition. CRC Press, Boca Raton, London, New York, pp. 31–56.

Nelson JS (2006) Fishes of the world. John Wiley & Sons, Inc., New Jersey, p 601

Sabaj MH (ed) (2016) Standard symbolic codes for institutional resource collections in herpetology and ichthyology: an online reference. Version 5.0. American Society of Ichthyologists and Herpetologists, Washington, DC. http://www.asih.org/, Accessed 17 Nov 2017

Teng HT (1958) Studies on the elasmobranch fishes from Formosa. Part 1. Eighteen unrecorded species of sharks from Formosa. Taiwan Fish Res Inst Lab Fish Biol Rep 3:1–30

Teng HT (1962) Classification and distribution of the Chondrichthyes of Taiwan. Ogawa Press, Maizuru, Japan, p 304

Weigmann S (2016) Annotated checklist of the living sharks, batoids and chimaeras (Chondrichthyes) of the world, with a focus on biogeographical diversity. J Fish Biol 88(3):837–1037

Weigmann S, Stehmann MFW, Thiel R (2013) Planonasus parini n. g. and n. sp., a new genus and species of false cat sharks (Carchariniformes, Pseudotriakidae) from the deep northwestern Indian Ocean off Socotra Islands. Zootaxa 3609(2):163–181

Yano K (1993) Reproductive biology of the slender smoothhound, Gollum attenuatus, collected from New Zealand waters. Environ Biol Fish 38:59–71
Acknowledgements
The following individuals are sincerely thanked for their assistance and support on various aspects of this project: SciGraphics (http://www.scigraphics.de) for making the drawings for the key to the family; Dave Catania and Jon Fong (California Academy Sciences), the Director, ICAR-CMFRI, for the facilities and support provided; Ganga, Hashim, Bineesh, and Shanis for their support in field and lab; Daniel Fernando, Akshay Tanna, Rosalind Brown, and Gobiraj (Blue Resources Trust, Sri Lanka); Jann and Tom Rudkin and the REX Fund at the University of Kansas Biodiversity Institute; Kirsten Jensen (University of Kansas), Janine N. Caira (University of Connecticut), Loren Caira, and Marsha Englebrecht for logistical and financial support of the 2018 expedition during which the paratype specimen from Sri Lanka was collected; Ralf Thiel (ZMH) for granting access to the specimens in the ZMH collection for examinations and to photo- and radiography facilities at ZMH; Irina Eidus (ZMH) for her help with the radiography and collection database; Nicolas Straube (ZSM) for his help with taking photographs of the opened mouth of the holotype of Planonasus parini and for kindly helping with the PCA; and Alastair Graham, Peter Last, and John Pogonoski (CSIRO) for providing information regarding the absence of an interdorsal ridge in Gollum, as well as photographs of teeth and collection data of G. attenuatus and G. suluensis. Moss Landing Marine Laboratories provided additional support for this project.
Funding
Jann and Tom Rudkin and the REX Fund at the University of Kansas Biodiversity Institute supported the 2018 Sri Lanka expedition where the paratype (BRT-I:0029) was collected.
Ethics declarations
Conflict of interest
The authors declare they have no conflict of interest.
Ethical approval
All applicable international, national, and/or institutional guidelines for care and use of animals were followed by the authors.
Sampling and field studies
All necessary permits for sampling and observational field studies have been obtained by the authors from the competent authorities and are mentioned in the acknowledgements.
Additional information
The species is registered in ZooBank under urn:lsid:zoobank.org:act: 875D2E01-8073-4842-934F-2C279FAED8CF
The article is registered in ZooBank under urn:lsid:zoobank.org:pub: B7737C4B-AE40-4128-A65C-2C646FDB0B07
Communicated by R. Thiel
About this article
Cite this article
Ebert, D.A., Akhilesh, K.V. & Weigmann, S. Planonasus indicus sp. n., a new species of pygmy false catshark (Chondrichthyes: Carcharhiniformes: Pseudotriakidae), with a revised diagnosis of the genus and key to the family. Mar Biodiv 49, 1321–1341 (2019). https://doi.org/10.1007/s12526-018-0915-4
Received:

Revised:

Accepted:

Published:

Issue Date:
Keywords
Deep-sea

Elasmobranch

Shark

Systematics

Taxonomy

Northern Indian Ocean

India