Abstract
Three species of sand bottom octopuses (Cephalopoda) are identified from shallow waters of Taganga Bay, southern Caribbean: the known Amphioctopus burryi (Voss, 1950), one new Amphioctopus species, and one new species of long-arm octopod Macrotritopus beatrixi sp. nov. The preliminary description of the new Amphioctopus species is presented as well as some new features of A. burryi (Voss, 1950) with some ecological notes. A redescription of Macrotritopus defilippi (Verany, 1851) is given as well as the full description of M. beatrixi sp. nov. The new species M. beatrixi sp. nov. is characterized by long arms, seven to eight times the mantle length, third right arm on males hectocotylized, with 56 to 114 suckers (mean 98), ligula small (ligula length index 1–1.25), calamus medium (calamus length index 25–30), and arm autotomy present at different levels. This doubles the number of species of each genus in the Atlantic Ocean.
Access options
Buy single article
Instant access to the full article PDF.
US$ 39.95
Tax calculation will be finalised during checkout.
Subscribe to journal
Immediate online access to all issues from 2019. Subscription will auto renew annually.
US$ 79
Tax calculation will be finalised during checkout.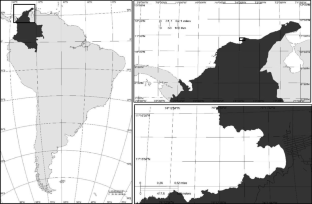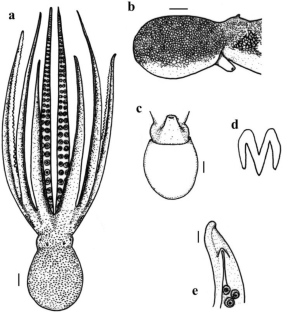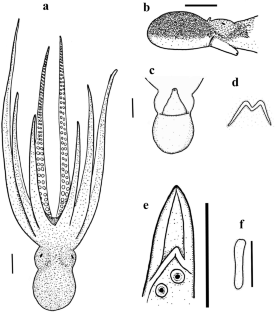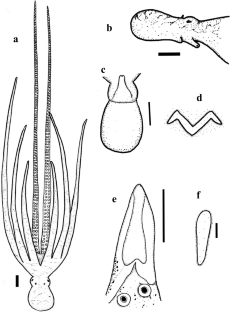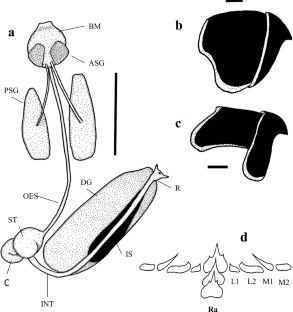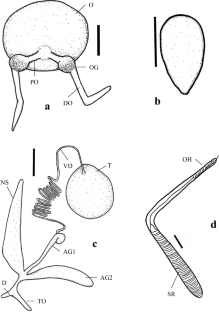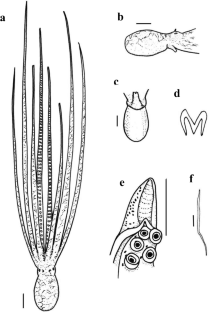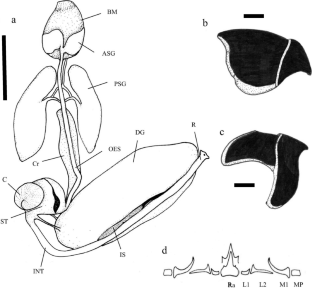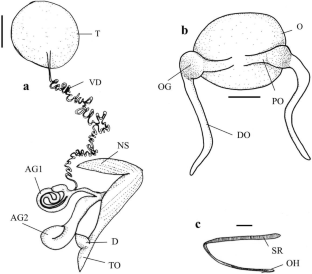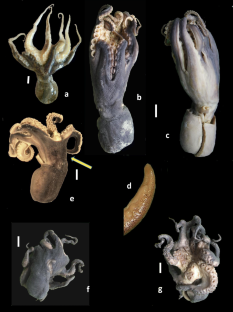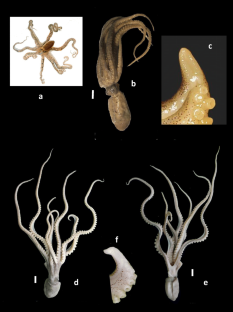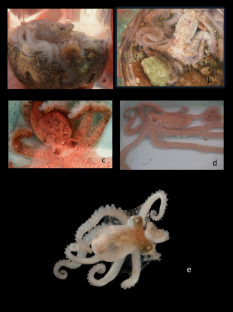 References
Briggs JC, Bowen BW (2012) A realignment of marine biogeographic provinces with particular reference to fish distributions. J Biogeogr 39:12–30

Diaz J, Puyana M (1992) Moluscos del Caribe colombiano. Un catálogo ilustrado. Colciencias, Editorial Presencia, Santafé de Bogotá, pp 265–267

Diaz J, Ardila N, Gracia A (2000) Calamares y pulpos (Mollusca: Cephalopoda) del mar Caribe colombiano. Biota Colombiana 1(2):195–201

Férussac AEJ & d'Orbigny A (1835-1848). Histoire naturelle générale et particulière des Céphalopodes acétabulifères vivants et fossiles. pp. 361. Paris

Finn JK, Tregenza T, Norman MD (2009) Defensive tool use in a coconut carrying octopus. Curr Biol 19(23):69–70

Garcia M, Ardila N (2010) Moluscos de la plataforma y talud superior del Caribe colombiano (20–940 m): 12 años de investigación, resultados y perspectivas. Biodiversidad del Margen continental del Caribe colombiano. Serie de publicaciones Especiales, INVEMAR 20:458–482

Garcia M, Ardila N, Diaz J (2002) Cefalopodos (Mollusca: Cephalopoda) del talud superior del caribe Colombiano. Boletín de Investigaciones Marinas y Costeras—INVEMAR 31:29–238

Grimpe G, (1922) Systematische Uebersicht der europaischen Cephalopoden Sitzber Naturf. Ges Leipzig 9:36.

Guerrero-Kommritz J, Camelo-Guarin S (2016) Two new octopod species (Mollusca: Cephalopoda) from the southern Caribbean. MARB 46:589–602

Guerrero-Kommritz, J.; Rodriguez Bermudez, A.; Camelo Guarin, S.; Quiñones Duarte, Q. (2016) Catalogo de pulpos de Aguas someras de la Bahia de Taganga Caribe Sur. Guerrero Kommritz Fundabas 55 pp.

Hanlon R, Hixon RF (1980) Body patterning and field observations of Octopus burryi Voss, 1950. Bull Mar Sci 30(4):749–755

Hanlon R, Hixon RF, Forsythe JW (1979) The "Macrotritopus problem" solved: Octopus defilippi raised from a wild-caught , pelagic Macrotritopus. Am Malacol Bull 70

Hanlon R, Forsythe JW, Boletzky S (1985) Field and laboratory behavior of "Macrotitropus larvae" reared to Octopus defilippi Vérany, 1851 (Mollusca. Caphalopoda). Vie Milieu 35(3/4):237–242

Huffard CL, Hochberg FG (2005) Description of a new species of the genus Amphioctopus (Mollusca: Octopodidae) from the Hawai'ian Islands. Molluscan Res 25(3):113–128

Jatta G (1896) L' cefalopodi viventi nel Golfo di Napoli (sistematica): monografía. Stazione zoológica di Napoli. R. Friedländer and Sohn, Berlin, p 246

Jereb P, Roper CF, Norman MD, Finn JK (2014) Cephalopods of the world. An annotated and illustrated catalogue of cephalopod species known to date. Volume 3. Octopods and Vampire Squids. FAO Species Catalogue for Fishery Purposes. Rome. 370p.

Joubin L, Robson G, (1929) On a new species of Macrotritopus obtained by Dr J. Schmidt`s "Dana" expedition, with remarks on the genus. Proc Zool Soc London 1: 89–94.

Luiz OJ, Madin JS, Robertson DR, Rocha LA, Wirtz P, Floeter SR (2012) Ecological traits influencing range expansion across large oceanic dispersal barriers: insights from tropical Atlantic reef fishes. Proc Royal Soc B 279:1033–1040

Mangold K (1998) The Octopodinae from the eastern Atlantic Ocean and Mediterranean Sea. Smithson Contrib Zool 586(2):521–528

Nesis K, Nikitima SN (1981) Macrotritopus a planktonic larva of the benthic octopus Octopus defilippi: identification and distribution. Zoll Zhur 60:835–847

Norman MD, Hochberg FG (2005) Current state of Octopus taxonomy. Phuket mar biol cent. Res Bull 66:127–154

Norman M, Sweeney MJ (1997) Shallow water octopuses of the Philippines. Invert Taxon 11:89–140

Norman MD, Finn JK, Hochberg FG (2014) Family Octopodidae. In: Jereb P, Roper CF, Norman MD, Finn JK, eds. Cephalopods of the world. An annotated and illustrated catalogue of cephalopod species known to date. Volume 3. Octopods and Vampire Squids. FAO Species Catalogue for Fishery Purposes, Rome, 2014. pp. 36–215

Ott J. 1988 Meereskunde. UTB 1450 Eugen Ulmer Verlag, Stuttgart. 386 p

Rees WJ (1954) The macrotritopus problem. Bull Br Mus Nat Hist 2(4):69–99

Ringenbach E (1901) Beobachtungen über Selbsverstümmelung. Zool Anz 24:587–593

Roper C, Voss GL (1983) Guidelines for taxonomic descriptions of cephalopod species. Mem Natl Mus Victoria 44:49–63

Roper C, A. Gutierrez A, Vecchione M (2015) Paralarval octopods of the Florida Current, J Nat Hist 49(21–24): 1281–1304

Snelgrove PVR (1999) Getting to the bottom of marine biodiversity sedimentary habitats. Bioscience 49(2):129–138

Verany JB (1851) Mollusques Mediteranees premier partie Cephalopodes cephalopods de la Mediteranee. Genes 132 pp and 40 plates

Villanueva R, Norman MD (2008) Biology of the planktonic stages of benthic octopuses. Oceanogr Mar Biol 46:105–202

Voss GL (1950) Two new species of cephalopods from the Florida Keys. Rev Soc Malacologica 7(2):73–79

Voss GL (1951) Further description of Octopus burryi Voss with a note on its distribution. Bull Mar Sci 1(3):231–240

Voss GL (1964) Octopus defilippi Verany, 1851 an addition to the cephalopod fauna of the western Atlantic. Bull Mar Sci 14(4):554–560

Voss GL (1968) Octopods from the R/V Pillsburry southwestern Caribbean cruise, 1966, with a description of a new species, Octopus zonatus. Bull Mar Sci 18:645–649

Voss GL (1975) Euaxoctopus pillsburyae, new species, (Mollusca: Cephalopoda) from the southern Caribbean and Surinam. Bull Mar Sci 25(3):346–352
Acknowledgements
The authors are grateful to Luis Sendoya, Lucero Zamudio, Juan Pablo Assmus, Julian Matos, Diana Bermudez, and Joao Blanco for their help in the fieldwork and lab. Thanks is due to Bernhard Hausdorf for his help at the CENAK Museum Hamburg, Germany, to Philippe Maestrati and Barbara Buge, for their help in the Musée National d'Historie Naturelle Paris, France, to Manuel Caballero Gutierrez from the MNHN Paris for the photography of young Macrotritopus, to Mike Vecchione and Bill Moser for their help at the Smithsonian Natural History Museum in Washington, to el Ministerio del Ambiente de Colombia (Research and Collecting Survey Permit SINA 03-2012), and to the reviewers for their comments. Special thanks to Tinka Stoessel for reading the manuscript.
Funding
This study was financed by private funds of the senior author.
Ethics declarations
Conflict of interest
The authors declare that they have no conflict of interest.
Ethical approval
International and national guidelines for the care and use of cephalopods were followed by the authors.
Field study
Research and collecting permits were obtained by the authors: Colombian Environmental Ministry Permit SINA 03-2012.
Additional information
This article is registered in Zoobank under 81A1AEF1-0F53-4006-984ED44345F0C560. The species is registered in ZooBank under 1E8E6864-8AB6-491B-9942-1153E8369B46.
Communicated by M. Vecchione
About this article
Cite this article
Guerrero-Kommritz, J., Rodriguez-Bermudez, A. Soft-bottom octopods (Cephalopoda: Octopodidae) of the southern Caribbean with the description of a new species of Macrotritopus. Mar Biodiv 49, 1197–1215 (2019). https://doi.org/10.1007/s12526-018-0903-8
Received:

Revised:

Accepted:

Published:

Issue Date:
Keywords
Southern Caribbean

Cephalopoda

Macrotritopus
Amphioctopus

New species

Soft bottom