Abstract
Placida cremoniana (Trinchese, 1892) is a sacoglossan heterobranch sea slug of striking coloration, with a reported range that has increased dramatically in recent years. Described from the Mediterranean in 1892, nominal conspecifics were reported from Japan in 1959, and since the 1990s, additional populations have been reported from across the tropical Atlantic, Pacific, and Indian oceans, plus temperate areas of Japan, Australia, and Europe. This sequence of events is consistent with a dramatic range expansion by one species due to human-mediated introductions, or dispersal from tropical into temperate areas induced by recent climate change. Alternatively, the expanding range of this nominal species could, instead, reflect the gradual discovery of previously unsampled members of a global species complex. These hypotheses were tested using a combination of molecular data from three loci (COI, 16S, and H3), as well as radular morphology and external color patterns, from specimens sampled from most of the reported range. Molecular species delimitation recovered P. cremoniana as a complex of four genetically divergent species, further distinguished by consistent differences in head coloration and radular morphology. As the Mediterranean species retains the name P. cremoniana, the three new species are described here, including an Eastern Pacific endemic and two species that are sympatric across large areas of the Central and Western Pacific. Photographic records and literature reports suggest that additional species may occur in the Indian Ocean, tropical Australia, and Caribbean.
Access options
Buy single article
Instant access to the full article PDF.
US$ 39.95
Tax calculation will be finalised during checkout.
Subscribe to journal
Immediate online access to all issues from 2019. Subscription will auto renew annually.
US$ 79
Tax calculation will be finalised during checkout.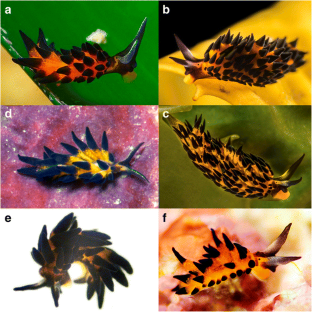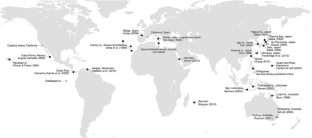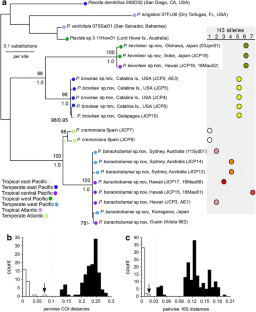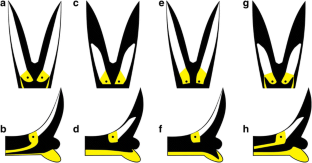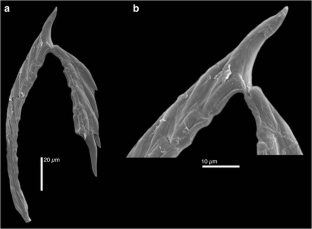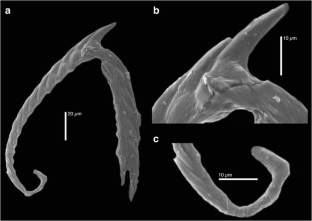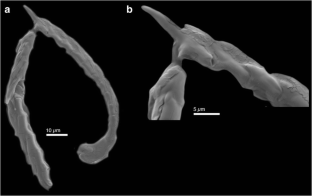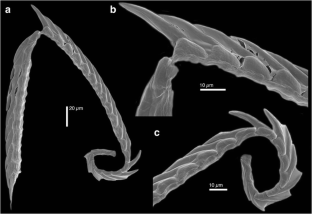 References
Alexander J, Valdés A (2013) The ring doesn't mean a thing: molecular data suggest a new taxonomy for two Pacific species of sea hares (Mollusca: Opisthobranchia, Aplysiidae). Pac Sci 67:283–294

Baba K (1959) The family Stiligeridae from Japan (Opisthobranchia-Sacoglossa). Publ Seto Mar Biol Lab 7:327–334

Ballesteros M (1980) La presencia en las costas Catalanas de Hermaea paucirra y Hermaea cremoniana (Opisthobranchia: Sacoglossa). Pub Dep Zool Univ Barc 5:19–23

Ballesteros MBV (2007) Lista actualizada de los opistobranquios (Mollusca: Gastropoda: Opisthobranchia) de las costas Catalanas. Spira 2:163–188

Ballesteros MBV (2014) La obra olvidada de Siro de Fez sobre los opistobranquios Ibéricos. Spira 5:105–109

Baums IB, Boulay JN, Polato NR, Hellberg ME (2012) No gene flow across the Eastern Pacific Barrier in the reef-building coral Porites lobata. Mol Ecol 21:5418–5433

Behrens DW (2004) Placida cremoniana. Sea Slug Forum. http://slugsite.us/bow/nudwk405.htm. Accessed 28 April 2017

Behrens DW, Hermosillo A (2005) Eastern Pacific nudibranchs. A guide to the opisthobranchs from Alaska to Central America. Sea Challengers, Monterey

Bidgrain P (2010) Placida cremoniana (Trinchese, 1893). Southwest Indian Ocean Sea Slugs and Flatworms. http://seaslugs.free.fr/nudibranche/a_placida_cremoniana.htm. Accessed 28 April 2017

Burn R (1998) Order Sacoglossa. In: Beesley PL, Ross JGB, Wells A (eds) Mollusca: the southern synthesis. Fauna of Australia, Vol. 5, Part B. CSIRO Publishing, Melbourne, pp 961–974

Caballer Gutiérrez M, Ortea J, Rivero N, Carias Tucker G, Malaquías MAE, Narciso S (2015) The opisthobranch gastropods (Mollusca: Heterobranchia) from Venezuela: an annotated and illustrated inventory of species. Zootaxa 4034:201–256

Camacho-García YE, Gosliner TM, Valdés A (2005) Guía de campo de las babosas marinas del Pacífico Este tropical. California Academy of Sciences, San Francisco

Camacho-García YE, Ornelas-Gatdula E, Gosliner TM, Valdés Á (2014) Phylogeny of the family Aglajidae (Pilsbry, 1895) (Heterobranchia: Cephalaspidea) inferred from mtDNA and nDNA. Mol Phyl Evol 71:113–126

Carlson C, Hoff PJ (2003) The opisthobranchs of the Mariana Islands. Micronesica 35:271–293

Carmona L, Lei BR, Pola M, Gosliner TM, Valdés Á, Cervera JL (2014) Untangling the Spurilla neapolitana (Delle Chiaje, 1841) species complex: a review of the genus Spurilla Bergh, 1864 (Mollusca: Nudibranchia: Aeolidiidae). Zool J Linn Soc 170:132–154

Chang Y-W (2012) Study on the biodiversity of opisthobranchs in Taiwan and adjacent islands. Dissertation, National Sun Yat-sen University, Republic of China

Chichvarkhin AY, Ekimova IA, Chalenko KP, Schepetov D, Chichvarkhina OV, Valdés Á (2016) Placida babai (Mollusca: Gastropoda: Sacoglossa) from Russian waters of the Sea of Japan. Bull Russ Far East Malacol Soc 20:44–56

Churchill CKC, Alejandrino A, Valdés Á, Foighil DÓ (2013) Parallel changes in genital morphology delineate cryptic diversification of planktonic nudibranchs. Proc R Soc Biol Sci 280:20131224

Churchill CKC, Valdés Á, Foighil DÓ (2014) Molecular and morphological systematics of neustonic nudibranchs (Mollusca: Gastropoda: Glaucidae: Glaucus), with descriptions of three new cryptic species. Invertebr Syst 28:174–195

Coleman N (2008) Nudibranchs encyclopedia: catalogue of Asia/Indo-Pacific sea slugs. Neville Coleman's Underwater Geographic Pty Ltd., Springwood

Colgan DJ, Ponder WF, Eggler PE (2000) Gastropod evolutionary rates and phylogenetic relationships assessed using partial 28S rDNA and histone H3 sequences. Zool Scr 29:29–63

Cortés M (2008) Placida cremoniana from the Bay of Biscay. Sea Slug Forum. http://www.seaslugforum.net/find/20997. Accessed 28 April 2017

Cowman PF, Bellwood DR (2013) Vicariance across major marine biogeographic barriers: temporal concordance and the relative intensity of hard versus soft barriers. Proc R Soc Biol Sci 280:20131541

Edgar RC (2004) MUSCLE: multiple sequence alignment with high accuracy and high throughput. Nucleic Acids Res 32:1792–1797

Ellingson RA, Krug PJ (2016) Reduced genetic diversity and increased reproductive isolation follow population-level loss of larval dispersal in a marine gastropod. Evolution 70:18–37

Fez S (1962) Dos nuevos ascoglosos y un doto en el puerto de Valencia. Bol R Soc Esp Hist Nat (B) 60:105–112

Fontes J, Tempera F, Wirtz P (2001) On some interesting opisthobranchs (Mollusca, Gastropoda) from the Azores. Life Mar Sci 18A:85–87

Folmer O, Black M, Hoeh W, Lutz R, Vrijenhoek R (1994) DNA primers for amplification of mitochondrial cytochrome c oxidase subunit I from diverse metazoan invertebrates. Mol Mar Biol Biotechnol 3:294–299

Gavagnin M, Spinella A, Crispino A, de Almeida Epifanio R, Marin A, Cimino G (1993) Chemical components of the Mediterranean ascoglossan Thuridilla hopei. Gazz Chim Ital 123:205–208

Gavagnin M, Marin A, Mollo E, Crispino A, Villani G, Cimino G (1994) Secondary metabolites from Mediterranean Elysioidea: origin and biological role. Comp Biochem Physiol B 108:107–115

Goodheart J, Camacho-García Y, Padula V, Schrödl M, Cervera JL, Gosliner TM, Valdés Á (2015) Systematics and biogeography of Pleurobranchus Cuvier, 1804, sea slugs (Heterobranchia: Nudipleura: Pleurobranchidae). Zool J Linn Soc 174:322–362

Gosliner TM, Behrens DW, Valdés Á (2008) Indo-Pacific nudibranchs and sea slugs: a field guide to the world's most diverse fauna. Sea Challengers, Gig Harbor

Gosliner TM, Valdés Á, Behrens DW (2015) Nudibranch & sea slug identification: Indo-Pacific. New World Publications, Jacksonville

Hillis DM, Bull JJ (1993) An empirical test of bootstrapping as a method for assessing confidence in phylogenetic analysis. Syst Biol 42:182–192

Hoegh-Guldberg O, Mumby PJ, Hooten AJ, Steneck RS, Greenfield P, Gomez E, Harvell CD, Sale PF, Edwards AJ, Caldeira K, Knowlton N (2007) Coral reefs under rapid climate change and ocean acidification. Science 318:1737–1742

Huelsenbeck JP, Rannala B (2004) Frequentist properties of Bayesian posterior probabilities of phylogenetic trees under simple and complex substitution models. Syst Biol 53:904–913

Hughes TP, Baird AH, Bellwood DR, Card M, Connolly SR, Folke C, Grosberg R, Hoegh-Guldberg O, Jackson JBC, Kleypas J, Lough JM (2003) Climate change, human impacts, and the resilience of coral reefs. Science 301:929–933

Jensen KR (1992) Anatomy of some Indo-Pacific Elysiidae (Opisthobranchia: Sacoglossa (= Ascoglossa)), with a discussion of the generic division and phylogeny. J Moll Stud 58:257–296

Jensen KR (2007) Biogeography of the Sacoglossa (Mollusca, Opisthobranchia). Bonn Zool Beitr 55:255–281

Kearse M, Moir R, Wilson A, Stones-Havas S, Cheung M, Sturrock S, Buxton S, Cooper A, Markowitz S, Duran C, Thierer T (2012) Geneious Basic: an integrated and extendable desktop software platform for the organization and analysis of sequence data. Bioinformatics 28:1647–1649

Knowlton N, Weight LA, Solórzano LA, Mills DK, Bermingham E (1993) Divergence in proteins, mitochondrial DNA, and reproductive compatibility across the Isthmus of Panama. Science 260:1629–1632

Koh DB (2006) Sea slugs of Korea. Pungdeung Publishing, Seoul

Krug PJ (2011) Patterns of speciation in marine gastropods: a review of the phylogenetic evidence for localized radiations in the sea. Am Malacol Bull 29:169–186

Krug PJ, Ellingson RA, Burton R, Valdés Á (2007) A new poecilogonous species of sea slug (Opisthobranchia: Sacoglossa) from California: comparison with the planktotrophic congener Alderia modesta (Lovén, 1844). J Moll Stud 73:29–38

Krug PJ, Vendetti JE, Ellingson RA, Trowbridge CD, Hirano YM, Trathen DY, Rodriguez AK, Swennen C, Wilson NG, Valdés Á (2015) Species selection favors dispersive life histories in sea slugs, but higher per-offspring investment drives shifts to short-lived larvae. Syst Biol 64:983–999

Krug PJ, Vendetti JE, Valdés A (2016) Molecular and morphological systematics of Elysia Risso, 1818 (Heterobranchia: Sacoglossa) from the Caribbean region. Zootaxa 4148:1–137

Kumar S, Stecher G, Tamura K (2016) MEGA7: Molecular Evolutionary Genetics Analysis Version 7.0 for bigger datasets. Mol Biol Evol 33:1870–1874

Marko PB (2002) Fossil calibration of molecular clocks and the divergence times of geminate species pairs separated by the Isthmus of Panama. Mol Biol Evol 19:2005–2021

Mayr E (1954) Geographic speciation in tropical echinoids. Evolution 8:1–18

Mumby PJ, Hastings A, Edwards HJ (2007) Thresholds and the resilience of Caribbean coral reefs. Nature 450:98–101

Nakano R (2004) Opisthobranchs of Japan Islands. Rutles, Tokyo

Ono A (1999) Opisthobranchs of Kerama Islands. TBS-Britannica, Tokyo

Ornelas-Gatdula E, Camacho-García Y, Schrödl M, Padula V, Hooker Y, Gosliner TM, Valdés Á (2012) Molecular systematics of the 'Navanax aenigmaticus' species complex (Mollusca, Cephalaspidea): coming full circle. Zool Scr 41:374–385

Ortea J, Moro L, Bacallado JJ, Espinosa J (1998) Catálogo abreviado de las especies del orden Sacoglossa (= Ascoglossa, Mollusca: Opisthobranchia) de las Islas Canarias y de Cabo Verde. Rev Acad Canar Cien 10:85–96

Pagel M, Meade A (2004) A phylogenetic mixture model for detecting pattern-heterogeneity in gene sequence or character-state data. Syst Biol 53:571–581

Palumbi SR (1996) Nucleic acids II: The polymerase chain reaction. In: Hillis DM, Moritz C, Mable BK (eds) Molecular systematics, 2nd edn. Sinauer, Sunderland, Massachusetts, pp. 205–247

Pruvot-Fol A (1951) Études des nudibranches de la Méditerranée 2. Archiv Zool Exp Gén 88:1–80, pls. 1–4

Pruvot-Fol A (1954) Mollusques opisthobranches. Faune Fr 58:1–460

Puillandre N, Lambert A, Brouillet S, Achaz G (2012) ABGD, Automatic Barcode Gap Discovery for primary species delimitation. Mol Ecol 21:1864–1877

Rambaut A, Suchard MA, Xie D, Drummond AJ (2013) Tracer v1.6. http://tree.bio.ed.ac.uk/software/tracer. Accessed 16 January 2016

Rudman WB (2001) Placida cremoniana from New South Wales. Sea Slug Forum. http://www.seaslugforum.net/message/4321. Accessed 28 April 2017

Sammut C, Perrone AS (1998) A preliminary check-list of Opisthobranchia (Mollusca, Gastropoda) from the Maltese islands. Basteria 62:221–240

Schmekel L (1968) Ascoglossa, Notaspidea und Nudibranchia im litoral des Golfes von Neapel. Rev Suisse Zool 75:103–155

Schmekel L, Portmann A (1982) Opisthobranchia des Mittelmeeres: Nudibranchia und Saccoglossa. Monografia della Stazione Zoologica di Napoli 40. Springer-Verlag, Berlin

Schulz S (2005) Placida cremoniana from Wollongong, NSW, Australia. Sea Slug Forum. http://www.seaslugforum.net/find/14757. Accessed 28 April 2017

Silvestro D, Michalak I (2012) raxmlGUI: a graphical front-end for RAxML. Org Divers Evol 12:335–337

Trinchese S (1892) Nuovi ascoglossi del Golfo di Napoli. Rend Accad Sci Fis Mat Soc Napoli 2:154

Trinchese S (1896) Ricerche anatomiche sulla Hermaea cremoniana (Tr.). Mem R Accad Sci Ist Bologna Ser 5 6:35–45

Trowbridge CD, Hirano YM, Hirano YJ, Sudo K, Shimadu Y, Watanabe T, Yorifuji M, Maeda T, Anetai Y, Kumagai K (2010) Subtropical sacoglossans in Okinawa—at "special risk" or "predictably rare"? Am Malacol Bull 28:167–181

Valdés Á (2004) Phylogeography and phyloecology of dorid nudibranchs (Mollusca, Gastropoda). Biol J Linn Soc 83:551–559

Warren L (2000) Stiliger cremoniana from SE Sulawesi. Sea Slug Forum. http://www.seaslugforum.net/find/1956. Accessed 28 April 2017

Yonow N (2015) Sea slugs: unexpected biodiversity and distribution. In: Rasul NMA, Stewart ICF (eds) The Red Sea. Springer, Berlin, pp 531–550
Acknowledgements
This paper was funded by awards from the U.S. National Science Foundation (DEB-1355177 to AV, and DEB-1355190 and OCE-1130072 to PK), and by the LaKretz endowment for environmental science research at Cal State L.A. The SEM work was conducted at the California State Polytechnic University SEM laboratory supported by the U.S. National Science Foundation (NSF) grant DMR-1429674. Specimens from the Mediterranean were generously donated by our colleagues from GROC (Grup de Recerca d'Opistobranquis de Catalunya); specimens from Catalina Island were collected and provided by Brooke Peterson. Sampling in Sydney, Australia was made possible by the help and local knowledge of Nerida Wilson, and samples from Japan were generously provided by Yayoi Hirano and Cynthia Trowbridge; we gratefully acknowledge their assistance and expertise. Museum specimens were obtained from the California Academy of Sciences in San Francisco with the assistance of Liz Kools and Terry Gosliner.
Additional information
This article is registered in ZooBank under urn:lsid:zoobank.org:pub:687CC81D-3D3F-44A8-9258-CE0B02E9C44A
Communicated by V. Urgorri
Electronic supplementary material
Below is the link to the electronic supplementary material.
About this article
Cite this article
McCarthy, J.B., Krug, P.J. & Valdés, Á. Integrative systematics of Placida cremoniana (Trinchese, 1892) (Gastropoda, Heterobranchia, Sacoglossa) reveals multiple pseudocryptic species. Mar Biodiv 49, 357–371 (2019). https://doi.org/10.1007/s12526-017-0812-2
Received:

Revised:

Accepted:

Published:

Issue Date:
Keywords
Molecular systematics

Mollusca

New species

Species delineation

Taxonomic revision