Abstract
Knowledge of marine biodiversity has been increased by combining modern and traditional tools that render species identification an accurate process. In addition, understanding the ecological differences between closely related species is critical for effective conservation. Calonectris (Aves: Procellariidae) is a four-species genus of phenotypically similar pelagic seabirds; three of the four species inhabit the Atlantic Ocean. However, this taxonomic splitting has not been completely recognised in the New World, hindering our understanding of species-specific nonbreeding distributions because of misidentification in nonbreeding areas. Here, we have presented the first Scopoli's shearwater, Calonectris diomedea, in the southwest Atlantic Ocean by using morphometrics, stable isotope analyses, and bill and plumage colouring. Although the southwest Atlantic Ocean is a common nonbreeding area for the sister species, Cory's shearwater, Calonectris borealis, and Cape Verde shearwater, Calonectris edwardsii, it has been considered a potential nonbreeding area for Scopoli's shearwater. This study contributes to the separation of Cory's shearwater from Scopoli's shearwater and provides a record of the latter in the southwestern Atlantic Ocean, thus contributing to a better understanding of the nonbreeding range of Scopoli's shearwater in the New World.
This is a preview of subscription content, log in to check access.
Access options
Buy single article
Instant access to the full article PDF.
US$ 39.95
Tax calculation will be finalised during checkout.
Subscribe to journal
Immediate online access to all issues from 2019. Subscription will auto renew annually.
US$ 79
Tax calculation will be finalised during checkout.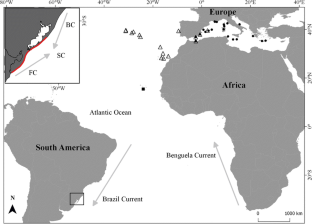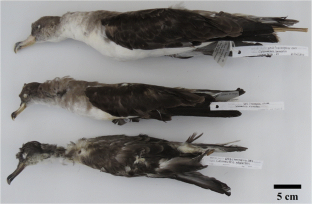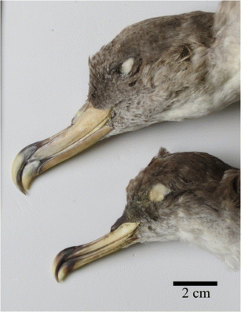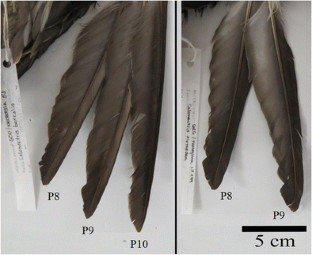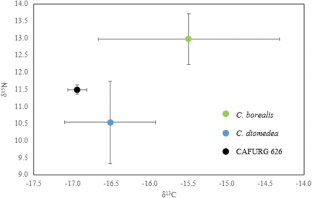 References
Alonso H, Matias R, Granadeiro JP, Catry P (2009) Moult strategies of Cory's shearwaters Calonectris diomedea borealis: the influence of colony location, sex and individual breeding status. J Ornithol 150(2):329–337. https://doi.org/10.1007/s10336-008-0354-2

American Ornithologists' Union (1998) Check-list of North American birds: the species of birds of North America from the Arctic through Panama, including the West Indies and Hawaiian Islands. Allen Press, Lawrence

Belda EJ, Sánchez A (2001) Seabird mortality on longline fisheries in the western Mediterranean: factors affecting bycatch and proposed mitigation measures. Biol Conserv 98(3):357–363. https://doi.org/10.1016/S0006-3207(00)00178-6

Bugoni L, Furness RW (2009) Age composition and sexual size dimorphism of albatrosses and petrels off Brazil. Mar Ornithol 37(3):253–260

Bugoni L, Mancini PL, Monteiro DS, Nascimento L, Neves TS (2008a) Seabird bycatch in the Brazilian pelagic longline fishery and a review of capture rates in the southwestern Atlantic Ocean. Endang Species Res 5(2–3):137–147. https://doi.org/10.3354/esr005137

Bugoni L, Neves TS, Leite-Jr NO, Carvalho D, Sales G, Furness RW, Stein CE, Peppes FV, Giffoni BB, Monteiro DS (2008b) Potential bycatch of seabirds and turtles in hook-and-line fisheries of the Itaipava Fleet, Brazil. Fish Res 90(1–3):217–224. https://doi.org/10.1016/j.fishres.2007.10.013

Bugoni L, McGill RAR, Furness RW (2010) The importance of pelagic longline fishery discards for a seabird community determined through stable isotope analysis. J Exp Mar Biol Ecol 391(1–2):190–200. https://doi.org/10.1016/j.jembe.2010.06.027

Fisher A, Flood R (2010) Scopoli's shearwater off Scilly: new to Britain. Br Birds 103(12):712–717

Gómez-Díaz E, González-Solís J (2007) Geographic assignment of seabirds to their origin: combining morphologic, genetic and biogeochemical analyses. Ecol Appl 17(5):1484–1498. https://doi.org/10.1890/06-1232.1

Gómez-Díaz E, González-Solís J, Peinado MA, Page RDM (2006) Phylogeography of the Calonectris shearwaters using molecular and morphometric data. Mol Phylogenet Evol 41(2):322–332. https://doi.org/10.1016/j.ympev.2006.05.006

Gómez-Díaz E, González-Solís J, Peinado MA (2009) Population structure in a highly pelagic seabird the Cory's shearwater Calonectris diomedea: an examination of genetics, morphology and ecology. Mar Ecol Prog Ser 382:197–209. https://doi.org/10.3354/meps07974

González-Solís J, Croxall JP, Oro D, Ruiz X (2007) Trans-equatorial migration and mixing in the wintering areas of a pelagic seabird. Front Ecol Environ 5(6):297–301. https://doi.org/10.1890/1540-9295(2007)5[297:TMAMIT]2.0.CO

Griffiths R, Double MC, Orr K, Dawson RJG (1998) A DNA test to sex most birds. Mol Ecol 7(8):1071–1075. https://doi.org/10.1046/j.1365-294x.1998.00389.x

Gutiérrez R (1998) Flight identification of Cory's and Scopoli's shearwaters. Dutch Birding 20(5):216–225

Harrison P (1985) Seabirds, an identification guide. Houghton Mifflin Company, Boston

Howell SNG (2012) Petrels, albatrosses and storm-petrels of North America: a photographic guide. Princeton University Press, Princeton

Howell SNG, Patteson B (2008) Variation in Cory's and Scopoli's shearwaters. Alula 14(1):12–16

Jiménez S, Domingo A, Brazeiro A (2009) Seabird bycatch in the southwest Atlantic: interaction with the Uruguayan pelagic longline fishery. Polar Biol 32(2):187–196. https://doi.org/10.1007/s00300-008-0519-8

Lima PC, Grantsau R, Lima RCFR, Santos SS (2004) Occurrence and mortality of seabirds along the northern coast of Bahia, and the identification key of the Procellariiformes Order and the Stercorariidae Family. Atual Ornitol 121:1–63

Longhurst A, Sathyendranath S, Platt T, Caverhill C (1995) An estimate of global primary production in the ocean from satellite radiometer data. J Plankton Res 17(6):1245–1271. https://doi.org/10.1093/plankt/17.6.1245

McMahon KW, Hamady LL, Thorrold SR (2013) A review of ecogeochemistry approaches to estimating movements of marine animals. Limnol Oceanogr 58(2):697–714. https://doi.org/10.4319/lo.2013.58.2.0697

Medrano JF, Aasen E, Sharrow L (1990) DNA extraction from nucleated red blood cells. BioTechniques 8(1):43

Onley D, Scofield P (2007) Field guide to the albatrosses, petrels and shearwaters of the world. Christopher Helm, London

Oro D, Genovart M, Igual JM, Ruiz X, González-Solís J (2008) Rutes migratòries i àrees d'hivernada del Virot Gros Calonectris diomedea des Pantaleu (Mallorca). Anu Ornitol Balears 23(1):37–41

Perón C, Grémillet D, Culioli J-M, Faggio G, Gillet P, Mante A, Vidal P (2012) Exploring marine habitats of two shearwater species breeding on French Mediterranean islands. In Yésou P., Baccetti N, Sultana J (eds) Ecology and conservation of Mediterranean seabirds and other bird species under the Barcelona Convention: update and progress. Proceedings of the 13th Medmaravis Pan-Mediterranean Symposium, Alghero, Sardinia, Italy, 14–17 October 2011, pp 19–25

Petry MV, Bugoni L, Fonseca VSS (2000) Occurrence of the Cape Verde shearwater Calonectris edwardsii on the Brazilian coast. Bull Br Ornithol Club 120(3):198–200

Petry MV, Krüger L, Fonseca VSS, Brummelhaus J, Piuco RC (2009) Diet and ingestion of synthetics by Cory's shearwater Calonectris diomedea off southern Brazil. J Ornithol 150(3):601–606. https://doi.org/10.1007/s10336-009-0373-7

Piacentini VQ, Aleixo A, Agne CA, Maurício GN, Pacheco JF, Bravo GA, Brito GRR, Naka LN, Olmos F, Posso S, Silveira LF, Betini GS, Carrano E, Franz I, Lees AC, Lima LM, Pioli D, Schunck F, Amaral FR, Bencke GA, Cohn-Haft M, Figueiredo LFA, Straube FC, Cesari E (2015) Annotated checklist of the birds of Brazil by the Brazilian Ornithological Records Committee. Rev Bras Ornitol 23(2):91–298

Piola AR, Möller-Jr OO, Guerrero RA, Campos EJD (2008) Variability of the subtropical shelf front off eastern South America: winter 2003 and summer 2004. Cont Shelf Res 28(13):1639–1648. https://doi.org/10.1016/j.csr.2008.03.013

Remsen-Jr JV, Cadena CD, Jaramillo A, Nores M, Pacheco JF, Pérez-Emán J, Robbins MB, Stiles FG, Stotz DF, Zimmer KJ (2016) A classification of the bird species of South America. American Ornithologists' Union. http://www.museum.lsu.edu/~Remsen/SACCBaseline.html. Accessed 22 June 2016

Robb M, Mullarney K, The Sound Approach (2008) Petrels night and day: a sound approach guide. The Sound Approach, Poole

Sangster G, Collinson JM, Crochet PA, Knox AG, Parkin DT, Votier SC (2012) Taxonomic recommendations for British birds: eighth report. Ibis 154(4):874–883. https://doi.org/10.1111/j.1474-919X.2012.01273.x
Acknowledgements
The authors are grateful to L.S. Carvalho for preparing the feathers for stable isotope analyses, and F.A. Faria for assistance in preparing the photographs. Authors are grateful to an anonymous reviewer for comments and suggestions on a previous version, which greatly improved the current manuscript. G.O. received a scientific initiation scholarship from CNPq (National Council for Scientific and Technological Development) during the preparation of the manuscript. G.T.N. and F.P.M. received scholarships from Coordenação de Aperfeiçoamento de Pessoal de Nível Superior (CAPES). L.B. is a research fellow at the Brazilian CNPq (Proc. No. 310550/2015-7).
Additional information
Communicated by P. Martinez Arbizu
About this article
Cite this article
Oliveira, G., Nunes, G.T., Marques, F.P. et al. Scopoli's shearwater, Calonectris diomedea, in the southwest Atlantic Ocean. Mar Biodiv 49, 531–537 (2019). https://doi.org/10.1007/s12526-017-0798-9
Received:

Revised:

Accepted:

Published:

Issue Date:
Keywords
Calonectris borealis

Cory's shearwater

Morphometrics

Procellariiformes

Seabirds

Stable isotopes